Yves here. I was surprised when I went to New York (admittedly I did very little, just cabbed to doctors) to see that there wasn't much of an increase in shuttered storefronts compared to the old normal (and there were a lot due to landlords putting through aggressive rent increases starting 3-4 years back). I have to confess that I didn't know that there was an eviction freeze for commercial tenants too. The article below has some data on the lease renegotiations for restaurants. Notice most are holding their ground.
Here in Alabama, there are even fewer store closures, when you'd expect to see a marked increase due to the stresses on venues like restaurants and salons. But those shoes may be starting to drop. But the press has also reported that bankruptcies of smaller businesses are also very low. Apparently the various support programs allowed for many proprietors to wind up their operations rather than hit the wall and suffer eviction.
The piece gives a very informative look at the overall storefront commercial rent picture, and highlights the way landlords often refuse to lower rents and will keep retail space vacant. I saw this on Third and Madison Avenue, where departing tenants and other informed people would tell me the landlord doubled the rent, and the property would be vacant more than half the time in the next two-three years, clearly a net losing proposition. Yet landlords refuse to budge. Given that behavior, a vacancy tax for vacancies beyond a reasonable lease-up period seems warranted. The city needs to have people working, and as Richard Murphy says, landlords above all should be taking Covid hits. From a recent post:
The key issue that the government has to decide upon is who will bear the economic consequences of what is to happen. I have already indicated in my first post on this issue that I think that the consequences of this epidemic will fall upon three clearly identifiable groups, which are individuals, businesses and government. However, when appraising who will bear the cost the criteria are slightly different…

But that is not to say that there are no costs to an epidemic: clearly there are. In that case the question has to be asked as to who should bear that cost. There are three groups who should.

Firstly, landlords should. I have already suggested that should the epidemic spread then as a matter of statutory right any tenant should be provided with a minimum three-month rent-free period to ease the stress upon them whilst this crisis last. I would suggest that the grant of that extension should be automatic to anyone who does not make a due payment of rent on the required date during the period of the epidemic. They should be automatically granted this extension by the landlord without having to make any further application or to complete any additional paperwork.

I stress that the cost of this will fall directly upon the landlords in question. I am quite deliberately suggesting that they should bear the heaviest burden of dealing with the epidemic. The reason is simple and is that whatever happens they will still have an asset at the end of this period, and no other sector can guarantee that at present. As a consequence they have the greatest capacity to bear this cost. And, if it so happens that some landlords do fail as a consequence, the assets that they have owned will still exist after this failure and so the economy can manage the consequences of this.
Michael Hudson would agree, given his dim view of real estate rentierism and his support for high land taxes.
Oh, and confusingly, in New York State, the "Supreme Court" is the lowest level of trial court.
By Greg David (gdavid@thecity.nyc). Originally published at THE CITY on November 3, 2020
When the pandemic began, Eneslow Shoes and Orthotics operated four stores in the city. Now it is down to three — two in Manhattan and one in Little Neck, Queens — and by early next year owner Robert Schwartz believes he may be operating only one.
The problem: a mismatch between revenue and rent.
"Our revenue has gone down about 70% since we reopened," said Schwartz, who was among the speakers at a recent Manhattan Chamber of Commerce town hall on the commercial rent crisis. "Rent used to be 10% [of revenue] and now it is 50%."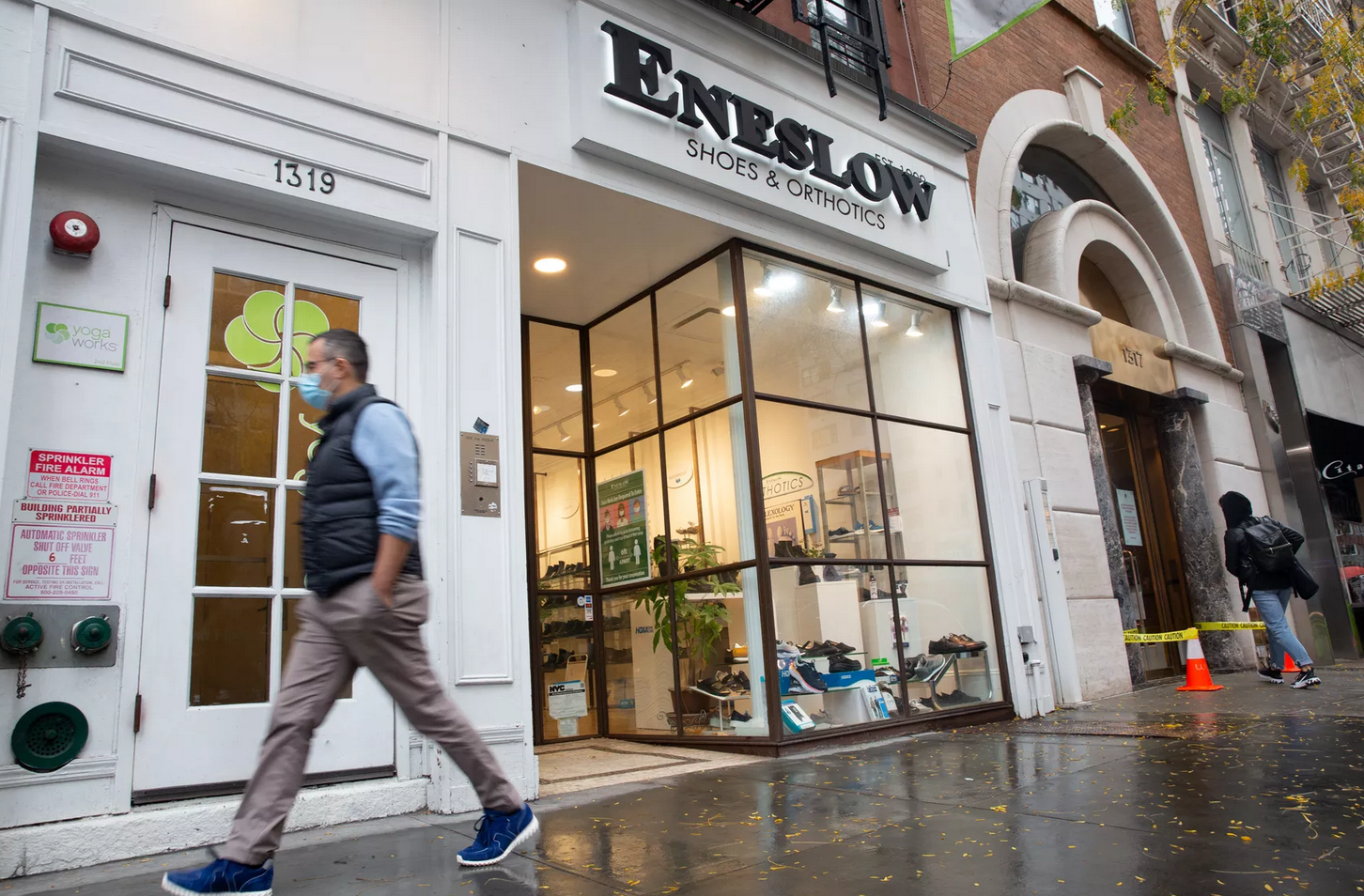 Eneslow Shoes on the Upper East Side, Oct. 28, 2020. Ben Fractenberg/THE CITY
Meanwhile, GFP Properties is collecting only about 70% of its pre-pandemic rent from the 2,800 tenants in its portfolio of 54 office buildings in Manhattan.
Co-Chief Executive Eric Gural has cut deals with the restaurants in his storefronts and negotiated terms with some of his hardest hit tenants, including the large number of theater-related businesses with leases in his buildings near Broadway.
"The way we look at it we don't want to put anyone out of business, but we don't want to be put out of business," he said.
Gov. Andrew Cuomo imposed a moratorium on evictions of commercial tenants early in the economic shutdown and recently extended it to January. But a crisis is growing as many retailers and some office tenants have stopped paying, building up big rent bills.
Landlords say they are negotiating to help their tenants. Store owners say the landlords are not being accommodating enough.
Advocates for small businesses say the commercial rent market simply isn't working and needs structural reform both for the pandemic and for the long term. The Real Estate Board of New York notes that rents are dropping sharply.
Meanwhile, tenants' lawyers say some landlords are seeking to circumvent the moratorium by filing actions in state Supreme Court rather than in Civil Court, which is overwhelmed by the pandemic and where commercial disputes are usually litigated.
"When I first started out assisting tenants, we had some success with rent rebates and reductions and extensions into the future," said Debra Guzov, a commercial litigator who is donating time to help members of the Manhattan Chamber of Commerce with rent problems. "Now I am seeing more aggressive tactics on the part of landlords."
'We'll Do What's Fair'
REBNY says that members, like GFP, are working with their tenants the way Gural's firm is.
Gural is allowing his restaurants to pay about 10% of their sales in rent. Theater tenants were able to pay rent for several months using their federal Paycheck Protection Program money. But now they have no revenue, so they aren't being asked to pay, instead dipping into security deposits and often just agreeing to deferrals.
When there is new federal money or when Broadway reopens, Gural expects to talk to his tenants, review their finances and come up with a plan for the rent owed.
"We won't collect every penny we are owed," he said. "But we will do what is fair."
GFP is in a position to be accommodating because its finances are solid and its banks have been willing to waive provisions on approvals for changes to leases as long as Gural keeps them generally informed. The company has not defaulted on any of its loans, Gural said.
Despite REBNY's confidence in its members' approach, a monthly survey by the Hospitality Alliance shows more than half of restaurants have not gotten any relief from their landlords.
Retailers like Schwartz acknowledge that landlords have mortgages and banks that hold the strings for many deals. But the sharp rise in rents during recent years in New York has made many skeptical of landlords' claims that the market will adjust.

Natasha Amott, owner of the kitchen goods store Whisk NYC, was priced out of her location on Bedford Avenue in Williamsburg after 10 years because other tenants were willing to pay a much higher rent than she could afford. She has kept tabs on what is happening at her old location and notes that area rents have declined somewhat but are still out of her price range.
"We are all wondering if rents will sufficiently drop for the long term," she said. "I don't feel that on its own the market will move close enough to affordability."
Pandemic Reveals 'Endemic Problem'
Her point is echoed by noted Columbia law professor Tim Wu and legislators proposing sweeping changes to laws regulating commercial leases.
"Rents have to go down for the city to recover, and there is an endemic problem with the stickiness of rents," Wu said at the Manhattan Chamber of Commerce town hall. "Rents stay high even when the economic conditions don't support them."
Wu cites multiple reasons for this market failure.
Because commercial leases are usually for 10 years, landlords are willing to leave spaces vacant while holding out for an economic upturn or for a tenant willing to pay more.
Meanwhile, many mortgages contain minimum rent provisions. Many of the mortgages are securitized, which means it takes approval of up to thousands of institutions holding a piece of the loans to change provisions. Lowering the rent will reduce the value of the buildings, which some owners won't accept, often for reasons of pride.
REBNY argues the market is adjusting. "Rents were dropping before COVID," said Paimaan Lodhi, senior vice president of policy and planning at REBNY.
A report released last month by the real estate firm CBRE found that asking rents for retail space fell to $659 per square foot during the third quarter of this year, a 12.8% drop year-over-year and the lowest since 2011.
Bills to Address Rent Bills
Still, some legislators, including State Sen. Brad Holyman and City Councilmember Keith Powers, both Manhattan Democrats, are proposing legislation to help smaller tenants.
They are pushing a plan called Save Our Storefronts, or SOS, under which the state would use $500 million from federal bailout money to help pay rent for tenants who contribute a percentage of revenue, up to 30%. Landlords would agree to reduce payments by 20%, and the state would pay the rest.
Another very controversial idea would also impose a vacancy tax to penalize property owners who hold on to space in hopes of higher rents.
Two other ideas are to eliminate lease provisions holding tenants personally liable for money owed and establish that the pandemic represents an unforeseeable event and eliminate performance penalties in leases.
A better option, REBNY says, is a proposed Workplace Recovery Act under consideration in Congress to provide billions of dollars to cover rent and operating expenses. It isn't clear how much support the bill, though, sponsored by Sen. Steve Daines (R-Montana), has among Democrats.
The vacancy tax idea is anathema to building owners.
"Landlords are already paying a tax when space is vacant and it's called real estate taxes," said Lodhi. "It is akin to imposing a tax on the unemployed to motivate them to seek work."
'Need to Have a Conversation'
While it isn't clear how many landlords may be trying to sidestep the eviction moratorium, Guzov says she is seeking an increasing number of examples.
Traditionally disputes are resolved in Civil Court, which is struggling with COVID procedures and a huge backlog. Instead, she says, attorneys are turning to state Supreme Court where they file either an action for breach of contract for failure to pay the rent or move to evict with what is called an ejection action.
"Those tools are being used to get around the moratorium and delays that are being experienced in landlord-tenant court," Guzov said.
For example, in July, 1276 Lex Owner LLC filed an ejection action against Sleepy's Mattress firm to vacate its space in the mid-sized residential building at that Upper East Side address. David Rosenbaum, attorney for the owner, did not return requests for comment.
Lawyers representing real estate firms note that the state and the city have issued a series of moratorium orders that often have different rules — and that under the state's order from the Cuomo administration, tenants are protected only if they have been affected by the pandemic.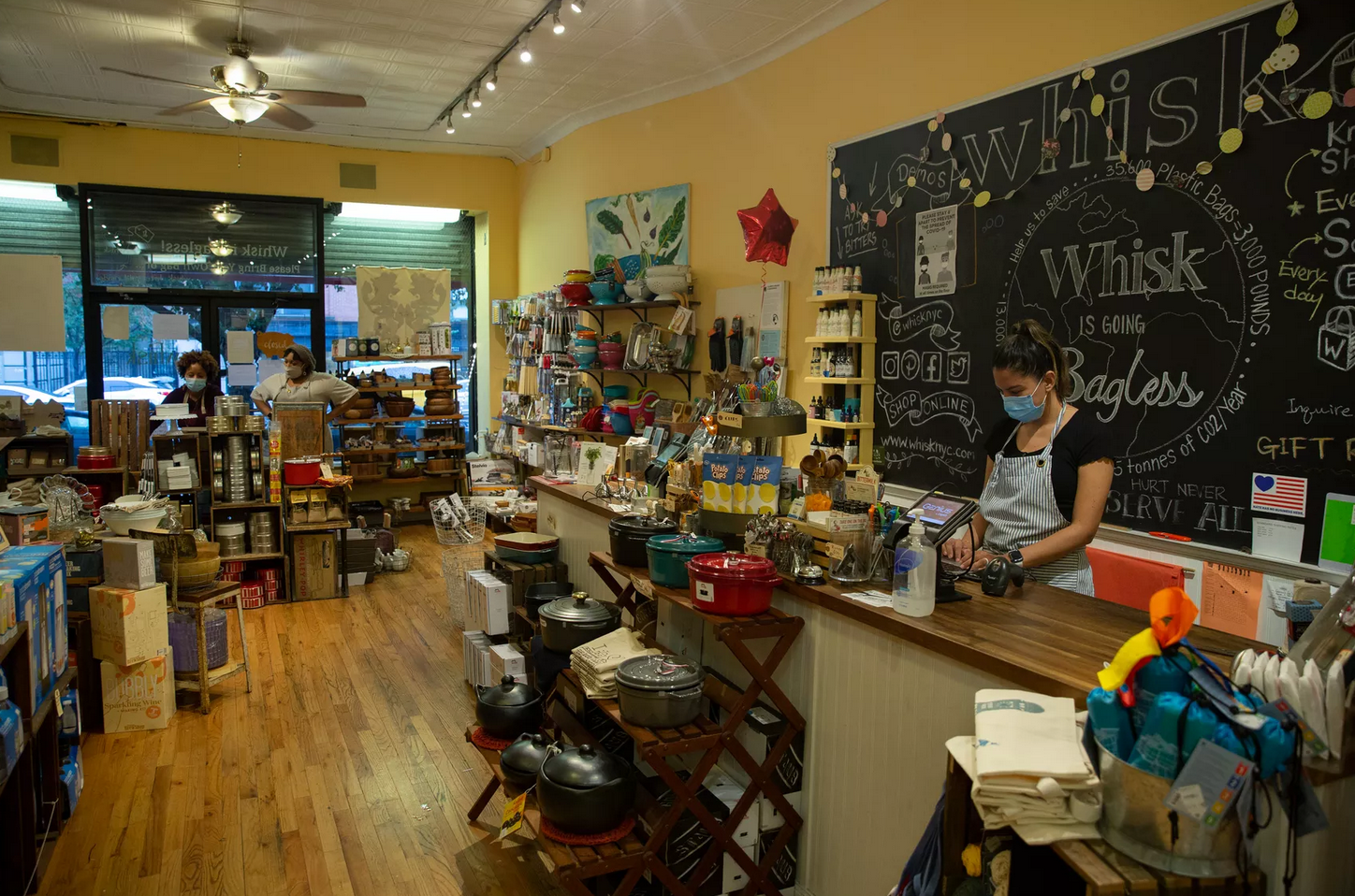 Workers help stock goods in Whisk on Atlantic Avenue in Brooklyn, Oct. 29, 2020. Ben Fractenberg/THE CITY
Even after the crisis ends, tenants like Amott will continue to push permanent changes that would offer small businesses lower rents and especially protect them from sharp increases in rent.
"We need to have a conversation about land trusts (where space is owned by nonprofits offering affordable rents), spaces set aside for small business and for tenants not to be burdened with all of the increases in property taxes," she said.
This story was originally published by THE CITY, an independent, nonprofit news organization dedicated to hard-hitting reporting that serves the people of New York.

Original Source