By Lambert Strether of Corrente.
Today I'm doing the Election 2020 pantry clear-out. Hopefully this is enough to get you started. There's more, much more… –lambert
Bird Song of the Day
#COVID19
At reader request, I've added this daily chart from 91-DIVOC. The data is the Johns Hopkins CSSE data. Here is the site.
Case count by United States region: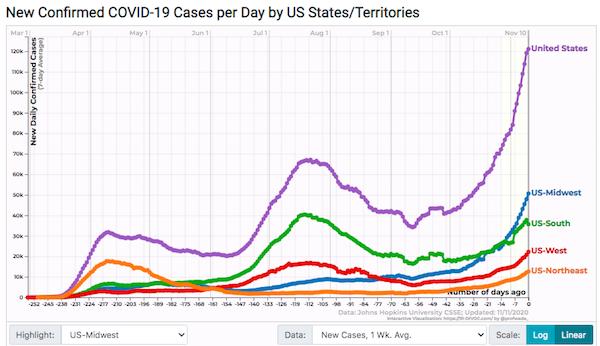 Slight decrease in slope. Could be noise.
Test positivity by region: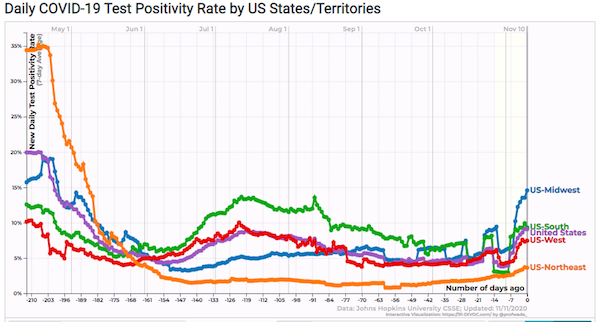 I don't understand why the sudden dip around a week ago, in every region except the (organge) Northeast (and why does the Northeast keep being the exception?)
Case fatality rate by region: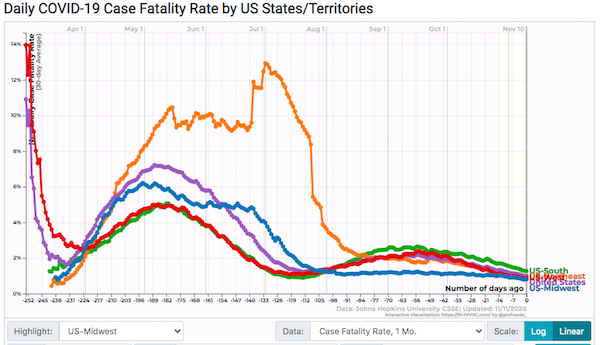 The Northeast (orange) really stands out. We'll need to watch this to see if it changes with the increased case count.
Hospitalization by region: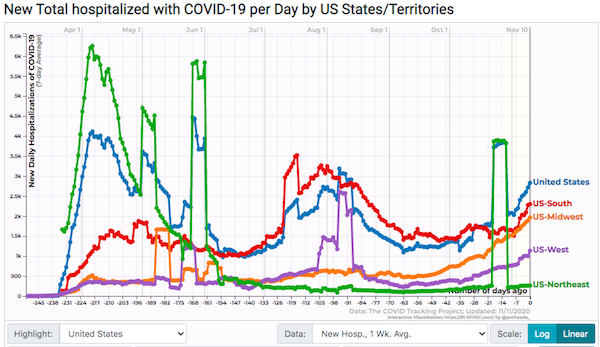 It's odd that the Northeast hospitalization rate is so low. If the third wave is due to returning students, why is the Northeast seemingly not affected, since it's such a college-heavy area? Do Northeastern college kids not party? Also, the Northeast (green) stands out for its enormous spikes.
Politics
"But what is government itself, but the greatest of all reflections on human nature?" –James Madison, Federalist 51
"They had one weapon left and both knew it: treachery." –Frank Herbert, Dune
"They had learned nothing, and forgotten nothing." –Charles Maurice de Talleyrand-Périgord
Election Legitimacy
"Claims that dead people voted went viral. These are the facts" [CNN]. "One of the supposed pieces of evidence was a list that circulated on Twitter Thursday evening allegedly containing names, birth dates, and zip codes for registered voters in Michigan. The origin of the list and the identity of the person who first made it public are not known. CNN examined 50 of the more than 14,000 names on the list by taking the first 25 names on the list and then 25 more picked at random. We ran the names through Michigan's Voter Information database to see if they requested or returned a ballot. We then checked the names against publicly available records to see if they were indeed dead. Of the 50, 37 were indeed dead and had not voted, according to the voter information database. Five people out of the 50 had voted — and they are all still alive, according to public records accessed by CNN. The remaining eight are also alive but didn't vote. The sample CNN reviewed is not representative, but the trend was clear — not a single one of the names examined was of a dead person voting."

"Republican challenge to Maricopa County election involves fewer than 200 ballots, attorneys say" [AZ Central]. "Republican officials behind a lawsuit alleging poll workers "incorrectly rejected" votes cast in person on Election Day will make their case in front of a Maricopa County Superior Court judge later this week. The defendants — Secretary of State Katie Hobbs, Maricopa County Recorder Adrian Fontes and the Maricopa County Board of Supervisors — also will have a chance to produce evidence and make oral arguments, according to Judge Daniel Kiley. But it appears unlikely the case would affect the outcome of the presidential vote. A lawyer for the county said fewer than 200 ballots are at issue."

Whoops:

cc a lot of people who've been @'ing me recently https://t.co/rocJYkIDxk

— Aaron Maté (@aaronjmate) November 10, 2020

"2020 Post-Election War Room" [Democracy Docket]. This morning I complained about the lack of a central place where all the affidavits could be stored. This looks kinda like it. So I go to the active cases in PA to look at this transcript… And it's only three pages, not the entire transcipt (even though it's billed as "Read the transcript of the oral argument here"). The site is run, as one might expect I suppose, by Marc Elias of Perkins Coie, of Steele Dossier fame. Elias was the general counsel for the 2016 Clinton campaign. Dudes, come on. Why not the whole transcript?

* * *

Propaganda works:

Yup two thirds of Democrats believe Putin tampered with votes in 2016 to hand Trump the election. https://t.co/T8KSqcwRYr

— Matt Stoller (@matthewstoller) November 10, 2020

Not only did the Democrat base in the PMC achieve class consciousness in 2016-2020, they lost their minds doing it. Kidding! But not entirely…
2020 Democrats in Disarray
AOC was right. Thread:

The comments @aoc is making about Democratic ground-game weakness are being dismissed. I have seen, up close, exactly what she is talking about.

— Richard Cooke (@rgcooke) November 9, 2020

And:

After arriving in Miami, my first task was perfunctory: find out where and when candidates were speaking. For Republicans, this took around 15 minutes. For Democrats, it took five days.

— Richard Cooke (@rgcooke) November 9, 2020

The Florida Democrat Party is notoriously useless, and has been for years. Why?
Polling
Polling debacle (1):

The final WSJ/NBC poll had Biden up by 23 with seniors. Trump ended up winning seniors by 5.

At this point, I am essentially done with polling. It is worse than useless, it actively misinforms. What a disaster. https://t.co/ia0k1azhBO

— Brian Riedl 🧀 (@Brian_Riedl) November 11, 2020

Polling debacle (2):

Massive polling miss in Texas.

The RCP average showed Trump +1.

Trump will win TX by about +6. pic.twitter.com/kAO5wE9kJM

— The Election Wizard🧙‍♂️ (@Wizard_Predicts) November 4, 2020

There are plenty of others, including Collins in Maine.

"Not fixable":

The problems outlined here, especially non-random low trust of pollsters, are not fixable by demographic weights. Or any method I can think of—besides already knowing the answer. Not amount of talent or effort can model this. Sometimes one can guess right. Sometimes not. https://t.co/qzCpEGypcq

— zeynep tufekci (@zeynep) November 5, 2020

"So what the heck happened with the polls in Pennsylvania? Here are some theories" [The Inquirer]. "For years, pollsters have asked Americans if they have vacations planned, one of many questions intended to take the temperature of the country. But when [Patrick] Murray's team at the Monmouth University Polling Institute asked in June, the results seemed off: 75% of Democrats said they were planning a summer vacation before the coronavirus struck, compared to just 43% of Republicans. That was an absurd gap for a question that usually elicited little partisan difference. Murray surmised why: Respondents knew the next question would be about if they had to cancel those plans due to the pandemic. And Democrats were eager to blame President Donald Trump for mishandling it, while Republicans didn't want to make the president look bad." • "Not fixable…."

This focus group thread is quite illuminating:

We're opening with COVID and the economy. Every participant here supports a mask mandate. Half said they were worried about new lockdowns under Biden. "I can't do March and April again," says one mother of three.

— Danny Barefoot (@dannybarefoot) November 10, 2020

Worth reading in full.
Our Famously Free Press
"Americans Didn't Vote Against Trump, They Voted Against More Media Psychological Abuse" [Caitlin Johnstone (JZ)]. "Instead, they were psychologically terrorized. Made frightened, sick and traumatized by mass media pundits who only care about ratings and clicks, as was made clear when CBS chief Les Moonves famously said that Trump is bad for America but great for CBS. Dragged through years of Russia hysteria and Trump hysteria with any excuse to spin Trump's presidency as a remarkable departure from norms, when in reality it was anything but. It was a fairly conventional Republican presidency…. In reality, though most of them probably did not realize it, this is what Americans were actually voting against when they turned out in record numbers to cast their votes. Not against Trump, but against this continued psychological abuse they've been suffering both directly and indirectly from the mass media. Against being bashed in the face by shrieking, hysterical bullshit that hurts their bodies and makes them feel crazy, and against the unpleasantness of having to interact with stressed-out compatriots who haven't been putting up well with the abuse. It wasn't a 'Get him out' vote, it was a 'Make it stop' vote." • Intriguing, but I haven't heard any anecdotes that support this….
Health Care
One for the centrists:

We'll keep saying it. Dem incumbents who ran on Medicare for All & Green New Deal in competitive House races won.

Dems who lost reelection—in red *or* blue districts—ran away from GND & M4A.

Losers fail to present their own positive vision.
We have necessary solutions that win. https://t.co/8ekkKNmyY9 pic.twitter.com/M8hOcCHmVC

— DSA for a Green New Deal🌱🌹⚡️ (@DSA_Enviro) November 10, 2020
Stats Watch
At reader request, I added some business stats back in. Please give Econintersect click-throughs; they're a good, old-school blog that covers more than stats. If anybody knows of other aggregators, please contact me at the email address below.
There are no statistics of note today.
One FANG Rout Doesn't Make a Market Revolution Bloomberg
Mr. Market: "One FANG Rout Doesn't Make a Market Revolution" [John Authers, Bloomberg]. "Kriti is unquestionably right that we don't yet know if Monday's extraordinary market convulsion is the beginning of a wider rotation. She's also right that we can only know for sure with hindsight. But it would still help to know if we are at the beginning of that process. So let's examine the issue."
* * *
.
Today's Fear & Greed Index: 65 Greed (previous close: 58 Greed) [CNN]. One week ago: 34 (Fear). (0 is Extreme Fear; 100 is Extreme Greed). Last updated Nov 11 at 12:19pm. Tooling along nicely now.
Health Care
"Pfizer CEO unloads $5.6M of stock as coronavirus vaccine hopes send shares soaring" [FOX]. "Pfizer CEO Albert Bourla sold $5.6 million of company stock Monday as shares soared 15% on the news that a late-stage trial found the company's COVID-19 vaccine to be 90% effective… 'The sale of these shares is part of Dr. Bourla's personal financial planning and a pre-established (10b5-1) plan, which allows, under SEC rules, major shareholders and insiders of exchange-listed corporations to trade a predetermined number of shares at a predetermined time,' a Pfizer spokesperson said in a statement." • Doesn't Bourla expect his stock to appreciate? I'm still queasy.
"Biden's pandemic plan: Restore Obamacare, mandatory masks, paid sick leave and free COVID-19 tests" [MarketWatch]. • But not free treatment. Seems a little minimalist. And the article doesn't even mention contact tracing, whether forward or backward.
"Nursing Home Quality, Covid-19 Deaths, and Excess Mortality" (PDF) [Christopher J. Cronin, William N. Evans NBER]. "Quickly after the pandemic hit the US, most nursing homes banned all visitors, disrupting the daily routines of many residents. An abundance of qualitative evidence from nursing home staff, administrators, and resident family members suggests that the lack of in-person contact with loved ones and other residents is not only generating feelings of loneliness, isolation, and despair, but may also expedite death (Aronson, 2020; Paulin, 2020; Graham, 2020). Population-wide trends in mortality support this claim. "
"Government gears for unprecedented challenge of Eli Lilly antibody rollout as efficacy questions linger" [EndPoints]. "On Tuesday, CDER chief Janet Woodcock, who stepped away from the FDA to run the treatment arm of Operation Warp Speed, outlined the government's plan to distribute the 300,000 doses they've agreed to purchase from Eli Lilly. They will rely largely on a system that officials eventually developed for distributing remdesivir: Rather than give the drug directly to medical centers, they will allocate it to states and territories according to how many Covid-19 cases and hospitalizations they have. Local governments would then allocate it within their jurisdictions."
"Speed, Evidence, and Safety Characteristics of Vaccine Approvals by the US Food and Drug Administration" [JAMA]. "Since 2010, most novel vaccines approved by the FDA required about 8 years of clinical development and were based on evidence from a median of 7 clinical trials, including at least 2 pivotal efficacy trials that were randomized, masked, and used a comparator group. These pivotal efficacy trials enrolled a median of 5000 patients, who were followed up for serious adverse events for at least 6 months. Given the urgency of developing a COVID-19 vaccine, trials will need to be larger than those supporting prior vaccine approvals and include sufficient follow-up time for emergence of adverse effects."
"Biden Wants To Lower Medicare Eligibility Age To 60, But Hospitals Push Back" [NPR]. "Of his many plans to expand insurance coverage, President-elect Joe Biden's simplest strategy is lowering the eligibility age for Medicare from 65 to 60. But the plan is sure to face long odds, even if the Democrats can snag control of the Senate in January by winning two runoff elections in Georgia. Republicans, who fought the creation of Medicare in the 1960s and typically oppose expanding government entitlement programs, are not the biggest obstacle. Instead, the nation's hospitals — a powerful political force — are poised to derail any effort. Hospitals fear adding millions of people to Medicare will cost them billions of dollars in revenue."
"Opinion: Picking the wrong health insurance is a $2,000 mistake" [MarketWatch]. "Almost a quarter of employees faced with the choice of two employer-sponsored health-care plans picked the one that left them worse off financially, even though they offered the same non-cost benefits, according to new unpublished research we conducted. Using data from a large university in the Midwest that offered to subsidize one of two health-care plans, we wanted to see how hard it is for people to make the better choice when given only two options. The plans were identical in every respect other than their costs. One plan had much higher premiums but lower out-of-pocket expenses such as deductibles and co-payments for the employee. Our analysis found that 97% of the 2,300 employees would have been better off with the other plan, which had lower premiums but higher cost-sharing. Yet 23% chose the higher-premium plan anyway. The average cost per year of choosing the wrong plan was over $2,000, according to our paper, which we plan to submit for publication soon." • First, why are people even forced into this insane choice? What is the point? Second, perhaps the "high premium"/"low deductibles" plan let those who chose it sleep better at night. Who wants to stump $10,000 as soon as they need care?
Games
"On Animal Crossing and the Ghosts of Empire" [Amy Stanley] "This brings us to Animal Crossing: New Horizons. It goes like this: Your avatar is sent to a deserted island with a unique layout and a certain kind of indigenous fruit tree (mine is an orange) and a certain kind of indigenous flower (mine is a lily). An enthusiastic but dimwitted capitalist named Nook has sponsored the journey, and he expects to be paid back, but – as will be the case throughout the game – he charges no interest. You arrive along with other newcomers, your "villagers," and your task is to develop the island by creating habitations and infrastructure. The best way to earn money is to harvest the natural resources of the island and sell them to a petty shopkeeper; you can also use these resources to construct tools that will aid you in development. Eventually, you meet a naturalist who wants to build a museum on your island, so you donate materials for his collections. You can do all this while dressed in an increasingly varied and ridiculous series of outfits. That, more or less, is the game. All of this – including the construction of new infrastructure, the intense interest in natural phenomena, and the ridiculous outfits – sounds a lot like an early twentieth-century colonial enterprise. In fact, it is distressingly reminiscent of the Japanese empire itself."
Black Injustice Tipping Point
"The Only Successful Coup in the US Began as a Campaign to Curb Black Voting Rights" [Literary Hub]. "One of the main Democratic campaign themes was that if their party were not returned to power, there would be an epidemic of attacks by black men on white women. To stoke those fires, a statewide Democratic newspaper, The News and Observer, reprinted an August 1897 speech by Rebecca Latimer Felton, a Georgia suffragette, who would later become the first woman to serve in the United States Senate. 'If it requires lynching to protect woman's dearest possession from ravening, drunken human beasts.'" • Yikes! Worth reading in full.
News of the Wired
"Are Straight People OK? How We Can Improve Heterosexuality" [Teen Vogue]. "Even though straight culture is understood as flawed, it's still our society's default, reinforced by everything from the wedding industrial complex to romantic comedies to Beyonce songs. We're told by pop culture and capitalism alike that it is easier and safer to participate in straight culture than it is to be queer. Jane Ward, a professor of gender and sexuality at UC-Riverside and a lesbian who identifies as an ally to the straights, wants to change that presumption—but also our cynicism about the possibility of straight sex and love." • "Identifies as an ally." Is that the same as actually being an ally?
"One hundred years of 'We'" [The New Criterion]. "Yevgeny Zamyatin wrote We in 1920, during the Russian Civil War. Composed at the dawn of the Soviet era—a not-so-distant mirror of our own troubled and dangerous times—We was first published in the USSR in 1988, at its dusk. The manuscript, a stunning prophecy of totalitarianism and a classic of dystopian literature, was one of several works that prompted a newspaper and magazine campaign against the author…. Zamyatin is among the few gifted twentieth-century writers who responded to ideological tyranny by poetically integrating mathematical science into a philosophical anthropology…. A trained scientist, Zamyatin designed and supervised the construction of icebreakers in England during the Great War. In We, mathematics (the language of the totalitarian OneState) and poetry (the language of its revolutionary opponents) are the antipodes around which humanly fundamental oppositions coalesce: necessity and freedom; order and chaos; entropy and energy; rationality and irrationality; utility and beauty; force and love; tameness and wildness; social totality and individual infinity. The drama of We plays out in the charged space between these poles: a field of electrical attraction and repulsion where opposites merge, unities split apart, and nothing stands still for long."
For Bob and Ray fans:
At least there's no means-testing….
For golf fans:
His second in two days, Jon Rahm skips his way to a hole-in-one at No. 16 – on his birthday, no less. #themasters pic.twitter.com/rtefAN5XtH

— The Masters (@TheMasters) November 10, 2020
* * *
Readers, feel free to contact me at lambert [UNDERSCORE] strether [DOT] corrente [AT] yahoo [DOT] com, with (a) links, and even better (b) sources I should curate regularly, (c) how to send me a check if you are allergic to PayPal, and (d) to find out how to send me images of plants. Vegetables are fine! Fungi and coral are deemed to be honorary plants! If you want your handle to appear as a credit, please place it at the start of your mail in parentheses: (thus). Otherwise, I will anonymize by using your initials. See the previous Water Cooler (with plant) here. Today's plant (CR):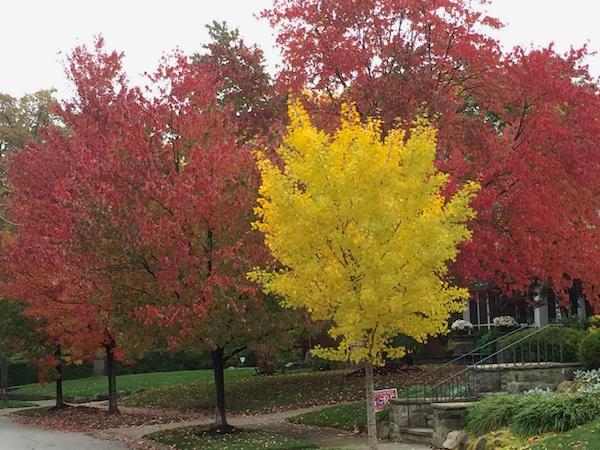 CR writes: "Autumn color in Shaker Heights, Ohio, 10/26/2020. A political sign for a Trumpian Congressional candidate adds seasonal flare."
* * *
Readers: Water Cooler is a standalone entity not covered by the recently concluded and — thank you! — successful annual NC fundraiser. So if you see a link you especially like, or an item you wouldn't see anywhere else, please do not hesitate to express your appreciation in tangible form. Remember, a tip jar is for tipping! Regular positive feedback both makes me feel good and lets me know I'm on the right track with coverage. When I get no donations for five or ten days I get worried. More tangibly, a constant trickle of donations helps me with expenses, and I factor in that trickle when setting fundraising goals:
Here is the screen that will appear, which I have helpfully annotated.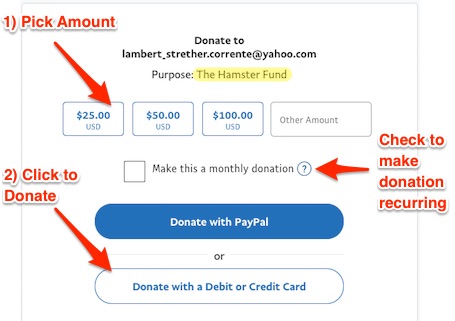 If you hate PayPal, you can email me at lambert [UNDERSCORE] strether [DOT] corrente [AT] yahoo [DOT] com, and I will give you directions on how to send a check. Thank you!

Original Source