By Lambert Strether of Corrente
This will be a short post, partly because it's one those "I went to the swamp, but I didn't find the bird" posts, but also because I want to make time for a clean-up on aisle Covid.
America's Covid-19 debacle can be, in one telling, traced to a failure of leadership, as for example in The New York Times headline: "Inside Trump's Failure: The Rush to Abandon Leadership Role on the Virus," with the deck: "The roots of the nation's current inability to control the pandemic can be traced to mid-April, when the White House embraced overly rosy projections to proclaim victory and move on." The nation's failure, then, is Trump's failure. (As a corollary, all we need do to succeed is replace Trump). But could leadership failure be more general?
To find out, I thought I would examine mobilization by university leadership in the Covid-19 crisis; specifically, University Presidents. University Presidents are by definition leaders[1], and very well paid to be. University Presidents, or at least administrators, are also, at least if conservative commentary is to be believed, are more liberal than average. Hence, they would be the least likely to be swayed by Trump, and therefore likely to exercise leadership collectively to protect students from covid[2] regardless of what Trump said or did. University Presidents collectively also have, if not in their gift, at least under their influence, enormous resources of every kind: scientific, engineering, medical, business. If ever there was an opportunity to mobilize, it was here. I won't assess the success or failures of university leadership; I am simply asking whether or not they mobilized[3].
In fact, university Presidents — leaders, let us remember — did not mobilize to protect students from Covid. Frankly, I never thought they did, because I do try to pay attention to these things, but to prove it to myself, I went through 33 pages of headines for the Coronavirus tag in the Chronicle of Higher Education, all the way back to the first entry on February 24 ("Coronavirus-Themed Party at Albany Draws Criticism"). No headlines like "University Presidents form Task Force to Address Covid Crisis," or "Ivy League Presidents form Testing Consortium for Student Health Centers," or even "Land Grant University Presidents Sponsor Webinar on Covid and Partying." Nothing.
As it turns out, protecting students from Covid was never a top priority for University Presidents. The American Council on Education ("a membership organization that mobilizes [ha] the higher education community to shape effective public policy and foster innovative, high-quality practice") has published periodic surveys on what University Presidents consider pressing issues.
For April, here are the results in prose:
From a list of 14 issues, presidents were asked to select up to five they deem most pressing (see Figure 1). Overall, 86 percent of presidents selected "fall or summer enrollment numbers," 64 percent selected "long-term financial viability," 45 percent selected "sustaining an online learning environment," 44 percent selected "laying off of faculty and/or staff," and 41 percent selected "mental health of students."
As you can see, "safety" would go under "Other," at 5%. Here are the results in chart form: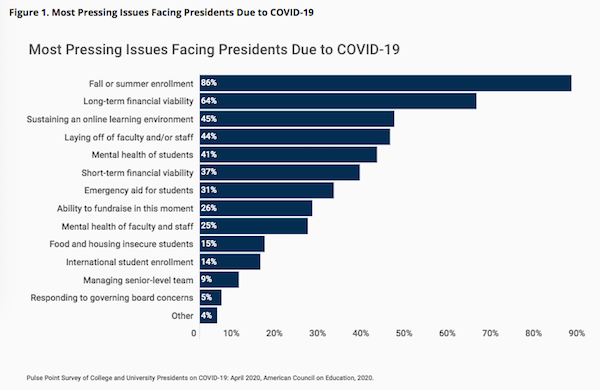 In September, the results are somewhat different:
In the September survey, presidents were presented with a list of 19 issues and again asked to select up to five they view to be most pressing for them currently (see Figure 1). Mental health of students (53 percent) was the top concern selected by presidents.
And here are the results in chart form: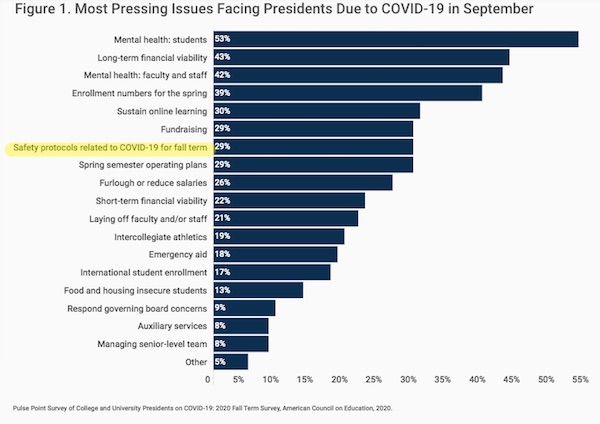 As you can see, "safety protocols" clock in at #7. (Frankly, I just don't understand it. They rank mental health #1, and rank becoming safe from what's making everybody crazy at #7? How does that work?)
So, University Presidents may well have mobilized on other fronts (financial, for example, or lobbying). They did not mobilize around student safety, and the surveys suggest they did not because that issue was not very important to them.
Inside Higher Ed also has two opinion pieces on March 24 that lay out two different paths that for University Presidents to take. The first, from Susan Resneck Pierce, "Leadership and Community in Tumultuous Times" (I edited for length):
So what should boards and presidents do in response to all this? As a starting point, I suggest the following:

With the president's involvement, the board chair should create a crisis response committee…
Presidents and key trustees should work with senior staff to determine how, if at all possible, to continue to pay and provide benefits for employees…
Under all circumstances, presidents and other campus leaders should do everything possible to sustain a sense of community….
Presidents need to create additional teams, some populated with those with expertise in specific areas (e.g., enrollment, financial aid, fundraising or facilities) and others that might include faculty, staff, students and trustees to do scenario planning…
More than at any other time, trustees need to set a philanthropic example — something that may be difficult for some in light of what is probably happening to their own financial portfolios….
The advancement team might reach out, as some institutions already have, to alumni to provide support for students from low-income families….
The academic vice president or provost should work with the faculty to develop contingency plans for curricular offerings…
Institutions might make it clear to current students …
Campuses in line for accreditation visits
Finally, in the event of the truly unhappy reality that some institutions will no longer have the financial means to remain open, the board and president need to fairly quickly make a series of truly devastating decisions…
First, I read this list of recommendations twice: There is no mention of health and student safety whatever; apparently that's not worthy of concern at President and Board level. Second, institutionally, there is no mention of reaching out to any other institutions; it's "every tub on its own bottom."
The second, from Jeff Selingo and Martin Kurzweil, "The Networked University in a Pandemic — and Beyond", starts out well:
Navigating both the immediate crisis as well as changes in the long run is going to require more strategic collaboration among colleges and universities. Deeper alliances will not only save campuses precious time and resources in the coming months but also could mitigate the consequences of COVID-19 in the longer term.

From the beginning, institutions tackled their response to this crisis largely on their own even while looking to their counterparts around the country. Academic departments trained faculty members on pedagogical tactics and technology to shift their classes online. Admissions offices turned campus events into virtual gatherings.

Over time some decisions started to take on a herd mentality within higher education, such as a shift to pass/fail grading policies for the semester and extended admissions deadlines. To be sure, there has been some limited but helpful coordination in these early days: webinars to share best practices, associations and third-party organizations pulling together makeshift Google Docs of responses, or activating long-existing shared-services agreements. But far more is needed.

In a recent study, we found that multifaceted higher education networks are necessary to tackle complex problems when the expertise is distributed across different organizations and when the situation has no readily apparent solutions. This current crisis has all the elements for that networked solution in higher education.
However, Selingo and Kurzweil, though at least approaching collective mobilation through their "networking concept," also do not mention health and student safety. For them, apparently, health and student safety are not "strategic," no more than health and student safety are part of Pierce's "community."[3]
A final example comes from the "Rapid-Response Webinars" sponsored by the American Council on Education (ACE). Here is a list of video titles for the webinars:
Mental Health Task Forces: How to Center Equity and Support Student Flourishing
Transforming an Institution and Its Workforce After COVID-19—Q&A Breakout Session
Leading in Tumultuous Times: Three Case Studies in Crisis Management
Digitizing Academic Delivery after COVID-19—Q&A Session
Key Leadership Actions to Prepare Our Campuses for the Election: Part 2
Managing the Student Lifecycle after COVID-19—Q&A Session
Key Leadership Actions to Prepare Our Campuses for the Election
Workforce Management During Challenging Times
Public Policy Pop-Up: September Edition
A Conversation on Student Success: Equity and Success for Online Community College Students
Mental Health and COVID-19: A Student-Led Conversation with Senior Leaders
The Economic Impact of COVID-19 and Growing Need for Higher Ed Affordability
Basic Needs for All Students
Pointing COVID-19 Responses Toward a Sustainable Business Model for Higher Education
Rethinking Career-Relevant Instruction in Pandemic Times
Recovery 2020: Scenarios for the Fall and Beyond
The Gendered Impact of COVID-19 on Higher Education
Promoting Civic Engagement and Democracy in a Global Pandemic
The Effects of COVID-19 on Academic Research
Helping Students Prepare for and Navigate the Transformed Job Market after COVID-19
Making Assessment Meaningful, Rigorous, and Secure During and Beyond COVID-19
Enrollment Strategies and Tactics for the Global Pandemic
Student-Informed Principles and Strategies to Support Enrollment in Light of COVID
How Can Blockchain Play a Role in Learning Continuity? A Non-Technical Introduction
Advising Students Virtually in Uncertain Times
Provosts' Perspectives on Internationalization: COVID-19 Edition
Navigating Technical Challenges of a Rapid Shift Online
Supporting Students New to Learning Virtually
How Leadership Can Support Rapid Faculty Adaptation to Online Courses
Diversity, Equity, and Inclusion and COVID-19: Implications and Strategies
Weathering the Financial Storm of COVID-19
Public Policy Pop-Up: March 2020
Community Colleges Respond to COVID-19: What Leaders Need to Know
Managing Well-Being During the COVID-19 Crisis
COVID-19 ACHA Guidelines: Preparing Campuses for Crisis Management at Light Speed
Swiftly Pivoting to a Fully Remote Campus: Responding to COVID-19
Do you see student health and safety mentioned those titles? (See comment on "mental health" above.) In addition, providing webinars to institutions otherwise not networked is the essence of tub-on-its-own-bottom-ism.
It may be objected that in these divided, partisan times, there's no point attempting to mobilize University Presidents because they won't be able to agree on anything; for example, masking, lockdowns, etc. I would urge that there is, in fact, a lowest common denominator of "innovative, high-quality practice" (as the ACE put it, above). Here are three examples.
First, waste water testing. It's been known at least since April (see Nature here) that a "community's" waste water can be used as an "early warning system" for the presence of SARS-COV-2. Syracuse University and the University of California at San Diego were using waste water testing as early as June 8. "If testing finds a sudden spike in the sewage, Syracuse said, the university can test students in that residence hall for a potential outbreak. And the wastewater monitoring can help identify people with mild symptoms or who are asymptomatic." Simple, cheap, obvious, not intrusive, not political. Surely University Presidents could have mobilized around this lowest common denominator?
Second, dashboards. The Association of Public and Land-Grant Universities maintains a list of dashboards for its members here. Why is there no central site that at least lists all dashboards (and ideally maintains them in a common format)? Certainly this would be useful for parents with children at different schools, adjuncts who work at several shooks, not to mention the public service aspect for researchers. It would also be useful to students themselves, so they could measure their institutions against others, and hold them accountable. Surely University Presidents could have mobilized around this lowest common denominator?
Third, partying. One of the more amusing albeit features of college students returning to school was the University administrator's shocked horror that students would actually party, breaking the rules (well, I never). Leaving aside the issue of what form of magical thinking allowed University Presidents to imagine this wouldn't happen, surel surely "let's get drunk and screw" is a lowest common denominator behavior that could have been addressed by a public relations campaign for all universities and colleges? Surely University Presidents could have mobilized around this?
Yes, of course these things all cost money. Boards and Presidents seem to be spending all their time raising money, so why not raise it for student health and safety, ffs?
* * *
Well, the Covid situation on our campuses has developed not necessarily to our advantage[4]. And over the spring, summer, and fall, the concept that universities might find advantage in mobilizing collectively seems to have penetrated the University President's collective mind. They have been surveyed, and here is the result. From Insider Higher Ed, "Who Leads Colleges After COVID-19?":
What specific long-term steps leaders are considering for the coming years seem to vary greatly. Some are still generating ideas.

Partnering could lead to savings through consolidated central office functions. Institutions could learn from each other's complementary core competencies. A community college might bring adult education, two-year degrees and flexible course delivery to the table. A liberal arts college might have physical assets, four-year degrees and the ability to teach critical thinking skills or to tap global networks. Together, they could offer stackable degrees while connecting local talent to new opportunities.
So, I'll take "increased partnerships" as a half-hearted proxy for mobilization. But look at the long-term steps. Is student health and safety there? No! Never, ever… Perhaps Trump isn't the only leader who's failed us?
NOTES
[1] I think "leader" and "leadership" sound better in the original German, but what do I know?
[2] Interestingly, the ethical principles of the American Association of University Administrators ("the only professional association for individuals who are interested in the entire range of higher education management… in the entire diverse set of American colleges and universities") do not include a duty of care to students.
[3] From the Boston Globe, "COVID-19 thrusts college presidents into the hot seat":
College presidents usually spend their summers at dinners with potential donors, flying off to prestigious international conferences and welcoming dignitaries at campus events. This summer they've been wading through coronavirus testing data, defending fall plans on cable TV networks; and holding video conference calls with anxious parents and angry neighbors.

Many have been forced to confront some of the harshest criticisms of their careers from skeptical faculty and students, who fear their schools' reopening plans may be driven more by flagging institutional finances than public health.

The number of college presidents who've been blaming students instead of acknowledging their reopening plans were inadequate has been disappointing, said A. David Paltiel, a professor of the Yale University School of Public Health.

"," said Paltiel, who's been advising college presidents on reopening.
Well, I never!
[4] Long-time readers will be aware that my views of college adminstrators are jaundiced. Sadly, my priors have been confirmed.

Original Source