By Lambert Strether of Corrente.
I hope everybody's Thanksgiving was excellent, and safe! –lambert
Bird Song of the Day
#COVID19
At reader request, I've added this daily chart from 91-DIVOC. The data is the Johns Hopkins CSSE data. Here is the site.
Case count by United States region: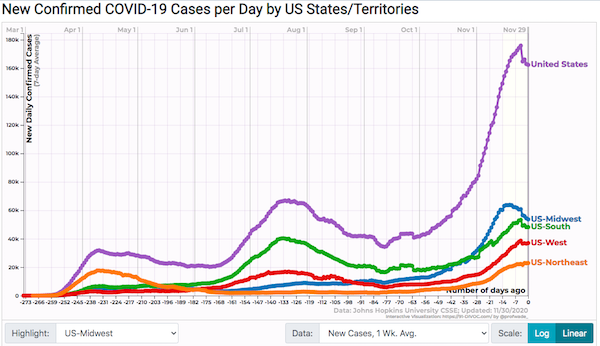 The Midwest in detail (with New York, California, and Texas for comparison):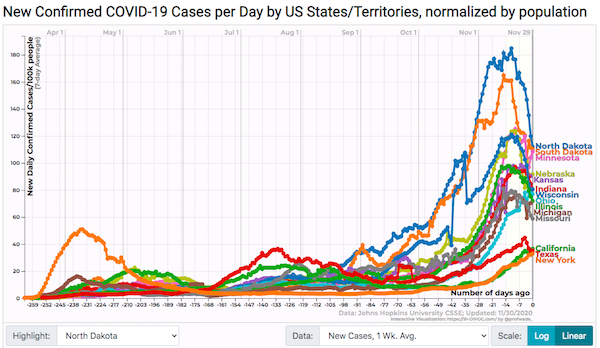 Note that the fall in the Midwest began around 11 days ago. That's a little early for Thanksgiving travel.
Test positivity by region: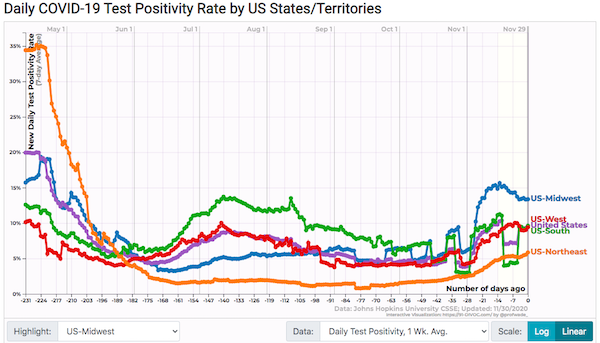 Hospitalization by region: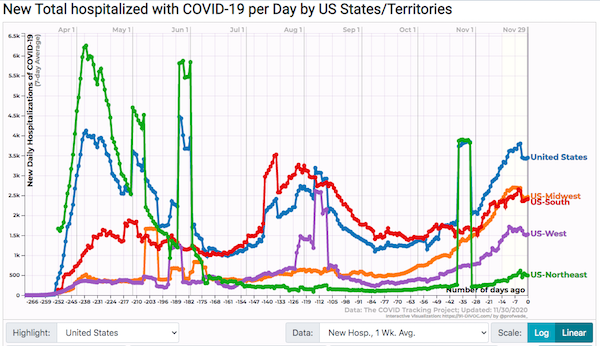 I have seen the idea in my travels that hospitalization rates should not drop over Thanksgiving, because hospitals do not close. But the rates have dropped, in every region. I suppose data submission could have stopped, however, even if admissions continued. Or perhaps staff were given a well-deserved break?
Case fatality rate by region: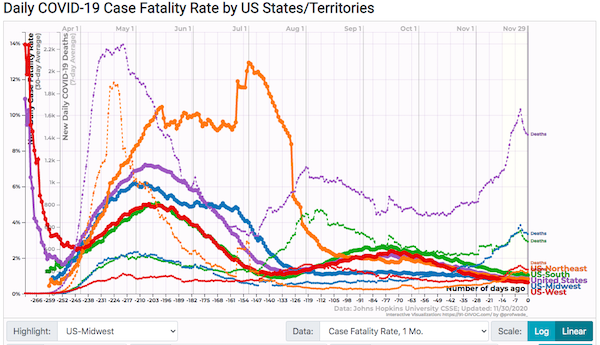 Deaths (purple line) dropping starting on Thanksgiving Day sure looks like a reporting issue to me.
"Daily COVID-19 Data Is About to Get Weird" [The Covid Tracking Project]. "The actual case increases from Thanksgiving exposures—people who got COVID-19 during the holiday weekend—probably won't start showing up in the data until the second week of December. Succeeding waves of infections from holiday gatherings will roll in for weeks. From what we've seen so far, the virus can spread with remarkable speed, but there are delays at every step in tracing and reporting its spread: It takes time to get tested, time to get and report a result, time to trace close contacts—and to start the process over again with a new circle of exposures." •
From the Department Of A Million-To-One Chance:
"Possible role of tryptophan and melatonin in COVID-19" [International Journal of Tryptophan Research]. "[T]ryptophan-rich sources could be beneficial for COVID-19 subjects.15 Despite enormous efforts to develop a COVID-19 vaccine, an effective and safe will, vaccine will likely not be available before 2021, which further demonstrates the need to develop quickly alternative solutions that are effective and known to be safe. Increasing evidence from several studies show that tryptophan and its metabolites including melatonin can reduce inflammatory reactions and enhance the immune system.7-9 There may also be a possibility that serotonin levels are altered in COVID-19 patients because of mental stress, which suggest a role for Trp in treatment. Trp is the precursor for melatonin (sleep hormone), which was reported to exert beneficial effects on the immune system through various physiological means." * From Scientific American: "Tryptophan is one of 20 naturally occurring amino acids—the building blocks of proteins. Because the body is unable to manufacture tryptophan on its own, it must be obtained from food protein. Turkey is a great source of this essential acid, but it is not unique: many meats and other protein products pack comparable amounts." • Apparentlly, tryptophan does not make you sleepy; that's the carbs. And even if there are other comparable sources, Thanksgiving to my mind is about eating lots of turkey. So if there's a dose-response relation…. Anyhow, the article does conclude that "more research is needed." But we can't always wait for the controlled study. So chow down on those turkey leftovers!
Politics
"But what is government itself, but the greatest of all reflections on human nature?" –James Madison, Federalist 51
"They had one weapon left and both knew it: treachery." –Frank Herbert, Dune
"They had learned nothing, and forgotten nothing." –Charles Maurice de Talleyrand-Périgord
Transition to Biden
I could dunk all day on Neera Tanden (here, here, and here for starters), but maybe Stoller is right:

Biden-world isn't being cynical with this pick, they actually believe that they are throwing a bone to progressives because they imagine progressives like Neera Tanden. Team Biden really thinks they are picking lots of progressives. https://t.co/5OgJvuJFKe

— Matt Stoller (@matthewstoller) November 30, 2020

Since this theory assumes that Team Biden is completely detached from all reality, isn't it likely to be right? Then there's this:

Biden-world isn't being cynical with this pick, they actually believe that they are throwing a bone to progressives because they imagine progressives like Neera Tanden. Team Biden really thinks they are picking lots of progressives. https://t.co/5OgJvuJFKe

— Matt Stoller (@matthewstoller) November 30, 2020

Which we know from Wikileaks (hat tip, Julian Assange):

Given tonight's news, I hope oil-rich countries around the world are increasing the security on their rigs and drilling sites: https://t.co/oN8KCtW7DU pic.twitter.com/dEc5mkEs77

— Glenn Greenwald (@ggreenwald) November 29, 2020

But Neera Tanden went to Yale!
Transition from Trump
"Trump considering kicking off 2024 run during Biden's inauguration: report" [The Hill] • World's Greatest Troll™
Realignment and Legitimacy
"Political lying as tribal signaling" [Noah Smith, Noahpinion]. " I propose that political lies are a costly signal of tribal loyalty. Remember, in economics, 'signaling' means much more than just 'trying to prove something.' Signaling in econ is basically when people jump through hoops in order to prove themselves. You might take a useless but difficult college course or math test, just to prove to future employers that you're smart. Or you might get a tattoo to prove your loyalty to a yakuza gang, even though the tattoo would make it harder to get into a Japanese public bath or get a normal job. The fact that the signal comes with a cost is essential to separating the dedicated people from the posers. Political lies could function similarly to the gang tattoos. By going on record as saying that we should seriously consider the possibility that climate change might not be real, you exposure yourself to a lifetime of ridicule. But that very exposure might prove that you're the real thing, hardcore, really on the team, to a partisan audience who might otherwise be inclined to question your conservative bona fides…. What if supporting Trump, in spite of all the costs, is a way of demonstrating that the Red Tribe is still numerous and strong, and that conservatives aren't simply going to disappear from American culture? Uttering falsehoods about the election could simply be part and parcel of this same attempt at signaling that We Still Have a Gang." • Hilariously, it doesn't seem to occur to Smith that his theory applies to RussiaGate believers…. NOTE I'm a little worried about "tribalism" covering everything like kudzu. Tribes are social structures. I'm reluctant to call groups like bōsōzoku or fandoms or Byzantine chariot factions or today's Reds and Blues tribes, except metaphorically.

Déclassé:

it's fun to make fun of Republican grifts with their manipulative emails and déclassé gofundmes. but i'm not sure they're much worse than the other kind of grift, that involves highly paid consultants monetizing relationships accrued in government to corporate clients.

— Steve Randy Waldman (@interfluidity) November 25, 2020

Well, this is a horrible thought. Thread:

Today's covid denialists are tomorrow's openly eugenicist "these disabled people are a drain on society"

Literally. 13 years after the Spanish flu, the very first people the nazis targeted were disabled people.

What caused a lot of those disabilities, you think?

— Anosognosiogenesis (@pookleblinky) November 29, 2020

In general, I'm more comfortable with arguments from American, not European, precedent. After all, Nazi legal theorists came to the United States to study our Jim Crow laws, because they considered them very modern and advanced, albeit misdirected (James Whitman, Hitler's American Model).
Stats Watch
At reader request, I added some business stats back in. Please give Econintersect click-throughs; they're a good, old-school blog that covers more than stats. If anybody knows of other aggregators, please contact me at the email address below.
Chemical Activity Barometer: "November 2020 Chemical Activity Barometer Rises But Remains In Contraction" [Econintersect]. "The Chemical Activity Barometer (CAB), a leading economic indicator created by the American Chemistry Council (ACC), rose 0.8 percent in November on a three-month moving average (3MMA) basis following a 1.0 percent gain in October. On a year-over-year (Y/Y) basis, the barometer fell 2.4 percent in November… These were highly volatile months for the data. The November data are provisional and subject to revision."
* * *
Retail: "Black Friday traffic at U.S. stores down 52% even as online retail sales hit record high" [MarketWatch]. "Consumers spent an estimated $9 billion on U.S. retail websites on Black Friday, according to Adobe Analytics, which tracks online shopping. That was a 22% increase over the previous record of $7.4 billion set in 2019. Meanwhile, traffic to physical stores plummeted as retailers tried to prevent crowds by cutting their hours and limiting doorbuster deals. U.S. store visits dropped by 52% on Black Friday, according to Sensormatic Solutions, a retail tracker. Traffic was slower in the Northeast and West than in the Midwest and South, said Brian Field, Sensormatic's senior director of global retail consulting. Jewelry and footwear saw some of the biggest in-person sales declines, according to RetailNext, a shopping tracker. Apparel sales were down 50%, while sales of home goods fell by 39%. Even with that drop, Black Friday will still likely end up as one of the biggest in-person shopping days in the U.S. this year, Field said. He thinks many people will still shop for the holidays in person, but will choose mid-week days when crowds are smaller. Heavier in-store discounts and concerns about lengthy shipping times could also draw shoppers closer to Christmas."
Tech: "HP CEO talks up HP-ink-only print hardware and higher upfront costs for machines that use other cartridges" [The Register]. "Just this month HP began to roll out HP+, described as an 'end-to-end platform strategy' that ties customers into only using HP ink, which 'provides a differentiated value proposition for our loyal customers,' said Lores. HP+ includes web-connected 'standard print hardware', which HP says 'automatically detects and fixes connectivity issues', the Smart Security monitoring system, native in-OS printing, and a Forest First feature where every page printed is 'balanced with investments to help protect and restore forests in equal measure.' The requirements of HP+? An HP account, internet connection, and 'use of Original HP Ink or Toner for the lifetime of the printer.'"
Tech: "Belgian security researcher hacks Tesla with Raspberry Pi" [Computer Weekly]. "The Tesla Model X's key fob lets its owners automatically unlock their car when approaching it, or by pressing a button, using the Bluetooth Low Energy (BLE) communications standard to talk to the car via a smartphone app. This process was bypassed by PhD student Lennert Wouters of the University of Leuven's Computer Security and Industrial Cryptography (Cosic) research group in a proof of concept using a self-made device built from a Raspberry Pi, a modified key fob and engine control unit (ECU) from a salvaged Model X, and other components costing a total of $195 (£144/€162)."
Tech: "FCC Maintains Ban on Mobile Phone Voice Calls During Flights" [Bloomberg]. "The U.S. Federal Communications Commission killed a proposal to allow in-flight voice calls via mobile phones… [T]he proposal led to strong and immediate pushback, with travelers, flight attendants, members of Congress and others saying they were troubled by the idea of passengers talking on phones in flight. One group raised 'the potential for air rage if passengers are using their cell phone.'" • Yay!
* * *
.
Today's Fear & Greed Index: 88 Extreme Greed (previous close: 91 Extreme Greed) [CNN]. One week ago: 75 (Greed). (0 is Extreme Fear; 100 is Extreme Greed). Last updated Nov 30 at 12:27pm.
Rapture Index: Closes up 1 on Israel. "Iran voes [sic] revenge against Israel after its nuclear chief is killed" [Rapture Ready]. Record High, October 10, 2016: 189. Current: 183. (Remember that bringing on the rapture is a good thing, so high is better.) I would have expected "Beast Government" to be popping with Biden's election.
The Biosphere
"Illegal Tampering by Diesel Pickup Owners Is Worsening Pollution, E.P.A. Says" [New York Times]. "The owners and operators of more than half a million diesel pickup trucks have been illegally disabling their vehicles' emissions control technology over the past decade, allowing excess emissions equivalent to 9 million extra trucks on the road, a new federal report has concluded. The practice, described in a report by the Environmental Protection Agency's Office of Civil Enforcement, has echoes of the Volkswagen scandal of 2015, when the automaker was found to have illegally installed devices in millions of diesel passenger cars worldwide — including about half a million in the United States — designed to trick emissions control monitors. But in this case no single corporation is behind the subterfuge; it is the truck owners themselves who are installing illegal devices, which are typically manufactured by small companies. That makes it much more difficult to measure the full scale of the problem, which is believed to affect many more vehicles than the 500,000 or so estimated in the report. In terms of the pollution impact in the United States, 'This is far more alarming and widespread than the Volkswagen scandal,' said Drew Kodjak, executive director of the International Council on Clean Transportation, the research group that first alerted the E.P.A. of the illegal Volkswagen technology. 'Because these are trucks, the amount of pollution is far, far higher,' he said."
Health Care
Alert reader KH throws the following over the transom: "In case you haven't already gotten word of this, these banners were strung across I-70 and I-25 in the Denver metro vicinity today. A friend took this picture and sent it to me. This took some organization."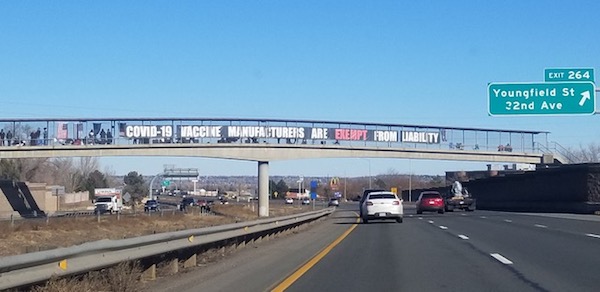 I reiterate my view that the first people to be vaccinated should be all the electeds (House, Senate, President) and all the political appointees at the Federal Level. Maybe the Supreme Court, too. Think of it as a trust-building exercise.
Our Famously Free Press
"One Twitter Account's Quest to Proofread The New York Times" [The Ringer]. "When he corners his typo prey, @nyttypos typically screenshots the problematic passage and tags the author and/or any editors he believes may be responsible (or responsive). Although he could catch more typos with honey than with vinegar, his tweets tend toward acetic acid. 'Functionally illiterate' is a go-to put-down. 'It's kind of a paradox in that if he just wants to fix the mistakes, he's hurting his chances of doing so because reporters are probably tuning him out, maybe actually muting him or blocking him,' [Jason Bailey, an editor on the national desk at the Times] says. 'But he's probably building more of a following among random people on Twitter who like to see someone dunk on the Times about backward quotation marks.'" • Nice attitude toward quality control for an editor! For example:
Typos 11-14 of this unedited atrocity:

Two comma splices. Replace these commas with semicolons.

Everytime isn't a word. Say "Every time."

"Save these hard talks for a walk after dinner or one-on-one trip to get ice cream" is ungrammatical for lack of "a" after "or." pic.twitter.com/aIcliGuTDB

— Typos of the New York Times (@nyttypos) November 29, 2020
I believe that when a company consistently puts out a rotten product, the company is rotten. And so with the Times.
"Times Change" [New York Magazine]. This little nugget: "It was also a shattering departure for Times journalists to walk into the newsroom after Trump's 2016 victory and ." • Iraq didn't do it. Abu Ghraib didn't do it. The foreclosure crisis didn't do it. Deaths of despair didn't do it. Eric Garner didn't do it….
The 420
John Fetterman Watch:
Now that the PA election is in the books, I'd like to take this opportunity to point out that the Democratic Party platform is to the right of South Dakota on legal weed.

— John Fetterman (@JohnFetterman) November 24, 2020
"Cannabis helps vets cope. Ask them" [Postindustrial]. "Even though the federal government deems marijuana an illegal drug, new state laws have allowed millions of veterans like Asher throughout Postindustrial America to turn to the plant used for millennia to alleviate pain, reduce anxiety, and treat other disorders that they say prescription medicine didn't relieve, and in fact led to addiction in some cases. There's a growing community of former service members and others who say they find relief, support, and education in working with each other. Several states in Postindustrial America allow cannabis use for medical reasons. Ohio, Pennsylvania, West Virginia and New York have legalized cannabis for medical use. Michigan and Illinois have OK'd recreational cannabis consumption. The other Postindustrial states — Indiana, Kentucky, Tennessee, Wisconsin, North Carolina and Alabama — continue to criminalize cannabis to varying degrees. There's also mounting pressure on the Department of Veterans Affairs to broaden vets' access to cannabis." • The VA? That's Bernie's patch…
"Marijuana legalization could bring in over $1 billion to Texas. Could it happen?" [Fort Worth Star-Telegram]. "The state could bring in an estimated $1.1 billion dollars per biennium if Texas legalized marijuana and taxed it the same as Colorado, according to a report by an Austin-based cannabis law firm. The firm estimates 1.5 million adults 21 and older in Texas use cannabis monthly. In the same report, the firm anticipates that 20,000 to 40,000 direct jobs and tens of thousands of indirect jobs could be created. Colorado brought in $1.7 billion from marijuana sales in 2019 and is close to surpassing that figure in 2020 with $1.6 billion between January and September, according to the Colorado Department of Revenue."
Guillotine Watch
Oy:
280 Poipu Dr, Honolulu, HI 96825
Priced at: $18,888,888
6 beds / 7 baths / 6,502 sqft

thread – exterior & foyer (1/3) pic.twitter.com/OPYiDac2hx

— Guillotine-Worthy Zillow Listings (@Zillotine) November 30, 2020
"It is said in the desert that possession of water in great amount can inflict a man with fatal carelessness." –Frank Herbert, Dune
Class Warfare
"How to Socialize in the Cold Without Being Miserable" [Bloomberg], "What to Wear to Spend Time Outside" [New York Times], and "6 things to buy now so you can socialize outside this winter" [CNBC]. • I can't help but think that the real subtext of these three articles is preparing for homelessness. Then again–
"Anti-Jacketers Rally Outside Burlington Coat Factory To Protest Liberal Cold Weather Conspiracy" (podcast) [The Topical]. "Hear why members of the growing movement are calling cold weather nothing more than a leftist hoax made up to force Americans into thick down layers."
"The Gig Economy Is White People Discovering Servants" [Medium]. "Uber and Postmates and DoorDash and all of these 'gig' economy companies simply created a giant pool of servants that you could call on demand. That's all they really do. The gig economy is just a giant collection of servants. I should know. I have servants.
I live in Sri Lanka and despite always making below the US poverty line (about $2000 a month), that is a shit-ton of money here. I have also generally lived with family that pools resources. Hence I have (and have often had) a driver. This driver can go and pick stuff up as well. So that's Uber and Postmates rolled into one. If you have a good driver they can do lots of things. My family or my wife's family also have cooks, which makes DoorDash (food delivery) largely irrelevant, but again, there's also the driver for that. Then of course there are cleaners and people to do laundry, which I have always had, even when I lived alone, because it makes life so much better. It has always amazed me that quite wealthy people in the west still clean their toilets and fold clothes. Silicon Valley hasn't quite yet figured that one out, though WeWork has serviced offices where all the cleaning and janitorial are taken care of."
"Why does Hillbilly Elegy feel so inauthentic and performative?" [Vox]. "As a hillbilly born and raised (in rural west Tennessee), I'm very used to seeing rural American life painted with broad strokes. Every scene of Hillbilly Elegy is designed to mix the laziest form of pathos with the laziest form of social commentary and present it with the most condescending tone of profundity, and y'all, I could have been rewatching Winter's Bone instead of this patronizing mush. But like Alissa said, I was mostly prepared for that. I wasn't prepared for this film's sheer quixotic nothingness. Apart from the extremely lazy way the film shorthands its characters through regional and class stereotypes, Hillbilly Elegy is an incoherent, meandering, misogynistic tangle of vanishing subplots and vague ideas. I hesitate to even call them subplots since that suggests a plot arc to begin with. For example, I honestly spent the whole movie wondering why the opening leaned so heavily on the narrator's childhood summers in Kentucky — his seminal time spent with 'my people,' a phrase he said over and over again like Moses freeing the Israelites — even though we never returned to Kentucky or his extended family again. Our hero, real-life memoirist J.D. Vance, spent most of the film treating 'his people' like sh*t." • Oh.
"The Economic Consequences of Sir Robert Peel: A Quantitative Assessment of the Repeal of the Corn Laws" [Douglas A. Irwin & Maksym G. Chepeliev, NBER]. "Britain's repeal of the Corn Laws in 1846 was the signature trade policy event of the nineteenth century…. Combining the changes in factor payments with different consumption patterns across income groups, we find that the top 10 percent of income earners lose while the bottom 90 percent of income earners, who spent a disproportionate amount of their income on food, gain."
News of the Wired
"A New Study About Color Tries to Decode 'The Brain's Pantone'" [Wired]. "And on a more fundamental level, figuring out how color perception matches with neural activity is an important step toward understanding how the brain constructs our understanding of the world around us. 'If you could find a brain area where the representation matched perception, that would be a huge leap,' says [Greg Horwitz, associate professor of physiology and biophysics at the University of Washington]. 'Finding the part of the brain where the representation of color matches what we experience would be a big step towards understanding what color perception really is.'"
Everything's going according to plan [YouTube]. This is the Massive Attack cover version of the post-Soviet Russian original (hat tip for the original to a reader I cannot find; give yourself a shout-out):
Not that I'm foily…
* * *
Readers, feel free to contact me at lambert [UNDERSCORE] strether [DOT] corrente [AT] yahoo [DOT] com, with (a) links, and even better (b) sources I should curate regularly, (c) how to send me a check if you are allergic to PayPal, and (d) to find out how to send me images of plants. Vegetables are fine! Fungi and coral are deemed to be honorary plants! If you want your handle to appear as a credit, please place it at the start of your mail in parentheses: (thus). Otherwise, I will anonymize by using your initials. See the previous Water Cooler (with plant) here. Today's plant:
* * *
Readers: Water Cooler is a standalone entity not covered by the recently concluded and — thank you! — successful annual NC fundraiser. So if you see a link you especially like, or an item you wouldn't see anywhere else, please do not hesitate to express your appreciation in tangible form. Remember, a tip jar is for tipping! Regular positive feedback both makes me feel good and lets me know I'm on the right track with coverage. When I get no donations for five or ten days I get worried. More tangibly, a constant trickle of donations helps me with expenses, and I factor in that trickle when setting fundraising goals:
Here is the screen that will appear, which I have helpfully annotated.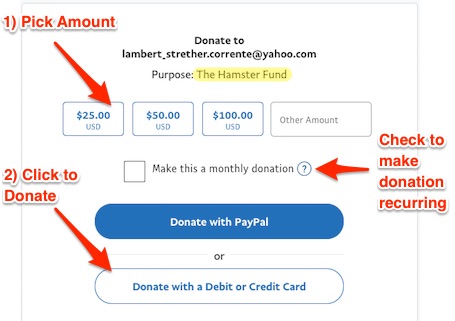 If you hate PayPal, you can email me at lambert [UNDERSCORE] strether [DOT] corrente [AT] yahoo [DOT] com, and I will give you directions on how to send a check. Thank you!

Original Source