By Lambert Strether of Corrente.
Bird Song of the Day
#COVID19
At reader request, I've added this daily chart from 91-DIVOC. The data is the Johns Hopkins CSSE data. Here is the site.
Case count by United States region: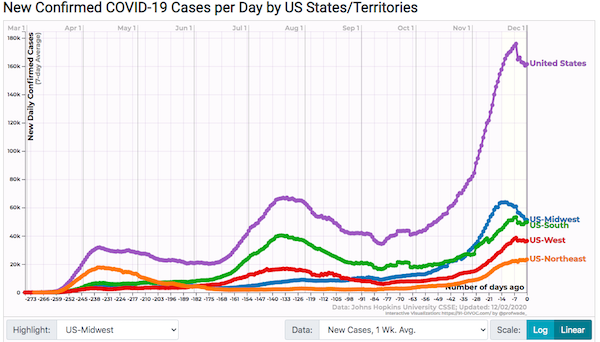 Thanksgiving data. This the only series not to return to the upward trend, which I assume is a reporting issue.
The Midwest in detail (with New York, California, and Texas for comparison):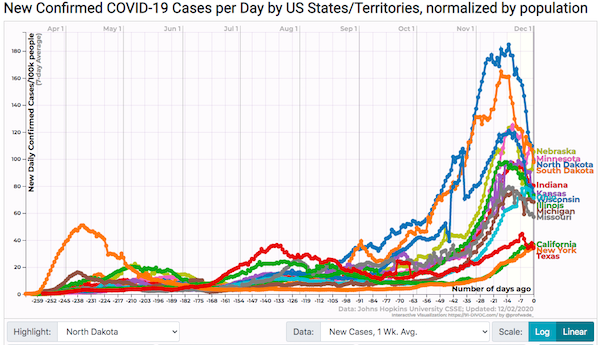 Note that the fall in the Midwest began around 11 days ago. That's a little early for Thanksgiving travel. So, some of the drop is real. But Thanksgiving data is an issue, too. And the data has now resumed its upward trend at the same slope as before.
Test positivity by region: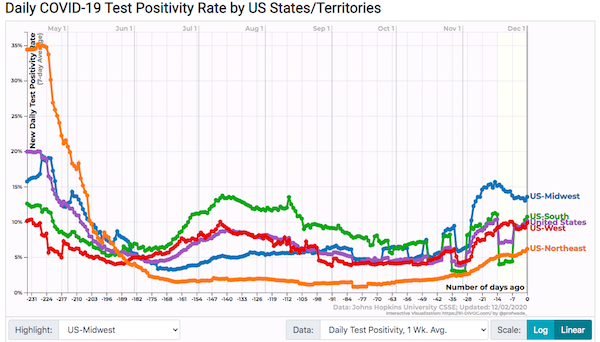 The data has now resumed its upward trend at the same slope as before.
Hospitalization by region: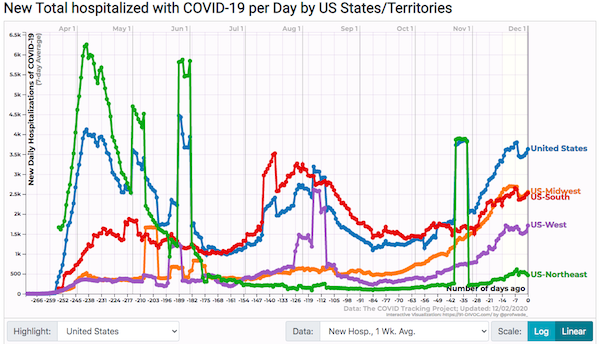 The data has now resumed its upward trend at the same slope as before. (We should also take into account that hospitalization is also discretionary; they may also be reducing their admissions rate — relative to cases we cannot see in this data! — to preserve future capacity.)
Case fatality rate by region: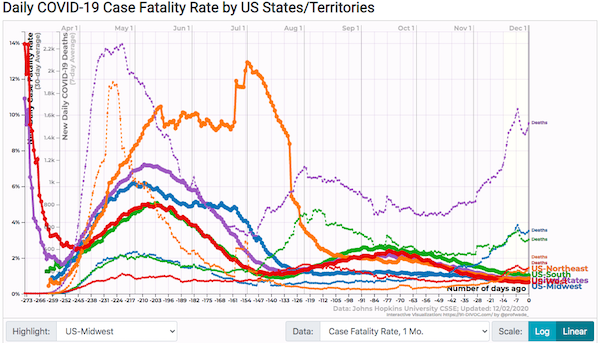 The data has now resumed its upward trend at the same slope as before. Deaths (purple line) dropping starting on Thanksgiving Day sure looks like a reporting issue to me. And the consistent behavior of all the series but cases give some confidence that our data collection is reasonably responsive and reliable; if wrong, at least not randomly wrong….
Politics
"But what is government itself, but the greatest of all reflections on human nature?" –James Madison, Federalist 51
"They had one weapon left and both knew it: treachery." –Frank Herbert, Dune
"They had learned nothing, and forgotten nothing." –Charles Maurice de Talleyrand-Périgord
2020 Democrats in Disarray
"Ocasio-Cortez hits back after Manchin criticism" [The Hill]. "The feud between Ocasio-Cortez and Manchin goes back nearly a month to when the senator rebuked calls to defund the police by declaring, 'Defund, my butt.' Ocasio-Cortez responded with a tweet showing her glaring at the senator when he applauded during President Trump's second State of the Union address. The back-and-forth is a microcosm of the ongoing battles between moderates and progressives within the Democratic Party in the aftermath of a disappointing congressional election cycle.
Transition to Biden
"Hedge funds and Wall Street bet big on Biden. Will he deliver?" [Washington Examiner]. "Biden raked in a record $74.4 million from Wall Street (the "Securities/Investment" industry as counted by the Center for Responsive Politics), more than four times Trump's $18.1 million. Likewise, Biden raised $42.6 million from hedge fund partners, executives, and employees in 2020, more than four times Trump's haul of $9.4 million. Commercial banks supported Biden by more than 2 to 1, $5.1 million to $2.1 million. Overall, the financial sector, which includes the above industries, favored Biden $201.7 million to $84.1 million…. The Left arguably has more clout today than it did under Obama, but I expect the next four years will be a reprise of Obamanomics, which is good for the financial sector's incumbents."
2020
"There's No Such Thing as 'the Latino Vote'" (interview) [Geraldo Cadava, Jacobin]. Cadava: "One thing that's amazing to me is how the anti-communist message gets passed along from one group to another. In the 1980s, when the Sandinistas and Contras are fighting in Nicaragua, veterans of the Bay of Pigs are training Contras in Miami. Part of the reason Cuban-American politicians like Ileana Ros-Lehtinen become the champions of Nicaraguan refugees is because of the Cuban exiles at the Bay of Pigs trying to oust Castro. Cuban Americans said they fully understand the plight of Nicaraguan refugees because they experienced the same things two decades earlier. I think that idea gets passed down from one group to another across time. You're seeing it play out now with how Hispanic Republicans think about the Democratic Socialists of America and people like Alexandria Ocasio-Cortez. I listened to Ted Cruz give a speech in 2018 at a gathering in DC of the Latino Coalition, an advocacy group for small business owners looking to grow their businesses and secure government or private loans. Cruz, in a single breath, mentioned Fidel Castro, Nicolas Maduro, and Alexandra Ocasio-Cortez. It's a flat narrative about socialism that has managed to resonate for the last seventy years."
Obama Legacy
""Do You Want to Actually Get Something Done, or Do You Want To Feel Good?": Obama Urges Activists oo Talk Reforming, not Defunding, the Police" [Vanity Fair]. • Or — hear me out — do you want to feel good and not get anything done? Comment:

Damn, Mr. President.

Didn't you say "Trayvon could've been my son?"

In 2014, #BlackLivesMatter was too much.

In 2016, Kaepernick was too much.

Today, discussing police budgets is too much.

The problem is America's comfort with Black death — not discomfort with slogans. https://t.co/DJUSZebgW5

— Jamaal Bowman (@JamaalBowmanNY) December 2, 2020
Realignment and Legitimacy
"Democrats Have a Messaging Problem. Will They Do the Work to Fix It?" [The Root]. "Another issue is that national Democrats tend to run away from activist-minded candidates instead of embracing them. Then-state Senator Charles Booker, who ran against well-funded Amy McGrath in the Democratic primary on defunding the police and showed up at BLM marches while she was absent, barely lost to her after his campaign got national attention just weeks before the primary. McGrath, who every mainstream Democrat-backed, lost by a landslide to Senate Majority Leader Mitch McConnell in one of the most expensive ass-kickings this election cycle. Booker lost, but what he proved was that a Black man in a white-ass state running on a Black-ass message could attract white voters. Booker told me earlier this year that he campaigned on 'defund the police' in the whitest parts of Kentucky, where people 'put their fists in the air saying 'no lives matter until Black Lives Matter." 'They were marching in the streets with white supremacists watching. They ain't care. I think we're at a point where we can build new coalitions that speak to structural issues that hurt everybody.' Again, he lost. But what closed the gap between him and McGrath was that he took bold positions that were well-articulated and easy to distinguish. No one knows what would have happened had national Democrats coalesced around Booker sooner, but what we do know for sure is that Black progressives who incorporate BLM language into their campaign can be competitive. Anywhere." • Still, you can't call for cultural competence and have a Stylebook that permits "Latinx." You just can't.

"Professional Democrats (Still) Need to Learn How to Make Alternative Narratives" [Mike the Mad Biologist]. "The Republican message couldn't have been clearer: Workers should be able to show up, clock in, earn a normal paycheck, pay the rent and feed their kids. Democrats were telling the same workers that we need to listen to science, reopening is premature, and the economy can't be fully restored until we beat the virus. Correct! But how does that help when rent was due last week?" • As I said from the beginning.

"Prosecuting Trump Is the Only Way to Heal the Nation" [The American Prospect]. "Accountability is not a legislative act, nor is it a political one, and it remains one of the few places where Biden can accomplish something that is good for the long-term health both of the country and of the party. If he wants to heal the nation—he's repeatedly sold himself as a the protector of America's soul—prosecuting Trump and affirming the rule of law is the best way to do it. Trump's supporters will cry foul and lash out in extreme fashion. But they're likely to do that in response to anything Biden does—even something as apolitical as counting votes has merited an armed response from Trump's most militant. If Biden's only lasting legacy is to have brought about the end of the era of elite impunity, his presidency will have been well worth it." • At least the headline reads "the Nation" instead of "Our Democracy." I understand the argument — although I don't think nations "heal," any more than markets do — but the idea that liberal Democrats represent or speak for "the Nation" really sticks in my craw. They don't, even based on a simple vote count.

"Explaining Our Morbid Political Symptoms" (interview) [Wendy Brown, Jacobin]. Brown: "The entrepreneurialization is an earlier phase; then we get the financialization of the self, where instead of just entrepreneurializing your assets, you then start to get the move to present and brand yourself such that you attract investors in that self and calculate your own self-investments. It's an interesting shift. This is where I'd have to leave Michel Foucault behind, but keep the framework that he offers, where we're thinking about the relations of power through which the self or the subject is being made. He teaches us that neoliberalism gives us an order in which we're entrepreneurialized — that was the Thatcher/Reagan idea. But now we're in a financialized model, in which it's not about literally having a financial portfolio, it's about treating yourself as if you were one." • "Influencers," for example.
Stats Watch
At reader request, I added some business stats back in. Please give Econintersect click-throughs; they're a good, old-school blog that covers more than stats. If anybody knows of other aggregators, please contact me at the email address below.
Employment Situation: "November 2020 ADP Employment Gains 307,000" [Econintersect]. "ADP reported non-farm private jobs growth at 307,000 which was well below expectations. A quote from the ADP authors: 'While November saw employment gains, the pace continues to slow.'… Last month's employment gain was revised upward. It will be interesting to see what the BLS says is jobs growth."
* * *
Commodities: "U.S. Chemical Companies Face Few Legal Risks, and the Cartels Bank On It" [Bloomberg]. "[N]arco have easily tapped the operations of American chemical companies to keep the cartels' heroin, meth, and cocaine labs humming, despite a 30-year-old system of international drug laws designed to prevent the diversion of the chemicals. The price has been steep for Americans. For U.S. chemical companies, it's been nominal. The prosecution of Taminco is likely the only one of its kind in the past decade. For those 22,000 gallons of MMA—enough to make about $3.2 billion worth of methamphetamine—Eastman paid a total of $1.3 million, which represents roughly an hour and 13 minutes' worth of sales that year. Here's another perspective: Aiding and abetting the distribution of just 50 grams of meth brings a mandatory federal sentence of at least 10 years in prison. More than two million times the 50-gram threshold could be made with the MMA sales covered by Taminco's sentencing agreement. No one connected to the case would spend a day behind bars."
Shipping: "Dry Ice Rules for Massive Covid-19 Vaccine Airlift Approved" [Bloomberg]. "The Transportation Department established safety requirements for carrying the potentially dangerous dry ice needed to keep some vaccines stable, the agency said in a press release Tuesday. It also set standards for carrying flammable batteries needed in the airlift and eased restrictions on how long flight crews involved in the effort can work. 'The department has laid the groundwork for the safe transportation of the Covid-19 vaccine and is proud to support this historic endeavor,' Transportation Secretary Elaine L. Chao said in the release. The government's 'Operation Warp Speed' program has been seeding pharmaceutical companies to develop vaccines and creating an infrastructure for delivering them across the country."
Tech: "An iOS zero-click radio proximity exploit odyssey" [Project Zero]. " [I]t's the same old story. A fairly trivial buffer overflow programming error in C++ code in the kernel parsing untrusted data, exposed to remote attackers. In fact, this entire exploit uses just a single memory corruption vulnerability to compromise the flagship iPhone 11 Pro device. With just this one issue I was able to defeat all the mitigations in order to remotely gain native code execution and kernel memory read and write."
The Bezzle: "Airbnb asked Canada for a bailout. Canada slapped Airbnb with a tax" [Thinkpol]. "One reason that short-term rentals have been cheaper than hotels is because hotels had to collect and pay sales tax while Airbnb didn't." • The same arbitrage scam Amazon ran to bootstrap itself.
* * *
.
Today's Fear & Greed Index: 86 Extreme Greed (previous close: 85 Extreme Greed) [CNN]. One week ago: 91 (Greed). (0 is Extreme Fear; 100 is Extreme Greed). Last updated Dec 2 at 12:19pm.
Health Care
A response to the CDC study published two days ago (Wall Street Journal; I used NPR) that urges Covid was circulating in the US earlier than thought, in mid-December 2019. Thread:
I don't think that this study by Basavaraju et al from @CDCgov can be taken as evidence that #COVID19 was circulating in the US in December 2019. 1/10https://t.co/yTjIwSvM4X

— Trevor Bedford (@trvrb) December 1, 2020
A good discussion of the droplet (ballistic) to aerosol (floating) continuum:
1/📌SARS-CoV-2 in aerosols: from dispersion in air, to inhalation and disease: (a) while large drops (green) are ballistically and fall, smaller ones (red) can remain buoyant; (b) Droplets evaporate to form aerosols, reducing to just biopolymers and virus particles🧵 pic.twitter.com/r9yn5tlHSK

— Dr. Ali Nouri (@AliNouriPhD) December 1, 2020
"HIV in the USA: priorities for the new administration" [The Lancet]. "The outgoing US administration initiated a national mobilisation, Ending the HIV Epidemic (EHE), in 2019, an ambitious plan which aims to reduce new HIV infections in the USA by 75% in 5 years, and by 90% in 10 years.5 COVID-19 hit the country in the second year of the EHE initiative. But EHE can and should continue in the new administration." • (!!)
The Biosphere
"The economic costs of planting, preserving, and managing the world's forests to mitigate climate change" [Nature]. "Higher [carbon] prices incentivize larger mitigation proportions via rotation and forest management activities in temperate and boreal biomes…. Mitigation costs borne by private land managers comprise less than one-quarter of total costs. For forests to contribute ~10% of mitigation needed to limit global warming to 1.5 °C, carbon prices will need to reach $281/tCO2 in 2055."
"Majestic Trees Are Being Clear-Cut in American Suburbs" [Bloomberg]. "So why the clear-cutting? Money, of course. For homebuilders, trees are a nuisance. To keep a tree alive while building on a lot, they have to keep heavy equipment far away so they don't compact the soil above its roots. They also can't push soil up around the trunk. Preserving trees means keeping the topography of the lot unchanged, which often doesn't fit their plans. And even though trees can add to a home's value, plenty of homebuyers like the clean look of a wide-open lawn, perhaps with a few freshly planted ornamental trees for decoration." • "The clean look"….
"Gasoline Car Bans Show Why Market Forces Aren't Always Enough" [Bloomberg]. "[T]he U.K. has left incentivizing clean transport so late that only a ban on new ICE car sales may now provide the push needed. Johnson's move is certainly a heavy-handed intervention, but at least it's not going against the tide of technology and economics. It's pushing the transition to go faster in the direction that market forces were already heading."
Class Warfare
"'Work-From-Home' Professionals Watch Two Hours More Daytime TV" [Bloomberg]. "Overall, workers are watching 21% more TV on weekdays between 9 a.m. and 4 p.m., or about 26 minutes more per day, according to data from an October survey released Tuesday by Nielsen, the research firm. About 65% of consumers surveyed back in August said they were watching videos during breaks, but more than half also said they tune in while working, often with the sound on."
"Sex Work in the Age of COVID-19" [Midwest Socialist]. "In 2020, during the height of COVID lockdowns and layoffs, online sex work started to boom, with OnlyFans being the most prominent example. But as many would come to find out, online sex work has its own difficulties. … Online sex work, though, from cam modeling to Skype sex, is the new sex work. OnlyFans has had a dramatic influx of models during COVID. This social media platform allows NSFW material, meaning nude models and dominatrix of all kinds sign up and utilize it. There's this joke around the world that if the economy gets hard, you can always sell feet pics. This isn't wrong–you can. But it isn't an easy gig. 'If you're good at what you do, and especially if no one else does what you do, you'll make money. But if you're like everyone else popping up and trying to make some extra cash, you're not going to have an easy time,' one sex worker explained."
"Metro Proposes Cutting Weekend Trains, Closing 19 Stations And Slashing Bus Service: [DCist]. "Facing the grimmest budget projections in its 50-year history, Metro is proposing the complete elimination of weekend service. It is one of a series of staggering cuts the transit agency may need to make in the next fiscal year, which begins in July 2021, to close a nearly $500 million deficit. What remains would be a "bare-bones service network to sustain essential travel," according to a presentation that WMATA's board will hear Friday. The plan also calls for trains to run every 30 minutes, shuttering 19 stations, further slashing bus service to a fraction of pre-pandemic levels and closing the system at 9 p.m… It would also make life exceedingly difficult for already-strained essential and off-hour workers. Many say the changes would make the system near unusable and have a devastating ripple effect on business, nightlife, sports and tourism industries that hope to make some recovery in 2021." • $500 million is a fleabite in the Beltway. Why doesn't Congress just write a check?
News of the Wired
"Cobblestone Conservative" [The American Conservative]. '"In her 1961 classic The Death and Life of Great American Cities, [Jane] Jacobs assaulted a century's worth of received wisdom in urban planning. Jacobs read voraciously; she would test her ideas by imagining dialogues between herself and thinkers from Plato to Thomas Jefferson. But she was no academic. In Death and Life, she cited not one paper nor analyzed one set of data. What she did do was observe. Jacobs had a knack for spotting patterns in commonplace things. Social scientists sometimes call it "field study." When it works, field study makes what once went unnoticed seem obvious…. Death and Life's popularity is still growing in part because so much of what Jacobs wrote is confirmed in daily life. For example, she famously argued, the safety of a city street depends on the number of eyes watching it. The more pedestrians and storefronts a city street has, the more inviting it is to other pedestrians. Casual passers-by contribute more sets of eyes, making the street even safer, and so on in a virtuous cycle. Death and Life develops this simple idea in rich detail…. The architects of urban renewal saw none of this. Instead of preserving short, narrow streets, they were combining blocks into "superblocks" with parks and "promenades." Instead of permitting shops and stores, they were segregating residents in towers and forbidding "incompatible" commercial uses. Instead of expanding sidewalks, they were adding playgrounds and planting grass. Instead of nurturing small-scale street life, they were erecting freeways and public centers. Jacobs called their practices "bloodletting," after the discredited notion of treating disease by draining the patient's blood." • We could use a lot more "field study" as opposed to, say, polling.
"Attention K-Mart Shoppers" [Mark Davis, Internet Archive], "OK, I have to admit this this is a strange collection. In the late 1980's and early 1990's, I worked for Kmart behind the service desk and the store played specific pre-recorded cassettes issued by corporate. This was background music, or perhaps you could call it elevator music. Anyways, I saved these tapes from the trash during this period and this video shows you my extensive, odd collection."
* * *
Readers, feel free to contact me at lambert [UNDERSCORE] strether [DOT] corrente [AT] yahoo [DOT] com, with (a) links, and even better (b) sources I should curate regularly, (c) how to send me a check if you are allergic to PayPal, and (d) to find out how to send me images of plants. Vegetables are fine! Fungi and coral are deemed to be honorary plants! If you want your handle to appear as a credit, please place it at the start of your mail in parentheses: (thus). Otherwise, I will anonymize by using your initials. See the previous Water Cooler (with plant) here. Today's plant (ChetG):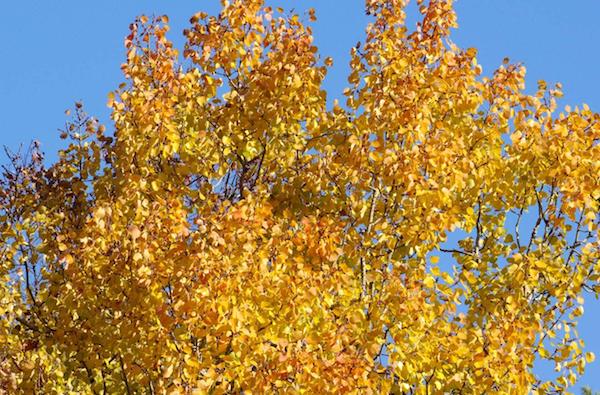 ChetG writes: "I believe the yellow leaves are from a poplar, one of the glories of autumn."
* * *
Readers: Water Cooler is a standalone entity not covered by the recently concluded and — thank you! — successful annual NC fundraiser. So if you see a link you especially like, or an item you wouldn't see anywhere else, please do not hesitate to express your appreciation in tangible form. Remember, a tip jar is for tipping! Regular positive feedback both makes me feel good and lets me know I'm on the right track with coverage. When I get no donations for five or ten days I get worried. More tangibly, a constant trickle of donations helps me with expenses, and I factor in that trickle when setting fundraising goals:
Here is the screen that will appear, which I have helpfully annotated.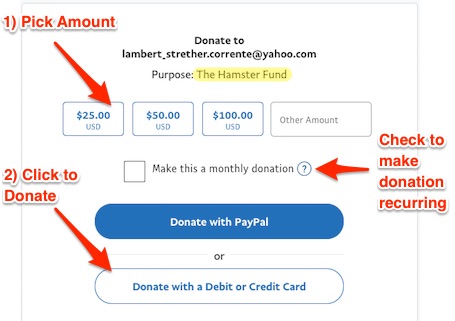 If you hate PayPal, you can email me at lambert [UNDERSCORE] strether [DOT] corrente [AT] yahoo [DOT] com, and I will give you directions on how to send a check. Thank you!

Original Source