Seasoned negotiators will confess that at a certain point in deal-making, the intermediaries for the two sides often wind up shifting their loyalties and start working for the deal more than their principals. One tell is when the representatives start grumbling informally about the clients or their positions.
So it's not surprising that EU member states are getting edgy that Barnier might be giving up too much to seal an agreement, particularly given how pig-headed the UK side has been and continues to be, as we'll get to shortly, along with the fact that time really is running out. The Financial Times said that there was hope of Boris Johnson meeting with EU Commissioner Ursula von der Leyen over the weekend to settle the open points….but that sort of session was supposed to have happened weeks ago.
The proximate cause for EU worries was a Barnier largely-non-progress report last Friday. Per the Guardian:
Michel Barnier will be told on Wednesday that the EU capitals want full sight of any deal with the UK before it is agreed, amid concerns the bloc's chief Brexit negotiator may concede too much ground in the final days of negotiation.

The member states have called on Barnier, who is in London, to address their representatives in Brussels in an early morning video conference to provide a full account of the latest developments.

A senior EU diplomat said they had confidence in Barnier as a negotiator but added there was some nervousness following his briefing on Friday where he had told the ambassadors of his "flexibility" over aspects of customs and border controls.

Barnier counselled that the British negotiators led by David Frost were yet to reciprocate by agreeing a robust system of dispute settlement, which he admitted could give "rise to concerns about cherrypicking".
France continues to be the self-appointed heavy; recall that Barnier also had to have a chat with the fishing states, and it wasn't clear if he got anywhere in trying to soften them up. Macron has long been the most vocal about protecting EU and member state interests, but the EU members recognize they have to live with each other, and Macron has yet to live up to any threat to throw France's weight around. However, France by virtue of geography is understood to have even more at stake in Brexit than other EU nations, so his position might carry a bit more weight than it has until now. On Tuesday, the Belgian prime minister Alexander De Croo joined Macron in a press conference to show EU resolve.
Despite Barnier having made noises last week about forward movement, it seems to be inches relative to the size of the gulf. The EU offered to give up 15% to 18% of its fishing rights in UK waters; the UK wanted to keep 80% of the fish, and it's lowered its ask to 60%.
The wee problem, as we've mentioned before, that a considerable majority of seafood from UK waters goes to the EU. The famed British fish and chips use Norwegian cod. And no deal means tariffs, rotten fish, and fisherman going bust. From the Financial Times:
"If the tariff was only 5 per cent we would be killed," said Mr [Ian] Perkes, the founder of a £5m-a-year fish exporting company. In fact, if trade talks collapse, the EU will soon be levying tariffs of 20 per cent on key catches like scallops.
The Guardian shows that the UK bargaining investment in fish is disproportionate. Repeat after me, 0.1% of GDP: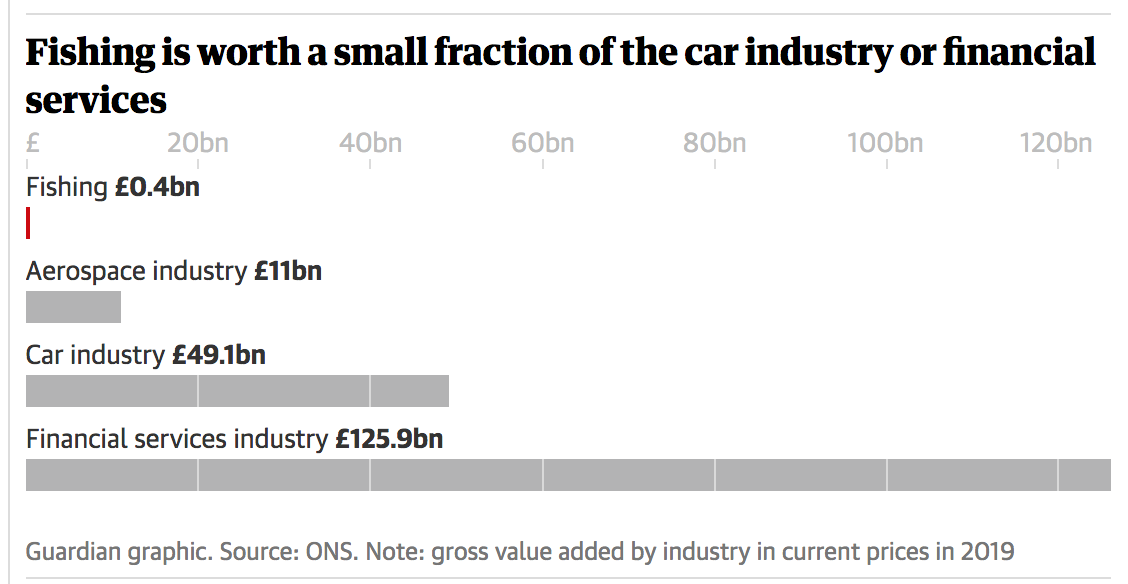 So what happened at the meeting with EU diplomats yesterday? The message was not just "no more compromises" but "take ground back," which is simply na ga happen at this juncture. While Barnier has gotten ahead of his principals before and been reined in, to do so at this late hour would be fatal to the talks, unless that was the intent. From the Financial Times:
Mr Barnier on Wednesday was warned by nations including France, the Netherlands and Denmark that too much ground was being ceded to the UK, and they insisted it would be better to allow negotiations to drag on longer than to give in to the temptation of a quick deal this week….

According to participants at the Wednesday meetings, Mr Barnier emphasised that there was still significant work to do both on fishing and the level playing field.

Mr Barnier confirmed the EU and UK were discussing a transitional period for fishing rights and a broader review clause for the trade deal, sparking warnings from some of the bloc's member states that they did not want to be stuck in a continual renegotiation with Britain…

On the level playing field, EU diplomats said Mr Barnier confirmed there was still disagreement over whether the UK would have a domestic subsidies regulator with "ex ante" powers to pass judgment on any state aid before it was given out….

Two EU diplomats briefed on the talks said if Mr Barnier cut a deal without this, then there would need to be sufficiently robust compensatory mechanisms to enable the bloc to strike back at the UK in other areas.

"Without a profound change in the British position, I would say a deal by the weekend is impossible," said one EU diplomat.
Bloomberg's account presented sharper disagreements between the EU hardliners and Barnier:
France warned it could veto a trade deal between the U.K. and the European Union if it doesn't like the terms, piling pressure on the EU negotiating team not to make further concessions as talks build to a climax.

At a meeting of the bloc's 27 ambassadors on Wednesday, the French envoy warned chief Brexit negotiator Michel Barnier of how bad it would look if he brokered a deal only to see it vetoed by EU leaders, according to a diplomatic note of the meeting seen by Bloomberg. Barnier swerved a request from ambassadors to see key parts of the text before it's finished, with some of those present voicing concerns he might be giving too much away and leaving them with too little time to scrutinize any agreement.
While the article said some diplomats argued that they could live with not getting a deal done, since the UK would come back to the table in 2021, a source said that the views of France and its allies weren't widely shared and that Barnier's talk was to calm France down.
However, as Barnier was having to do cat-herding on his side, the UK was again demonstrating that it is a bad faith actor. From Tony Connelly at RTE:
European Union chief Brexit negotiator Michel Barnier has said that the future relationship negotiations would be in crisis if the UK introduced fresh legislation next week which breached the Northern Ireland Protocol.

Mr Barnier told EU ambassadors this morning that if the proposed Finance Bill contained clauses which "breached international law" there would be a complete breakdown in trust between both sides…

Minister for Foreign Affairs Simon Coveney ruled-out any extension of the transition period for the UK leaving the European Union.

Addressing the Seanad Committee on Brexit, he said bluntly: "There will be no extra time. From 1 January, UK will be outside the Single Market and the Customs Union. This means new controls and procedures must be applied to any goods moving to, from or through Great Britain."…

Diplomats said Mr Barnier thought the outcome of the eight months of talks would be decided in the next few days, possibly late on Thursday or Friday….

A diplomat from a country with concerns that Mr Barnier might give too much ground, said: "I am not sure what Barnier said managed to assuage concerns. Bridging the divide would require too big a leap."
Richard North set forth the substance of the latest UK eye-poking:
The [Taxation] Bill is to set out procedures for customs and VAT after the end of the transition period which, if implemented, will override parts of the Irish Protocol to the Withdrawal Agreement, in much the same manner that we saw with the UK Internal Market Bill.

To make matters worse, this comes as Downing Street has pledged to overrule the House of Lords amendments on the IMB and reinsert the removed clauses, despite ministers having acknowledged that, in overriding the Irish Protocol, they breach international law.

With the UK having already ignored the Commission's deadline to respond to its initiation of infringement proceedings – this latest move is seen as the "ultimate provocation" which could trigger a total collapse of the "future relationship" talks.
And from the BBC's political editor Laura Kuenssberg:
Two well-placed EU sources were clear in conversation today that if the government pressed ahead with the controversial clauses in those bits of legislation before a deal had been done, it would kill the chances stone dead.
Several sources, recently the BBC and Politico, have discussed how close to the wire the talks could go given the need for Parliamentary approval. Mid next week appears to be the very latest conceivable time, and even that could effectively mean end of the weekend given the need to agree text to be sent on to each side's principals.
But despite the UK's continuing bad behavior, there's a final factor favoring a deal that I must confess I had forgotten about. From Bloomberg:
Barnier pointed out that his role in the process is set to end this year. If talks were shelved until 2021, a new team would have to take up the baton and the EU would have to give it a new negotiating framework while at the same time grappling with the disruption of a no-deal outcome, according to the note.
That means if the talks fall apart and all sorts of things go haywire in early January, even if a chastened UK came back to the table in the next few month, restarting the negotiations would be have a lot of grinding of gears, starting with the EU having to come up with new marching orders for a new negotiating team. Plus there's a human tendency to want to rethink and improve the work of others, even if it was good to begin with. And the EU, having been subjected to what it could reasonably regard as unnecessary disruption due to shambolic UK conduct, and knowing the UK was now in distress, would take many of the former agreed positions off the table, since nothing was settled.
In other words, if the two sides don't come to an agreement now, it will be a new and ugly slog in 2021.

Original Source