Yves here. There's been so many flavors of Covid-induced distress that it's hard to keep up. One slow-moving train wreck is the damage to small businesses, particularly retailers and restaurants. Due to the one-two punch of the decline in commuter traffic and tourism, New York City's small businesses are particularly hard hit. But only some landlords are willing to cut a break.
Even though the New York City is unique in the extent of its damage, many neighborhoods and businesses are suffering. For instance, here in Birmingham, we got one of the very last pre-shutdown meals prepared by a mid-range restaurant that never reopened. The most celebrated restaurant in town is shuttered. Landlord behavior will be a significant factor in which small companies make it and which don't.
This article covers some of the legal issues as well as knock-on effects of rent forgiveness. But half a loaf is still generally better than none.
By Rachel Holliday Smith. Originally published at THE CITY on November 30, 2020
Barbara T. doesn't sell many school uniforms these days.
Before the spring, the Staten Islander made a living selling outfits to Manhattan private school students through her uniform store, in business since 1972.
Typically, she would order the bulk of her inventory in January for sale in the spring. But this year her usually busiest months corresponded with the worst of the pandemic: March, April and May.
"I had to be closed down," she said as her voice broke over the phone. "I get emotional."
Now, with many students in remote learning, sales are way down. The inventory Barbara ordered in the winter sits in a space she moved to in November because she couldn't pay the rent on the company's previous location on Staten Island's South Shore.
"Nobody knows if they're going to school, so nobody's buying a lot," she said.
As she contends with a dried-up market, she faces another financial challenge: Her previous landlord recently sued her company for unpaid rent, alleging the business owes more than $25,000, court papers show. At her request for privacy, THE CITY is not publishing Barbara's full name.
When THE CITY alerted her about the lawsuit — the first she had heard of it — she said she simply can't afford to pay the debt.
"I have nothing. I haven't paid my [home] mortgage in six months. How am I gonna deal with it?" she said. "You know, it just makes a hard life harder. That's all."
'Harsh Results'
She is not alone.
In the COVID-19 pandemic, hundreds of city business owners — and, sometimes, their commercial landlords who are sued proactively by struggling tenants — face lawsuits over rent owed by proprietors whose income has all but vanished.
In New York, the already backlogged civil court system is being further clogged by the suits. Some of the larger ones — with millions of dollars on the line — get headlines, such as with the battles variously pitting landlords against The Gap, Planet Hollywood in Times Square and the NBA Store on Fifth Avenue.
But every day, cases quietly appear on the city docket for rent owed by much smaller fish.
In DUMBO, a landlord alleged that a Mexican restaurant that has been in the neighborhood for 20 years owes $163,000 in back rent. In Midtown, a salon for eyelash extensions on West 43rd Street is behind $24,000, its landlord claimed.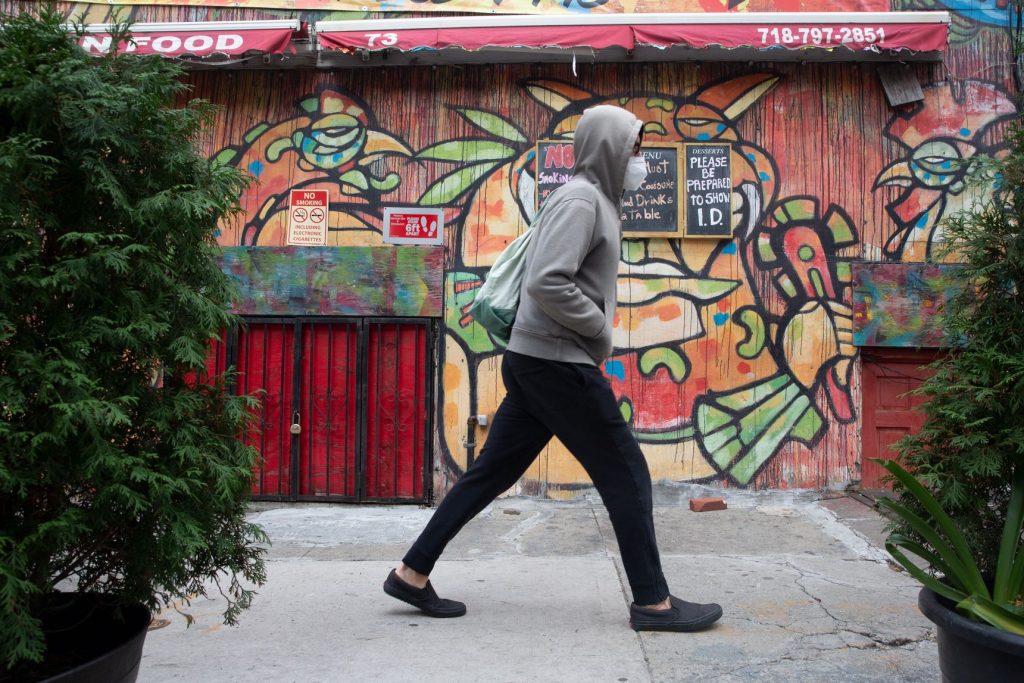 Pedro's Bar on Jay Street in DUMBO, Nov. 24, 2020. Ben Fractenberg/THE CITY
A sushi restaurant at a hotel on Bryant Park owes $180,000, the property owner says. In Clinton Hill, a Middle Eastern café is accused of being $25,600 in arrears.
"Everyone is dealing with this," said Janice Mac Avoy, co-head of the real estate litigation division at the law firm Fried Frank.
A year ago, Mac Avoy almost never saw this type of suit.
"Now, there are hundreds," she said. "It's changed dramatically."
Mac Avoy, who has represented both tenants and landlords in similar cases, said it's an uphill climb for renters trying to wriggle out of their lease obligations, especially in the city. New York state judges can be particularly strict when it comes to contracts, she observed.
"New York courts very much believe that part of their role is to preserve the sanctity of New York as a banking center by preserving the predictability of contracts," Mac Avoy said. "And so, courts are generally very, very willing to enforce contracts as they are written, even if it seems to result in harsh results."
Built-in Landlord Protections
On top of that, the arguments tenants can make in court are limited — and hard to win, said Prof. Deborah Zalesne of the CUNY School of Law.
One approach would require a contract holder to prove that an unforeseen circumstance makes the keeping to a contract impossible or "unduly burdensome," she said. But the bar for proving the "doctrine of impracticability," as it's called, is very high.
Another tack, called "frustration of purpose," holds that the reason for, or the value you expected to get from, the contract has been destroyed, Zalesne noted.
Many retail renters likely don't even have the option to use those arguments, however, because of the way many leases are written.
Often, Zalesne said, leases include a "force majeure" clause — French for "superior force," which puts all risk on the tenant for so-called acts of God.
"Lots of times, it's in boilerplate. Parties don't even know they've agreed to it if they haven't read the terms that carefully," she said. And often, since contracts are drafted by owners, those clauses are written to assign risk to the leaseholder.
"If it includes a force majeure clause, almost certainly it's going to protect the landlord," she said.
Suits Seen in Hard Times
These types of commercial rent lawsuits are nothing new "in times of disruption and emergency" in the United States, Mac Avoy said.
During World War II, some Japanese-American business owners — who were barred from operating stores by racist wartime laws — sued to dissolve their newly useless leases.
Owners of car lots, too, brought similar suits when auto sales were banned during the war, she said.
More recently, 9/11 brought a wave of lawsuits along those lines in New York, and other rounds followed the 2008 financial collapse and Superstorm Sandy in 2012, Zalesne said.
But in many of those cases, courts enforced existing contracts.
"These are hard defenses to win," she said. "Traditionally, historically, they've been hard."
The pandemic is, of course, a different type of disaster and the jury is still out on how courts will come down on commercial rent cases now. Because the courts are so backed up, few decisions have yet been made by New York judges — and the ones that have are preliminary, and mixed, Mac Avoy co-wrote in a recent legal analysis.
But in the case against the Staten Island uniform shop, the owner faces the same uphill battle as many other tenants will as they mount a defense.
"It's tough for her because … the pandemic resulted in a drop in sales. It didn't make her business impossible," Mac Avoy said.
Avoiding Court
Not all rent battles go to court. According to a recent survey from the National Retail Federation, more than half of large nationwide retailers reported striking some kind of rent deal from their landlords this year.
Locally, small business support professionals told THE CITY they see more negotiation between tenants and landlords than lawsuits.
"From the businesses that I've spoken to, for most of them, they've been fortunate that the landlord has been understanding," said Joycelyn Taylor, a candidate for mayor and the co-founder of the NYC MWBE Alliance, a nonprofit that helps minority- and women-owned businesses.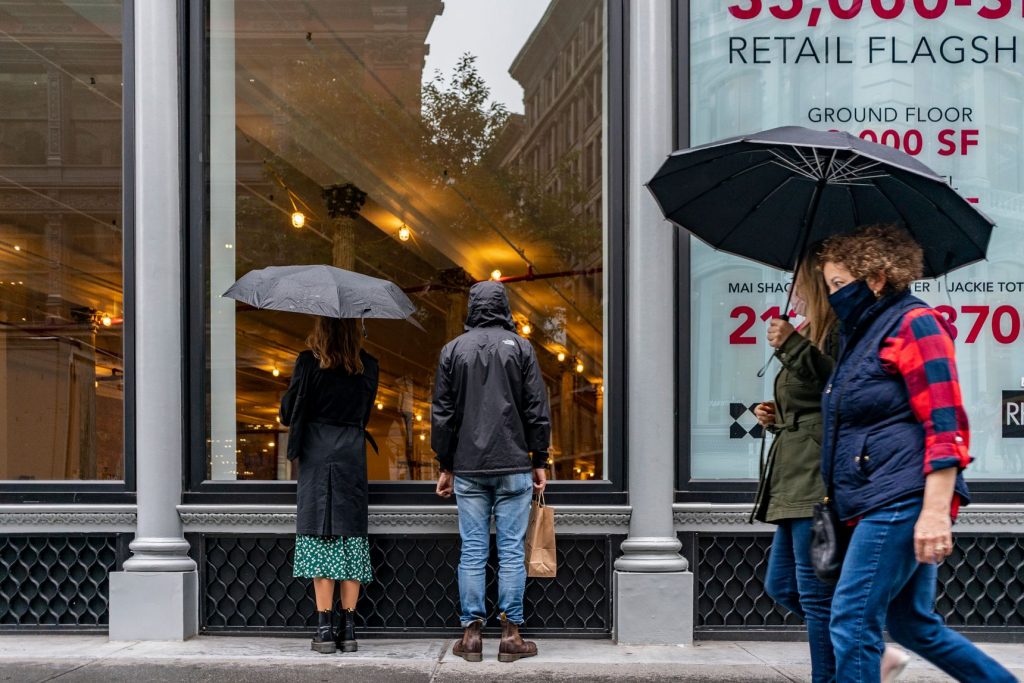 An empty storefront in the Flatiron District, Oct. 2, 2020.Hiram Alejandro Durán/THE CITY
To her, going to court over rent won't help solve much. If businesses have nothing to give, a court case won't change that.
"At the end of the day, what's going to happen? You cannot ask somebody to provide something that they just don't have," she said.
It is true that if a lawsuit is filed against a business with no assets, the landlord won't be able to recover much, Mac Avoy said.
However, if a case is won against an individual tenant or a guarantor on a lease, a landlord can go after their bank account, property and other assets. The action may force a bankruptcy and ruin a person's credit.
'Nothing to Squeeze from Me'
Letting tenants off the hook, however, can have a big cascade effect.
If rent is owed, landlords may not be able to pay their mortgages or real estate taxes. Property taxes make up the biggest slice of the city government's revenueevery year, according to the city's Independent Budget Office.
"It's easy to be sympathetic for the tenant, which we should be, because they're screwed," said Zalesne of CUNY. "But remember that if a tenant is able to get out of the lease, then the landlord bears the burden. And lots of times, landlords are not rich companies or billionaires. They're also regular people."
To Taylor, the fix comes from outside of the courts: Through government mandating relief programs, especially on the federal level.
"The city can't do it by itself. The state can't do it by itself. We need the federal government to step in," she said.
In Staten Island, the owner of the uniform shop is figuring out how to best handle the new lawsuit filed against her company. The first step is finding legal help.
A spokesperson for the city's Small Businesses Services department says the agency can help businesses find an attorney through a number of business-focused pro bono legal groups. The federal Small Business Administration can also help connect owners to emergency financing.
Barbara T. suspects her landlord is going to court to force her to negotiate.
But any amount of rent for her right now is too much. Not only are sales flattened, but her own tenant — a mom of two who lives in her home's downstairs apartment — is out of work and hasn't paid rent in six months.
"There's nothing to get," she said. "There's nothing to even squeeze from me."

This story was originally published by THE CITY, an independent, nonprofit news organization dedicated to hard-hitting reporting that serves the people of New York.

Original Source