By Lambert Strether of Corrente.
"It's a trap!" –Admiral Ackbar, Return of the Jedi
What with Covid and Brexit, the UK has a lot on its plate right now, and so inquiries into the Grenfell Tower fire of June 14, 2017, where 72 people lost their lives in a London Apartment block due to flammable insulation and decorative cladding on the outside of the building, haven't been getting the screaming headlines it deserves. But we've been covering Grenfell for some time (here, here, here, here, and here), starting with a gallery of photographs of the hulk and people's memorials I took when I was in London for an NC meetup, and so I thought I'd catch up with it. One of the memorials: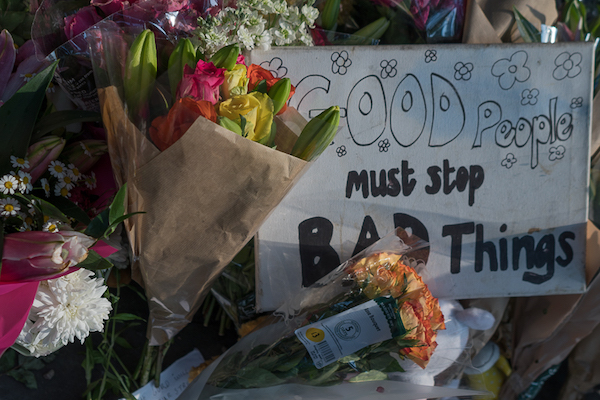 "Good people must stop bad things." Sometimes that happens1 The Grenfell Tower Inquiry (NC here, here) was "created to examine the circumstances leading up to and surrounding the fire at Grenfell Tower." The inquiry has been examining the roles played by the corporaations that manufactured the flammable materials, and it has secured some particularly whiffy testimony. The corporations involved:
Celotex and Kingspan made and sold the insulation that was fitted to Grenfell. Arconic made and sold the cladding that was wrapped around it.
(Celotex is American, Kingspan is Irish, and Celotex is French, so this is probably a globalization story too, but I'm not going there.) The panels and the insulation both caught fire. The panels had a polyethylene core, faced with aluminum[1]. In this post, I'll show how the these three corporations manipulated their materials testing, so as to get their products approved by one of a maze of privatized regulatory bodies, and how building control bodies and officers, relying on those approvals whether through overwork, ignorance, or something worse, turned Grenfell into a death trap. (Building regulation in the Britain[2] is mind-bogglingly complex, and I apologize in advance for any mistakes or oversimplifications). Finally, I'll look at the "cladding crisis," and how the regulatory reaction to the Grenfell fire has caused a large part of the housing market in the United Kingdom to grind to a halt.
The Corporations
Construction Manager manager summarizes how each manufacturer manipulated its materials testing results:
[Adrian Williamson QC, representing the bereaved and survivors of the Grenfell Tower disaster,] detailed how Arconic, which manufactured the Reynobond PE cassette cladding product, was "well aware" as early as 2004 that it had failed a French Centre Scientifique et Technique du Bâtiment (CSTB) test.

He also noted that two years later, Kingspan began to market its K15 phenolic insulation product, despite a 2008 BRE test that had to be extinguished early because it "was endangering setting fire to the laboratory".

Turning to Celotex, Williamson detailed how Celotex saw its first BS414 test for its FR5000 product fail, after it was terminated early due to excessive flaming and fire spread. In May 2014, Celotex secured a pass on a second BS 8414 test after placing a 6mm magnesium oxide board behind the cladding, used in conjunction with a 12mm thick layer of the cladding.
More Williamson:
[A]t all times they concentrated on the route to market, not the route to safety.
The details of how the corporations manipulated the tests are so over-the-top they're worth going into. From cladding manufacturer Arconic:
In another email produced at the inquiry from 2013, Deborah French, Arconic's UK sales representative, sent Wehrle a news story about another ACM cladding fire in the United Arab Emirates. She referred to an account of testing that had been done on ACM panels which concluded: "using [polyethylene (PE)] is like a chimney which transports the fire … in the shortest time." The tests were done in front of architects "who almost fainted".
And more (!) from Arconic:
In July 2015, while Reynobond PE was being installed on Grenfell Tower with Arconic's knowledge, Mr Wehrle wrote in an internal email that the material "is DANGEROUS on facades, and everything should be transferred to FR [fire resistant] as a matter of urgency".

He commented that this opinion "is technical and anti-commercial, it seems", adding a smiley face, in an email previously disclosed by the inquiry.

Mr Wehrle had also told Guy Scheidecker, sales and marketing director at Arconic, that the cassette form of Reynobond PE – used on Grenfell and found to have made the fire even worse – did not achieve the Euroclass B standard that it was certified for.

"Having said that, this shordfall [sic] in relation to this standard is something that we have to keep as VERY CONFIDENTIAL!!!!!," he added.

Mr Scheidecker responded: "This shouldn't even have been mentioned."
From Celotex:
Deborah Berger, a product manager at Celotex, told the Grenfell public inquiry that almost three years before the 2017 disaster, colleagues alerted her that a safety test had been rigged with fire-retardant panels to boost the insulation's fire performance, but the modifications were left out of marketing literature used by architects and specifiers.

She was so alarmed that she noted "WTF?" next to a photograph of the test rig where she saw that fire-resistant magnesium oxide panels had been fitted. She told the inquiry that the note was "shorthand for shock."
Berger on video before the Inquiry:
Grenfell's "WTF" moment – 3 year before fire.
Manager's shock reaction to Celotex engineering a fire safety test for flammable insulation. @RagsMartel reports from the Inquiry pic.twitter.com/Qjr9JMX7R7

— ITV London (@itvlondon) November 26, 2020
"I didn't think Celotex would do that. I thought Celotex was a good company that prided itself on doing the right thing." Narrator: Celotex was not a good company:
[F]ormer technical team member Jamie Hayes, who said that the acquisition of Celotex by French firm Saint Gobain in 2012 'brought about a change of culture' including an 'increased financial pressure to develop new products' and a 'sense of pressure to increase profits'.

Mr Hayes explained, when asked how financial pressures 'manifested' within the business, that the second fire test was arranged 'incredibly quickly' after the first one failed, adding: 'Although it didn't seem that strange to me at the time I look back on that now and think it's unbelievable that only a few months passed between the failure of a major test and how quickly the second test was arranged, authorised, paid for and not to mention the fact that you would have to actually arrange to build a rig – which is to say have all the materials and have someone construct it.

'How quickly they turned around from one to two I think illustrates quite well that they were not prepared to wait any longer than was humanly possible to progress that project, and I guess the ultimate point of that project was to have a product that could be sold to increase profits.'

The inquiry heard that using the magnesium oxide in the second test was Mr Hayes' idea, but he said he was not involved in the decision to not publicise it, and on not challenging this omission in the test report, he said: '[It was a] failure of courage, failure of character and failure of moral fibre not to do so on my part.'
Lastly, Kingspan:
The inquiry has already heard how Kingspan had been selling K15 for over 14 years for use on high rise buildings on the basis of a 2005 test of an earlier version of the product dubbed 'old technology' K15.

In 2006, the firm had changed the product to a newer version called 'new technology' K15 which had turned a December 2007 testing rig into a "raging inferno" that had to be extinguished out of fears it would endanger the testing laboratory.

Kingspan only withdrew the test report for the newer product last month after sending a letter to the Building Research Establishment claiming the firm was "now of the view" that the product being sold was different to what had been tested.

But [Ivor Meredith, a former technical project manager] told the inquiry on Monday that it had been "common knowledge" at the firm from 2006 onwards that the test report used to market the newer K15 as safe was from the older K15.
Kingspan also threatened to sue the National House Building Council (NHBC) for defamation, if they revealed the fake tests.
So, those are the corporate actors[3]. Always be closing! Now let's turn to the regulatory bodies.
The Regulators
Most of the regulators have been privatized. From Architects Journal:
Designers and constructors rely on the expertise and impartiality of independent institutions to advise how to build safely. Originally set up by government, the Building Research Establishment (BRE), British Standards Institute (BSI) and British Board of Agrement (BBA) later became privatised organisations, required to be commercially self-supporting. They derive income in part from testing and certifying commercial products, and the Celotex allegations imply that BRE may have been too helpful in getting them over the line.
The BBA (British Board of Agrement, not a typo) sells products and services, including product approval certification, audits, and testing, to clients. Another regulator, the LABC (Local Authority Building Control), also sells producs and services, and although a non-profit has a commercial product certification devision. (In other words, like the ratings agencies in the Crash, they're inherently conflicted.) We've seen the BRE give Celotex a free pass above. BBA and LABC are both relevant to Grenfell.
First, the BBA:
[QC] Williamson also claimed that Arconic "misled" the British Board of Agrément (BBA) when it sought to obtain certification for its Reynobond product by providing only a test report for the riveted version of the product, which obtained Euro class B in tests, but failing to disclose the cassette system test report.

When it came to the BBA, Sam Stein QC, also acting for the bereaved and survivors of the Grenfell Tower disaster said: "We suggest that the BBA as an organisation was beset by fundamental issues. Those issues compromised its ability to discharge its safety-critical function. Those issues included a lack of independence arising from a fear of losing business, competing commercial interests, and a drive for cost efficiency over accuracy.
Now, the LABC:
A building control body issued a certificate for flammable insulation used on Grenfell Tower by copy and pasting the manufacturer's 'dishonest' description of the product as being safe for high-rises, an inquiry heard today.

The Local Authority Building Control (LABC) lifted word-for-word a description of Celotex's Rs5000 insulation which had been suggested by the firm's assistant product manager Jonathan Roper in June 2014, the hearing was told.
To be fair to BRE, BBA, and LABC, I find only this hint of outright corruption:
"We can be very convincing when we need to be," [Dr Malcolm Rochefort, said former technical director at Kingspan]…" In the end I think the LABC convinced themselves Kooltherm [the retrospectively ironic brand name for K15] is the best thing since sliced bread. We didn't even have to get any real ale down him!"
Although the cynical might say that corruption wasn't handled by the technical people (except for the testing, of course), because that's why we have executives. As for "real ale," Yves has said, if I paraphrase correctly, that at least in the good old days, a pension fund could be induced to invest for a steak dinner. So, for simple tiresome bureaucratic obstacles, real ale might well be appropriate.
Meanwhile, uncorrupt and competent officials had warned the BRE, which did not act:
Minutes of a July 2014 meeting held by the Centre for Window and Cladding Technology, show officials were warned guidance was "not clear" regarding the use of deadly aluminium and polyethylene cladding. The minutes show the Building Research Establishment (BRE) agreed to draft a clarification to clearly outlaw the material – compared to solid petrol by experts – but this was not done. The minutes, released to Inside Housing under the Freedom of Information Act, say: "There have been major fires in buildings in various parts of the world where [aluminium composite material (ACM) polyethylene cladding] materials have been used for the cladding, with the ACM responsible for the external fire spread. "It was stated that [official guidance] is intended to prohibit the use of polyethylene-cored ACM in buildings over 18m… This is not clear from the wording of the current clause." They add that the BRE agreed to draft a 'Frequently Asked Question' for the official website to clarify this point, but this was never done.
Building Control
Having shown how corporations manipulated test results to allow flammable material to be sold, and how conflicted standards bodies approved them, we come to the players who installed the insulation and the cladding on Grenfell Tower: The Building Control Board (BCB), and the Building Control Officer (BCO), who reports to the BCB.
Grenfell's BCB was the Kensington and Chelsea Tenant Management Organisation (KCTMO). Here's how the Grenfell Tower contract was let:
The Grenfell Tower landlord held a secret meeting to cut refurbishment costs – including discussing the switch to cheaper cladding – despite being warned by lawyers that it would break procurement law and could void the main contract, the public inquiry into the disaster was told.

David Gibson, head of capital investment at the Kensington and Chelsea Tenant Management Organisation (KCTMO), which operated the council tower block for its owner, the Royal Borough of Kensington and Chelsea, organised a "secret" and "offline" meeting with the contractor Rydon in which they agreed more than £800,000 in savings, he told the inquiry on Thursday.

The 18 March 2014 meeting was not minuted, but Rydon subsequently agreed to drop landscaping works, cut the cost of windows, and switch more expensive zinc cladding panels for the aluminium alternatives which became the main cause of the spread of the June 2017 fire that claimed 72 lives.

The exercise cut the budget from £9.2m to £8.4m. The £293,368 saving on cladding amounted to less than £2,500 per apartment.

It also emerged that Peter Maddison, the TMO's director of assets and regeneration, had a long relationship with Rydon's refurbishment manager, Stephen Blake, having worked with him previously. Blake boasted in one email 10 days before the cost-cutting meeting that he had been "informally advised [by Maddison] we are in pole position – ours to lose".
Here's how it all plays out for the poor schlub, the BCO, who managed the contract for KTCMO, the BCB:
ITV News reported on the latest evidence from Celotex's former assistant product manager Jonathan Roper, where inquiry counsel Richard Millett revealed . LABC had 'lifted word-for-word' the description suggested by Mr Roper in June 2014, with the 'untrue and misleading' certificate issued several weeks later in August.

during the refurbishment….
More on the fate of John Hoban:
During proceedings on Wednesday, it emerged that Mr Hoban had a "high workload" in 2015-16 as he was covering for three other employees, after one had moved departments, one had left the council, and one had died.

He estimated after September 2013 that he had as many as 130 projects on the go, many of which were "scattered around the borough" and were "quite time-consuming" to travel to and from on public transport.

In his witness statement, Mr Hoban, who had worked for the local authority since 1996, said

Asked by inquiry lawyer Richard Millett QC why he left his role, he said: "I resigned because I'd had enough. I wasn't able to do the job how I was trained to do, and it was affecting my health and I just decided that I didn't want to work there any more."

During proceedings it emerged Mr Hoban believed the flammable insulation used on the tower was compliant with regulations after checking it on the Local Authority Building Control (LABC) website, which represents all building control surveyors in England and Wales.

He said: "The information I looked up on the LABC website said that Celotex Rs5000 was suitable for use on buildings of that height.

"I realise now I should have asked for a full report, but at the time the information I looked up as regards Celotex, it said it was suitable for use on a building of that height.

"I considered it OK by reading the information on the LABC website."
(An austerity story, besides being a globalization story.) So, the corporations corrupt the tests. Privatized and conflicted regulators corrupt the standards, based on the corrupt tests. The BCB lets a corrupt contract, uses the flammable materials manufactured by the corrupt corporations. The BCO executes the contract, based on the corrupt standards. And so a building burns down and 72 people are trapped inside and die.
Now let's turn to a second trap: the financial.
Cladding Crisis
In response to the Grenfell fire, Parliament passed a fire safety bill, which had some unanticipated consequences:
Property Industry Eye reported on the views of [building management company] Ringleys in relation to the Fire Safety Bill, with the company believing that while the new bill is 'designed to prevent another Grenfell-type tragedy', it is 'at danger of worsening the cladding crisis' which has 'paralysed' the housing market. The company's group managing director Mary-Anne Bowring shared fears that the bill 'will see mortgage providers demand additional information on a building's fire safety provisions'.

On this, she was concerned that 'most managing agents are simply unprepared to deal' with the new laws, which 'require them to liaise with a number of parties to help source correct information'. While there is currently work being undertaken by the Royal Institution of Chartered Surveyors to create a risk matrix for leaseholders unable to sell flats, the 'key issue' is that buildings below 18m 'will become unaccounted for'.

In turn, she added, the controversies around the external wall fire review (EWS1) process and forms 'demonstrated that the information regarding the materials used in a building's construction is not always reliable', so '', leaving residents and managing agents 'who are ill equipped to carry out such technical tasks, at risk of footing the bill'.
Worse, there are only a very few inspectors who can conduct these "costly invasive tests":
Before the updated guidance, lenders had only required leaseholders in a few thousand buildings deemed the most at risk — high rises similar to Grenfell — to prove the safety of their homes.

Those affected could call on a relatively small pool of 300 or so qualified assessors to sign off their homes' safety by issuing an EWS1. But now thousands more would-be sellers are vying for a surveyor to assess their homes. Only last month, the government promised funding to train 2,000 more assessors but clearing the backlog will take time.
Without such "additional information," lenders are unwilling to lehttps://www.ft.com/content/913cc2ab-7fd5-4d41-a097-df408b4fa57dnd:
Campaign group End Our Cladding Scandal estimates that the erosion of trust in building safety has created 1.93m "mortgage prisoners" in England such as the Aristidous, who are unable to sell their homes because banks and other mortgage providers have refused to lend to would-be buyers.

"It's a perfect storm," said John Baguley, of the Royal Institute of Chartered Surveyors. "In the absence of being able to rely on building regulations and without an alternative process, there is no ability [for buyers] to obtain finance because lenders simply don't know what's on the outside of a building."
The effect on the property market:
The unsaleability of these apartments, which sit at the bottom of the property ladder, could have a knock-on effect on the rest of the market. "The whole chain of property sales can collapse if one part of that chain can't get its form: it's not just the first-time buyers, it's second-steppers, it's movers. We just don't know the scale of the issue now," warned Eric Leenders, managing director of personal finance at UK Finance.
And the effect on the freeholders and leaseholders:
Mortgage lenders now insist that flat owners have the correct fire safety paperwork in the form of an EWS1 certificate to prove that the external walls are free from combustible material.

The problem is, the certificate has to be sorted by the building's freeholder and the cost can run into tens of thousands of pounds.

Some do not want to pay this – understandably because it is not always necessary as remedial work has already been done.

Leaseholders are also required to fund waking watches (24-hour fire patrols) and other interim measures, at costs of up to £800 per month each, until their blocks are made safe

So the leaseholders can't afford to stay, because the freeholders could hand them bills for tens of thousands of pounds to cover testing and remediation. They must also spend hundreds of pounds on fire patrols. But they can't afford to go, since lenders won't fund either the sale of their existing home, or the purchase of a new one. This at a time when work-from-home is the new normal! And all this assumes that their existing homes are not, in fact, fire traps in addition to being financial traps.[4] Meanwhile, the original issue — cladding in tower blocks — is also unsolved, with half of them still having flammable cladding in place.

Conclusion

It's not like I think walking through the door of any neoliberal institution means you end up trapped in a room on fire with no way out, metaphorically, literally, or both. But you certainly should give consideration to the possibility of such an unhappy outcome, here as well as over there. What a mess!

NOTES

[1] From Gizmodo:

Part of the motivation for Grenfell's renovation, planning documents suggest, was to make the tower look better to its neighbors. That document, obtained by The Independent, claims the addition of new aluminum cladding "will improve its appearance especially when viewed from the surrounding area." It justified the choice of materials "to accord with the development plan by ensuring that the character and appearance of the area are preserved and living conditions of those living near the development suitably protected." Those living nearby, of course, are some of the richest people in London.

So this is a "property values" story, in addition to being a globalization story (though I suppose in London that comes to the same thing).

[2] For all I know, building regudlation in Scotland, Wales, or Northern Ireland is gloriously simple; I just don't know. However, the knock-on effects on the housing market apply to the entire United Kingdom.

[3] Celetox and Kingspan blame Arconic. Arconic blames the contractors:

[4] The government's response so far has been to ease leaseholders' ability to take out a second mortgage. This has not been well-received.
Original Source