By Lambert Strether of Corrente.
Patient readers, Politics is very light today, but I must hustle along and finish up a post. More tomorrow! –lambert
Bird Song of the Day
Quite the morning chorus!
#COVID19
At reader request, I've added this daily chart from 91-DIVOC. The data is the Johns Hopkins CSSE data. Here is the site.
Case count by United States region: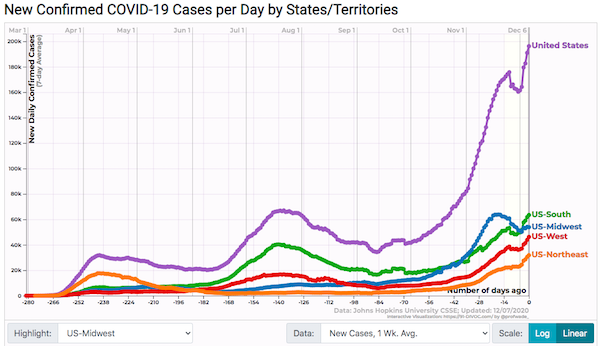 Returning to the upward trend.
I thought I'd look at some big states (New York, Florida, Texas, California) instead of the Midwest: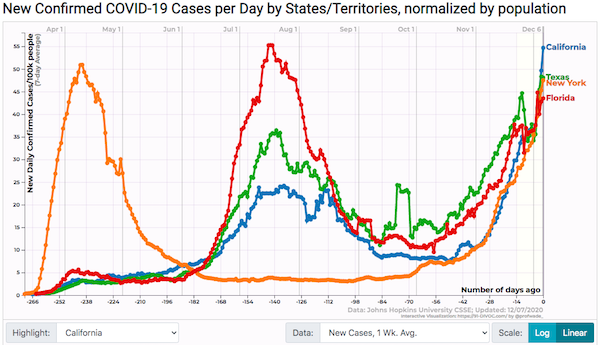 I feel I'm engaging in a macabre form of tape-watching, but it's interesting that the big states all moving more-or-less in tandem now; perhaps spread was nationalized with colleges and universities opening and closing? The correlation seems to happen around 63 days ago (October 1).
Test positivity by region: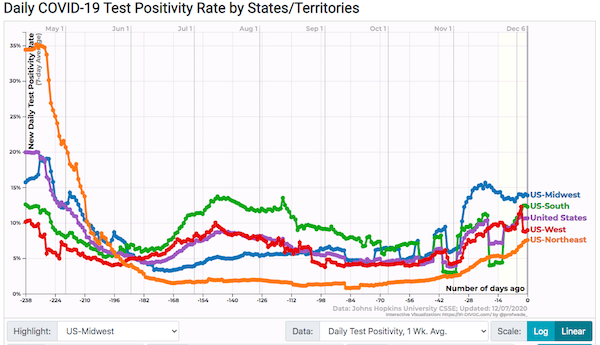 Hospitalization by region: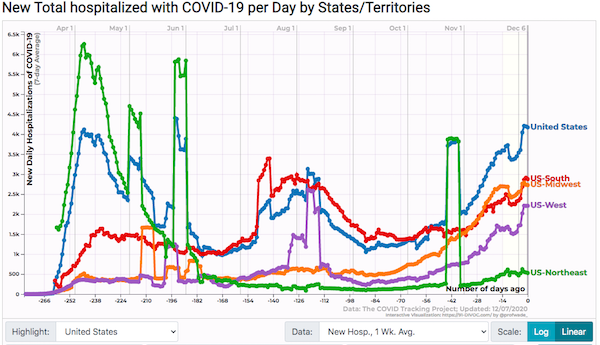 We should also take into account that hospitalization is also discretionary; they may also be reducing their admissions rate — relative to cases we cannot see in this data! — to preserve future capacity.
Case fatality rate by region: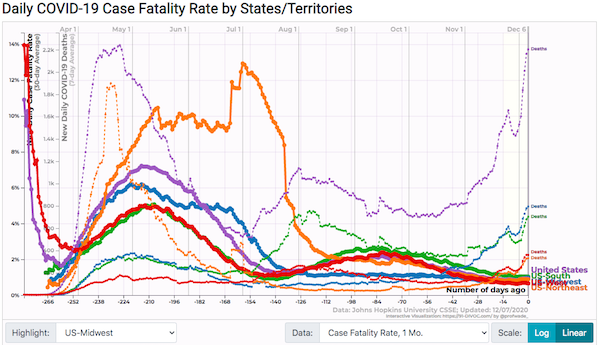 I thought I'd look in on the world's largest and longest natural experiment in health care policy: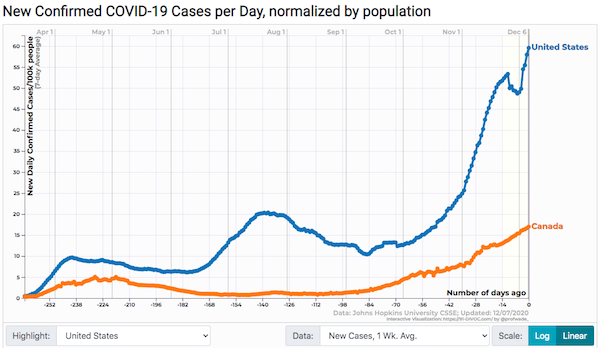 Which country has the better system?
Politics
"But what is government itself, but the greatest of all reflections on human nature?" –James Madison, Federalist 51
"They had one weapon left and both knew it: treachery." –Frank Herbert, Dune
"They had learned nothing, and forgotten nothing." –Charles Maurice de Talleyrand-Périgord
–>
Obama Legacy
Some found this image… challenging:

When @BarackObama met Frederick Douglass pic.twitter.com/6BEeJPfYPe

— Eli Valley (@elivalley) December 4, 2020

Valley responds to detractors–

"When Barack Obama Met Frederick Douglass" [Eli Valley, Patreon]. "Another tension or challenge with this comic was, obviously, the risks of racial caricature. This is a particular challenge for political artists, especially of the visual-grotesquerie variety, as any exaggeration risks playing on tropes of historic vilification. I'm not unfamiliar, to say the least, with bad-faith misrepresentations of my art along these lines, but usually it focuses on drawings of Jewish communal leaders. For Obama, I wanted to place him in my visual pantheon of ghouls, that's how repulsed I was by his remarks this week (and, by extension, by his near-total absence during four years of Trump Administration atrocities). I decided that drawing him as a sleazy/wormy guy, a la Jared Kushner, would be ideal because it would shine a light on him that's rarely depicted without falling into racial tropes. If wormy is an anti-Black trope, it's certainly not the dominant one, so I felt it was a good choice. I was self-conscious about not overdoing his lips for the same reason, as that is a dominant anti-Black trope. But in the end it didn't matter; one person even said the differently-drawn lips were a sign of racism. Another person said the big ear and teeth were a Jim Crowe visualization. To this I'd say Obama has big ears, and it's formed a bedrock of visualizations of him since he first ran for national office. The teeth charge is less easy to defend, because it is a more prominent element of anti-Black caricature than, say, ears, but again, Obama is known for his toothy smile! So it's a challenge to do it right, but I thought focusing on worminess, avoiding common tropes but not denying certain physical attributes, was best…. Ghoulish, but hopefully not racist."

"Obama Agonistes" [Ross Barkan, Political Currents]. "In 2020, a sharp divide exists between a younger left that views Obama with jadedness and derision and the millions in Democratic primaries that selected the candidates he deemed his successors, Hillary Clinton and Joe Biden. At the heart of the debate is a truth not always easily reconciled, one worth setting down in blunt terms: Obama was a hall of fame candidate, not a hall of fame president. For those who graduated into the Great Recession and bore the brunt of a neoliberalism never checked, Obama nostalgia offers little: no free health insurance, no canceled student or medical debt, no end to the forever wars. What did you do with your historic majorities, Obama? If you're a severely underemployed twenty-eight year-old who can barely afford rent and will never own a home, the glories of 2008 are meaningless."

"Obama's Curious Cautiousness" [Charles Blow, New York Times]. Deck: "He is a great politician, but he is not an activist." • 2020 – 2008 = 12…

I think it's the upgrade that's depressing and tragic; it looks like luxury hotel room, not a bedroom:

So utterly depressing and tragic.

Thank god there's been an upgrade since.

This is the Obama's bedroom in the White House residence. https://t.co/v3eWs4I9n1 pic.twitter.com/8zw3amb5eq

— Yashar Ali 🐘 (@yashar) December 5, 2020

Where's the messy pile of books on the bedstand? Bring back the bed Truman, JFK, and LBJ slept in, say I. The decor, too. Let's have a little humility.
Stats Watch
At reader request, I added some business stats back in. Please give Econintersect click-throughs; they're a good, old-school blog that covers more than stats. If anybody knows of other aggregators, please contact me at the email address below.
Employment Situation: Yikes:
"If hiring continues at November's pace, it will take more than three additional years before the United States regains all the jobs lost in early spring. And that estimate does not account for expected population growth, which would call for more jobs than we had pre-pandemic."

— Alec MacGillis (@AlecMacGillis) December 6, 2020
* * *
Banking: "Bank Error in Your Favor: Citi's Fight to Reclaim $900 Million" [Bloomberg]. "A contractor in India for Citigroup Inc.'s Citibank retail business, Raj had been the 'checker' on a periodic interest payment to a group of Revlon Inc. creditors, with the bank acting as administrative agent on the loan. Suddenly he realized that Citi had instead sent some of those creditors the full remaining principal. 'Bad news,' his supervisor told the head of North American loan operations by chat on Aug. 12. It was, in fact, $900 million of bad news." • O felix culpa! Granted, not for Citi.
Commodities: "Factbox: Investigations facing the world's biggest commodity traders" [Reuters]. • Vitol, Glencore, Trafigura, Gunvor.
Tech: "The nightmare is real: 'Excel formulas are the world's most widely used programming language,' says Microsoft" [The Register]. "Microsoft will let users create custom functions in Excel using the number wrangler's own formula language. 'Excel formulas are the world's most widely used programming language, yet one of the more basic principles in programming has been missing, and that is the ability to use the formula language to define your own re-usable functions,' said Microsoft…. Recursion, long missing from Excel formulas up to now, can be achieved by allowing functions to be called within functions. What could possibly go wrong?"
Tech: "Robot vacuum cleaners can be used by hackers to 'spy' on private conversations: NUS study" [Channel News Asia]. "Computer scientists from the National University of Singapore (NUS) have demonstrated how a common robot vacuum cleaner and its built-in light detection and ranging (Lidar) sensor could be used to "spy" on private conversations, the university said on Monday (Dec 7). The method, called LidarPhone, repurposes the Lidar sensor that a robot vacuum cleaner normally uses for navigating around a home into a laser-based microphone to eavesdrop on private conversations. The research team, led by Assistant Professor Jun Han and his doctoral student Sriram Sami, managed to recover speech data with 'high accuracy', said NUS."
Tech: "If your Apple HomePod refuses to play certain songs, here's how to fix it" [CNBC]. • "Certain songs." The URL is more explicit: how-to-play-ripped-music.
Mr. Market: "Dow pulls back from record high as Birx says COVID will be 'worst event this country will face'" [MarketWatch]. "On the public-health front, Dr. Deborah Birx, the White House's coronavirus response coordinator, warned on Sunday that the coronavirus surge 'is the worst event that this country will face,' as hospital systems are overrun."
* * *
.
Today's Fear & Greed Index: 88 Extreme Greed (previous close: 89 Extreme Greed) [CNN]. One week ago: 88 (Extreme Greed). (0 is Extreme Fear; 100 is Extreme Greed). Last updated Dec 7 at 12:07pm.
Rapture Index: Closes unchanged "Iran voes [sic] revenge against Israel after its nuclear chief is killed" [Rapture Ready]. Record High, October 10, 2016: 189. Current: 183. (Remember that bringing on the rapture is a good thing, so high is better.) I would have expected "Beast Government" to be popping with Biden's election.
Health Care
"Fauci: Christmas could be worse than Thanksgiving for COVID-19 spread" [The Hill]. "Top infectious [disease (!)] expert Anthony Fauci said Monday that Christmas could be worse than Thanksgiving for COVID-19 spread. 'My concerns are the same thing of the concerns that I had about Thanksgiving, only this may be even more compounded because it's a longer holiday,' he said on CNN's 'New Day.' Fauci noted that Thanksgiving celebrations tend to be shorter as people return to work the following week, but Christmas leads into New Year's…. The Centers for Disease Control and Prevention cautioned a week before Thanksgiving for people not to travel or gather with people outside of their households. But still, millions traveled by plane on the days before and after the holiday, with the Sunday after seeing the most air travelers in the U.S. since March."
The messaging is not working:
"For the sake of other people, will you please wear a mask?"

"Nope"

Epidemiologists have vomited over and over already. We are at our wits end… at this rated we aren't getting out of this pandemic without hundreds of thousands more deaths. #COVID19 pic.twitter.com/JRzBcJo4ni

— Eric Feigl-Ding (@DrEricDing) December 6, 2020
Cf. Pro 26:11. As I wrote:
We should also hope that Biden, FDR-like, can say that "It is common sense to take a method and try it. If it fails, admit it frankly and try another." Sadly, our Professional Managerial Class is not known for that.
Here are the activities epidemiologists like Fauci and Fiegl-Ding are undertaking in order by frequency:
In the Covid winter, it's hard to know what's safe, and what's appropriate. We asked 700 epidemiologists how they're living. https://t.co/JyyhDvCJVF @clairecm @qdbui pic.twitter.com/t3BbFgFPt8

— Margot Sanger-Katz (@sangerkatz) December 4, 2020
Note the low rankings for visiting an elderly relative, attending church, weddings, or funerals, and sporting events (like high school football in Texas). These choices reflect values, and I would bet the values of the people the epidemiologists are trying to persuade are quite different. Perhaps the most resonant reason I've heard for refusing to mask up is that masking demands "living in fear." That's a values statement. Perhaps the epidemiologists should get off their high horses and start thinking about how to meet people where they actually are, rather than doubling down on fail. (And it's not like the Blue Oligarchies are any great shakes at this, either. We hear about the damn bikers in Sturgis to this very day, but the stories about Manhattanites fleeing Covid's epicenter in Manhattan for the Hamptons, the Hudson River Valley, and points West and South, bringing the virus with them, have all died away. Why is that?)
* * *
"On the ground, the pledge to vaccinate 20 million against Covid-19 in December seems unrealistic" [STAT]. "Leaders of Operation Warp Speed have repeatedly said they are on track to vaccinate 20 million people in December, enough for nearly all the health care workers and long-term care residents who are first in line to get a vaccine. But those involved in vaccine planning at four health care systems, in California, Illinois, Wisconsin, and Kansas, told STAT they expect to still be giving staff their first shots in mid-January. These workers would then receive their second vaccine dose three to four weeks later, depending on the vaccine, and would receive the full immunization effects a week after that, in mid-February." • The hospitals are, after all, going to be busy with other things. Like cases.
"Vaccine Cards And Second-Dose Reminders Are Part Of Warp Speed's Immunization Plan" [NPR]. "Millions of Americans who are expected to receive the new COVID-19 vaccinations in coming months will need to take two doses of the drug – and the U.S. government says it will issue a vaccine card and use other tools to help people follow through with their immunizations…. People who receive the vaccine cards will be encouraged to take a photo of them or keep them in their wallet, [Army Gen. Gustave Perna, Warp Speed's chief operating officer], said. Images of a sample vaccine card that were circulated after the briefing show that it will record a recipient's first and last name and date of birth along with the dates on which they received a dose of the vaccine. There are also spaces to record the vaccine's name and maker – crucial details, to ensure people get the correct second dose to complete their immunization." • Well, at least it's not a chip under the skin. However, I don't recalll a lot of discussion about this, in the US or (below) the UK.
"No10 stops short of ruling out Covid 'immunity passports' despite saying it is 'not something the PM wants' – as Wales raises fears of spot checks at pubs and shops by bringing in ID-style cards for people who get vaccine" [Daily Mail]. "[I]t emerged that people in Wales are to receive an ID-style card to show they have been vaccinated for coronavirus. Health minister Vaughan Gething revealed the move as he hailed news that that Pfizer jabs have been approved by UK regulators. The cards will include the date of immunisation, with the Labour-run Welsh government insisting it will serve as a 'reminder' about when individuals need the second dose. However, they sparked an immediate backlash with fears of an 'authoritarian' crackdown as pubs, shops and other public venues demand to see the proof before people are given access." •
Helpful suggestion on vaccine uptake:
Release the vaccine in vape form and I promise no one will ask what is in it

— Caitlin (@caithuls) December 6, 2020
* * *
"Access":
A COVID response shaped by the best medical experts — and implemented by government pros. A health care system accessible to all, with lower costs, and greater equity.

That's what America voted for; that's what this team will deliver. https://t.co/cQvlN2Lt2m

— Ronald Klain (@RonaldKlain) December 7, 2020
"Nothing fundamental will change."
The Biosphere
"Exxon Holds Back on Technology That Could Slow Climate Change" [Bloomberg]. "Taken together, all the world's existing capture facilities can zero out more than 38 million metric tons of CO₂ a year. That number, about 0.1% of all global emissions, would have to rise 100-fold to 200-fold by 2050 to meet climate goals, according to the International Energy Agency. Most of these carbon-capture projects are run by fossil fuel companies. Big Oil likes to celebrate the technology: By putting carbon back in the ground, the industry can provide consumers with the benefits of fossil fuel without the full climate impact. 'If you're going to ask somebody to actually do carbon capture, oil companies have all the experience,' says David Use, a former Chevron Corp. engineer who purchased some of the gases from LaBarge for use at the Rangely oil field, about 200 miles south, in Colorado. 'They've got the pocketbooks and the credentials to do the big projects.' And therein lies the paradox. As Exxon and its peers look into a carbon-constrained future, CCS seems to offer a golden opportunity. Oil companies could develop a tool considered crucial by no less than the scientists with the United Nations-backed Intergovernmental Panel on Climate Change. But in the absence of strong government support or regulation, the oil industry might not have the will to invest enough. "
Our Famously Free Press
Only trying to help:
It is amazing how many elite journalists want @ggreenwald's writing to improve with kind suggestions he use an editor. I've never seen such a collective effort to help someone's wordsmithing, and it gives me faith in humanity.

— Matt Stoller (@matthewstoller) December 6, 2020
The Conservatory
"Bob Dylan to Sell His Entire Songwriting Catalog to Universal" [Bloomberg]. "Universal didn't disclose a price for the deal, though Dylan's songs are worth more than $200 million, according to people familiar with the terms. The collection encompasses 600 works, from early-'60s songs such as 'Blowin' in the Wind' and 'The Times They Are a-Changin" to an album released just this year, 'Rough and Rowdy Ways.' Dylan, 79, is cashing in on the boom in music rights. The value of songs and recordings has skyrocketed in recent years thanks to streaming, which has fueled a five-year expansion for the music industry after a deep slump. He isn't selling the recordings, which are a separate asset." • I dunno. Dylan won't be selling merch at concerts much longer. Isn't this a wasting asset?
Black Injustice Tipping Point
Another BLM Co-Founder is now part of WEF's "Young Global Leaders" program, a 5yr leadership & networking program

(See "pub figs": Buttigieg, Reps Stefanik, Crenshaw, Kinzinger, Moulton, Underwood, J Kennedy, Saud Amb, NYC Comm Intl Affs, Phoenix Mayor)https://t.co/XMRkoiLOd1 pic.twitter.com/c8vE2bZsms

— Selina in PDX 🗽🇺🇸 (@PDXSelina) December 5, 2020
"Black flight attendant and white airline CEO reunite after emotional talk on race" [ABC]. "Hill [the flight attendant] is now starting a YouTube channel in an attempt to create a judgement-free space where people can talk about topics such as race." • Hill and the CEO got talking when she noticed he was reading White Fragility. Gawd knows I don't want to disparage human connection, but the flight attendant is still the flight attendant, and the CEO is still the CEO. Their material circumstances did not change. So identity politics really works!
Xmas Pregame Activities
Not a real thing on Amazon, though:
Last night I discovered "minimalist nativity sets" and I am WEEPING pic.twitter.com/XuRoGq8i1v

— Kirby Jones (@kejones_) December 5, 2020
I wonder what a minimalist Advent calendar looks like….
Class Warfare
The peasant moves to the city for work and sends money back to the family:
#cinematographer Ernest Palmer #BOTD
CITY GIRL – F.W. Murnau, 1930
w/ Mary Duncan #silentfilm

After a hard day's work, trapped in her tiny apartment in the #city, Kate finds solace with her tiny plant and pretend bird… pic.twitter.com/a8NorcGsYG

— Judy Cohen (@IKnewThemWell) December 6, 2020
News of the Wired
"11 Minutes of Exercise a Day May Help Counter the Effects of Sitting" [New York Times]. "The scientists wound up gathering results from nine recent studies in which almost 50,000 men and women wore accelerometers. These studies' volunteers were middle-aged or older and lived in Europe or the United States. Combining and collating the nine studies' data, the scientists found that most of the volunteers sat a lot, averaging close to 10 hours a day, and many barely moved, exercising moderately, usually by walking, for as little as two or three minutes a day. The researchers then checked death registries for about a decade after people had joined their respective studies and started comparing lifestyles and life spans. Dividing people into thirds, based on how much they moved and sat, the researchers found, to no one's surprise, that being extremely sedentary was hazardous, with people in the top third for sitting and bottom third for activity having about 260 percent more likelihood of premature death than the men and women who moved the most and sat the least. (The researchers controlled for smoking, body mass and other factors that might have influenced the results.) Other combinations of time spent sitting and moving were less alarming, though, and even heartening. People in the middle third for activity, who exercised moderately for about 11 minutes a day, were significantly less likely to have died prematurely than people who moved less, even if all of them belonged to the group that also sat the most." • The only kind of exercise I can stand is walking. What I should do is walk for an hour each day. Unfortuanately, I can't do anything else while walking, so the time seems wasted. I hate gyms, so walking machines with a TV or radio on are non-starters. Hmm. Maybe I should get some AirPods or similar and listen to podcasts. As long as I don't get hit by a car I don't hear….
Another soulful, non-corporate, non-chain business that did not survive the pandemic:
First the Centralia grafitti highway and now this. Heartbreaking. Pennsylvania losing some of its most precious spots this year. https://t.co/PdwXuFPhdp

— longer night (@bombsfall) December 5, 2020
Apparently this is a bad idea:
Reading the reviews on an *ACTUAL* male-male extension cable. Good stuff. pic.twitter.com/Tm5IaiGnXG

— Jeremy Zorek (@jeremyzorek) December 6, 2020
* * *
Readers, feel free to contact me at lambert [UNDERSCORE] strether [DOT] corrente [AT] yahoo [DOT] com, with (a) links, and even better (b) sources I should curate regularly, (c) how to send me a check if you are allergic to PayPal, and (d) to find out how to send me images of plants. Vegetables are fine! Fungi and coral are deemed to be honorary plants! If you want your handle to appear as a credit, please place it at the start of your mail in parentheses: (thus). Otherwise, I will anonymize by using your initials. See the previous Water Cooler (with plant) here. Today's plant (TH):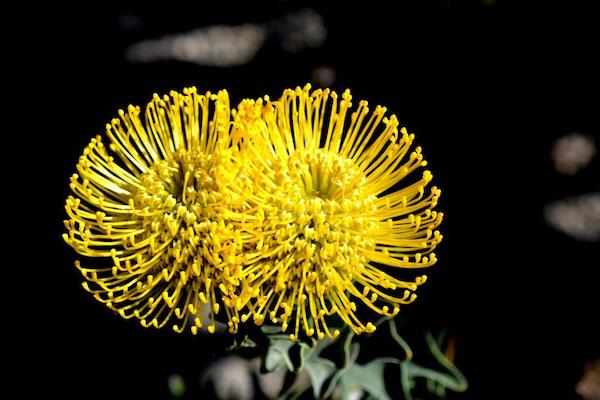 TH writes: "Nodding Pincushion. (Leucospermum cordifolium 'Yellow Bird')."
* * *
Readers: Water Cooler is a standalone entity not covered by the recently concluded and — thank you! — successful annual NC fundraiser. So if you see a link you especially like, or an item you wouldn't see anywhere else, please do not hesitate to express your appreciation in tangible form. Remember, a tip jar is for tipping! Regular positive feedback both makes me feel good and lets me know I'm on the right track with coverage. When I get no donations for five or ten days I get worried. More tangibly, a constant trickle of donations helps me with expenses, and I factor in that trickle when setting fundraising goals:
Here is the screen that will appear, which I have helpfully annotated.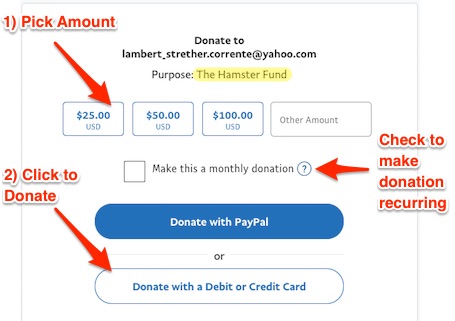 If you hate PayPal, you can email me at lambert [UNDERSCORE] strether [DOT] corrente [AT] yahoo [DOT] com, and I will give you directions on how to send a check. Thank you!

Original Source