Another skeleton has fallen out of Apollo's closet, implicating not just the firm but also the SEC, as well as Apollo's fixer, um, law firm Paul Weiss. And this embarrassment, picked up by the Financial Times, comes when the firm is already in hot water over the firm's co-founder Leon Black's dodgy-looking relationship with serial child rapist Jeffrey Epstein. Black paid over $50 million in fees to Epstein, an implausibly high figure, for financial advice after Epstein's criminal conviction in 2008.1
Even though the immediate conduct, that of a former partner charging hundreds of thousands of dollars of personal expenses to investors, looks penny-ante, Federal Judge Kevin Castel blasted Apollo in what was a SEC civil suit against the miscreant former partner, Mohammed "Ali" Rashid despite Apollo not being a party to the litigation.
As we'll explain, the SEC comes off looking as if it was played by Apollo. However, since a lot of people find they've been outfoxed by Leon Black and his merry band, being snookered by Apollo per se isn't a big a badge of dishonor as what actually happened. The agency has repeatedly made clear that it held the touching belief that the widespread investor fleecing in private equity that it unearthed in 2014 and 2015 were just mistakes by otherwise upstanding firms. Once they were made aware that their behavior wasn't proper, of course they would shape up. In other words, the agency is constitutionally incapable of believing that anyone other that rogue employees and bucket shops engage in deliberate misconduct.
Apollo had previously settled with the SEC over having charged Rashid's expenses to investors, along with two bigger-ticket abuses. That settlement totaled $52 million in fines and disgorgements; we've embedded it at the end of this post. You can see it skipped over the unseemly details of Rashid's grift.2 But thanks to Judge Castel, we now know more. From the Financial Times: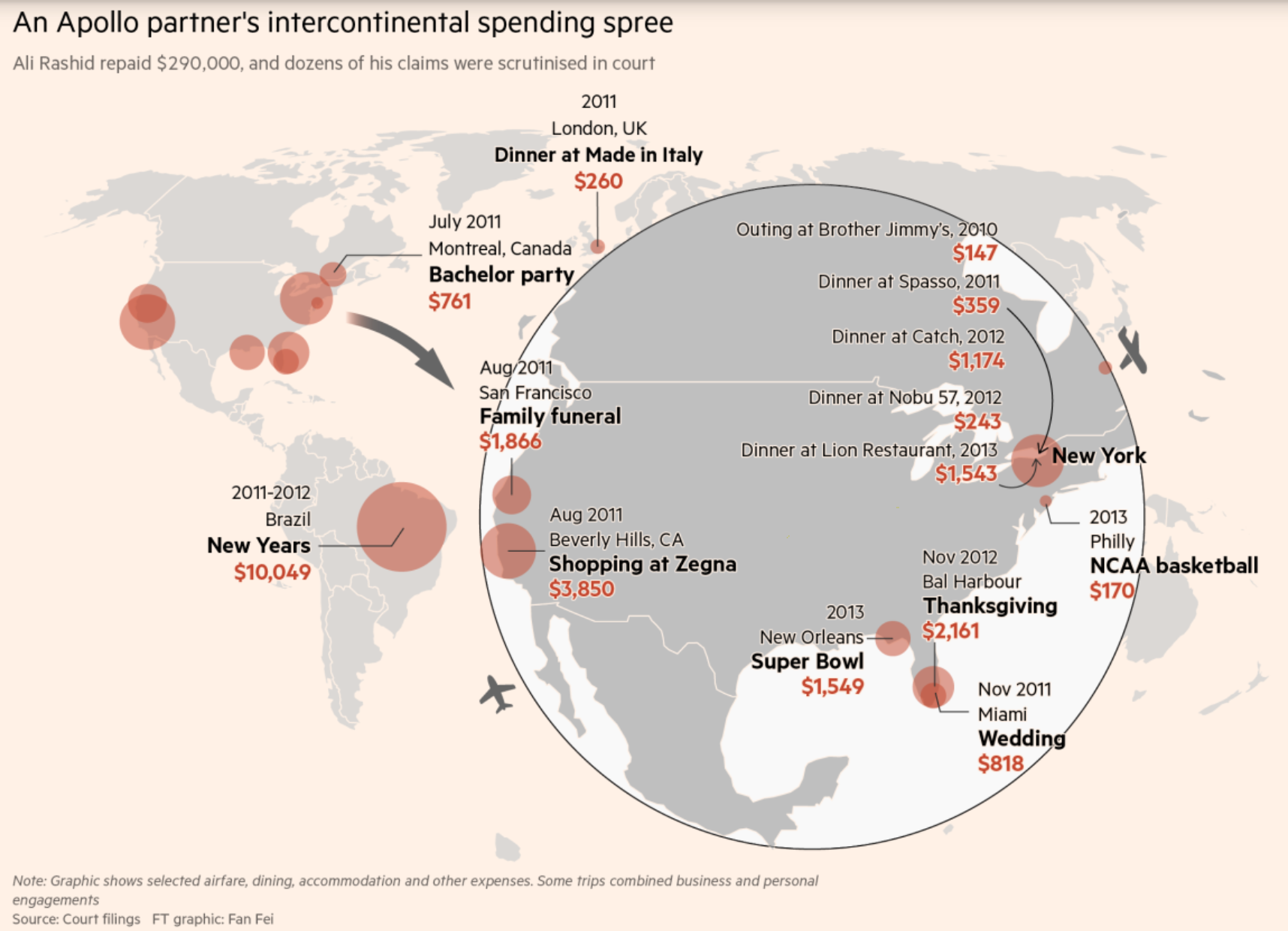 Judge Castel made clear he didn't buy the garbage barge that Apollo had sold to the SEC when the agency settled charges with Apollo over having billed Rashid's bogus charges, like the $10,049 New Years' trip to Brazil or another jaunt reported in the New York Post, flying to Paris with a girlfriend, to investors.
It is clear that the SEC believed Apollo when Apollo depicted Rashid as having gotten investors in Apollo's funds to pick up some of his high living. From the SEC's order (emphasis ours):
29. From at least January 2010 through June 2013, a former Apollo senior partner ("Partner") improperly charged personal items and services (collectively, "personal expenses") to Apollo-advised funds and the funds' portfolio companies.
The agency also came cringe-makingly close to fawning over Apollo's cooperation. Again from the order:
47. In determining to accept Apollo's Offer, the Commission considered remedial acts taken by Apollo and cooperation afforded the Commission staff. Apollo initiated several reviews of the former Partner's expenses and voluntarily reported the improperly charged personal expenses to the Commission staff.

48. Throughout the staff's investigation, Apollo voluntarily and promptly provided documents and information to the staff. Apollo met with the staff on multiple occasions and provided detailed factual summaries of relevant information. Apollo was extremely prompt and responsive in addressing staff inquiries.
In fact, Judge Castel found that Rashid had no knowledge of Apollo's practices (as in what Apollo did with his expense claims) and that Rashid had been told that "the firm" (meaning Apollo as opposed to the portfolio companies almost entirely owned by investors) would pay for it. From the Financial Times:
The judge also heaped blame on Apollo for directing private equity funds it managed for outside investors, who include many of America's biggest public pension funds, "to pay the entirety" of the bogus expenses. "While Rashid lied on his expense reports and was recklessly indifferent about the source of his reimbursements," Judge Castel wrote, "significant responsibility lies with Apollo…

Mixing business and personal travel was the norm at Apollo, according to Mr Rashid, who testified to being told: "travel, don't sit around, go find new deals". He added that founder Leon Black and other top Apollo executives including Marc Rowan, Josh Harris and Scott Kleinman "[would say] in passing, things like, you know, 'the firm will cover that', or 'the firm will pay for this' or, you know, 'just bill it to the firm'"….

Yet unbeknown to Mr Rashid and many of his colleagues, Apollo often was not paying the bills, but passing them to outside investors.

"It appears that private-equity funds were billed regardless of the nature of the expense, in contradiction to the limited partnership agreements that governed the funds", wrote Judge Castel, who found the practice so alarming that he mused in court that "maybe there should be more defendants in this case"…

"Apollo, and not Rashid, put in place a policy of invoicing expenses to funds that . . . seemingly should have been borne by Apollo's own management companies," Judge Castel concluded.
 
A former private equity executive says that Rashid not influencing where his expenses are charged is standard. At his old firm, even though he worked with portfolio companies as well as on fundraising (meaning some but not all of his out-of-pocket expenses should have been allocated to portfolio companies), he was never asked nor informed about how much was invoiced to particular portfolio companies or the firm.
As a result, this bit is an eye-opener:
He [Judge Castel] wrote in his opinion that even current Apollo chief financial officer Martin Kelly and his predecessor Eugene Donnelly wrongly believed that Apollo was covering some of the charges.
The CFOs claim they thought Apollo was picking up some of Rashid's charges? This posture is the beancounter's version of "I'm the CEO and I know nothing about what goes on here."
The only way these statements could be truthful is if the expense allocations to funds are done at a comparatively low organizational level, by design, to give the top brass a semi-credible "Those operations are handled at a much lower level and I don't review the details."
The Financial Times also fingers Paul Weiss, the law firm Apollo hired to investigate expense abuses at Apollo in August 2012. Note that it is hard to view Paul Weiss as arms-length; it regularly represents Apollo on its deals and therefore has powerful incentives not to upset the apple cart. It should therefore come as no surprise that Paul Weiss is also conducting an "independent" investigation into Leon Black's relationship with Jeffrey Epstein. From the pink paper:
The ruling from Judge Castel comes eight years after Apollo retained law firm Paul, Weiss to review its expenses systems. The firm…found that of 300 top Apollo employees, only Mr Rashid's expense submissions "warranted more in-depth review".

The investigation identified about $20,000 of personal expenses incurred by executives other than Mr Rashid that needed to be repaid, but found no widespread misconduct. In fact, in a presentation prepared for the SEC and later filed in court, Paul, Weiss concluded that Apollo had picked up the tab for more than $370,000 of expenses that should instead have been borne by funds it managed for outside investors.

The findings of the investigation by Paul, Weiss now stand alongside those of a federal judge who ruled that "policies and procedures within Apollo contributed heavily to any act of fraud that was effected on investors in the Apollo funds".
So Judge Castel has called out Paul Weiss' whitewash. If you look at the order below, you can see Rashid's assistant had questioned his expenses in 2010, which led to a review of six months of charges by an "expense manager," a confession, reimbursement of some charges, and a reprimand. In early 2012, Apollo again got a whiff that Rashid might be pushing the envelope, and ordered another 6 month review, which led to another round of reimbursement and dressing-down. This part of the SEC's order, in addition to the content of the Paul Weiss review, which was presented in this case, probably heightened the judge's ire:
In August 2012, Apollo, on its own initiative, engaged outside counsel, which then engaged an independent audit firm, to conduct a firm-wide review of expense allocations. As part of this review, Apollo requested that the independent audit firm review the Partner's reimbursement practices.
Bear in mind that the examination wasn't as broad as "expense systems" but "expense allocations". One has to wonder why Apollo saddle up Paul Weiss on this issue, while it was also conducting what was essentially a parallel audit of Rashid's expenses, since as we know, whether an employee expense was reimbursed is entirely separate from how it was allocated. Was it because Apollo anticipated that the SEC would conduct an examination as part of its new Dodd Frank supervisory powers, and having a pet law firm Good Housekeeping seal would keep the SEC from nosing about on its own?
Read this section of the SEC order closely:
In June 2013, the independent auditor singled out the Partner's expense reports for further review, which entailed an in-depth examination of the Partner's expenses as well as the Partner's emails and calendar entries.
We're not disputing that Rashid's expenses merited an in-depth examination. But remember that going on a business trip and then having personal meetings, or even using the business travel to get you to the starting point for a vacation, is perfectly kosher as long as you pay for the personal part yourself. It would also be perfectly permissible even to have an intent to vacation somewhere and arrange bona-fide meetings to get you to the vacation spot. The Financial Times describes how Rashid stepped over that line, that he pretended to have business reasons for expenses that were entirely personal:
Emails between the pair seemed to lay out the former Apollo executive's method for defraying personal expenses. When his wife, who worked at another private equity firm, noted the rising price of plane tickets for a planned family trip to Dallas in 2010, Mr Rashid advised: "visit your port[folio] co[mpany] on the same trip."

The court found that Mr Rashid employed a similar technique, "deliberately us[ing] the happenstance of [two business associates] presence in New Orleans at or about the time of the Super Bowl as a false justification for seeking reimbursement" for yet more personal travel.
So let's go back to the probe of Rashid's expenses. The auditor "singled out" his for checks against his e-mails and calendar to verify that they were business-related. But how could you be sure for anyone else who traveled or entertained without other members of the firm present unless you also reviewed them against his calendar and e-mails? In other words, it's hard to take the claim that Rashid was the only abuser unless Paul Weiss had also randomly chosen other expense claims and subjected them to a similar verification process.
Put it another way: Paul Weiss would be far from the first "independent reviewer" to come up with grotesquely client-flattering outcomes. Admittedly, it would be hard to outdo Promontory Group. From a 2015 post:
The good news is that the New York Department of Financial Services (DFS) is still taking a hard line on bank misconduct despite the departure of its former Superintendent, Benjamin Lawsky.

The bad news is that in reporting on an investigation by DFS into one of the banking industry's top regulatory fixers, Promontory Group, the New York Times curiously fails to discuss the eye-popping conduct at issue.

The case that led to the Promontory probe was the one that brought Lawsky to international attention, namely, his order against Standard Chartered for over $250 billion of money laundering on behalf of Iran, Myanmar, and other equally savory players….

Here is the priceless part, and where Promontory comes in. Standard Chartered asserted it had only $14 million of transactions out of compliance. This was despite the fact that the procedures for "repairing" as in doctoring, bank wires were commemorated in Standard Chartered operating manuals. How did Standard Chartered justify its claim of such inconsequential law-breaking? Promotory was the source of that very convenient estimate.

In case you managed to miss it, $250 billion is over four orders of magnitude larger than the $14 million that Promontory, whose claim to fame is that it is chock full of ex regulators, said was not kosher. And yes, Standard Chartered in its settlement with New York and other regulators, agreed that it had engaged in $250 billion of illegal transactions and that the Promontory estimate was wrong, and paid a total of $667 million to the DFS and other regulators.
Sadly, Paul Weiss partners won't break a sweat over Judge Castel's rebuke. Unlike private equity abuses of limited partners, Federal regulators actually care about money-laundering abuses and were embarrassed when Lawsky ran rings around them. There's no threat of a competent regulator with clout taking this matter any further. But the flip side is that more and more Apollo investors have decided to make no new commitments until the Jeffrey Epstein controversy has been resolved. Having the integrity of the firm's favorite fixer challenged by a judge isn't going to reassure them.
___
Black claims he was buying investment and tax advice. This is an insult to intelligence. First, someone at Black's level could easily hire the very best tax attorneys in the world, and similarly any financiers who had know-how that Black might value. Second, the fees Black paid to Epstein are astonishingly rich…. Third, Black admits much of what Epstein supposedly did for him couldn't be relied upon…

Fourth, private equity barons are notorious skinflints; the idea that Black would pay so much for an uncredentialed individual with minimal relevant expertise and virtually no other clients strains credulity..

While it's possible the two men shared recreational interests, Black would be certain to be aware of the risk of being extorted by Epstein. Black came out of Drexel and Drexel attempted to entrap its clients with sex. Connie Bruck's The Predators' Ball described the famed annual bash for Drexel's raiders. One part was when the heavy hitters were brought to a room full of enticingly beautiful women. Bruck recounts how, almost comically, none of the men took the bait: they huddled with their drinks well away from the sirens.

So another possibility was that Black was indeed paying for illicit services, but of the financial, not the sexual, type. To give an unrealistically simple-minded example, what if these "fees" were just a way to create tax deductions, and only a fraction of the nominal fees were intended to be compensation to Epstein? This scenario would at least be logical from a hard-nosed business perspective; the other vague explanations that Black has offered don't make much sense.

Original Source