An anonymous CalPERS employee did himself a financial disservice by exposing a potential fraud to us rather than pursuing the monetary recovery that he would have been entitled to by taking legal action. Specifically, the whistleblower alerted us to yet another instance of CalPERS executives engaging in personal compensation feather-bedding by manipulating inputs to bonus formulas instead of correcting documented organizational shortcomings.
Our source reports that CalPERS executives are systematically gaming the results of an employee satisfaction survey so as to improve their bonuses. CalPERS employees take note: if you can substantiate that CalPERS officers and senior staff are manipulating records and surveys to produce fabricated results and therefore raise their bonuses, that is a fraud. You could file a False Claims Act suit. California's qui tam laws are generous and provide for treble damages and allow the whistleblower to participate in the recovery.1 Moreover, qui tam filings are confidential. But if you were pursue this option, you need to make the filing first and talk to the press afterwards.2
Here are the allegations:
CalPERS management compensation is partially tied to the results of an annual organizational health survey that is "supposedly" filled out anonymously by the employees. Last year, they received extremely poor management scores resulting from this survey. They did nothing to respond to the weaknesses pointed out by the survey.

Instead, to try to get a better outcome this year, they

1) Changed the survey administrator

2) Shortened the survey, eliminating any questions where they received poor marks the year before

3) Shortened the window by which people could respond, and

4) Timed the survey to correspond with the holidays so that employees would be less likely to respond negatively.

Shouldn't such management surveys be conducted without management involvement? Instead of management shaping the content and timing of the survey? Also, if these are to be truly anonlymous, shouldn't they collect the survey results anonymously? Instead, they provide respondents with a (!) special internet link for each individual and they track whether or not the employee participated.
Notice that CalPERS has repeatedly tried to de-anonymize voting in multiple board elections, in violation of the California constitutional requirement that "Voting shall be secret." The first time was by putting the bar code which identifies if a beneficiary has voted (to prevent multiple votes by the same person) on the ballot proper, as opposed to on the mailing envelope. In the old practice, which CalPERS reverted to after we publicized this abuse, the mailing envelopes would be scanned to prevent duplicate votes, and then the ballots would be removed and tabulated separately.
But CalPERS refused to drop their chicanery. On the last election cycle, CalPERS used see-through ballots, so that anyone could determine how a beneficiary voted: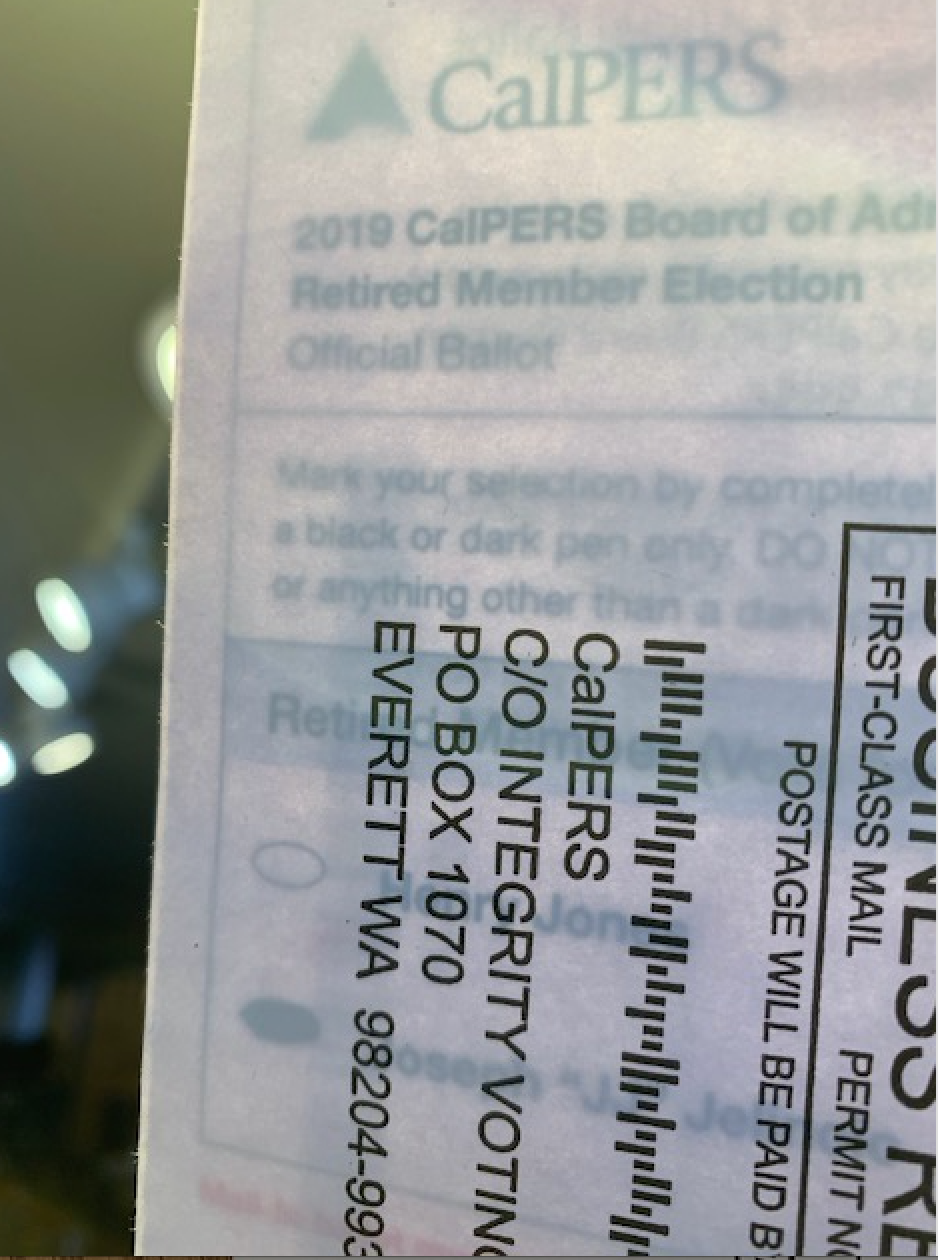 It isn't hard to see that even if CalPERS didn't directly engage in election tampering via disappearing ballots with the "wrong" vote, the mere fact of a Constitution-violating non-secret vote would intimidate employees who would have reason to fear retaliation if they voted for the candidate that management and the unions vehemently opposed, JJ Jelincic. Keep in mind that despite this election being fiercely fought, with far more press coverage than recent contests, and CalPERS engaging in more voter outreach than before, the turnout was poor. Lack of confidentiality is the most likely explanation.
So we encourage CalPERS employees to engage in managerial ju-jitsu. Don't fill out the survey. CalPERS is already taking steps to suppress participation. If enough employees follow CalPERS' lead, the response level will hopefully be so low and so skewed as to call the integrity of the results into question.
If any CalPERS employees can substantiate instances of management gaming the inputs to bonus computation so as to increase their compensation, or instances of fraud being perpetrated by outsidee parties, please contact us so that we can supply the names of skilled counsel in California so they can determine if you have a case and help you make the qui tam filing. Note that it would be critical to be able to provide evidence to identify the individuals that were responsible for the scheme. Qui tam attorneys will often work on a contingent fee basis if they believe the claim has merit and offers enough upside to make it worth their time. Our e-mail address is yves-at-nakedcapitalism-dot-com.
____
1 From a Jones Day write-up on California's False Claims Act:
A qui tam plaintiff is entitled to 25 to 50 percent of the proceeds of the action or settlement when the government declines to intervene and 15 to 33 percent when the government elects to intervene.
2 Skilled whistleblower lawyers regularly publicize the abuses they've targeted in their filings so as to increase pressure on the defendant. Note that this strategy does not result in exposure of the identity of the whistleblower unless they chose to come forward as part of the campaign.

Original Source