By Lambert Strether of Corrente.
Patient readers, I got a late start. More shortly. –lambert
Bird Song of the Day
So this is that bird!
#COVID19
At reader request, I've added this daily chart from 91-DIVOC. The data is the Johns Hopkins CSSE data. Here is the site.
Case count by United States region: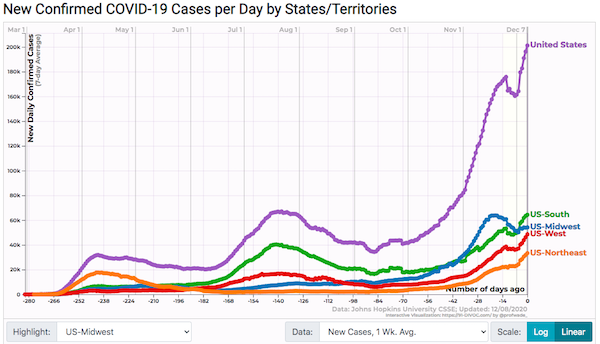 Returning to the upward trend. I feel I'm engaging in a macabre form of tape-watching, here, and I hate to see the upward rise, because I don't think the peak is coming in the next days, or even weeks. As an aerosol believer, I think we should all pay great attention to the flow and condition of air indoors, but I confess I have no concrete suggestions; it's hard (and costly) to open the windows in the winter. Apparently, low humidity makes it easier for the virus to spread, so if you have radiators, be sure to put a pan of water on top of each one. If anybody has thought through a winter system for covid, I'm sure readers would love to hear it. I don't think the "six feet aoart" mantra is enough; we need to think about air flow.
I thought I'd look at some big states (New York, Florida, Texas, California) instead of the Midwest: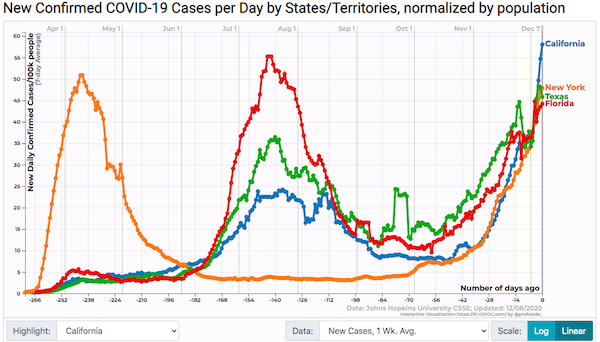 The big states all moving more-or-less in tandem now, with California sprinting ahead; perhaps spread was nationalized with colleges and universities opening and closing? The correlation seems to happen around 63 days ago (October 1).
Test positivity by region: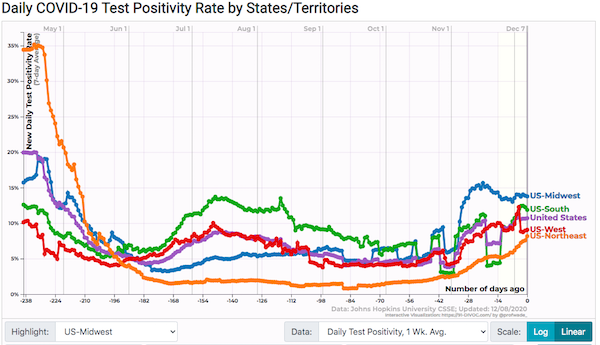 Hospitalization by region: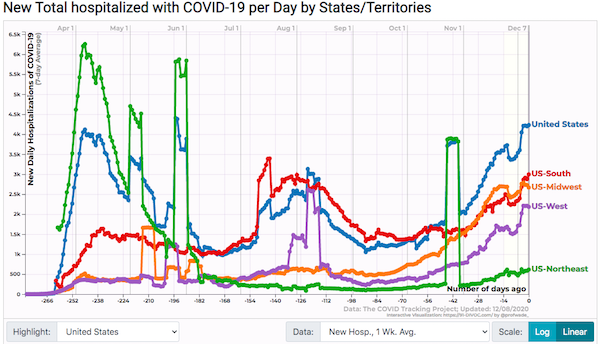 We should also take into account that hospitalization is also discretionary; they may also be reducing their admissions rate — relative to cases we cannot see in this data! — to preserve future capacity.
Case fatality rate by region: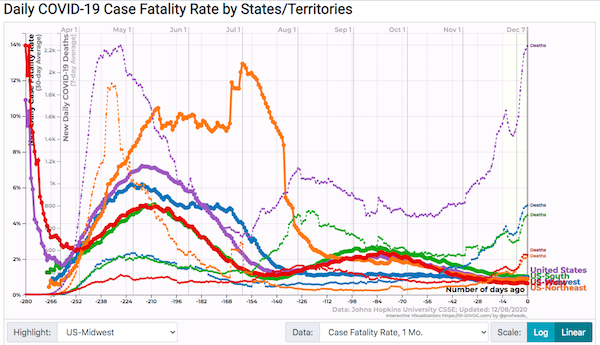 Politics
"But what is government itself, but the greatest of all reflections on human nature?" –James Madison, Federalist 51
"They had one weapon left and both knew it: treachery." –Frank Herbert, Dune
"They had learned nothing, and forgotten nothing." –Charles Maurice de Talleyrand-Périgord
Transition to Biden
"Biden's Pentagon pick frustrates women who sought a different history-maker" [Politico]. • It's so important that young women and girls grow up knowing that they too can blow faraway brown people to pink mist.
Transition from Trump
He pretended to be Trump's family; even the president was fooled Seattle Times

"He pretended to be Trump's family; even the president was fooled" [Seattle Times]. "Last month, between tweets disputing his election loss, President Donald Trump posted an article from a conservative website that said his sister Elizabeth Trump Grau had just joined Twitter to publicly back her brother's fight to overturn the vote. 'Thank you Elizabeth,' Trump wrote on Twitter. 'LOVE!' But the Twitter account that prompted the article was not his sister's. It was a fake profile run by Josh Hall, a 21-year-old food-delivery driver in Mechanicsburg, Pennsylvania. 'I was like, 'Oh, my goodness. He actually thinks it's his sister," Hall, a fervent Trump supporter, said in an interview last week. It was a surreal coda to nearly a year of deception for Hall. Since February, he had posed as political figures and their families on Twitter, including five of the president's relatives. He had pretended to be Robert Trump, the president's brother; Barron Trump, the president's 14-year-old son; and Dr. Deborah Birx, the White House coronavirus response coordinator. The accounts collectively amassed more than 160,000 followers. Using their identities, he gained attention by mixing off-color political commentary with wild conspiracy theories, including one that the government wanted to implant Americans with microchips, and another that John F. Kennedy Jr., who died in a plane crash in 1999, was alive and about to replace Mike Pence as vice president. 'There was no nefarious intention behind it,' Hall said. 'I was just trying to rally up MAGA supporters and have fun.'" • Nobody would believe this if it were a movie…
Realignment and Legitimacy
"The Super-Scary Theory of the 21st Century" [Noah Smith, Noahpinion]. I was going to write another economics post, but a friend* requested that I share my Super Scary Theory of the 21st Century. So here it is. It's important to note that I DON'T BELIEVE THIS THEORY IS TRUE. But I don't fully disbelieve it either. … The 2019 protests that rocked every region of the planet had no real unifying theme. They included separatist movements, protests against economic inequality, protests against authoritarianism, and even climate protests. The huge, unprecedented protests in the U.S. a year later were about police brutality. I'm not sure anyone ever figured out what the protests in France were about. If there's one "silver bullet" explanation for why protests are erupting all over the world, it's technology. Social media dramatically lowers the cost of both organizing a protest and spreading a protest-related ideology. Martin Gurri's The Revolt of the Public and Zeynep Tufekci's Twitter and Tear Gas are essential reading on this topic. Big protests create instability and can paralyze governments — or even, as we saw with the color revolutions, overthrow them. Great-power conflict in the 21st century might simply be about outlasting your opponents — holding out longer against the naturally bubbling forces of internal dissent. So then the question becomes: If social media driven protests are a permanent feature of the modern age, what sort of institutions and technology allow governments to resist the resulting instability? And I'm not sure we'll like the answer."
Stats Watch
At reader request, I added some business stats back in. Please give Econintersect click-throughs; they're a good, old-school blog that covers more than stats. If anybody knows of other aggregators, please contact me at the email address below.
Employment Situation: "October 2020 Headline JOLTS Job Openings Year-over-Year Growth Rate Marginally Grew But Little Changed Over The Last 3 Months" [Econintersect]. "The BLS Job Openings and Labor Turnover Survey (JOLTS) can be used as a predictor of future job growth, and the predictive elements show that the year-over-year growth rate of unadjusted private non-farm job openings year-over-year rate of growth marginally improved but remains in contraction…. The unadjusted data this month remained well below average for the rate of growth seen since the beginning of 2019 – but the rate of growth is little changed over the last 3 months. However, the pandemic effects will drive this data, and forecasts using this data are simply guesses."
* * *
Retail: "With the spike in online shopping comes a spike in consumer data. What are retailers doing with it?" [NBC]. "Before the eruption of e-commerce, retailers relied on more tedious measures to capture consumer sentiment, such as sales figures, social media listening and organized focus groups, said Frances Zelazny, chief marketing officer at Signals Analytics, a firm that uses artificial intelligence to analyze online consumer data to extract market intelligence. With more people shopping online, retailers are using AI to analyze chatbot messages and product reviews, including photos and videos of a product, to collect information on a shopper or a particular item." • I wonder how long before companies start using chatbots in disinformation campaigns against competitors.
Apparel: "America's Most Hated Garment" [The Atlantic]. "Nine months into the pandemic, sweatpants and other soft, stretchy loungewear have become a bright spot in America's otherwise suffering apparel market. Slimmed down and rebranded as "joggers," sweats are now everywhere, targeted at people who might have turned up their nose at soft pants during the Juicy Couture days…. With their body-hiding heft and embrace of comfort over all, sweatpants have endured as the bogeyman of the modern American wardrobe, even during a pandemic." • Interesting cultural take that somehow omits to discuss what material(s) sweatpants are actually made of. Cotton fleece (thank heavens; not petroleum). Though I'm sure cotton has its own issues.
Finance: "Analysis-Investors push back on blank-check company insiders' payout bonanza" [Reuters]. "Investors are pressuring some blank-check acquisition companies to scale back wildly lucrative payouts to their bosses that are weighing on shareholder returns, threatening to tamp down Wall Street's biggest gold rush of recent years." • "Wildly lucrative payouts to their bosses." Wowsers. Who knew?
Retail: "For a Nation on Edge, Antacids Become Hard to Find" [New York Times]. "People searching online or in stores for over-the-counter tummy soothers are finding that they can't easily buy antacid medications like Tums, Pepcid and its generic version, famotidine, in parts of the country. A few weeks ago, Wegmans Food Markets took the step of limiting shoppers to two packets of famotidine products per trip. Americans are stressed…. The result is that some people are dealing with 'Pandemic Stomach,' acid-churning episodes that are increasing demand for over-the-counter and prescription antacids." • Go long stress…
Concentration: "Lots of people are gunning for Google. Meet the man who might have the best shot" [Protocol]. "Phil Weiser, a law professor and antitrust expert who was elected Colorado's attorney general in 2018, is co-leading the bipartisan coalition of state attorneys general investigating Google's search dominance and serves on the executive committee of a separate state investigation into Facebook, which is led by New York State Attorney General Letitia James. He says it's the work he's meant to do. 'I am very fluent in technology and fluent in antitrust,' Weiser told Protocol in an interview. 'So as cases come up like Facebook and Google, it's natural for me to be on the executive committee and to play an important role in both of them.' People who've worked with Weiser say he's a formidable foe to Big Tech because of his heads-down, scholarly approach; it's hard to strong-arm or dump oppo about a former antitrust academic-turned-government official who has hundreds of pages of writing justifying his position at the helm of the Google investigation. Weiser's not a 'break 'em up' ideologue, said people familiar with his thinking. Over the course of his career, he's faced criticism for his willingness to bring industry to the table and has readily admitted to the limitations of antitrust law. 'He wants to push the envelope but in a way that's respectful and understands case law and precedent and the judiciary,' said Carl Shapiro, an economist at the University of California, Berkeley, who worked with Weiser in Obama's DOJ antitrust division and has consulted for Google. That may not be enough for progressives rooting for the state and federal cases against Google to result in the company's breakup, a movement that has a loud voice and increasing political power." • So long as he's not another Eric Schneiderman (or Kamala Harris). Colorado readers?
Tech: "Did QuantumScape Just Solve a 40-Year-Old Battery Problem?" [Wired]. "On Tuesday, for the first time, QuantumScape's cofounder and CEO, Jagdeep Singh, publicly revealed test results for the company's solid-state battery. Singh says the battery resolved all of the core challenges that have plagued solid-state batteries in the past, such as incredibly short lifetimes and slow charging rate. According to QuantumScape's data, its cell can charge to 80 percent of capacity in 15 minutes, it retains more than 80 percent of its capacity after 800 charging cycles, it's noncombustible, and it has a volumetric energy density of more than 1,000 watt-hours per liter at the cell level, which is nearly double the energy density of top-shelf commercial lithium-ion cells. 'We think that we're the first to solve solid-state,' Singh told WIRED ahead of the announcement. 'No other solid-state systems come close to this.'… Singh says that QuantumScape's battery is the kind of step change in performance that will push EVs into the mainstream."
Concentration: "Starbucks chief bullish as crisis engulfs smaller coffee shops" [Financial Times]. "Covid-19 hit Starbucks hard, cutting sales by 40 per cent year on year in the three months to June. However, Mr Johnson expects its business in China to recover fully in the current quarter and, with the rest of the world also improving, the group's earnings for the year to next September to approach or beat 2019's figure…. his confidence contrasts with the crisis engulfing smaller rivals. The US alone will lose almost 2,000 coffee shops this year, Euromonitor forecasts, ending years of expansion. 'Smaller speciality chains, the mom and pop coffee shops . . . don't have the balance sheets that Starbucks has,' said RJ Hottovy, consumer equity strategist at Morningstar." • Yet?
Concentration: "State, federal authorities expected to file antitrust lawsuits against Facebook on Wednesday" [WaPo]. "More than 40 attorneys general and the U.S. government are preparing to file antitrust lawsuits against Facebook on Wednesday, alleging that the tech giant engaged in unlawful, anticompetitive tactics to buy or kill off its rivals and solidify its dominance in social networking. The states' lawsuit in particular is expected to allege that Facebook's purchase of Instagram, a photo-sharing app, and WhatsApp, a messaging service, marked a pattern of behavior to neutralize competitive threats — allowing Facebook to become a market leader while depriving users of privacy-protective alternatives. Three people familiar with the matter, who spoke on the condition of anonymity to describe a law enforcement proceeding, described the lawsuits and their timing while cautioning that the plans could still change. They said Democratic and Republican attorneys general, led by New York's Letitia James (D), are expected to ask a judge as part of the legal salvos to consider a wide array of potential redress — including forcing Facebook to sell off some of its business to address competition concerns."
Fodder for the Bulls: "Paul Tudor Jones sees 'massive boom' after COVID-19 vaccine gets released" [Yahoo Finance]. "'I think the stock market's on a combination of fiscal monetary pulse that we've never seen before in history, nothing like this,' Jones told Yahoo Finance in an exclusive interview on Wednesday. For that reason, stock multiples are frothier than in the year 2000, when the tech bubble sent the Nasdaq to its first historic high. And he anticipates a COVID-19 vaccine will jumpstart economic growth, which may have potential political implications. 'The vaccine's going to bring us back. We're going to have an incredible growth rebound,' the investor predicted, as pent-up demand from the last year gets carried forward in a big way. 'I have four kids in their 20s. And, it's like a horse at the beginning of a race,' Jones said. 'They're so ready to get to see their friends, to get to restaurants, to vacation. They're just ready to get out and go crazy, like I think everyone else in the world,' he added. For that reason, the investors sees 'a second-quarter explosion' in retail, and virtually every other level. 'And you're going to have this just massive boom. And the consequences of that, I think, are pretty clear for fixed income. Fixed income will probably go down during that. Commodities will probably go up,' the investor said."
* * *
.
Today's Fear & Greed Index: 82 Extreme Greed (previous close: 82 Extreme Greed) [CNN]. One week ago: 87 (Extreme Greed). (0 is Extreme Fear; 100 is Extreme Greed). Last updated Dec 9 at 12:44pm.
Health Care
"The masks and the experts" [Matt Yglesias, Slow Boring]. "I know the public health community has a lot of raw feelings right now after being so blithely dismissed by Trump and tossed into the maw of partisan politics. And I agree that we could have parked this in a better outcome had Trump listened to them more closely. But to get to the kind of dramatically better outcomes that we see on the other side of the Pacific would have required an approach that was more different from the range of outcomes under consideration in the United States. Maybe there are good reasons for that and enforceable quarantines, mandatory testing, and travel restrictions never would have flown in the United States. But the confused dialogue around masks and ventilation and the superior performance of countries exposed to SARS suggests to me perhaps simply that people and institutions were not adequately thoughtful about the specific dynamics of a respiratory illness which, after all, is quite different from Ebola or HIV/AIDS. Whatever the real reason, we as a country need deeper thinking and deeper answers than just 'Trump screwed up.'" • I don't know what's happened to Yglesias since he left Vox. He's actually writing stuff I don't want to make fun of (much). This is, actually, worth a read.
The Biosphere
"A neurotoxic insecticide sprayed on corn and fruit remains legal thanks to Trump's EPA" [Salon (DL)]. "President Donald Trump's Environmental Protection Agency (EPA) announced on Friday that it is going to continue to allow a pesticide called chlorpyrifos that interferes with mammalian brain development to continue to be used in the United States. Many states have already decided to phase out or ban the widely-used agricultural product. The public will have 60 days to offer comments on the EPA's decision. In its announcement, the EPA included a number of proposals to improve the safety of how chlorpyrifos is used, including requiring more personal protective equipment (PPE) of individuals handling the chemical and adding new regulations to limit the risk of the chemical contaminating drinking water. At the same time, the agency is allowing it to continue to be registered in the United States, even though there are a number of alleged health risks associated with the insecticide. Indeed, the insecticide has been banned in the European Union since early 2020…."
Groves of Academe
Berkeley encourages travel during a "Stay Home" order while simultaneously closing dorms:
Same! Email! pic.twitter.com/2wOgtUgQK8

— Xander Lenc (@x_lenc) December 8, 2020
Sports Desk
"Ex-rugby internationals take legal action over brain injuries" [Channel News Asia]. "The planned action is against World Rugby, the Rugby Football Union and the Welsh Rugby Union, for 'failure to protect (the claimants) from the risks caused by concussions.' The players have also created 15 'commandments' which they feel World Rugby should adopt to make the game safer. Thompson, Lipman and Popham are part of a test group of eight players, but Richard Boardman of Rylands said he was representing more than 100 players, whose ages range from their 20s to their 50s. Many of whom are showing symptoms of neurological problems and Boardman said he wanted World Rugby to make immediate changes to address the issue, which is also a growing concern in football."
Xmas Pregame Activities
"Amsterdam Cracks Down on Garish Christmas Lights" [Bloomberg]. "If your holiday decorations involve inflatable Minions or light shows that play Metallica songs, steer clear of Amsterdam: This year, the Dutch capital seems to have started a war on garish Christmas displays. Following the launch of a public consultation in November, Amsterdammers may face stringent limits on their decorative options for Christmas 2021. According to proposed new regulations (to be confirmed in the spring) lighting displays on buildings in the city must consist of at least 70% "warm white" bulbs, and must use LED lights only. Allowed to sparkle only from 6 a.m. to midnight and from October to February, these displays will need to be registered online with the municipality if they cover more than a square meter (10.8 square feet) or more than 10% of a building's façade. Outdoor Christmas trees and displays of holiday figures such as Santa Claus and his reindeer would also need to be registered with the city. In Amsterdam's UNESCO-protected city center, the rules will be yet more stringent."
Guillotine Watch
"Lori Loughlin's daughter on college admissions scandal: 'I think they thought it was normal'" [The Hill]. "'On paper, it's bad. It's really bad,' [Olivia Jade Giannulli, daughter of actress Lori Loughlin] said during the Facebook Watch show, as first reported by Variety. 'But I think what a lot of people don't know is that my parents just came from a place of just, 'I love my kids, I just want to help my kids. Whatever is best for them." 'I think they thought it was normal,' she added. 'And I think that there was a college counselor involved who seemed legitimate and ended up not being legitimate. And in that community, it was not out of the ordinary.' Giannulli acknowledged her privilege and said she had been unaware of what her parents did at the time. She noted that in her orbit, a lot of parents donated to schools to get an advantage for their kids." • In her orbit…. The Trilbillies comment:
Still think it's hilarious famous people went to jail for paying bribes to get their kids into fucking USC lol. Shoot a little higher if you're gonna commit a federal offense: Yale, Stanford, Harvard. It's like my mom going to prison trying to bribe me into University of Florida

— The Trillbillies (@thetrillbillies) December 9, 2020
"Musk, Bezos Space Race Gets a Boost From Anti-Poverty Tax Break" [Bloomberg]. "The world's two richest men, who committed billions of dollars of their own money to a private space race, are now eligible for an extra boost from the federal government: a tax break intended to help poor communities… Their [space] companies' sites were included among the thousands of tracts across the U.S. designated as Qualified Opportunity Zones, part of President Donald Trump's plan to use tax breaks to attract investments and jobs to distressed neighborhoods… The billionaires' qualification for the federal benefit, which hasn't been previously reported, enables them to avoid capital gains taxes on money they steer into opportunity zone operations. Those investments can then grow tax-free, and if the billionaires keep their investments in place for a decade, any appreciation can be shielded from federal capital gains taxes forever." • Sweet!
Class Warfare
"Being-in-the-Room Privilege: Elite Capture and Epistemic Deference" [The Philosopher]. Mentally connecting this to Adolph Reed's work on "voices." Long-ish but worth working through:
If you consider a textbook definition of standpoint epistemology, it may be hard to see the controversy around this idea. The International Encyclopedia of Philosophy boils it down to three innocuous-sounding contentions:

1) Knowledge is socially situated

2) Marginalized people have some positional advantages in gaining some forms of knowledge

3) Research programs ought to reflect these facts.

Liam Kofi Bright argues persuasively that these contentions are derivable from a combination of 1) basic empiricist commitments, and 2) a minimally plausible account of how the social world affects what knowledge groups of people are likely to seek and find.

The trap wasn't that standpoint epistemology was affecting the conversation, but how. Broadly, the norms of putting standpoint epistemology into practice call for practices of deference: giving offerings, passing the mic, believing. These are good ideas in many cases, and the norms that ask us to be ready to do them stem from admirable motivations: a desire to increase the social power of marginalized people identified as sources of knowledge and rightful targets of deferential behaviour. But deferring in this way as a rule or default political orientation can actually work counter to marginalized groups' interests, especially in elite spaces.

. Being in these rooms means being in a position to affect institutions and broader social dynamics by way of deciding what one is to say and do. . From a societal standpoint, the 'most affected' by the social injustices we associate with politically important identities like gender, class, race, and nationality are disproportionately likely to be incarcerated, underemployed, or part of the 44 percent of the world's population without internet access – and thus both left out of the rooms of power and largely ignored by the people in the rooms of power. Individuals who make it past the various social selection pressures that filter out those social identities associated with these negative outcomes are most likely to be in the room. That is, .
"Standpoint epistemology." That's a term that deserves propagation….
When all you have is a hammer….
Intersectional imperialism: US liberals who know nothing about Latin America are absurdly claiming "gusano" is a racial slur.

Gusano means "worm," and is used by leftist Spanish speakers for elite right-wing traitors who collaborate with imperialism. It was popularized by Castro https://t.co/RODRqyqRLH

— Ben Norton (@BenjaminNorton) December 9, 2020
"Rats Overrun Washington Heights Chipotle: Employees Speak Out" [Patch]. "'When I got bitten by a rat on Friday, I felt horrified and disgusted,' said the worker, Melvin Paulino. 'I've washed my finger a thousand times and still I can't even bear to look at it. It's not right that Chipotle didn't keep us safe from getting bitten by rats.' Workers told 32BJ SEIU that they told their manager that the rat problem had been getting worse, according to the union. Some employees had been chasing the rats and killing them with sticks out of fear of getting bitten, workers said."
News of the Wired
Happy bday Grace Hopper, computer scientist/pioneer, mathematician and US Navy rear admiral, b.1906.
"Humans are allergic to change. They love to say, "We've always done it this way." I try to fight that. That's why I have a clock on my wall that runs counter-clockwise." pic.twitter.com/b6nuI2wFum

— Matthew Dowd (@matthewjdowd) December 9, 2020
* * *
Readers, feel free to contact me at lambert [UNDERSCORE] strether [DOT] corrente [AT] yahoo [DOT] com, with (a) links, and even better (b) sources I should curate regularly, (c) how to send me a check if you are allergic to PayPal, and (d) to find out how to send me images of plants. Vegetables are fine! Fungi and coral are deemed to be honorary plants! If you want your handle to appear as a credit, please place it at the start of your mail in parentheses: (thus). Otherwise, I will anonymize by using your initials. See the previous Water Cooler (with plant) here. Today's plant (jsn):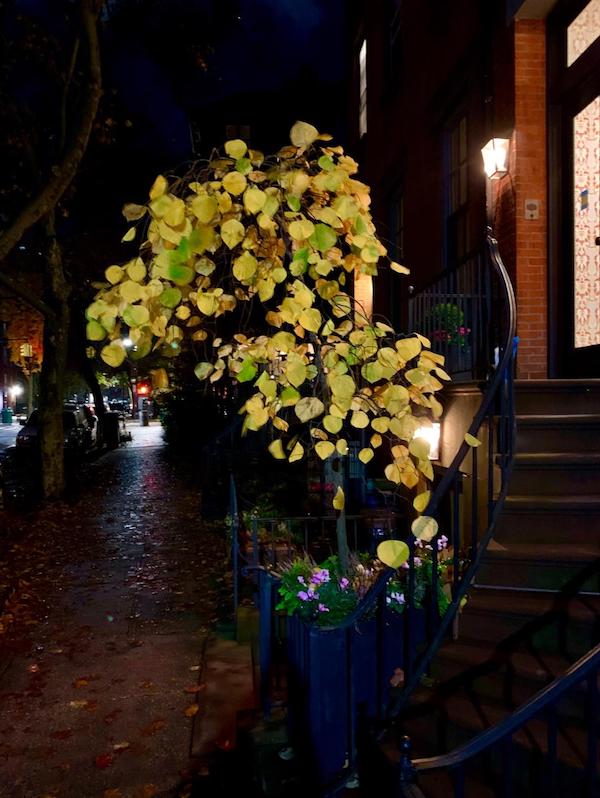 jsn writes: "Autumn in Willow Town, Brooklyn."
* * *
Readers: Water Cooler is a standalone entity not covered by the recently concluded and — thank you! — successful annual NC fundraiser. So if you see a link you especially like, or an item you wouldn't see anywhere else, please do not hesitate to express your appreciation in tangible form. Remember, a tip jar is for tipping! Regular positive feedback both makes me feel good and lets me know I'm on the right track with coverage. When I get no donations for five or ten days I get worried. More tangibly, a constant trickle of donations helps me with expenses, and I factor in that trickle when setting fundraising goals:
Here is the screen that will appear, which I have helpfully annotated.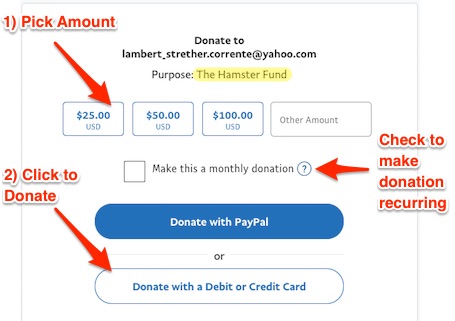 If you hate PayPal, you can email me at lambert [UNDERSCORE] strether [DOT] corrente [AT] yahoo [DOT] com, and I will give you directions on how to send a check. Thank you!

Original Source