By Lambert Strether of Corrente.
Patient readers, I'm afraid brunch ran late. More soon. –lambert
Bird Song of the Day
A Scottish bird (for Morag).
#COVID19
At reader request, I've added this daily chart from 91-DIVOC. The data is the Johns Hopkins CSSE data. Here is the site.
Case count by United States region: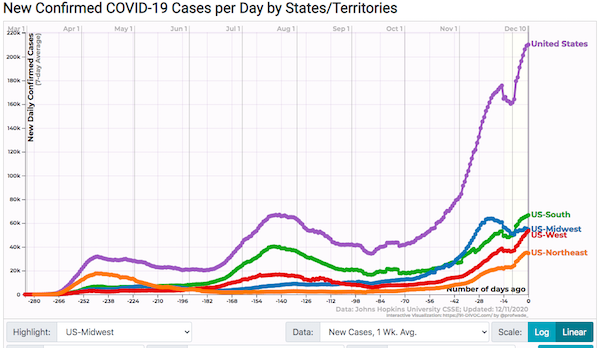 A slight decrease in slope, 15 days after Thanksgiving. I feel I'm engaging in a macabre form of tape-watching, because I don't think the peak is coming in the next days, or even weeks.
I thought I'd look at some big states (New York, Florida, Texas, California) instead of the Midwest: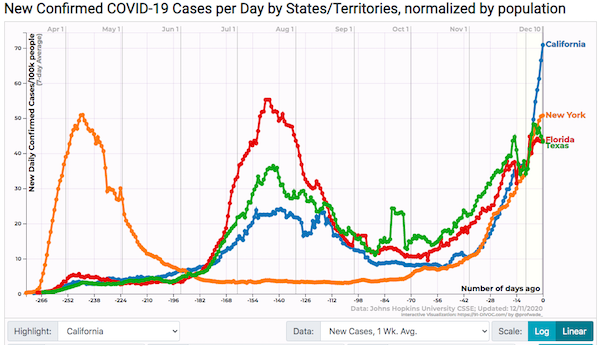 Texas and Florida diverge, but California sprints ahead.
Test positivity by region: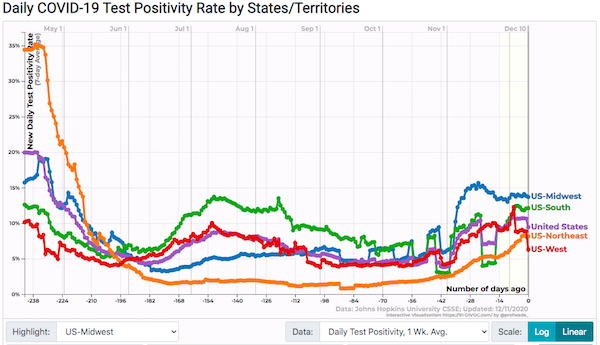 Big drop in the West.
Hospitalization by region: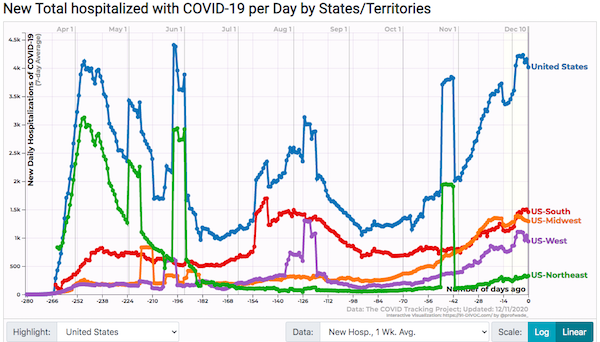 Drop driven by West and Midwest. We should also take into account that hospitalization is also discretionary; they may also be reducing their admissions rate — relative to cases we cannot see in this data! — to preserve future capacity.
Case fatality rate by region: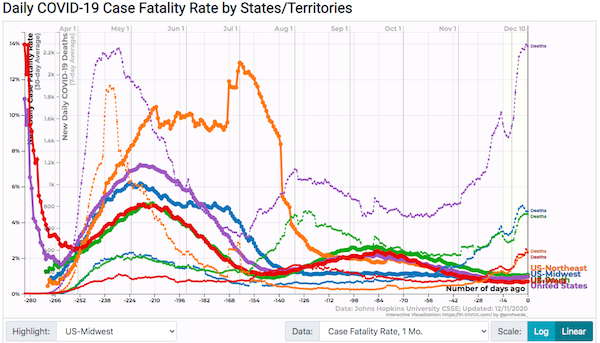 Slight decrease in slope, driven by the Midwest only. On deaths (dashed lines) the pairing of Midwest (blue) and South (green) vs. the pairing of Northeast (orange) and West (red) isn't something seen in any of the other charts. Odd.
Politics
"But what is government itself, but the greatest of all reflections on human nature?" –James Madison, Federalist 51
"They had one weapon left and both knew it: treachery." –Frank Herbert, Dune
"They had learned nothing, and forgotten nothing." –Charles Maurice de Talleyrand-Périgord
Election Legitimacy
"Jeb Bush blasts Texas lawsuit: 'This is crazy. It will be killed on arrival'" [The Hill]. • Like all the other mainstream articles I've read on this topic, the legal arguments are omitted, completely. Not that the Trump legal team has covered itself with glory, but shouldn't we at least be told what Texas's theory of the case is?

"In Blistering Retort, 4 Battleground States Tell Texas to Butt Out of Election" [New York Times]. "In theory, the court has several options, including granting a temporary injunction barring the states' electors from voting for Mr. Biden while the case proceeds or putting the suit itself on a fast track. But by far the most likely outcome is for the court to refuse to hear the case." • This doesn't summarize Texas's theory of the case either.

"States tell justices to deny Texas request to overturn 2020 election" [SCOTUSblog]. • Summarizes (some of) the states' arguments: If the Supreme Court takes this case, it will be flooded with others; and Texas lacks standing. (From the Pennsylvania brief: The court should "not abide this seditious abuse of the judicial process." I hardly see how bringing a court case "rebels against the authority of a state.") I dunno. I've skimmed the Texas brief, and there are points in it that at least have substantive form (I can't speak to the content). Those points are not mentioned. If the Texas brief is as bad as "everyone" says that it is, then why the incomplete coverage? If indeed the Trump administration is in cahoots with the Roberts court, and installed Amy Coney Barrett with such unseemly haste to get a favorable ruling in 2020's Bush v. Gore, then surely SCOTUSblog is the forum to demolish the Texas brief in detail? Granted, the demolition may be out there — readers? — but "Texas says ____ and that's absurd because _____" doesn't seem to exist as a talking point.
Transition to Biden
"Joe Biden and Kamala Harris: TIME's Person of the Year 2020" [Time]. "The Democratic ticket was an unlikely partnership: forged in conflict and fused over Zoom, divided by generation, race and gender. They come from different coasts, different ideologies, different Americas. But they also have much in common, says Biden: working-class backgrounds, blended families, shared values. "We could have been raised by the same mother," he says. In an age of tribalism, the union aims to demonstrate that differences don't have to be divides." • Harris's father, Donald, is a Marxist professor emeritus of development economics at Stanford. Harris in no sense has a working class background. I wish Biden weren't so shameless a fabulist. To be fair, it hasn't caught up with him so far.
Stats Watch
At reader request, I added some business stats back in. Please give Econintersect click-throughs; they're a good, old-school blog that covers more than stats. If anybody knows of other aggregators, please contact me at the email address below.
Rail: "Rail Week Ending 05 December 2020 – Improvement Continues" [Econintersect]. "Total rail traffic has two components – carloads and intermodal (containers or trailers on rail cars). Container exports from China are now recovering, container exports from the U.S. remain deep in contraction. This week again intermodal continued in expansion year-over-year and continues on a strengthening trendline. Carloads are still in contraction year-over-year this week – but nearing positive territory."
Inflation: "November 2020 Producer Price Final Demand Continues To Show Modest Year-over-Year Growth" [Econintersect]. "Year-over-year inflation pressures remain soft as this index is barely in expansion."
Employment Situation:
K-shaped recovery update:

Employment for the top 2/3 of wage earners is about -2 percentage points below February.

For the bottom 1/3, it's -7.3pp lower, more than 3x worse. And their employment fell by around -1pp in November alone. pic.twitter.com/5eWtr7Zgv0

— Ernie Tedeschi (@ernietedeschi) December 11, 2020
* * *
Retail: "McDonald's Happy Meals could get more expensive next year" [CNN]. "McDonald's is eliminating a two-decade-old deal with its franchisees that subsidized the price of Happy Meal toys for customers. That could mean pricier Happy Meals next year. Beginning next year, McDonald's will stop issuing a roughly $300 per month contribution to each of its 14,000 US restaurants called the 'Happy Meal Rent and Service Fee,' according to an internal message from its US leadership obtained by CNN Business. The chain told franchisees the subsidy is 'no longer fueling growth in the way it once was' and that franchisees could opt to increase the price of a Happy Meal by 20 cents next year to offset. McDonald's doesn't set the prices of its menu items, bur rather lets franchisees decide depending on location. The National Owners Association, a group of McDonald's franchisees, said in a team message that it 'does not support, nor did we endorse' the elimination of the Happy Meal subsidy…. Tensions are flaring once again between franchisees and corporate over that subsidy loss and new fees coming into place next year." • "Rent and Service Fee." Also, "team message."
Supply Chain: "The Future of the U.S. National Stockpile Isn't a Bigger Stockpile" [Bloomberg]. "[T]he stockpile must evolve toward embracing the modern-day logistics of supply and demand, says Robert Kadlec, HHS assistant secretary for preparedness and response. We can't predict what the next bug or disaster will be, so the U.S. needs 'a set of capabilities that give our country an advantage to be able to respond quickly,' he says. 'That's not a number of masks or boxes on a shelf. That's something that requires a little more science and art put together to develop.' For one thing, traditional stockpiling has logistical limits. If the national stockpile were to hold enough N95 masks for the 1918 influenza pandemic, adjusted for today's population, it would have 3.5 billion, which would 'fill up every warehouse in the U.S.,' says Greg Burel, who was director of the stockpile from 2007 to January 2020. The future of the stockpile, Kadlec says, is about having 'better visibility into the supply chain to know what's out there and what is available, and how do we respond in a way that is timely and effective.' He says the federal government should enter into contracts with key distributors that it would pay to share information on their supply chain, manage some of the national stockpile's supplies, and agree to assist in future emergencies." • The idea that you have to pay for visibility into the supply chain is interesting…
Mr. Market: "Investors Risk Being Shipwrecked on Shiller's Cape" [John Authers, Bloomberg]. " Very briefly, a CAPE is like a normal P/E, except that it compares prices with the inflation-adjusted average of earnings over the previous 10 years. This corrects for the tendency of P/Es to be higher when profits are cyclically depressed, and lower when they are at a top. The CAPE became famous after Robert Shiller of Yale University put it at the center of an argument in 1999 that U.S. equities had formed a bubble that was about to burst…. The CAPE also helped spot the risk of a big equity sell-off ahead of the global financial crisis. Since then, the CAPE has returned to extremes, and currently is higher even than it was on the eve of the Great Crash of 1929. Does this mean another bubble is about to pop? Last week Shiller published an article introducing the "Excess CAPE Yield," which is the inverse of the CAPE (earnings over price) minus the 10-year bond yield. This number is very high at present, and as this chart shows, that implies equities are a great bet to beat bonds in the years ahead, even though they are so expensive in absolute terms…" • I don't play the ponies, but if I did, this might be a controversy to look into.
The Fed: "A Letter From 9 Million U.S. Expats to Janet Yellen" [Bloomberg]. • Making it impossible to live here yet impractical to go seems very on-brand for the United States just now.
* * *
.
Today's Fear & Greed Index: 77 Extreme Greed (previous close: 89 Extreme Greed) [CNN]. One week ago: 85 (Extreme Greed). (0 is Extreme Fear; 100 is Extreme Greed). Last updated Dec 10 at 12:03pm.
Health Care
As an aerosol believer, I think we should all pay great attention to the flow and condition of air indoors, but I confess I have no concrete suggestions for winter; it's unpleasant (and costly) to open the windows when it's cold. Apparently, low humidity makes it easier for the virus to spread, so if you have radiators, be sure to put a pan of water on top of each one. If anybody has thought through a winter system for covid, I'm sure readers would love to hear it. I don't think the "six feet apart" mantra is enough; we need to think about air flow. For example, does the virus concentrate in "dead air," like dust balls?
Games
"A New Horizon of Animal Crossing Conspiracy Theories" [Kotaku]. "Look, we already know how great, amazing, blissful, etc. life in the Animal Crossing universe can be, especially when you compare it to this mess of a simulation some say is reality…. [A}t some point, running errands for your charming squirrel neighbor ain't enough to distract you from the slight, yet noticeable, cracks in this handheld utopia. Perhaps some things are too good to be true. In this spooky sequel to Animal Crossing: Conspiracy Theories, we ask and attempt to answer a new set of questions we just can't shake. Who, or what, exactly is Jack, the self-proclaimed Czar of Halloween? Whatever happened to the original mayor in 2012's Animal Crossing: New Leaf, who peaced out and ditched you with the job? We are the only human resident in our towns, yet not once do the other villagers mention it. In fact, no one ever calls you a 'human.' So… are we?"
Department of Feline Felicity
From The Department of Papers Not In Fact Written:
pleased to be filling this huge gap in the literature pic.twitter.com/k6cSM0FTIj

— Stephanie Karol (@steph_a_karol) December 9, 2020
Bible Corner
"Why Did These Millennials Leave Church?" [The American • Holy moley. Say what you like about Rod Dreher, but he can certainly elicit reader mail. This is a must read. Perhaps not all, but at least the few at the start. The United States is a very large and very disparate country.
Book Nook
"How the Slowest Computer Programs Illuminate Math's Fundamental Limits" [Quantum]. "As Turing noted in 1936, in order to compute something, a Turing machine must eventually halt — it can't get trapped in an infinite loop…. [I]f you're only allowed one rule, and you want to ensure that the Turing machine halts, you're forced to include the halt instruction right away. The busy beaver number of a one-rule machine, or BB(1), is therefore 1. But adding just a few more rules instantly blows up the number of machines to consider. Of 6,561 possible machines with two rules, the one that runs the longest — six steps — before halting is the busy beaver. But some others simply run forever. None of these are the busy beaver, but how do you definitively rule them out? Turing proved that there's no way to automatically tell whether a machine that runs for a thousand or a million steps won't eventually terminate. That's why finding busy beavers is so hard. There's no general approach for identifying the longest-running Turing machines with an arbitrary number of instructions; you have to puzzle out the specifics of each case on its own. In other words, the busy beaver game is, in general, 'uncomputable.'" • Neat!
"Kim Stanley Robinson Imagines a Future Where We Don't All Die" [Jacobin]. "Although the notion of commandeering finance to solve the ecological crisis is perhaps the biggest single idea deployed, there is no silver bullet in The Ministry, no magic carbon sequestering technology that will save us on its own. In this tale, a combination of strategies and policies by state and nonstate actors, including mass uprisings, geoengineering, and Green New Deals weave together to create conditions by mid-century to at least give humanity a fighting chance at long-term survival." • Dang. Another book to read. I really enjoyed "KSR's" New York 2140, and a hat tip to the reader who suggested it.
Xmas Pregame Activities
"We Need To Talk About Your Christmas 'Decorations'" [Tressie McMillan Cottom]. "This is the first time I have encountered holiday decorating as subculture and identity. I am talking animated displays, layered twinkle lights and displays set to music." • With photos of the displays, which seem… odd, to me. The culture changed, and I missed it. More: "If you're going to give up, give up deliberately. Give up with STYLE! Skip the lights and the Polar Bear Express display. Buy a onesie, turn off all the porch lights and get drunk. That's called self-respect." • Not getting drunk in a onesie. Sorry, but no. The culture changed again on me.
News of the Wired
How the Slowest Computer Programs Illuminate Math's Fundamental Limits Quanta
pleased to be filling this huge gap in the literature pic.twitter.com/k6cSM0FTIj

— Stephanie Karol (@steph_a_karol) December 9, 2020
Update on Sid and Fern:
they are more evenly matched these days than they were a few months back, when Sid was very sick and Fern would absolutely thrash him pic.twitter.com/nEP6jt7qhq

— longer night (@bombsfall) December 8, 2020
Kill it with fire:
#Exclusive Now that's some #dog! 4 legged, futuristic, first responder is helping NYPD w the most dangerous jobs. Starting at 4, Digidog, wait until you see what it can do! @abc7ny @NYPDnews @nypd_taru @nypd_esu #abc7ny #crime #technology #protect #officers #police #k9 #nyc pic.twitter.com/ewDjjPZkfr

— Kemberly Richardson (@kemrichardson7) December 10, 2020
I put this tweet next to Sid and Fern because it occurred to me that one reason these… things elicit such lust to say (if one can kill what is dead) is that while occupying the mental space of animals, they cannot express emotions; they cannot snarl. They have no hackles to raise. I don't know whether this is Uncanny Valley or something different.
* * *
Readers, feel free to contact me at lambert [UNDERSCORE] strether [DOT] corrente [AT] yahoo [DOT] com, with (a) links, and even better (b) sources I should curate regularly, (c) how to send me a check if you are allergic to PayPal, and (d) to find out how to send me images of plants. Vegetables are fine! Fungi and coral are deemed to be honorary plants! If you want your handle to appear as a credit, please place it at the start of your mail in parentheses: (thus). Otherwise, I will anonymize by using your initials. See the previous Water Cooler (with plant) here. Today's plant (TH):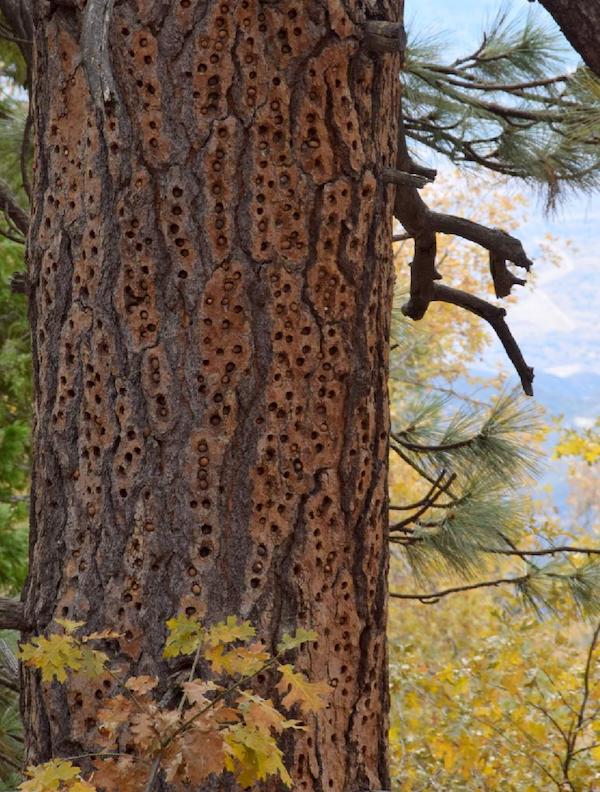 TH writes: "This tree is our neighbor in Running Springs (San Bernardino Mountains—California). The texture of the bark, and the apparent presence of acorns within it, so amazed me that I had to research it. Apparently this is known as a granary tree, where acorn woodpeckers store acorns. According to a May 2016 article by Tao Tao Holmes on an "Atlas Obscura" blog, the Acorn Woodpeckers (gee, I wonder where they got that name) use trees, posts, and wood-sided houses (we can attest to that last one) to store acorns that, stored in piles, would mold. And apparently they spend a huge amount of time moving the acorns (that shrink after they dry) to smaller holes. The woodpeckers chose the right habitat. All of the street names in this area are named after various oaks, including the large Valley Oak that shades our house and may well be the parent of these younger oaks beside this pine, and the primary source for this particular granary."
* * *
Readers: Water Cooler is a standalone entity not covered by the recently concluded and — thank you! — successful annual NC fundraiser. So if you see a link you especially like, or an item you wouldn't see anywhere else, please do not hesitate to express your appreciation in tangible form. Remember, a tip jar is for tipping! Regular positive feedback both makes me feel good and lets me know I'm on the right track with coverage. When I get no donations for five or ten days I get worried. More tangibly, a constant trickle of donations helps me with expenses, and I factor in that trickle when setting fundraising goals:
Here is the screen that will appear, which I have helpfully annotated.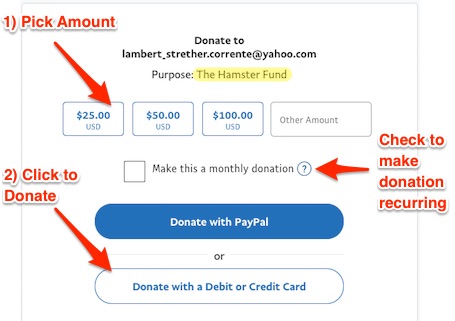 If you hate PayPal, you can email me at lambert [UNDERSCORE] strether [DOT] corrente [AT] yahoo [DOT] com, and I will give you directions on how to send a check. Thank you!

Original Source