By Lambert Strether of Corrente.
Readers, it occurred to me that although we writers have now gone some days without any of those 524/522 errors that were plaguing us, I never personally thanked our expert and patient technical team for fighting their way through to the correct insight that solved a difficult intermittent problem. So thank you! –lambert
Bird Song of the Day
A swamp bird (editorializing just a little bit on this, Electoral College Day).
#COVID19
At reader request, I've added this daily chart from 91-DIVOC. The data is the Johns Hopkins CSSE data. Here is the site.
Case count by United States region: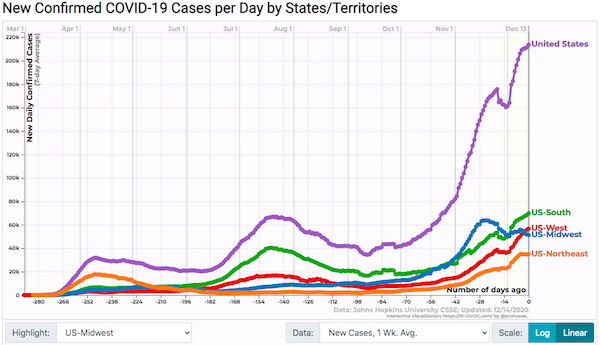 I feel I'm engaging in a macabre form of tape-watching, because I don't think the peak is coming in the next days, or even weeks. Is the virus gathering itself for another leap?
I thought I'd look at some big states (New York, Florida, Texas, California) instead of the Midwest: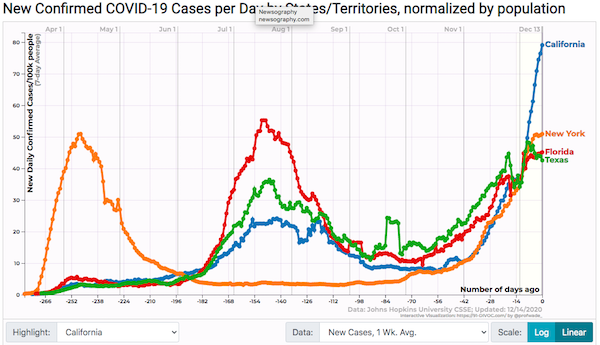 Texas and Florida diverge, but California sprints ahead.
Test positivity by region: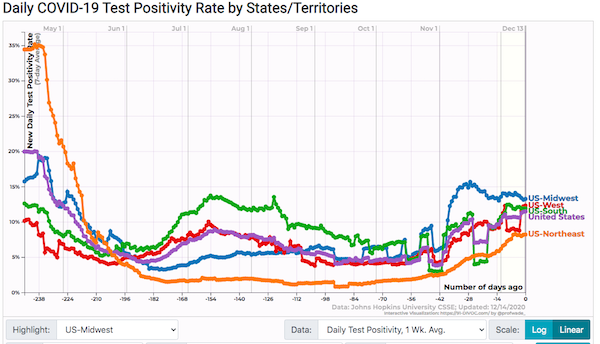 Now the west catches up. Data issues?
Hospitalization by region: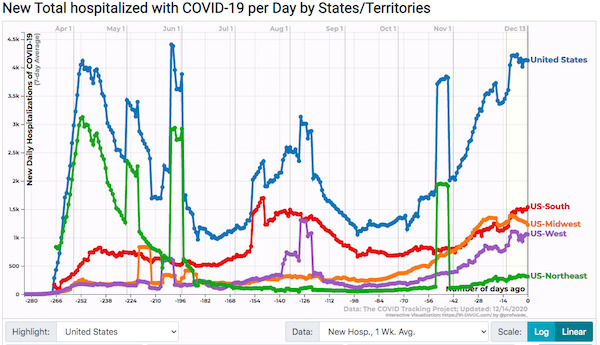 Hospitalization is also discretionary; they may also be reducing their admissions rate — relative to cases we cannot see in this data! — to preserve future capacity.
Case fatality rate by region: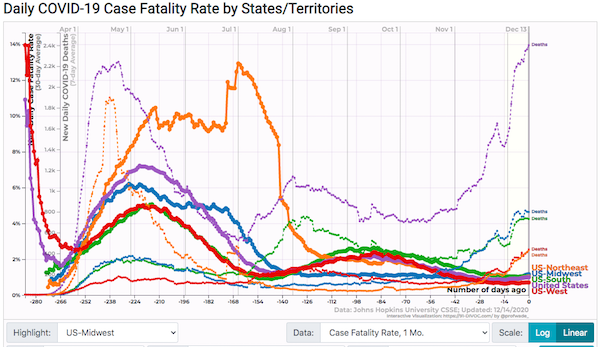 Slight decrease in slope, driven by the Midwest only.
I thought I'd look at the world league tables: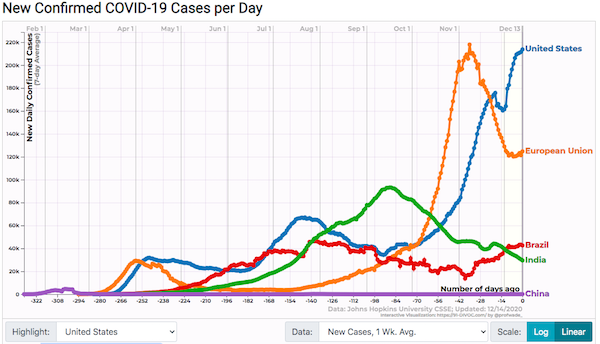 Obviously, we're exceptional.
* * *
AL: "Doctors treating some COVID patients at home as Alabama hospitals run low on beds" [AL.com (Re Silc)]. "A pulse oximeter can identify patients who aren't getting enough oxygen and need hospital treatment. Robin Scott, a nurse practitioner in Marshall County, has treated several patients at home with pulse oximeters and, in some cases, portable oxygen. Before COVID, she said she would always send patients to the hospital when their oxygen levels dropped below 90. Now she has learned to manage some of her patients at home with portable oxygen. She started ordering oxygen and breathing treatments for some patients who refused to go to the hospital. 'They're terrified,' Scott said. 'They are absolutely terrified of this virus and being ventilated and dying and this is all very scary for them.' Scott's staff members keep close tabs on COVID patients. 'I have staff that if somebody that is very ill, they call them every single day,' Scott said. 'For the most part, we have had tremendous success keeping them out of the hospital.'" • If you're worried about your hospital being a death trap/profit mill, that's a good thing. For pulse oximeters, see NC in April here.
Politics
"But what is government itself, but the greatest of all reflections on human nature?" –James Madison, Federalist 51
"They had one weapon left and both knew it: treachery." –Frank Herbert, Dune
"They had learned nothing, and forgotten nothing." –Charles Maurice de Talleyrand-Périgord
Election Legitimacy
Democrats in Disarray
I think this is good. Let's see how Omar does!

It's an honor to be reelected Whip of the Progressive Caucus.

I am excited to build on the progress we made in the 116th Congress and will continue to work with my colleagues in building a more effective progressive voting bloc in the 117th Congress. https://t.co/gv39S1goM1

— Ilhan Omar (@IlhanMN) December 13, 2020

"Former aide Lindsey Boylan alleges Cuomo 'sexually harassed' her about looks" [New York Post]. • She was no angel! To be fair to Cuomo, his book is selling well:

Already on the outside used book store racks pic.twitter.com/K05yLyaJeM

— Matthew Zeitlin (@MattZeitlin) December 13, 2020

Oh, wait….

"Democrats Have a Problem. 'Workers, Wages, Weed' May Be the Answer." [Eric Levitz, New York Magazine]. " There appears to be no alternative to winning over a lot of Trump voters. And that means getting Republican-leaning non-college-educated voters to see the Democratic Party in a different light." Wait. You mean shaming and fingerwagging won't do the job? More: "What centralizing messaging [as opposed to the "Big Tent"] should entail is reaching internal consensus around a small number of policies that are (1) broadly popular, (2) difficult if not impossible for Republicans to support, (3) especially resonant with non-college-educated voters, and (4) of high substantive value (since centering these policies in messaging will mean putting them toward the top of the governing agenda upon victory)…. "Workers, Wages, Weed" seems like a solid fit for the Democrats' branding needs." • If only the liberal Democrat PMC base didn't hate the working class….

UPDATE Those ice cream freezers don't buy themselves, you know:

BREAKING:

Yet another business linked to Nancy Pelosi, and her husband, Paul, has been discovered to have taken $1M-$2M in PPP loans.

Paul Pelosi is a partner/investor in REOF XX—which appears to be a shell company for Flynn Properties, a commercial real estate firm. pic.twitter.com/NQGPbwda6k

— Robbie Jaeger 🔎 (@RobletoFire) December 14, 2020
Transition to Biden
"Making America dull again" [The Hill]. "But, if under President Biden, controversies aren't dished out by the truckload, reporters will go hunting themselves for something to write about, turning minor kerfuffles into distracting imbroglios in order to feed the media beast…. Look how Trump has helped so far. By monopolizing every moment of the post-election season, he's diverted the press and allowed Biden to quietly build a new government. The president-elect has issued a few statements, introduced some nominees — but he hasn't dealt with reporters much; his main interviews so far have been relatively news free. That's because, right now, the press has a more captivating story to focus on: the current president's wild fraud accusations, impressive string of court defeats, and the mystery surrounding what he might do come Inauguration Day. It's a bonanza of front-page material that's pushed Biden back next to the horoscopes and weather forecasts. He may not like that, but the president-elect really needs his nemesis to keep it up."

[puts head in hands]

The important take-away is at the end when Joe Biden offers his philosophy. He really doesn't think governance or policy matters, his view is the President is a figurehead who offers moral guidance to the nation via rhetoric. He thinks restoring the Soul of America is a thing. https://t.co/rJIuU8mknl

— Matt Stoller (@matthewstoller) December 12, 2020

So we just bet the country on "the soul of America," something nobody can see or touch and that only Joe Biden believes in. And if he wants to convert a lot of new believers, he's gonna have to work harder than he's working now. (It's weird to me that if we take liberal Democrats at their word, and Trump is staging a coup because he's The Second Coming of Hitler, you'd think they'd be feverishly setting up parallel institutions. But they sedately wait for Inauguration Day, and have been for months.) Then again–

UPDATE "How Cities Make Democrats'" [Perry Bacon, Bluegrass Beat]. "This is just speculation, but I think one thing that makes Biden a little better than some of his generational peers is that he is so purely a retail politician who operates on instinct. Joe Biden does not seem like a guy who is out there getting consultants to feed him message-tested pablum. He just thinks he speaks to voters on a personal level. You saw that some in the primaries when he was getting in weird (and probably inadvisable) scuffles on the campaign, but it was just Joe being Joe. That willingness to fly by the seat of his pants and trust his political instincts makes him a little more flexible as circumstances change… I hope."
Stats Watch
At reader request, I added some business stats back in. Please give Econintersect click-throughs; they're a good, old-school blog that covers more than stats. If anybody knows of other aggregators, please contact me at the email address below.
Employment Situation: "Retail Hiring Slows In November – On Pace To Fall Below 2019 Level" [Econintersect]. "Seasonal Retail employment gains declined 35% in November from the previous November, as employers added 302,100 jobs in the sector last month compared to 466,400 during November of last year, according to an analysis of non-seasonally adjusted data from the Bureau of Labor Statistics…. 'November is the month where Retailers typically add the bulk of their holiday workers. While this year has been atypical and many Retailers beefed up their staff in March and April, Retail employment is down overall this year,' said Andrew Challenger, Senior Vice President of Challenger, Gray & Christmas, Inc."
Consumer Expectations: "November 2020 Consumer Expectations Rise Despite Flat Income and Earning Expectations" [Econintersect]. "The Federal Reserve Bank of New York's Center for Microeconomic Data released the November 2020 Survey of Consumer Expectations, which shows that despite flat income and earnings growth expectations, households' year-ahead spending growth expectations rose sharply in November to 3.7%, the highest level recorded in more than 4 years."
* * *
The Bezzle: I don't know why, but whenever tech people design vehicles they come up with these offensively inoffensive designs that me want to smash them to smithereens with a sledgehammer:
Folks, do you crave the motion-sickness of the rear-facing rumble seat in your childhood station wagon while also pining for the experience of trying to ignore your coworkers in a crowded elevator? https://t.co/QKKirqboTR

— Jacob Bacharach (@jakebackpack) December 14, 2020
Tech: An epic thread on enterprise software engineering at Uber. Well worth a read:
Alright folks, gather round and let me tell you the story of (almost) the biggest engineering disaster I've ever had the misfortune of being involved in. It's a tale of politics, architecture and the sunk cost fallacy [I'm drinking an Aberlour Cask Strength Single Malt Scotch] https://t.co/KWnZKIpycp

— McLaren Stanley (@StanTwinB) December 10, 2020
Mr. Market:
Here's Chartstravaganza!

2020: just a normal year pic.twitter.com/QPhM74B226

— Plan Maestro (@PlanMaestro) December 13, 2020
* * *
.
Today's Fear & Greed Index: 72 Extreme Greed (previous close: 76 Extreme Greed) [CNN]. One week ago: 88 (Extreme Greed). (0 is Extreme Fear; 100 is Extreme Greed). Last updated Dec 14 at 1:10pm.
Rapture Index: Closes up one on Peace Process. "Several Arab nations have now established diplomatic relations with Israel." [Rapture Ready]. Record High, October 10, 2016: 189. Current: 184. (Remember that bringing on the rapture is a good thing, so high is better.)
Health Care
"Rural doctors face vaccine distrust and conspiracies. They have a plan." [NBC]. "The first shots — all administered to doctors — will be broadcast on a public Zoom call Thursday night, hours after the hospital first receives the vaccine, so the public can see the process and hear the doctors' thoughts. Other health care workers can begin getting vaccinated at 5:30 a.m. CT Friday."
"'It's peace of mind': Covid-19 vaccines can't arrive soon enough for many frontline health workers" [STAT]. "While there is vaccine hesitancy among health care workers as well as the general public — in one study, 36% of nurses said they would not take the vaccine — many other frontline medical workers, exhausted by the pandemic and the many risks they've taken to provide care these long months, say the shots can't come soon enough. Some are taking to Twitter to gleefully announce vaccination appointments. spoke about the relief they hope the vaccines will bring, which health care workers should be vaccinated first, and, in one case, why health care workers should not be first in line." • Hmm. Are we looking at another "airtight consensus" here?
* * *
A good thread on the role of WHO:
"We the US administration" yes. Why would that apply to the rest of us concerned about avoiding a repeat? It was ~10 days ago we got "no masks necessary indoors if 3 feet apart" corrected. I have doc friends in LMIC countries who, until ten days ago, would repeat that to people.

— zeynep tufekci (@zeynep) December 13, 2020
(LMIC = Low to Middle Income Countries.) Worth noting too that mask resistors, up until fairly recently, could be said to be following WHO's advice ("trust science"). Not that they were; but WHO certainly wasn't helping our situation.
* * *
"Here's What Medicare For All Supporters In Congress Can Actually Do" [David Sirota, The Daily Poster]. "Over the weekend, there has been a raging debate on social media, in which some progressive critics began demanding that lawmakers like Rep. Alexandria Ocasio-Cortez use their votes in the upcoming House Speaker election as leverage to get a commitment for a floor vote on Medicare for All legislation…. However, only asking for that performative vote — rather than also asking for things that might change the structural power dynamic — would be a waste, and yet another instance of progressives reverting to a feckless tradition of prioritizing spectacles rather than the wielding of actual power. They could additionally condition their vote for Pelosi on a commitment that she:
– Remove the Medicare for All opponent who chairs the key committee [Richard Neal]

– Schedule a vote on existing legislation to let states create single-payer health care systems

– Schedule a vote on a resolution demanding Biden use executive authority to expand Medicare

– Include provisions in year-end spending bills that create a presidential commission charged with crafting a Medicare for All program

– Author a discharge petition to force a vote on Medicare for All
• That's a good list (and boy would I like to see Neal, who is a nasty piece of work, taken down a peg). More on the raging debate on social media:
Medicare for All fans missed the boat. Their one shot was last March. They could've held CARES Act hostage unless a temporary M4A plan was enacted, then keep extending it. They didn't so now they'll just have to wait until the next national calamity. https://t.co/VZciElPtsO

— Carlos Mucha (@mucha_carlos) December 13, 2020
The Biosphere
"The costs of tackling climate change keep on falling" [Financial Times]. "In 2006, the Stern Review of the Economics of Climate Change foresaw a cost of 1 per cent of global GDP to reduce global fossil fuel-related emissions from 25 gigatonnes to 18 Gt by 2050, with zero emissions only achieved after 2075. A recent report from the Energy Transitions Commission suggests a cost below 1 per cent to achieve net-zero emissions globally by mid-century. This is a trivial sum to save the world from catastrophic climate change." • The cost is trivial today, and was trivial in 2006. Cost, then, is not the issue.
Wresting control of the permitting process is a PITA, but it can be done:
a year ago they told the st james parish leaders there is no way to stop a $9.4 billion chemical plant. this year we stalled them 3x got 2 permits suspended, construction indefinitely delayed.

& we wont just stop plants we'll make sure sustainable jobs come to cancer alley FIRST

— michael 🐊 🎣 (@lilprole93) December 13, 2020
Water
"US-backed Mekong monitoring project set to test China's patience" [South China Morning Post]. "A Washington-sponsored programme aimed at monitoring the state of the Mekong River risks further testing already fraught US-China relations when it officially launches on Tuesday. The Mekong Dam Monitor is an open-source online platform that promises to provide weekly updates using remote sensing and satellite imagery on the levels of reservoirs at 13 dams along the Mekong's main stretch, as well as at 15 tributary dams with power generation capacities greater than 200MW. It further seeks to circulate weekly visualisations and analysis of "China's 11 dam cascade on the upper Mekong", as well as maps and data on temperature, snow cover, precipitation and other indicators along the river's full course, according to its website.
The collaborative project from the Washington-based Stimson Center think tank's Southeast Asia programme and Eyes On Earth Inc. – a US research and consulting company specialising in water – comes after years of frustrations from countries along the river at China's lack of transparency with sharing such information." • On the Mekong, see NC here (and destroying Tonle Sap is an act of vandalism, pure and simple).
The 420
"These Nuns Grow Weed" [Modern Farmer]. "Sister Kate established her sisterhood, Sisters of the Valley, in 2015 after a series of life changing events. First, she went through what she says was a devastating divorce in 2008 that left her penniless and briefly homeless as a single mother raising three children. She started growing her own food and cannabis in her backyard to become self-sufficient. In 2014, she decided to produce cannabis-based tinctures and salves to support herself. At the same time, she began attending Occupy movement protests, wearing a nun's costume. When people asked her what exactly she stood for, she told them and she says they encouraged her to formalize her beliefs. Then in 2016, Sister Kate started growing cannabis and making products using Cannabidiol, or CBD, such as oils and teas on her farm while subscribing to a code of values that she says is loosely based on the Beguines religious orders of the Middle Ages. …. ',' Sister Kate says. 'When people see us in our veils they will know what we represent just like they do [when] a fireman [is] in his uniform.'" • I think this is great! (Best headline ever, too).
Gunz
Round and round:
Conversation #1:

Man: Hey God, I just want you to know I am committed to protecting my family at all costs.

God: Gosh, that's great to hear.

One of the main things I need you to do to protect your family is laundry. Tons of laundry. You know kids…

4/

— Gabrielle Blair (@designmom) February 5, 2020
Games
Can someone please interpret:
Alright folks, gather round and let me tell you the story of (almost) the biggest engineering disaster I've ever had the misfortune of being involved in. It's a tale of politics, architecture and the sunk cost fallacy [I'm drinking an Aberlour Cask Strength Single Malt Scotch] https://t.co/KWnZKIpycp

— McLaren Stanley (@StanTwinB) December 10, 2020
Xmas Pregame Activities
With 150,000 lightbulbs, fighter jet pilots use it for navigation:
"COVID-19: 'Superspreader' Santa blamed for coronavirus outbreak at Belgian care home" [Sky News]. • Of course.
Groves of Academe
"U.S. Schools Are Buying Phone-Hacking Tech That the FBI Uses to Investigate Terrorists" [Gizmodo]. "Public documents reviewed by Gizmodo indicate that school districts have been quietly purchasing surveillance tools of their own for years…. Gizmodo has reviewed similar accounting documents from eight school districts, seven of which are in Texas, showing that administrators paid as much $11,582 for the controversial surveillance technology. Known as mobile device forensic tools (MDFTs), this type of tech is able to siphon text messages, photos, and application data from student's devices. Together, the districts encompass hundreds of schools, potentially exposing hundreds of thousands of students to invasive cell phone searches. While companies like Cellebrite have partnered with federal and local police for years, that the controversial equipment is also available for school district employees to search students' personal devices has gone relatively unnoticed—and serves as a frightening reminder of how technology originally developed for use by the military or intelligence services, ranging from blast-armored trucks designed for use in war zones to invasive surveillance tools, keeps trickling down to domestic police and even the institutions where our kids go to learn."
Book Nook
Big LeCarré fan here:
"John le Carré, author, 1931-2020" [Financial Times]. "British imperial decline, and the dubious strategies of the political classes and intelligence services to disguise that decline during the cold war, form the backdrop to many of the 25 novels of le Carré, who has died at the age of 89. Espionage was the genre that earned him fame. But he used it as a platform to explore larger ethical problems and the human condition with such insight that many fellow authors and critics regarded him as one of the finest English-language novelists of the 20th century."
"Obit: John le Carré's nuanced, intricately plotted Cold War thrillers elevated spy novel to high art" [Economic Times]. "'As much as in Tolkien, Wodehouse, Chandler or even Jane Austen, this closed world is a whole world,' the critic Boyd Tonkin wrote in The Independent. 'Via the British 'Circus' and its Soviet counterpart, Le Carré created a laboratory of human nature; a test-track where the innate fractures of the heart and mind could be driven to destruction.' In a career spanning more than a half-century, le Carré wrote more than two dozen books and set them as far afield as Rwanda, Chechnya, Turkey, the Caribbean and Southeast Asia. He addressed topics as diverse as the power of pharmaceutical companies, the Arab-Israeli conflict and — after the Berlin Wall fell and his novels became more polemical, and he became more politicized — American and British human-rights excesses in countering terrorism." • The pharmaceutical novel is The Constant Gardener; perhaps I should read it.
"John le Carré was a 21st century writer" [Open Democracy]. The deck: On his death, the establishment is patronising England's great novelist as a Cold War figure, rather than confonting why he hated them." More: "Overwhelmingly the salutations in his obituaries emphasise his role in the Cold War. They are filled with a stench of stale melancholy for past self-importance. He despised such sentimentality, personally there was nothing nostalgic about him. Starting with The Constant Gardiner which he published in 2001, he wrote seven novels in this century alone. His theme was the predations of corporate power, the corruptions of finance, the inhumanity of the looting of Africa, the venality of modern capitalism, the abuse of surveillance and the vile penetration of arms-dealing, as politicians danced to the tunes of oligarchs. Often his contemporary work is described as 'angry' as if his views could be dismissed as the weaknesses of old age. In fact they were a tough, always carefully calibrated, exercise of hard judgment." • Interesting also for LeCarré's connection to Open Democracy, starting with the Iraq War.
Guillotine Watch
Such bad, bad taste:
basement (4/5) pic.twitter.com/1Mza2qqBwX

— Guillotine-Worthy Zillow Listings (@Zillotine) December 13, 2020
Class Warfare
"Restraining Capital" [Stumbling and Mumbling]. "Martin Wolf argues that Milton Friedman was wrong to claim that the only social responsibility of business is to increase profits. I agree with him, but I fear he under-rates two important facts: historical context and class power…. Centrists criticise the left for failing to see that good ideas are useless unless you win elections. But we can turn this jibe around. From the point of view of restraining capital, there's a difference between winning office and winning power. As I've long complained, technocrats are too often blind to the realities of capitalist power. The challenge for anybody wanting a healthy capitalism, then, is how to achieve the power, the leverage, to do so? Insofar as capitalism operated in the wider public interest at the time that Friedman was writing (which of course is a matter of dispute) it did so because it faced countervailing power. Today, it no longer does so to the same extent. Here, the left has an insight, if not a successful application thereof – the need to build an anti-capitalist hegemony, something which can only be done outside of parliamentary politics."
"How McKinsey, the World's Most Elite Consulting Firm, Helped Turbocharge America's Opioid Epidemic" [Jacobin]. "Even more disturbing is a 2017 presentation reviewed by the Times in which McKinsey presented additional options to help Purdue Pharma increase sales, among them the idea of offering a rebate to distributors for every OxyContin overdose attributable to the pills they'd sold. The presentation even included projections for how many customers at companies like CVS and Anthem would either die or develop opioid use disorders (at the former, for example, it projected 2,484 "events" in 2019, estimating a cost of $36.8 million to Purdue at a rate of $14,810 per rebate)." • The opioid epidemic has killed 450,000 people so far, but mostly in flyover and over 20 years, so it's not really a story, unlike Covid.
Dean of the Impressionists:
The war of haves and have nots #danishart #camillepissarro pic.twitter.com/gwkYaUEbCM

— Camille Pissarro (@artpissarro) December 11, 2020
News of the Wired
Only twelve years ago?
12 years ago today. pic.twitter.com/g2W14AywFm

— Bhaskar Sunkara (@sunraysunray) December 14, 2020
* * *
Readers, feel free to contact me at lambert [UNDERSCORE] strether [DOT] corrente [AT] yahoo [DOT] com, with (a) links, and even better (b) sources I should curate regularly, (c) how to send me a check if you are allergic to PayPal, and (d) to find out how to send me images of plants. Vegetables are fine! Fungi and coral are deemed to be honorary plants! If you want your handle to appear as a credit, please place it at the start of your mail in parentheses: (thus). Otherwise, I will anonymize by using your initials. See the previous Water Cooler (with plant) here. Today's plant (Carla):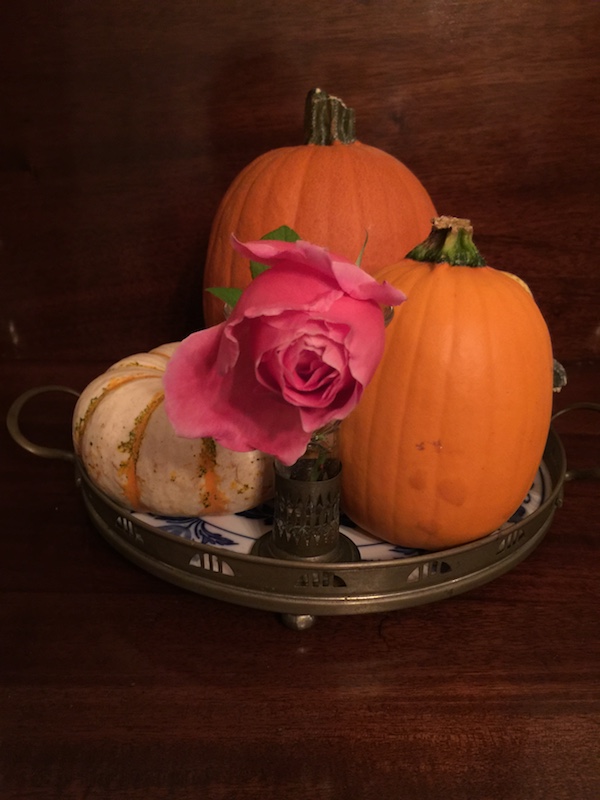 Carla writes:"This, the last rose in our Cleveland garden, bloomed on Thanksgiving day." Gorgeous tones, like a still life from the golden age of Dutch painting.
* * *
Readers: Water Cooler is a standalone entity not covered by the recently concluded and — thank you! — successful annual NC fundraiser. So if you see a link you especially like, or an item you wouldn't see anywhere else, please do not hesitate to express your appreciation in tangible form. Remember, a tip jar is for tipping! Regular positive feedback both makes me feel good and lets me know I'm on the right track with coverage. When I get no donations for five or ten days I get worried. More tangibly, a constant trickle of donations helps me with expenses, and I factor in that trickle when setting fundraising goals:
Here is the screen that will appear, which I have helpfully annotated.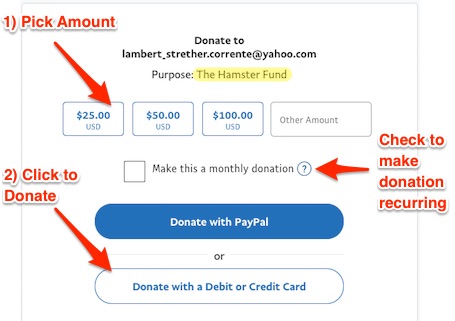 If you hate PayPal, you can email me at lambert [UNDERSCORE] strether [DOT] corrente [AT] yahoo [DOT] com, and I will give you directions on how to send a check. Thank you!

Original Source