Losing Count​: The Sordid Business of Bookkeeping The Drift
EY fraud unit found 'red-flag indicators' at Wirecard in 2018 FT
#COVID19
NCHS Mortality Surveillance Data CDC
China?
Reading China's State Capitalism Adam Tooze, Chartbook

How Covid-19 has worsened China's growing north-south economic divide South China Morning Post

In the Time of COVID-19, China Could Be Pivotal in Swapping Debt for Climate and Health Action World Resources Institute. Handy chart:

Obvious when you think about it:

This is only possible because China is a small island far from the initial outbreak of the pandemic. https://t.co/X5PEZtpZKR

— Mike Bird (@Birdyword) December 13, 2020
Pfizer-BioNTech COVID-19 vaccine approved by Singapore, first shipment expected by end-December Channel News Asia
New businesses mushroom in Malaysia despite Covid-19 pandemic gloom Straits Times
India
Robo-surveillance shifts tone of CEO earnings calls FT
The Koreas
South Korea's Third Wave, a thread:

We've been spending a lot of time praising South Korea's response to the pandemic. Now, it's time for criticism. S Korea is still doing a lot (A LOT) better than some other places, but they could have done better.

— T.K. of AAK! (@AskAKorean) December 12, 2020

S. Korea sets up free Wi-Fi networks on buses in operation across nation Yonhap News Agency. How a First World country does it.
Families marry off daughters to ease finances amid COVID-19 AP
Syraqistan
Singapore oil tanker hit by explosion caused by 'external source' off Saudi Arabia CNN
RenovaBR: The Privatisation of Brazilian Politics Brasilwire
UK/EU
Jeremy Corbyn: Why I'm Launching a Project for Peace and Justice Jacobin
Brexit
One benefit of Brexit – new jokes can be created by mildly editing old Soviet jokes. For example:

A man walks into a shop. He asks the clerk, "You don't have any meat?" The clerk says, "No, here we don't have any fish. The shop that doesn't have any meat is across the street."

— Dr Andi Fugard (@InductiveStep) December 12, 2020
New Cold War
Ramstein Air Base In Germany Experiences Potential Incoming Missile Scare The Drive
Trump Transition
US orders emergency action after huge cyber security breach FT. From WaPo's lead, the sourcing: "People familiar with the matter." So that's alright then.

Trump Says He's Nixing Plan For Early Vaccinations At The White House HuffPo
2020
Trump Allies Eye Long-Shot Election Reversal in Congress, Testing Pence NYT

A Stunning Passage from the Latest Court Rejection of Team Trump Andrew McCarthy, National Review. Ludwig's Wisconsin decision.

A Political Obituary for Donald Trump The Atlantic

The GOP's Minority Rule Caucus reveals its contempt for democracy E.J. Dionne, WaPo. "At least the Confederate secessionists acknowledged that Abraham Lincoln won the 1860 election. The 18 Republican state attorneys general and 126 Republican House members who asked the Supreme Court to throw out the results of the 2020 election may thus be more impudent than the Civil War seditionists in whose steps they followed." "Impudent?!"

* * *

Pro-Trump Protesters Chant "Destroy the GOP," Boo Georgia Senate Candidates at Rally Slate. Well, if the Republicans copy the Democrats and fire their base, they won't have to fear them any more, will they?

Group burns Black Lives Matter banner taken from DC's oldest Black church during MAGA protest WUSA

1 person shot in Olympia during clashes between pro-Trump demonstrators and counterprotesters Seattle Times
Biden Transition
Hunter Biden subpoena seeks info on Burisma, other entities AP. "The breadth of the subpoena, issued Tuesday, underscores the wide-angle lens prosecutors are taking as they examine the younger Biden's finances and international business ventures."

On Immigration, Activists' Demands May Exceed Biden Realities NPR. "[A] person familiar with transition discussions… told NPR that the Biden campaign and then the transition team felt that immigration activists had become too adversarial."
Realignment and Legitimacy
Rage Kapital notesfromdisgraceland. For real banks, the author accepts the debunked loanable funds theory. But for "rage banks"?
Intelligence Community
'Under the rug:' Sexual misconduct shakes FBI's senior ranks AP
Our Famously Free Press
Sinister sounds: podcasts are becoming the new medium of misinformation Guardian. Another liberals calls for censorship.
L'Affaire Joffrey Epstein
'I sat on Andrew's lap… Ghislaine put the Spitting Image puppet's hand on Virginia's breast. Then he put his hand on mine': Duke's visit to the puppet master Epstein's mansion… this time for the night Daily Mail
Groves of Academe
Bob Shepherd: How "Reform" Ruined Teaching Diane Ravitch
Health Care
How CBO Analyzes the Costs of Proposals for Single-Payer Health Care Systems That Are Based on Medicare's Fee-for-Service Program: Working Paper 2020-08 Congressional Budget Office. "The increase in demand would exceed the increase in supply, resulting in greater unmet demand than the amount under current law, CBO projects."

Why Americans love the ACA (1):

i'm still stranded 3000 miles from where i'm paying rent. no road trips home for my family through pandemic land. last night i did the ACA marketplace choice thing. there was no choice that would provide more than emergency / urgent care outside the state of California.

— Steve Randy Waldman (@interfluidity) December 11, 2020

Why Americans love the ACA (2):

Alternately, you can make $52,000, be eligible for 0 subsidies, buy a "gold" marketplace plan, spend over $15,000 for the year on healthcare & barely have the plan kick in to cover anything pic.twitter.com/oXXjnjAO10

— Hot Take Appreciator (@IHateNYT) December 13, 2020
Guillotine Watch
GOP Megadonor Celebrates His Profits From "Huge Increases In Rents" As Millions Face Eviction Daily Poster

COVID-19: Demand for underground bunkers soars over fears of coronavirus pandemic Sky News
Immigration and use of public spaces and food stores in a large city: A qualitative study on urban health inequalities Journal of Migration and Health
Class Warfare
Anecdote:

For the last 4 years, I've delivered food once a month, to same small Iowa town food bank. Prior to March, it was 3/4 of a truck load. By summer, it was 2 trucks. Yesterday, 3 trucks, and continued well after dark until we ran out. Food insecurity is becoming the new normal. pic.twitter.com/hJVpDFyAw1

— Dave Degner (@degnerforiowa) December 11, 2020
Antidote du jour (via):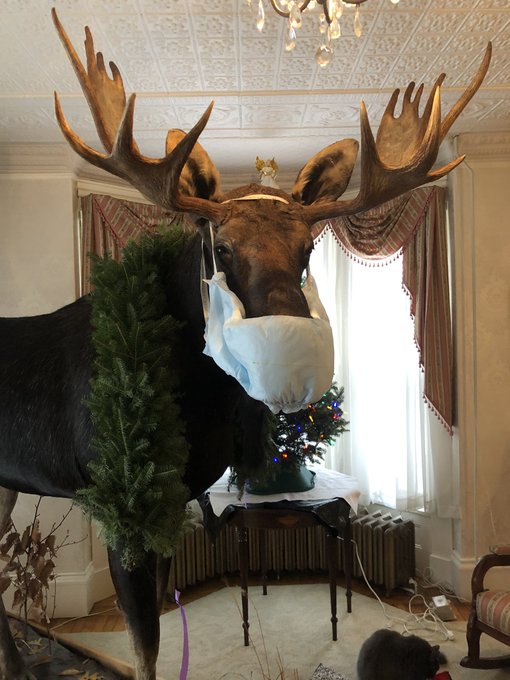 See yesterday's Links and Antidote du Jour here

Original Source