By Lambert Strether of Corrente.
Bird Song of the Day
I guess they do whoop!
#COVID19
At reader request, I've added this daily chart from 91-DIVOC. The data is the Johns Hopkins CSSE data. Here is the site.
Case count by United States region: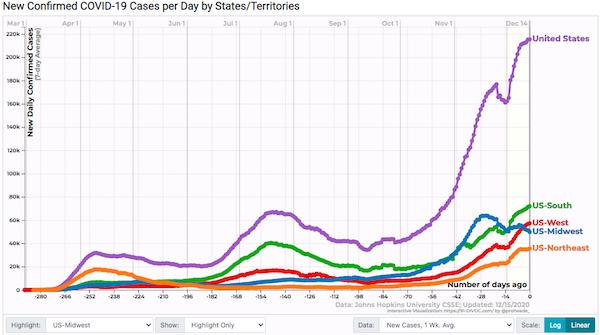 Distinct decrease in slope. I feel I'm engaging in a macabre form of tape-watching, because I don't think the peak is coming in the next days, or even weeks. Is the virus gathering itself for another leap?
I thought I'd look at some big states (New York, Florida, Texas, California) instead of the Midwest: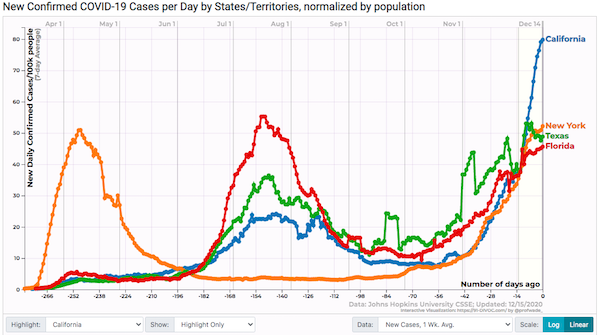 Texas and Florida diverge, but California sprints ahead.
Test positivity by region: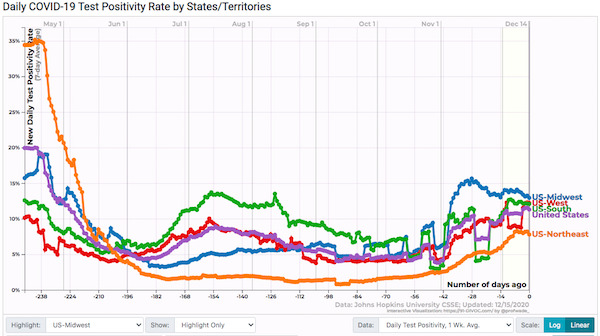 Now the west catches up. Data issues?
Hospitalization by region: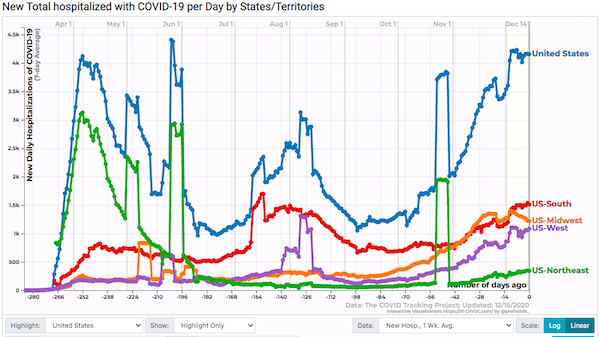 Distinct flattening of slope. Hospitalization is also discretionary; they may also be reducing their admissions rate — relative to cases we cannot see in this data! — to preserve future capacity; or because hospitals have figured out how to send people home.
Case fatality rate by region: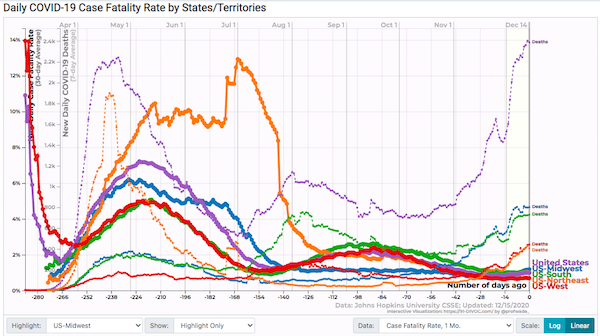 Slight decrease in slope, now driven by the Midwest and the South,
Politics
"But what is government itself, but the greatest of all reflections on human nature?" –James Madison, Federalist 51
"They had one weapon left and both knew it: treachery." –Frank Herbert, Dune
"They had learned nothing, and forgotten nothing." –Charles Maurice de Talleyrand-Périgord
Democrats in Disarray
I should really change this headline. They're all too arrayed.

"Senate Proposal Would Retroactively Shield Corporations From All COVID Lawsuits" [David Sirota, The Daily Poster]. This is perhaps the best clause: "[The bill would] empower the United States Attorney General to deem coronavirus-related lawsuits from workers, customers and attorneys 'meritless' and then file civil actions against them as retribution. In order to 'vindicate the public interest,' courts would be allowed to fine respondents up to $50,000." • Wowsers. Joe Manchin loves it, though, so I guess it's all good. Meanwhile:

Lawmakers released a separate $748 billion COVID-related proposal that includes expanded unemployment benefits, an extension of the Paycheck Protection Program, and funding for COVID-19 testing and vaccine distribution. It would also reauthorize a CARES Act provision allowing the government to funnel money to out-of-work defense contractors.

The latter package did not include a new round of $1,200 stimulus checks sought by Vermont Independent Sen. Bernie Sanders and Sen. Josh Hawley, R-Mo. Only $188 billion of the proposal is new stimulus money — the other $560 billion is repurposed from the CARES Act, passed this spring.

Sanders criticized Democrats for their handling of coronavirus relief talks. "What kind of negotiation is it when you go from $3.4 trillion to $188 billion in new money?" he said. That is not a negotiation. That is a collapse."

That is the most charitable interpretation. Glenn Greenwald comments:

Be as skeptical as you want, but the unavoidable reality is that, in the Senate, only he and @BernieSanders are beating this drum, and have made this issue — arguably the single most important one right now in the US — their overarching priority: https://t.co/mQySA78C1m

— Glenn Greenwald (@ggreenwald) December 15, 2020
Transition to Biden
"Goldman Sachs vets quietly added to Biden transition" [Politico]. • Well, good. I hate a noisy transition team. Material things are noisy. Souls are not noisy:

I love that President-elect Biden quoted my hero, St. Francis. "Where there is doubt, faith; where there is darkness, light." I have this whole prayer on a board at my writers shed here. St. Francis tried to bring great reform to the church, and bring it back to the Gospels.

— Matthew Dowd (@matthewjdowd) December 15, 2020

"Inside Biden's Meeting with Civil Rights Leaders" [The Intercept]. "Biden made his comments unprompted, referencing an earlier remark made by NAACP President Derrick Johnson, who had warned that appointing Tom Vilsack to be secretary of agriculture would anger Black farmers in Georgia, as well as Black voters generally in the state, for whom Shirley Sherrod was a hero. Sherrod was fired by Vilsack from her position as Georgia director of rural development for the U.S. Department of Agriculture during Vilsack's previous tenure as agriculture secretary during the Obama administration. Her firing was quickly revealed to have been a mistake and based on an incomplete airing of a video by the late conservative provocateur Andrew Breitbart. Particularly in Georgia, Johnson noted, Vilsack's capitulation was still a sore spot, and nominating him would be 'disastrous' electorally." • I guess we're about to find out, when Biden goes to Georgia!
Transition from Trump
Good question:

Biggest success: Proving there is a large political constituency for a restrained foreign policy as long as you frame it in patriotic terms rather than anti-imperialist terms.

Biggest failure: Inability to hire anyone who agrees with those ideas or will implement them. https://t.co/UR8ERff7nN

— Matthew Yglesias 🍦 (@mattyglesias) December 14, 2020

Axing the TPP (and its ISDS) was also a major success.
Election Legitimacy
"'Time for everybody to move on': Senate GOP accepts Biden's win" [Politico]. "But as the day went on and the Electoral College's verdict was made clear, an increasing number of Republican senators — though certainly not all — began to say what the leader of their party won't and what they declined to acknowledge for weeks: Biden will take office in January."
2020
"Biden heads to Georgia aiming to get Democrats a Senate majority" [The Hill]. "President-elect Joe Biden is traveling to Georgia on Tuesday, aiming to boost Senate candidates Jon Ossoff and Raphael Warnock and propel Democrats to a majority in the upper chamber…. A Biden campaign official said that, while in Georgia, 'the President-elect will underscore what's at stake for the country in the midst of a still worsening pandemic.' 'He will speak directly to Georgians' ability to vote for change and lawmakers dedicated to getting help immediately to those who are suffering when they cast their ballots for Jon Ossoff and Reverend Raphael Warnock,' the official continued. 'The President-elect will also echo his message of unity and a battle for the soul of the nation that led to him getting 81 million votes across the country — more than any presidential candidate in history — and becoming the first Democrat in decades to win the state of Georgia during a presidential election.'" • Congressional Democrats worked hard to deep-six "getting help immediately," and it looks like they've succeeded, so good job. Meanwhile, I mock "the soul of this nation" talking point, but maybe that just proves its gonna work. I don't know.

GA: Oh, come on:

New Civil Rights Act. Now. pic.twitter.com/QobOoet3ZL

— Jon Ossoff (@ossoff) December 15, 2020

When Biden didn't push for this? Really?
Realignment and Legitimacy
Not clear to me what's to be done now, if anything:

The more I learn about the current epidemic of white supremacist groups, the clearer it becomes: we're losing these people as children. Despair among our youth breeds vulnerability to ideological capture by psychotic forces. If our love doesn't claim them, hate will.

— Marianne Williamson (@marwilliamson) December 15, 2020
Stats Watch
At reader request, I added some business stats back in. Please give Econintersect click-throughs; they're a good, old-school blog that covers more than stats. If anybody knows of other aggregators, please contact me at the email address below.
Industrial Production: "November 2020 Headline Industrial Production Improves But Remains In Contraction" [Econintersect]. "The headlines say seasonally adjusted Industrial Production (IP) improved month-over-month – but remains deep in contraction year-over-year. Our analysis shows the three-month rolling average improved."
Manufacturing: "December 2020 Empire State Manufacturing Index Again Declines" [Econintersect]. "The Empire State Manufacturing Survey index declined but remained in expansion."
Inflation: "November 2020 Import Year-over-Year Inflation Unchanged At -1.0%" [Econintersect]. "Year-over-year import price indices inflation remained in contraction and remains at -1.0 %."
Housing: "October 2020 CoreLogic Single-Family Rent Index Growth Reached Pre-Pandemic Levels" [Econintersect]. "The Single-Family Rent Index (SFRI) shows a national rent increase of 3.1% year over year, up from a 2.9% year-over-year increase in October 2019. This is the first time since the start of the pandemic that national rent prices have outpaced their previous-year growth rate. Despite a slowdown of rental prices this spring and summer, work-from-home needs and a desire for outdoor space increased demand for single-family homes, ensuring a pickup in the pace of single-family rent growth. Similar to the low inventory of homes for purchase, the supply of single-family rentals also declined during the pandemic. Over the summer, the months' supply of single-family rentals fell by 9%."
* * *
* * *
.
Today's Fear & Greed Index: 72 Extreme Greed (previous close: 76 Extreme Greed) [CNN]. One week ago: 88 (Extreme Greed). (0 is Extreme Fear; 100 is Extreme Greed). Last updated Dec 14 at 1:10pm.
Today's Fear & Greed Index: Oh noes! The index has gone missing again! [CNN]. Last updated Last updated Dec 15 at 11:55am.
Health Care
"FDA scientists endorse Moderna Covid-19 vaccine, as documents provide new hints on efficacy" [STAT]. "ientists at the Food and Drug Administration endorsed the Covid-19 vaccine developed by Moderna as safe and efficacious on Tuesday, one day after the first doses of a competing vaccine from Pfizer and BioNTech were delivered across the United States. The FDA reviewers said that the two-dose vaccine 'was highly effective' in preventing symptomatic Covid-19 from occurring 'at least 14 days after the receipt of the second dose.' Vaccine-related side effects, such as aches and pains, appeared more severe than with the Pfizer/BioNTech vaccine, though such comparisons should be made with caution and are in no way expected to slow the clearance of the vaccine or present major concerns. There was also preliminary evidence that the vaccine has some efficacy after one dose, and that it prevents asymptomatic Covid-19 cases — those that occur without a person ever feeling ill." • Here is the FDA review. From Hilda Bastian, a thread:
Moderna data has arrived at the FDA…. I'll be tweeting about the 54-page document by the FDA https://t.co/rh3K9BvqgO The brief from Moderna is much smaller than BNT/Pfizer's – only 84 pages (+ a 7-page presentation) https://t.co/EWDYzYwf2g 1/n https://t.co/6Yz5yFQvDF

— Dr. Hilda Bastian (@hildabast) December 15, 2020
"What does success look like for the Covid-19 vaccine effort?" [STAT]. "A growing delta between the number of doses delivered to a state and the number of doses being administered could be a sign of multiple red flags, multiple experts argued. It could suggest logistical snafus, like a state struggling to administer doses on schedule, or doses being wasted due to errors in preparation or handling, argued Eric Toner, a senior scholar at Johns Hopkins Center for Health Security. Doses sitting on the shelf could also be an early warning sign that Americans are reluctant to get the vaccine, argued Alison Bateman-House, an associate professor and bioethicist at NYU Langone Health."
* * *
"Household Transmission of SARS-CoV-2: A Systematic Review and Meta-analysis" [JAMA]. From the discussion:
We synthesized the available evidence on household studies of SARS-CoV-2. The combined household and family secondary attack rate was 16.6% (95% CI, 14.0%-19.3%), although with significant heterogeneity between studies. This point estimate is higher than previously observed secondary attack rates for SARS-CoV and MERS-CoV. Households are favorable environments for transmission. They are what are known as 3Cs environments, as they are closed spaces, where family members may crowd and be in close contact with conversation.94 There may be reduced use of personal protective equipment relative to other settings.

That secondary attack rates were not significantly different between household and family contacts may indicate that most family contacts are in the same household as index cases. Household and family contacts are at higher risk than other types of close contacts, and risks are not equal within households. Spouses were at higher risk than other family contacts, which may explain why the secondary attack rate was higher in households with 1 vs 3 or greater contacts. Spouse relationship to the index case was also a significant risk factor observed in studies of SARS-CoV and H1N1.82,95 This may reflect intimacy, sleeping in the same room, or longer or more direct exposure to index cases. Further investigation is required to determine whether sexual contact is a transmission route. Although not directly assessed, household crowding (eg, number of people per room) may be more important for SARS-CoV-2 transmission than the total number of people per household, as has been demonstrated for influenza.
"Pandemic backlash jeopardizes public health powers, leaders" [Associated Press]. "Across the United States, state and local public health officials such as Coleman have found themselves at the center of a political storm as they combat the worst pandemic in a century. Amid a fractured federal response, the usually invisible army of workers charged with preventing the spread of infectious diseases has become a public punching bag. Their expertise on how to fight the coronavirus is often disregarded…. The backlash has moved beyond the angry fringe. In the courts, public health powers are being undermined. Lawmakers in at least 24 states have crafted legislation to weaken public health powers, which could make it more difficult for communities to respond to other health emergencies in the future…. It is a further erosion of the nation's already fragile public health infrastructure. At least 181 state and local public health leaders in 38 states have resigned, retired or been fired since April 1, according to an ongoing investigation by The Associated Press and KHN."
* * *
I don't like to deploy the "Please kill me now" trope, because I don't want to give anybody that idea. That said, please kill me now:
As we face a pandemic that has infected nearly 12 million in our country, health care coverage is more vitally important than ever. The Open Enrollment window is happening now through Dec. 15th only for coverage in 2021.

Sign up to #GetCovered at https://t.co/qmyQ1Hbicp

— Nancy Pelosi (@TeamPelosi) November 21, 2020
We're in the midst of a pandemic, and Pelosi is warning us that the window for access to health care is closing. What a country.
Big Brother Is Watching You Watch
This is very funny, until you work through how the "Tracys" are getting their data:
I can't un-watch this. Contact tracing for "simps". #COVID19 pic.twitter.com/lbZnvWmAUy

— Eric Feigl-Ding (@DrEricDing) December 15, 2020
Feral Hog Watch
"FDA approves genetically altering pigs, to potentially make food, drugs, and transplants safer" [STAT]. "Genetically engineering pigs so they lack a certain sugar on the surface of their cells that triggers meat allergies or organ rejection won approval from the Food and Drug Administration Monday. The regulatory clearance — the first of an intentional genomic alteration in a product with both food and medical uses — means the animals could be safer sources of not just food but also treatments such as the blood-thinner heparin…. There have been four previous approvals for such genetic engineering in animals, three for biomedical purposes and one for food, but none for both biomedicine and food, Steven Solomon, director of the FDA's Center for Veterinary Medicine, said in a conference call with reporters." • What could go wrong?
Class Warfare
"What Is the Point of Economics?" [Matt Stoller, BIG]. "[]his brings me to the point of economics, which has taken me a long time to understand. There are many economists who focus on trying to uncover important truths about the world, and there are many economists who seek to serve concentrated capital. There are smart ones, and dumb ones. But truth or falsehood, or empirical rigor, is besides the point. The point of economics as a discipline is to create a language and methodology for governing that hides political assumptions from the public. Truly successful economists, like Summers, spend their time winning bureaucratic turf wars and placing checks on elected officials." • Worth reading in full, now that the Obama Alumni Association is back in charge. On a less charitable interpretation, this is how economists service elite:
America's elites oppose any sort of relief check for #COVID19 because of the precedent it would set. They would rather see millions of Americans made homeless in January, during a pandemic, then set a precedent of the gov't doing something for ordinary Americans.

— Alice Marshall (@PrestoVivace) December 15, 2020
"How race politics liberated the elites" [Unherd]. "Dropping down a rung or two on the pyramid of power, consider the moral ecology inhabited by the broader gentility: the salaried decision-makers and ideas-managers who service the global arrangement from various departments of the ideological apparatus. They may work in NGOs, the governing bodies of the EU, corporate journalism, HR departments, the celebrity-industrial complex, the universities, Big Tech, etc. They, too, enjoy a kind of freedom, but it is decidedly not that of the high-spirited criminals depicted in Succession. So far from living 'beyond good and evil', this broader class of cosmopolitans asserts its freedom through its moralism, precisely. In particular, they have broken free of the claims of allegiance made upon them by the particular communities they emerge from. How does this work, psychologically? The idea of a common good has given way to a partition of citizens along the lines of a moral hierarchy – one that just happens to mirror their material fortunes (as in Calvinism). Instead of feeling bound up in a shared fate with one's countrymen, one develops an alternate solidarity that is placeless. The relatability across national borders that the gentlefolk feel in one another's company — the gracious ease and trust, the shared points of reference in high-prestige opinion — has something to do with their uniformly high standing in the moral hierarchy that divides citizen from citizen within their own nations. has discovered that it enjoys the mandate of heaven, and with this comes certain permissions; certain exemptions from democratic scruple. The permission structure is built around grievance politics. Very simply: if the nation is fundamentally racist, sexist and homophobic, I owe it nothing. More than that, conscience demands that I repudiate it." • See, e.g., the 1619 Project, for all of this.
"(How) Should Class War Go Global? Building an Anti-Corporate Left Internationalism" [Current Affairs]. "The word "internationalism" is occasionally thrown around on the U.S. left, but true internationalism—as a project of making common cause globally to act together against one system of power—is currently not part of mainstream left discourse…. The Global South's poor need to be brought into socialist narratives of change not as objects of charity (e.g., poverty relief) who need "us" to "speak on their behalf," but as fellow organizers against corporate rule. This is not just a change in language; it's a change in strategy. It's a pivot away from the high politics of foreign policy advocacy and towards the grounded terrain of labor action. Solidarity organizing is one example, and it's already happening: the Communications Workers of America are fighting alongside call center employees in the Dominican Republic and Philippines, just as the United Electrical Workers are working alongside Mexican and Canadian unionists to resist NAFTA 2.0. But as successful actions targeting logistics infrastructures (e.g., indigenous people's early 2020 blockades of Canadian rail networks) have reminded us, we can do even more."
News of the Wired
"COVID-19 makes car-dependent neighborhoods more popular: study" [Yahoo Finance]. ""When everything is closed — offices, shops, restaurants — walkability doesn't carry a premium anymore," said Daryl Fairweather, chief economist at [Seattle-based listing site] Redfin, referring to coronavirus lockdowns across the nation. In the biggest annual increase since Redfin started tracking the data in 2014, car-dependent neighborhoods had a 14.9% increase in home prices in October compared to the same time last year, reaching a median price of $345,000. Meanwhile, fewer homeowners in car-dependent neighborhoods sold their homes during the pandemic, with supply down almost 40% in October compared to the same time last year. In walkable areas, inventory was down only 10% compared to the same time last year, Redfin found." • Things are more like they are now than they have ever been. –Dwight D. Eisenhower (apocryphal).
* * *
Readers, feel free to contact me at lambert [UNDERSCORE] strether [DOT] corrente [AT] yahoo [DOT] com, with (a) links, and even better (b) sources I should curate regularly, (c) how to send me a check if you are allergic to PayPal, and (d) to find out how to send me images of plants. Vegetables are fine! Fungi and coral are deemed to be honorary plants! If you want your handle to appear as a credit, please place it at the start of your mail in parentheses: (thus). Otherwise, I will anonymize by using your initials. See the previous Water Cooler (with plant) here. Today's plant (dk):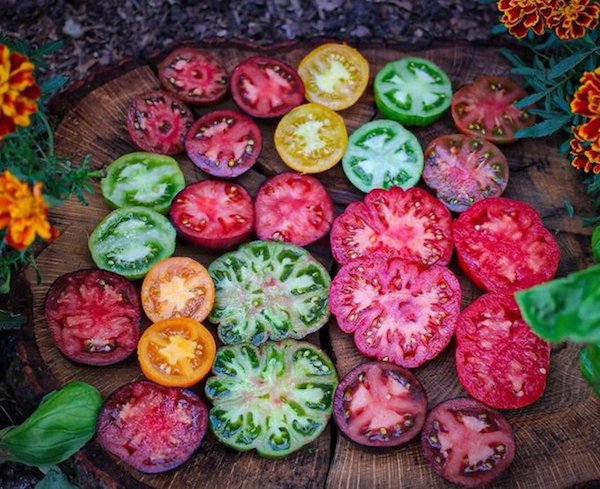 I'm not so sure about the colors in this still life, as opposed to Carla's lovely Dutch Masters photo yesterday. But I do note that marigolds are good companion plants for tomatoes!
Readers, I'm running a bit low on plants. If you all — and especially readers who have not contributed before! — could send me some fresh ones, that would be great. Thank you!
* * *
Readers: Water Cooler is a standalone entity not covered by the recently concluded and — thank you! — successful annual NC fundraiser. So if you see a link you especially like, or an item you wouldn't see anywhere else, please do not hesitate to express your appreciation in tangible form. Remember, a tip jar is for tipping! Regular positive feedback both makes me feel good and lets me know I'm on the right track with coverage. When I get no donations for five or ten days I get worried. More tangibly, a constant trickle of donations helps me with expenses, and I factor in that trickle when setting fundraising goals:
Here is the screen that will appear, which I have helpfully annotated.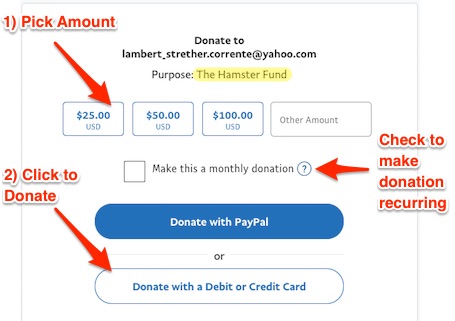 If you hate PayPal, you can email me at lambert [UNDERSCORE] strether [DOT] corrente [AT] yahoo [DOT] com, and I will give you directions on how to send a check. Thank you!

Original Source