By Lambert Strether of Corrente.
Bird Song of the Day
The Macaulay Library seems to be have hiccups, so I hope this plays!
#COVID19
At reader request, I've added this daily chart from 91-DIVOC. The data is the Johns Hopkins CSSE data. Here is the site.
Case count by United States region: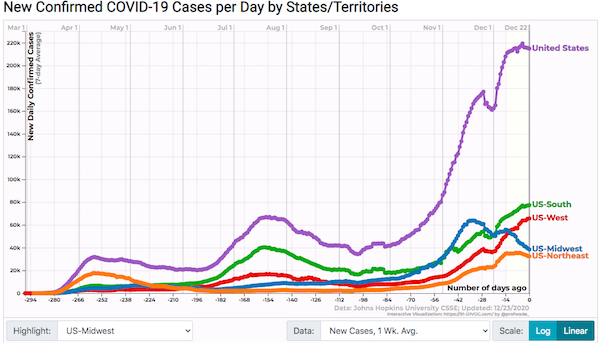 Now flirting with flattening. Looks like the Midwest did it, from the regional data, with now a little help from the Northeast. Presumably we'll see a travel- and holiday-driven drop immediately after Christmas. I feel I'm engaging in a macabre form of tape-watching, because I don't think the peak is coming in the next days, or even weeks. Is the virus gathering itself for another leap?
California's neighbors and the West Coast: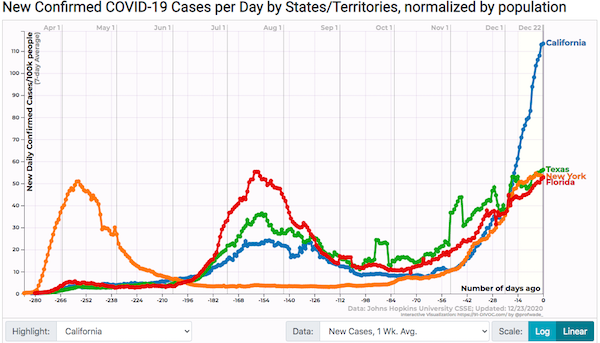 California, Arizona, and Nevada all track together until seven to ten days ago. Cascadia follows its own path.
Test positivity by region: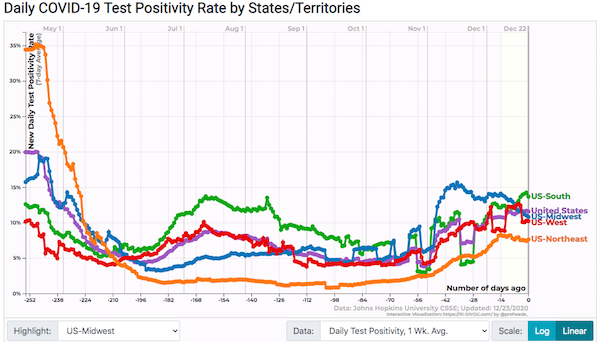 A wild swing in the West. Again.
Nowhere near 3%, anywhere.
Hospitalization by region: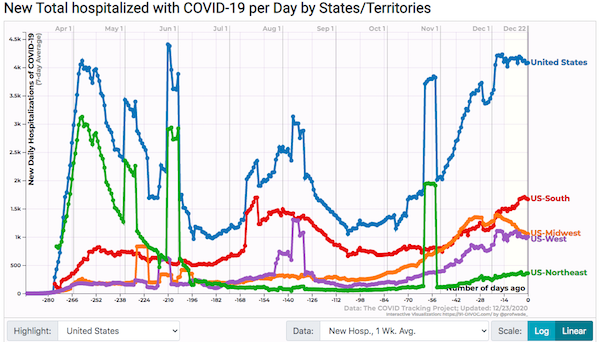 Distinct flattening, thanks to the Midwest and the West. Hospitalization is also discretionary; they may also be reducing their admissions rate — relative to cases we cannot see in this data! — to preserve future capacity; or because hospitals have figured out how to send people home.
Case fatality rate by region: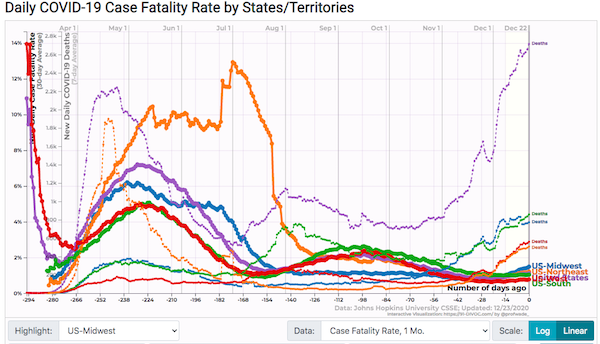 Resuming the upward climb. I don't much care for that gradual increase in the fatality rate and wonder what's behind it.
* * *
Readers asked for a visualization on vaccination. 91-DIVOC does not (yet?) include that data, so sadly I cannot integrate vaccination rates into any of the charts above. This from Bloomberg is the best I can do for now: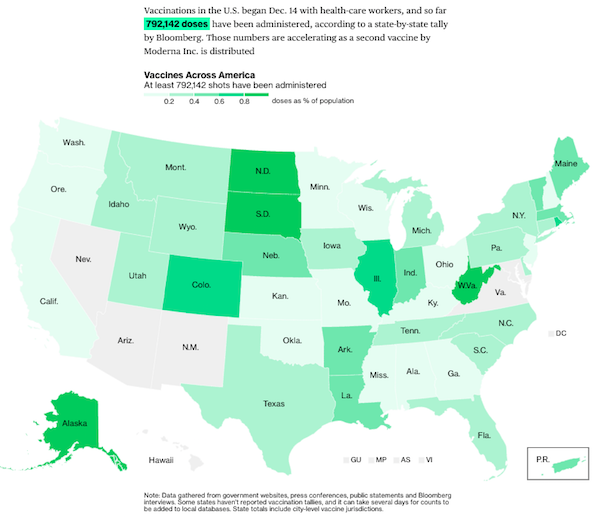 As you can see, we are not very far along.
Politics
"But what is government itself, but the greatest of all reflections on human nature?" –James Madison, Federalist 51
"They had one weapon left and both knew it: treachery." –Frank Herbert, Dune
"They had learned nothing, and forgotten nothing." –Charles Maurice de Talleyrand-Périgord
Democrats en Deshabille
Where we were then (1):

Oh look Joe Biden is why the covid relief package is so small. Biden's "intervention… gave Democrats confidence to pull back on their demands." (ht @davidsirota)https://t.co/r5mgwteBe4 pic.twitter.com/owI37M9FeR

— Matt Stoller (@matthewstoller) December 22, 2020

Where we were then (2):

NBC – 12/22/2020 – President-elect Biden gives credit to #BernieSanders for getting direct stimulus in the #COVID19 bill pic.twitter.com/ej9szMwbKj

— CaseStudyQB – ninaturner.com/hello (@CaseStudyQB) December 22, 2020

Where we are now (1):

Trump: "Here's $2,000. Enjoy."
Biden: "Here's $600 and a mandatory class on diversity training"

— Dr. Fishbones, PhD in Economics (@Fishbones2020) December 23, 2020

Where we are now (2):

Pelosi praises President Trumps call for $2000 checks. https://t.co/X0rdMiWeyb

— Gregory Mannarino (@GregMannarino) December 23, 2020

Where we are now (3):

Americans need $2,000 checks.

Senator McConnell: Americans need help NOW.

— Chuck Schumer (@SenSchumer) December 23, 2020

Where we are now (4):

Me and @AOC have the amendment ready. Send the bill back, and we will put in the $2,000 we've been fighting for that your party has been blocking. pic.twitter.com/GGXtJt77D9

— Rashida Tlaib (@RashidaTlaib) December 23, 2020

BWA-HA-HA-HA-HA-HA!!!!!!!

"Force The Vote On Direct Aid" [David Sirota, Daily Poster]. "Luckily for Biden, Nancy Pelosi and Chuck Schumer — and for millions of people who need help — Trump is giving them one last chance to do the right thing and back a bolder version of the $1,200 direct payment proposal that Sens. Bernie Sanders, I-Vt., and Josh Hawley, R-Mo., have been pushing from the beginning of this most recent round of negotiations. … The question now: Will Pelosi, Schumer and Biden do everything in their power to call Trump's bluff and force a vote to increase the $600 checks to $2,000?" • Dore had the right tactic. And the wrong objective (at least in policy terms).
RussiaGate
Totally not a cult:

It;s been a long time huh https://t.co/OywlGYwUpW

— John Leavitt 🌹 (@LeavittAlone) December 23, 2020

Remember when liberal Democrats were naming their dogs after Mueller?
Stats Watch
At reader request, I added some business stats back in. Please give Econintersect click-throughs; they're a good, old-school blog that covers more than stats. If anybody knows of other aggregators, please contact me at the email address below.
Housing: "November 2020 Headline New Home Sales Slowed Again But Sales Remain Stronger Than Any Year Since 2006" [Econintersect]. "The headlines say new home sales slowed month-over-month. Still, overall sales-to-date in 2020 is now better than any other year since 2006 – and this index does not seem to have been affected by the coronavirus." • Odd.
Personal Income: "November 2020 Real Income and Expenditures Declined" [Econintersect]. "The note from the BEA says it all: 'The November estimate for personal income and outlays was impacted by the response to the spread of COVID-19. Federal economic recovery payments slowed as pandemic-related assistance programs continued to wind down. The full economic effects of the COVID-19 pandemic cannot be quantified in the personal income and outlays estimate because the impacts are generally embedded in source data and cannot be separately identified. The decrease in personal income in November primarily reflected decreases in proprietors' income (both nonfarm and farm) and government social benefits that were partly offset by an increase in compensation.'"
* * *
Tech: "Google Blames Gmail, YouTube Outage on Error in User ID System" [Bloomberg]. "Google diagnosed a widespread outage that knocked out major services earlier this week, such as Gmail and YouTube, as . Alphabet Inc.'s Google has several tools that enable it to verify and track logged-in users. In October, the company began moving those tools to a new file storage system, and in the process misreported portions of the data, according to a Friday post. That caused several of its services to go down for 47 minutes Monday morning, a rare technical misstep." • Hmm. I'm sure everything would clean right up if we all used biometrics.
Tech:
AMP is so terrible for publishers. Accessing this old NYT piece in Safari (via a Google search) puts an interstitial nudging me to "Subscribe with Google"

So I tweak URL for non-AMP state & iOS lets me jump to the piece in NYT app where I'm actually logged in to my subscription. pic.twitter.com/ywlhAoN7GI

— Luther Lowe (@lutherlowe) December 23, 2020
(AMP "has [been] largely seen it as (at best) a Google project and (at worst) an attempt to co-opt the entire web with a Google-controlled format." Evil, in other words. No doubt at some point Google will just stop supporting it, as Google does with failed projects, breaking pages of a lot of publishers foolish enough to trust them.)
The Bezzle: "Elon Musk says he once considered selling Tesla to Apple, Tim Cook didn't want to take a meeting" [CNBC]. "Musk wrote in a tweet on December 22: 'During the darkest days of the Model 3 program, I reached out to Tim Cook to discuss the possibility of Apple acquiring Tesla (for 1/10 of our current value). He refused to take the meeting.'"
Mr. Market: "Tesla mania vs. economic reality" [Axios]. Reality check: The overall equity market's meteoric rise in the face of a U.S. economy that will end 2020 3% smaller than it started the year, is just the latest example of the economic reality decoupling from stocks. The equity market backdrop is a simple case of buyers needing to 'invest in the market you have, and not the one that you want,' says Quincy Krosby, chief market strategist for Prudential Financial. 'It is a market that has been engineered by the liquidity of central banks. … It is surprising how far we've come, and that includes Tesla,' Krosby says."
Concentration: "U.S. Sues Walmart, Alleging Role in Fueling Opioid Crisis" [Wall Street Journal]. "The Justice Department's lawsuit claims Walmart sought to boost profits by understaffing its pharmacies and pressuring employees to fill prescriptions quickly. That made it difficult for pharmacists to reject invalid prescriptions, enabling widespread drug abuse nationwide, the suit alleges. Walmart responded in a public filing Tuesday, saying the lawsuit 'invents a legal theory that unlawfully forces pharmacists to come between patients and their doctors, and is riddled with factual inaccuracies and cherry-picked documents taken out of context.' 'Blaming pharmacists for not second-guessing the very doctors [the Drug Enforcement Administration] approved to prescribe opioids is a transparent attempt to shift blame from DEA's well-documented failures in keeping bad doctors from prescribing opioids in the first place,' Walmart said, adding that it 'always empowered our pharmacists to refuse to fill problematic opioids prescriptions, and they refused to fill hundreds of thousands of such prescriptions.'" • I don't know what's come over Trump's Justice Department. Given the givens, there has to be a catch, but what?
* * *
Today's Fear & Greed Index: 58 Greed (previous close: 59 Greed) [CNN]. One week ago: 69 (Greed). (0 is Extreme Fear; 100 is Extreme Greed). Last updated Dec 23 at 12:06pm.
The Biosphere
"Could Seaweed Help Save Us From Climate Catastrophe?" [HuffPo]. "'Cows are essential to reversing climate change,' Straus said. The global livestock sector accounts for 14.5% of man-made greenhouse gases, more than all of the world's automobiles, the United Nations has reported. Of that, nearly 40% is methane gas produced by digestion in cattle. The rumen, the first of four parts of a cow's stomach, contains bacteria that ferment the high-fiber grass, hay and grains they eat. During this process, a combination of gases forms methane, which the animals emit mostly by burping and exhaling, but also in their flatulence and manure. Perhaps the most promising solution for reducing bovines' release of this powerful planet-warming gas? Feeding cows seaweed. The red seaweed species formally known as Asparagopsis taxiformis is a 'complete game changer,' according to Ermias Kebreab, associate dean for global engagement in the College of Agricultural and Environmental Sciences at the University of California, Davis. In July, preliminary results from the latest study that Kebreab co-authored on the algae found that it reduces intestinal methane production in beef steers by more than 80% when added to their feed. Other research found reductions of up to 98%, without adverse effects on the cows' weight or the quality of beef produced. 'A couple of years ago, I would never have believed it,' said Kebreab, who serves as a scientific adviser for Blue Ocean Barns, which is commercializing a red algae feed supplement. 'I've never seen anything like this.'"
Health Care
UPDATE "The forgotten Covid-19 'survivors'" [BMC Series Blog]. "long Covid can affect anyone, even working-age individuals who were previously fit and well. Symptoms are diverse and confusing. Breathlessness, overwhelming fatigue, and muscle pains are common. Many people suffer problems with attention or memory, chest pains, persistent cough, blood clots, gastric reflux, tingling sensations, rashes, and other 'surprising' problems. Some or all of these symptoms may be due to underlying organ damage, therefore patients should be properly assessed and receive appropriate tests where needed. However, many individuals have normal basic tests e.g. blood tests and X-rays and the underlying cause for their problems remains unknown. The causes and best treatments for many are still unclear." • It's the tentacles! Worth reading in full, especially for having discussion with the "It's just the flu" crowd.
UPDATE "Microreact – Open data visualization and sharing for genomic epidemiology" [Microreact]. • For the U.K. I can't make head to tail of the tree, but at the bottom, the bar chart shows clearly that B.1.177 has come to dominate.
UPDATE Here is a thread on B.1.177, what we know and what we don't:
This variant is referred to as the B.1.1.7 lineage in https://t.co/ImaHU71853 nomenclature and clade 20B/501Y.V1 in @nextstrain nomenclature and can be seen here within circulating viral diversity, where the variant lineage is highlighted in orange (https://t.co/L9PkxZYtJn). 2/17 pic.twitter.com/hwsgmLrs4B

— Trevor Bedford (@trvrb) December 22, 2020
As a data person who left the field just as visualization as a field was getting underway, I've gotta say I'm stunned by what scientists are doing by treating DNA as, well, the data it is, and developing a nomenclature to label its features, and developing data-driven tools like that displaying B.1.177's lineage. (Does anybody else get the creeps with these seemingly neutral names? "B.1.177" starts out sounding like a random dot-delimited alphanumeric string, but now it is accreting connotations, like something out of one of Alien movies.)
UPDATE Here is a thread on the B.1.177 mutations, and their potential effects:
1) The biggest worry for vaccines about the new UK variant is the N501Y mutation in the receptor binding domain. This is also a mutation that appears when SARS-CoV-2 is mouse adapted. A paper looking at that found….

— Florian Krammer (@florian_krammer) December 22, 2020
"VIHELM: A Mobile Air Purifying Helmet" [Vihelm]. More, and the backstory:
The helmet called "Vihelm" has a glove box access so a wearer can fit their hand inside.https://t.co/ydSfEkEu6K

— Hindustan Times (@htTweets) September 10, 2020
I think this is a neat first try, but I have very strong views on the way forward for this line of business, and I feel strongly that we need to move away from the disposable concept. But first, readers, what do you think?
Let's remember there is plenty of blame to go around:
Anyone remember the early days? pic.twitter.com/hLHO4SOz4l

— Sticky Shoe (@shoe_sticky) December 22, 2020
Guillotine Watch
"Ohio couple saw neighboring golf course being converted to a public park — so they bought it" [Golf]. "An Ohio couple with business ties to a small Columbus suburb has purchased the Westchester Golf Course for $1.7 million. But new owner Bryan Wallake, who, with his wife, Tamie, closed on the deal on Nov. 30, said community support in Canal Winchester — just east of the Columbus airport — will be vital as they move forward with their plans for the property. 'I'm not like the previous owner who had extra money to throw at it if it doesn't make money,' he said. 'I need it to be successful.' Columbus and Franklin County Metro Parks were in contract to buy the course for $1.8 million earlier this year and planned to turn it into a park. That didn't sit well with neighbors—including the Wallakes—in the nearby Villages of Westchester, a development of about 900 homes whose owners had paid premium prices to live near the course. [Tamie Wallake] learned of Metro Parks' plans while browsing through comments on the Canal Winchester Connection Facebook page. 'I said, 'Oh, my gosh! They're turning the golf course into a public park!' ' she said." • Quelle horreur..
Class Warfare
"At Chipotle, They Ignore the Rats and Punish the Workers" [Jacobin]. "Only when a rat bit one of the managers on November 23 did the store stop having workers come in to clean." • Sounds like something out of Dickens. Or Zola.
"Who Is the Parasite?—COVID-19 and Structural Narratives of Health Inequity" [JAMA]. "A critical and symbolic scene in Parasite brings the point home when a rainstorm floods the Kims out of their apartment and into a crowded homeless shelter, while the Park mansion remains impervious to the storm and its aftermath ("Today the sky's so blue, and no pollution!" exclaims Mr Park's wife after the deluge). The rainstorm is not unlike the way COVID-19 has differentially disrupted living spaces, with some able to "escape" to the comfort of their homes—or their remote second vacation houses—while others can barely afford to pay rent. The Parks are well-insulated, by their wealth and by their unawareness of how the working class struggles—even while the struggling occurs under their feet…. Much like the rainstorm in Parasite, COVID-19 has flooded hospitals with patients from more vulnerable sociodemographic backgrounds, leaving health care professionals to treat the symptoms rather than causes of disparity. Where clinical work spaces are inundated and resources stretched thin, it can feel impossible to disengage from the immediate aspects of patient care and see individual suffering as a larger consequence of deeply embedded social structures—structures that apply not only to society at large but to the heterotopic spaces of health care systems, with their own capitalist influences, discriminatory practices, and privileging powers." • Worth reading in full.
"50 years of tax cuts for the rich failed to trickle down, economics study says" [CBS]. " But a new study from the London School of Economics says 50 years of such tax cuts have only helped one group — the rich. The new paper, by David Hope of the London School of Economics and Julian Limberg of King's College London, examines 18 developed countries — from Australia to the United States — over a 50-year period from 1965 to 2015. The study compared countries that passed tax cuts in a specific year, such as the U.S. in 1982 when President Ronald Reagan slashed taxes on the wealthy, with those that didn't, and then examined their economic outcomes. Per capita gross domestic product and unemployment rates were nearly identical after five years in countries that slashed taxes on the rich and in those that didn't, the study found." • Fifty years is a good run, though. Maybe we just need to come up with something new? Like the Great Reset?
UPDATE "This billionaire warns that America's massive wealth gap could lead to conflict" [CNN]. "Ray Dalio, the billionaire founder of the world's largest hedge fund, is deeply worried about a divided and profoundly unequal America as President-elect Joe Biden prepares to take power. Dalio is warning that leaders must urgently address the toxic brew of worsening inequality, political polarization and mounting debt. 'There will have to be a resolution of the system working for the majority of the people in which there's productivity,' Dalio told CNN's Poppy Harlow in an interview airing Tuesday. 'And that could be obtained either in a smart, bipartisan way — or it will come by greater conflict.'" • "In which there's productivity" is doing more work than a relative clause should have to do. (And "the majority of the people" is a "who," not a "which." Although if you buy a lot of labor power it may be hard to remember that.)
When the world is an HR department:
Oh god. Please, please don't let this become the norm…. https://t.co/AJv5N70Ev1

— Sarah Haider 🚀 (@SarahTheHaider) December 18, 2020
UPDATE Who knew that giving people money would pull them out of poverty?
Near real time numbers for US poverty show rate rising 2.4 percentage points from 9.3 percent in June to 11.7 percent in November, adding 7.8 million to the ranks of the poor. @JeehoonHan1 Bruce D. Meyer James X. Sullivan @LEOatNDhttps://t.co/W4A3ISsC4A pic.twitter.com/h1w5OdKJfN

— Adam Tooze (@adam_tooze) December 21, 2020
And pulling the money away from them would make them poor again. We are surrounded by such a great cloud of natural experiments!
UPDATE "Remembering Leo Panitch" [Tribune]. Pulling out this one paragraph: "In [The Making of Global Capitalism], Panitch and Gindin were trying to convey a broader point which they had inherited from Ralph Miliband: although the austerity years seemed to be ones where the dividing line was between the state and the market, the public and the private, these two were in fact intimately related – the class whose wealth shaped the market also ran the state, and they used it to structure the economy in their interests. That was the subject of Leo's first essay for the relaunched Tribune, an appreciation of Miliband's The State in Capitalist Society on its fiftieth anniversary." And: "'Defeats should not be explained away,' [Panitch] told me on the phone one day in early 2020, 'but they should be contextualised.' In his final, and lasting, contribution to Tribune we discussed not only Corbynism but all of those movements which had produced so much hope on the Western Left since 2010 – from Occupy Wall Street to Syriza and Podemos and back again with Bernie Sanders." • Here is that contribution.
News of the Wired
"Trump's Classical Architecture Executive Order" [The American Conservative]. "My final thought is that by wading into something esoteric like this, Trump will end up accelerating the concerning trend of almost every issue becoming part of the culture war." As Trump does in everything. More: "There are some critics of the executive order who have likely come down against it merely because Trump signed it, and trad Twitter accounts seem to like it. Likewise, people who have no love for or knowledge of classical architectural styles will decide that it's a useful cudgel against 'the left.' This kind of thing doesn't bode well. We should all want a beautiful public realm, and we should all be free to have different conceptions of what that means. Before we can demand any particular building style, perhaps we must again understand that there is such a thing as the public realm. Beautiful buildings and more broadly urban design enliven our civic and collective lives. But whether we can reverse-engineer civic comity through executive order is a different question." • See Guillotine Watch, above. It's also weird that TAC is the only publication in the political sphere that writes consistently about the built environment.
Dad.
Now we can finally get back to talking about this great conjunction pic.twitter.com/SOr7HgVfn8

— Adam Koford (@apelad) December 22, 2020
* * *
Readers, feel free to contact me at lambert [UNDERSCORE] strether [DOT] corrente [AT] yahoo [DOT] com, with (a) links, and even better (b) sources I should curate regularly, (c) how to send me a check if you are allergic to PayPal, and (d) to find out how to send me images of plants. Vegetables are fine! Fungi and coral are deemed to be honorary plants! If you want your handle to appear as a credit, please place it at the start of your mail in parentheses: (thus). Otherwise, I will anonymize by using your initials. See the previous Water Cooler (with plant) here. Today's plant (JU):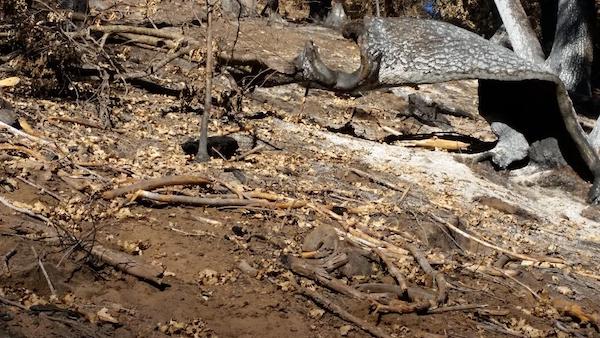 JU writes: "Salvador Dali tree on the Ladybug Trail, Sequoia National Park."
Readers, I could use more photos from readers who have not contributed before! Thank you!
* * *
Readers: Water Cooler is a standalone entity not covered by the recently concluded and — thank you! — successful annual NC fundraiser. So if you see a link you especially like, or an item you wouldn't see anywhere else, please do not hesitate to express your appreciation in tangible form. Remember, a tip jar is for tipping! Regular positive feedback both makes me feel good and lets me know I'm on the right track with coverage. When I get no donations for five or ten days I get worried. More tangibly, a constant trickle of donations helps me with expenses, and I factor in that trickle when setting fundraising goals:
Here is the screen that will appear, which I have helpfully annotated.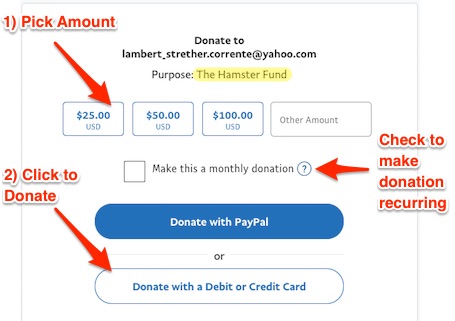 If you hate PayPal, you can email me at lambert [UNDERSCORE] strether [DOT] corrente [AT] yahoo [DOT] com, and I will give you directions on how to send a check. Thank you!

Original Source