By Lambert Strether of Corrente.
Patient readers, I'm going to be keeping Water Coolers shorter than usual through the New Year. In order to make the year turn toward the light more rapidly, I will make the proportion of frivolous material greater than usual. –lambert.
Bird Song of the Day
I thought this was a warbler from the American West (poor birds) but I was wrong. I will try again tomorrow.
#COVID19
Not exactly holiday material, but it has to be done. Drops across the board, which I assume is entirely a holiday-driven reporting issue.
At reader request, I've added this daily chart from 91-DIVOC. The data is the Johns Hopkins CSSE data. Here is the site.
Case count by United States region: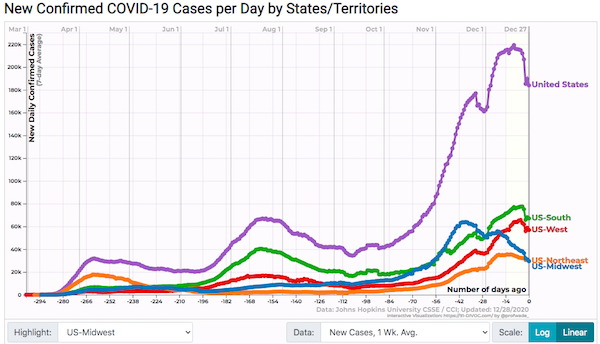 An enormous holiday drop, far larger than Thanksgiving. I feel I'm engaging in a macabre form of tape-watching, because I don't think the peak is coming in the next days, or even weeks. Is the virus gathering itself for another leap?
Big states (New York, Florida, Texas, California) instead of the Midwest: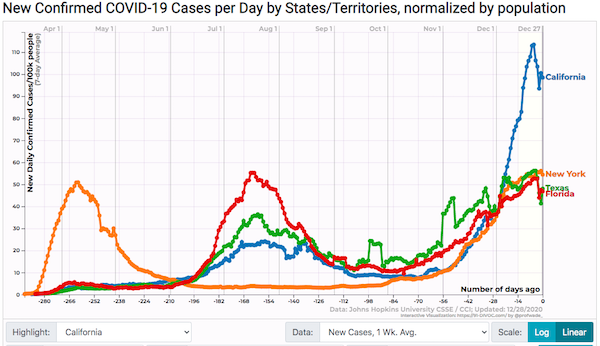 Enormous drops, except in New York:
Test positivity by region: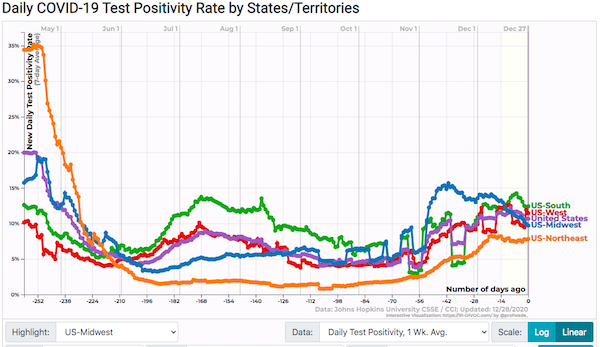 A wild swing in the West. Again.
Nowhere near 3%, anywhere.
Hospitalization by region: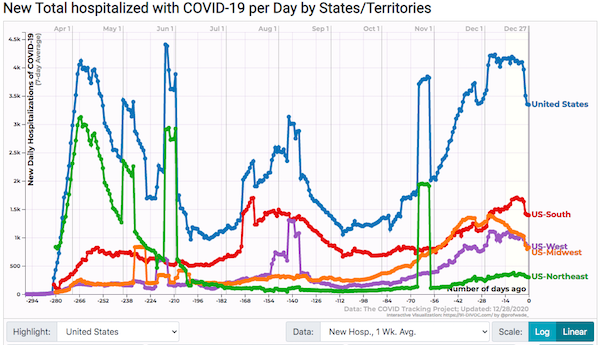 Enormous drops again. Hospitalization is also discretionary; they may also be reducing their admissions rate — relative to cases we cannot see in this data! — to preserve future capacity; or because hospitals have figured out how to send people home.
Case fatality rate by region: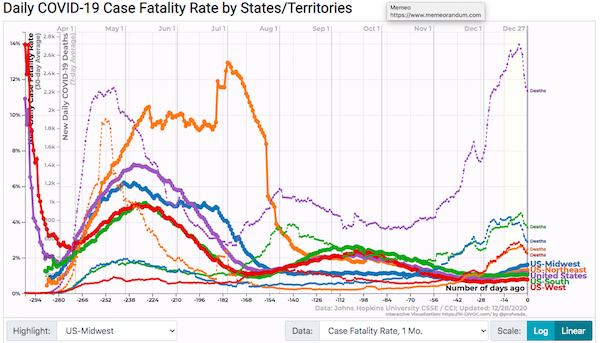 Enormous drops in deaths, I assume due to reporting; a slow and steady rise in the fatality rate, which is troubling.
* * *
"China's coronavirus success boosts confidence that its system is the best answer to the country's challenges" [South China Morning Post]. "Some may complain about the huge human and social costs involved in China's rigid testing and quarantines, and others may continue to question whether China's handling of the coronavirus in the early days missed an opportunity to contain its global spread, but it does not change the fact that China's results are among the best." • There's something to be said for that: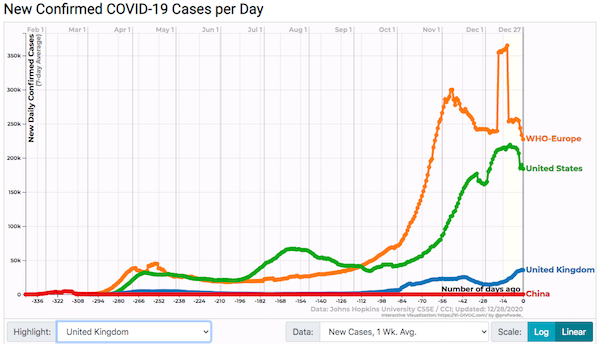 Incidentally, this is also the chart to show anybofy who thinks Trump is uniquely bad. At least as far as cases go, he isn't.
Politics
"But what is government itself, but the greatest of all reflections on human nature?" –James Madison, Federalist 51
"They had one weapon left and both knew it: treachery." –Frank Herbert, Dune
"They had learned nothing, and forgotten nothing." –Charles Maurice de Talleyrand-Périgord
Democrats en Deshabille
I have thoughts on politics, but I said this Water Cooler would be short. Tomorrow!
Stats Watch
Today's Fear Greed Index: 54 Neutral (previous close: 53 Neutral) [CNN]. One week ago: 63 (Greed). (0 is Extreme Fear; 100 is Extreme Greed). Last updated Dec 28 at 11:57am
Rapture Index: Closes down one on wild weather. "The closure of the hurricane season has downgraded this category" [Rapture Ready]. Record High, October 10, 2016: 189. Current: 183. (Remember that bringing on the rapture is a good thing, so high is better.) I'm really stunned that Trump's impending defenestration hasn't affected this index at all. Perhaps I'm looking at the wrong sort of Christian.
The Biosphere
"A Century Of Misunderstanding? William James's Emotion Theory" (PDF) [Jake Spinella, William James Studies]. "Emotions, for the James of "What is an Emotion?" are bodily feelings that prepare us to act in certain ways in order to solve certain problems due to both adaptive pressures by natural selection and our individual faculties for associative learning and habit formation." • Hmm.
Feral Hog Watch
"Feral pigs flummox Puerto Rico, infiltrate communities" [ABC]. "Thousands of Vietnamese pot-bellied pigs are snorting and squealing their way across Puerto Rico in what many fear has become an unstoppable quest to eat and reproduce on an island struggling to stop them. They forage through gardens and farms, knock over trash cans and leave pungent trails of urine and excrement, stopping occasionally to bathe if they find potholes full of rainwater. The former pets — or descendants of former pets — have reproduced at such an alarming rate that the U.S. territory declared a health emergency last year so federal officials could start eradicating them. It's the latest non-native species to invade communities in Puerto Rico like iguanas and caimans did before them, although these are proving particularly hard to control and can't be killed for food because they carry so many diseases."
Police State Watch
No:
mdash; wint (@dril) December 24, 2020
The 420
"Is Marijuana Safe? Experts Weigh in On Teen Weed Use" [Teen Vogue]. 'Usually, I smoke to relax. I smoke with friends more than I smoke by myself,' Yasemin tells Teen Vogue. 'Smoking weed usually allows me to engage more vulnerably and comfortably with others, and smoking with friends is a great way to unwind. As long as I'm doing the things I need to do and I'm getting some sobriety into the week, I think my consumption of weed is chill. , and often do by choice when I feel like it's something I don't currently need or want.'" • Well, "I can quit whenever I want rings a lot of alarm bells for me. Still, marijuana and alchohol are different drugs. (My only concern is that marijuana today is much stronger than the marijuana, er, in my day. I wonder if the quantitative change has led to any qualitative changes.)
Games
"Gaming Below the Poverty Line" [Mel]. "It's no accident that a greater percentage of lower income people consider themselves 'gamers' (the same Pew survey found that across income groups, although those making less than $30,000 a year were the least likely to report they played games, with only 46 percent saying so, low-income respondents were still the most likely to actually describe themselves as 'gamers'). Chris Arnade, a photographer and author of the recent book Dignity: Seeking Respect in Back Row America, explains that gaming is 'one of the few virtual communities open to a lot of lower-income people.' Arnade, who's spent 'a lot of time basically sleeping in cheap motels when I was on the road or in my van,' tells me that while looking for a good WiFi connection, he often came across people from families with Section 8 housing vouchers in search of prime gaming real estate 'with their old, beat-up PC.' Through his lens, Arnade has been clued into a more intimate, nuanced view of the low-income gaming community than most. As such, much of the discourse around gaming pisses him off. " • Well worth a read. Who is going to be the first politician to communicate over this channel? (Incidentally, Gibson gets the class and cultural markers of this milieu right in The Peripheral; kudos to him. I mean, I think he does. Readers?)
Xmas Postgame Analysis
I don't know what, if any, presents you got, but:
IF YOU GOT A NEW MONITOR:
High-resolution, high-refresh monitors require more bandwidth than your old one. This requires better, newer cables for reliable delivery in many situations. Even if they look the same.

USE THE CABLE THAT CAME IN THE BOX.

mdash; SwiftOnSecurity (@SwiftOnSecurity) December 25, 2020
This is a great thread. I don't even own a Windows machine and never plan to, but I follow Swift on Security for the exceptionally clear technical writing.
Following through on some of the lovely comments on Christmas music from readers here, where "Angels We Have Heard on High" was a favorite:
My experience transcended anything I can describe. It was triggered by a glorious version of this music:https://t.co/Ko1F9YlXM2

mdash; Peter Daou (@peterdaou) December 25, 2020
"'Santa Baby' composer Phil Springer, 91, still can't figure out why his sexy Christmas song endures" [Los Angeles Times]. "[Springer] wasn't always so happy with the song. When Springer and his frequent collaborator Joan Javits finished writing 'Santa Baby,' he delivered the music to the publishers with an apology: 'I said, 'Gentlemen, this is not really the kind of music that I like to write. I hope it's OK. It's the best I could do." Certainly, its coyly crass message and the way it so blithely revels in the season's greediness set it apart from the usual Christmas standards. But the publishers loved it. So did Kitt, whose recording of the song was a huge hit." •
Holy smokes!
It had to happen:
Our Savior was born a mixed-race Savior. In his flesh, Christ embodied the racial diversity that would mark his kingdom. His kaleidoscopic heritage pointed to the day when every knee in heaven and earth would bow at his name. —@caseybhough https://t.co/L7FR0W9Qxw

mdash; ERLC (@ERLC) December 25, 2020
Maybe I should have saved this for a New Year's wrap-up:
Because you want to see a man saving a deer that is stuck on a frozen lake back to safety. pic.twitter.com/ihZSUJIwql

mdash; Danny Deraney (@DannyDeraney) December 24, 2020
"NORAD's Santa Tracker Began With A Typo And A Good Sport" [NPR]. • And nuclear weapons….
The Law's the True Embodiment
"Seeking the Source: Criminal Defendants' Constitutional Right to Source Code" (PDF) [Ohio State Technology Law Center]. "Software has also found its way into trials. Software's errors have meant that defendants are often denied their fundamental rights. In this paper, we focus on "evidentiary software"— computer software used for producing evidence—that is routinely introduced in modern courtrooms. Whether from breathalyzers, computer forensic analysis, data taps, or even FitBits,5 computer code increasingly provides crucial trial evidence. Yet despite the central role software plays in convictions, computer code is often unavailable to examination by the defense. This may be for proprietary reasons—the vendor wishes to protect its confidential software—or it may result from a decision by the government to withhold the code for security reasons. Because computer software is far from infallible—software programs can create incorrect information, erase details, vary data depending on when and how they are accessed—or fail in a myriad of other ways—the only way that the accused can properly and fully defend himself is to have an ability to access the software that produced the evidence. Yet often the defendants are denied such critical access." • Code is law!
Book Nook
There was a long thread the other day where a surprising number of readers said they "can't read books anymore" during the pandemic. I had been toying with the idea of a new feature, which would be me plowing through Thomas Piketty's enormous Capital and Ideology, with a short quote and brief discussion every day. I feel the need for more rigor in my thinking and Piketty's Capital, while dry in tone, sparkles with ideas. I expect continued volatility in 2021, and I need to be a more conceptually grounded poster than I am. Naturally, I expect to be able to apply the concepts to the present day. Taibbi, being a nicer guy than I am, polled his readers, but I'm pretty set on this idea. You can try to argue me out of it though! But right now, all I have is an expensive doorstop, and that's not good.
News of the Wired
Via chuck roast:
This is lovely. (It's also true that Maine has a mean streak, too, but this anecdote shows Maine at its best. And, amazingly, the Trustafarians were right all along….)
Too bad our public spaces don't look like this any more. Thread:
Thread of the most beautiful Libraries of the World

1. The Royal Portuguese Cabinet of Reading , Rio De Janeiro.
Credit: Alamy pic.twitter.com/Y1d3rENLkc

mdash; Joaquim Campa (@JoaquimCampa) August 15, 2020
* * *
Readers, feel free to contact me at lambert [UNDERSCORE] strether [DOT] corrente [AT] yahoo [DOT] com, with (a) links, and even better (b) sources I should curate regularly, (c) how to send me a check if you are allergic to PayPal, and (d) to find out how to send me images of plants. Vegetables are fine! Fungi and coral are deemed to be honorary plants! If you want your handle to appear as a credit, please place it at the start of your mail in parentheses: (thus). Otherwise, I will anonymize by using your initials. See the previous Water Cooler (with plant) here. Today's plant (TH):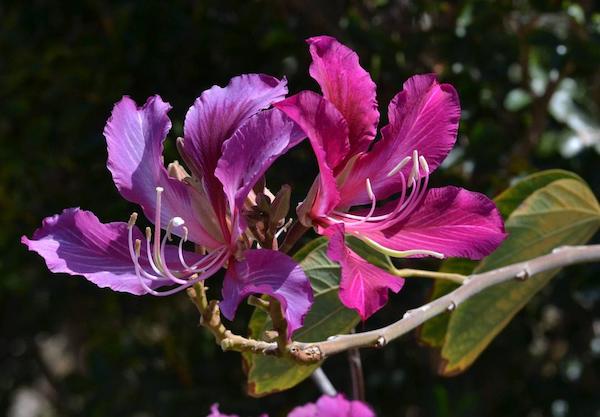 TH writes: "I like contrast, so I try not to miss an opportunity when the background is in shadow and a beautiful flower is enjoying the sun. This is a Hong Kong Orchid Tree at South Coast Botanical Gardens in Palos Verdes, CA." Gorgeous!
* * *
Readers: Water Cooler is a standalone entity not covered by the recently concluded and — thank you! — successful annual NC fundraiser. So if you see a link you especially like, or an item you wouldn't see anywhere else, please do not hesitate to express your appreciation in tangible form. Remember, a tip jar is for tipping! Regular positive feedback both makes me feel good and lets me know I'm on the right track with coverage. When I get no donations for five or ten days I get worried. More tangibly, a constant trickle of donations helps me with expenses, and I factor in that trickle when setting fundraising goals:
Here is the screen that will appear, which I have helpfully annotated.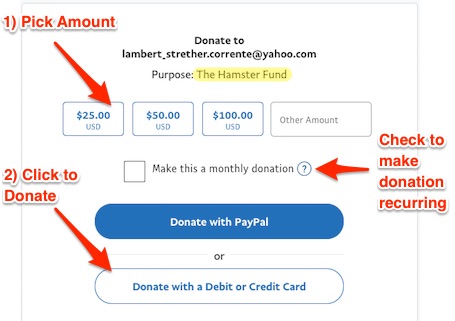 If you hate PayPal, you can email me at lambert [UNDERSCORE] strether [DOT] corrente [AT] yahoo [DOT] com, and I will give you directions on how to send a check. Thank you!

Original Source