This African Gray Parrot Is the First Animal To Ever Ask an Existential Question My Modern Met (David L)
NEW YEAR DIET? Greedy pet 'ruins Christmas' after eating Prestwick family's ENTIRE roast bird – before collapsing on the floor unable to move The Sun (furzy)
A well-preserved woolly rhino with its last meal still intact found in the extreme north of Yakutia Siberian Times (guurst)
'Polar bears can neither swim, nor walk on this sludgy substance. They just about make it to shore, exhausted; many die' – Chukotka-based photographer Maksim Deminov said about the video he did earlier in Dec when dozens of polar bears were on the move from the Wrangel Island pic.twitter.com/hNwcpl24J3

— The Siberian Times (@siberian_times) December 29, 2020
Croatia earthquake: Seven dead as rescuers search rubble for survivors BBC :-(. I visited Croatia twice, and on one of trip, went through Glina.
The World's Oceans in Distress Der Spiegel (resilc)
These Are 7 of The Strangest Experiments Humans Have Ever Done in Space ScienceAlert (Kevin W)
The International Space Station microfarm can now grow radishes InputMagazine
Boston Dynamics robots can now dance better than you can The Verge (David L)
Blame not the robot but the human behind it Financial Times (David L)
Well they can't very well go after the UK without going after the US. Wall Street Journal
Brain imaging study pinpoints neurotransmitter that may be responsible for yoga's mood-boosting effect PsyPost (David L)
Irish Book Reviews Dublin Review of Books. Anthony L was disappointed that no one was interested in a fine article on nihilism yesterday. Maybe the one-word title was too spare.
#COVID-19
The Cruise Ship Suicides Bloomberg 🙁
Australia just recorded zero cases of COVID-19 again after a big spike last month in Melbourne. What can the US and the rest of the world learn Quora (furzy)
Science/Medicine

MHRA/JCVI estimate that one dose of Oxford-AZ vaccine will give around 70% protection from 3 weeks after immunisation until second dose at 12 weeks

— Fergus Walsh (@BBCFergusWalsh) December 30, 2020

A survey conducted in the U.K. concluded in November that 1 in 5 people who tested positive for SARS-CoV-2 (the virus that causes Covid-19) suffered from symptoms lasting five weeks or longer; 1 in 10 said their problems lasted 12 weeks or longer.

Not a great study, basically a survey of online support group members self-reporting symptoms. But it's extensive and well compiled and visualized. Chronic Lyme's disease was also discounted for decades before eventual clinical confirmation.

UK/Europe

NHS could face 'horrendous choices' over who gets coronavirus care Guardian (Kevin W)

US

Finance/Economy

Push for $2,000 stimulus checks hits Senate buzzsaw following McConnell blocks vote on $2K checks, signals new package The Hill. This account appears to miss the point. Yes, it would be an uphill battle to get this passed; you need more defectors than just Josh Hawley. However,the Dems (or at least the ones not of the Pelosi cut of cloth) win even if they lose if they keep this issue in play and make the Rs look like greedheads. The question is whether McConnell overplays his hand, setting up a filibuster would keep the payment in the press, making Rs look bad. Rs voting down the $2000 or attaching too many corporate extras would be a big talking point in the Georgia Senate races. Yes, the R candidates there are saying the support the $2000, but so what if their ratfaced party succeeds in nuking it or giving out more in pork after poormouthing? The obvious retort is the Rs need to be voted down to assure McConnell is no longer Majority Leader.

Georgians Are Starving, Their Millionaire Senators Refuse To Force A Vote David Sirota and Andrew Perez

We've got the votes. Let's vote today https://t.co/woFBHPMSjz

— Josh Hawley (@HawleyMO) December 29, 2020
China?
Apple's longtime supplier accused of using forced labor in China The Hour (resilc)

China Eyes Shrinking Jack Ma's Business Empire Wall Street Journal

China's P2P purge leaves millions of victims out in the cold, with losses in the billions, as concerns of social unrest swirl South China Morning Post (furzy)
Brexit
All comes back to one thing – the leave/remain campaigns and ppl not being given clear info regarding trade-offs.

Leaving the EU was always going to mean more paperwork and formalities at the border. https://t.co/u66P4ZaQe5

— Dr Anna Jerzewska (@AnnaJerzewska) December 29, 2020

Banks Pile Into Government Debt, Setting Up 'Doom Loop' Sequel in Europe Wall Street Journal

UK parliament gears up to fast-track Brexit deal Politico. Subhead: "Britain never sought a 'rupture' with Europe, Boris Johnson to say as MPs prepare to back his Brexit deal."

Barnier once said the UK couldn't have "Norway's advantages with Canada's weak constraints". It looks like we've got Swiss-style headaches in return for Canada-like access. https://t.co/taVqmukjea

— Marcus Leroux (@marcusleroux) December 30, 2020

The Brexit deal calls for DNA profiles to use a 20-year-old email app The Verge (BC)
BREAKING: Blast, gunfire heard at Yemen's Aden airport as new unity government arrives. More soon on https://t.co/9o3ihGGVjD pic.twitter.com/lBsLTHKu2k

— Al Jazeera English (@AJEnglish) December 30, 2020
Imperial Collapse Watch
The International Criminal Court: Now Simply Indefensible Craig Murray. UserFriendly: "Well they can't very well go after the UK without going after the US."

The American System is One Big Grift American Conservative (Chuck L)
Big Brother is Watching You Watch
She didn't know her kidnapper. But he was using Google Maps — and that cracked the case. NBC (furzy) A reason to love your information overlords.
Trump Transition
Donald Trump's influence will evaporate once he leaves office. Here's why Guardian (ChiGal). Awful early call. He's thinking about having a new TV show…
Biden
Biden's Incoming National Security Adviser Faults Pentagon's 'Obstruction' NPR

Why Senators Must Reject Avril Haines for Intelligence Antiwar (resilc)
Complaint targets group challenging Georgia voters Atlanta Journal-Constitution
Black Injustice Tipping Point
How the Police Killed Breonna Taylor New York Times. Impressive reconstructive

Louisville Police To Fire 2 More Officers Involved In Death Of Breonna Taylor NPR

The Columbus, Ohio, officer who killed Andre Hill has been fired CNN (fresno dan)
Nashville explosion: Woman warned MNPD Warner was building bomb in 2019 Tennessean
Our Famously Free Press
Real Journalism: Vanessa Beeley Exchanges With Chloe Hadjimatheou on BBC White Helmets/Mayday Rescue Cover-up BSNEWS (Chuck L). Wowsers.
Nashville bombing froze wireless communications, exposed 'Achilles' heel' in regional network USA Today (dk). Ahem, Verizon and AT&T have been ripping out copper when they install fiber to escape common carrier regulations.
Thousands of Colorado residents without heat after attack on gas service ABC (Kevin W)
The SEC's "token" enforcement action against Ripple for XRP Francine McKenna
Class Warfare
Corporate Power and the Future of U.S. Capitalism Shimshon Bichler and Jonathan Nitzan, Capital as Power

Why Larry Summers MUST Believe $2,000 Checks Are A Bad Idea Ian Welsh
Antidote du jour. mgl:
This lamb's name is Bronwyn (or, Bronwyn-Muffin), orphaned at two weeks of age. As seen in an obscure location in New Zealand in November. The back-story is both hilarious and fascinating. Too long for this caption. She has a love/hate relationship with her saviours; well, they have such a relationship w/her. She just loves them.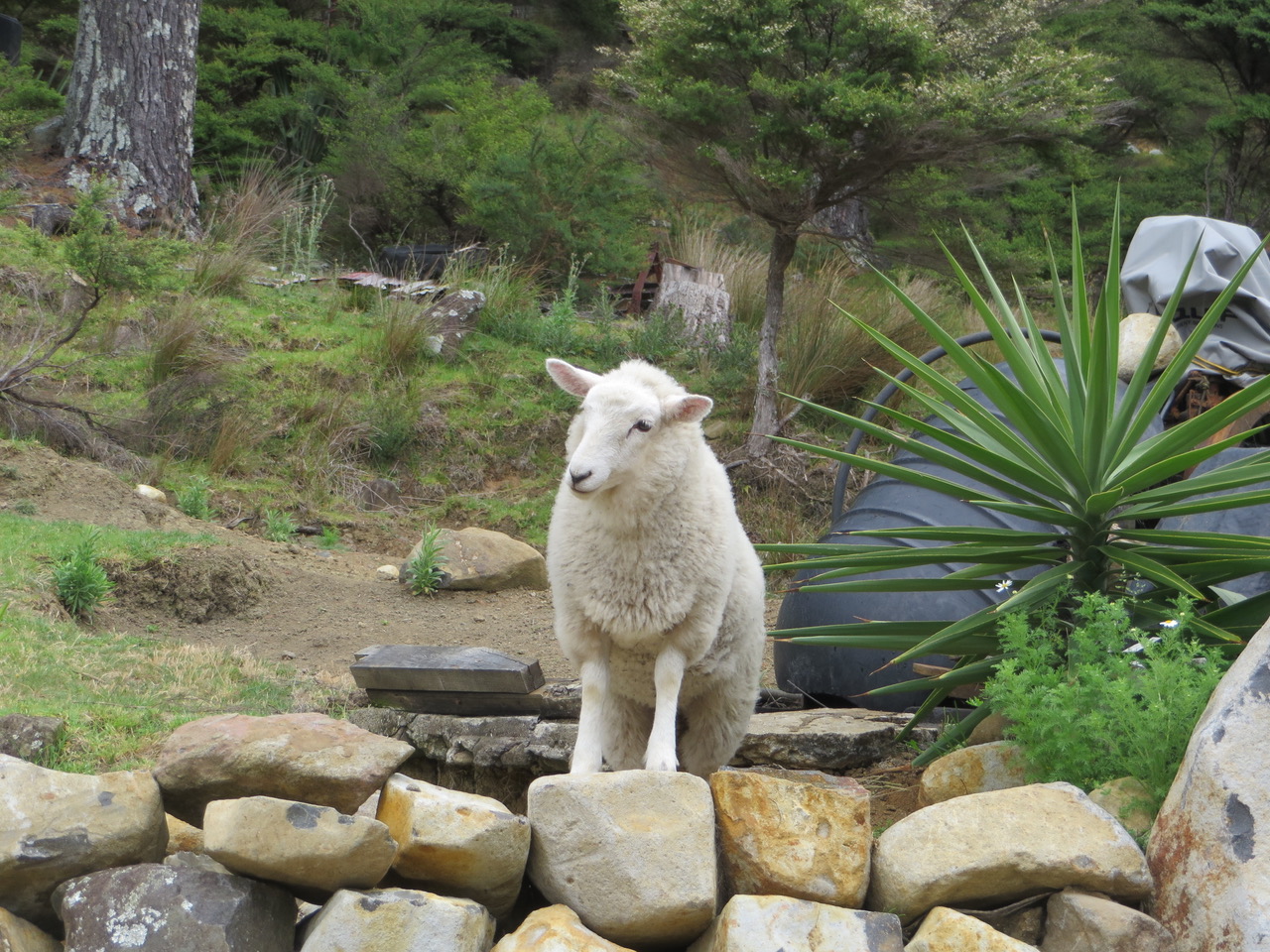 And a bonus. I have to confess to having a soft spot for cross species friendships:
See yesterday's Links and Antidote du Jour here

Original Source