By Lambert Strether of Corrente.
Patient readers, I'm being extremely lazy in the run-up to New Year's. See you next week! –lambert.
Bird Song of the Day
#COVID19
Not exactly holiday material, but it has to be done. Drops across the board, which I assume is entirely a holiday-driven reporting issue.
At reader request, I've added this daily chart from 91-DIVOC. The data is the Johns Hopkins CSSE data. Here is the site.
Case count by United States region: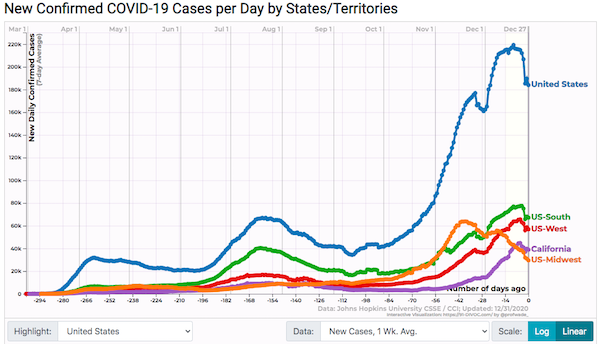 An enormous holiday drop, far larger than Thanksgiving. I feel I'm engaging in a macabre form of tape-watching, because I don't think the peak is coming in the next days, or even weeks. Is the virus gathering itself for another leap?
Big states (New York, Florida, Texas, California) instead of the Midwest: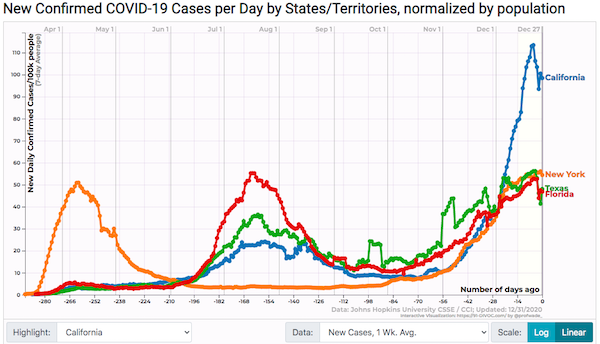 Enormous drops, except in New York.
The test positivity, hospitalization, and case fatality graphs have moved or disappeared (plus all the other URLs changed), and I miss them. The change log doesn't reflect this. I think this is a volunteer project, so I'm assuming I'm not getting it (but "Don't make me think") or that the charts are in a New Years' shakedown phase.
Politics
"But what is government itself, but the greatest of all reflections on human nature?" –James Madison, Federalist 51
"They had one weapon left and both knew it: treachery." –Frank Herbert, Dune
"They had learned nothing, and forgotten nothing." –Charles Maurice de Talleyrand-Périgord
Election Legitimacy
"GOP senator to object to Electoral College results, forcing Congress to vote on overturning Biden's win" [MSNBC]. • I thought Hawley was just going to make a speech, and not force a vote. It's hard to see how forcing a vote is an affront to democracy; the rhetoric on this seems just a little overheated. Everybody who is anybody is hating on Hawley right now, which suggests he is indeed somebody to watch.
Democrats en Deshabille
Ouch:

$2,000 survival checks only cover one or two meals at French Laundry, so they aren't a priority for lawmakers

— David Sirota (@davidsirota) December 31, 2020

David Frum signs up for the Communist Party:

An important reason Senate Republicans opposed a second COVID relief package was to lash workers back to office, shop, and factory.. https://t.co/rjgSkQXY01

— David Frum (@davidfrum) December 31, 2020

"Senate Democrats' Motion To Concede On $2,000 Checks" [David Sirota, The Dailly Poster]. "The day began with Sen. Bernie Sanders following through on his promise to deny unanimous consent for the Senate to advance a $740 billion defense authorization bill, until Senate Majority Leader Mitch McConnell allows an up-or-down vote on legislation that would send $2,000 survival checks to individuals making less than $75,000 and couples making less than $150,000. Sanders' move forced McConnell to ask the Senate to pass a formal motion to proceed on the defense bill, which would let Republicans move forward on the Pentagon priority without a vote on the $2,000 checks. The motion created the moment in which Democrats could have stood their ground and cornered the GOP leader. Instead, as Republicans saber rattled about the need to pass the defense bill, 41 Democrats obediently voted with McConnell, allowing him to move the defense bill forward without a vote on the checks. That included "yes" votes from Senate Minority Leader Chuck Schumer and vice-president elect Kamala Harris, the lead sponsor on a bill to give Americans monthly $2,000 checks during the pandemic. One day before her vote to help McConnell, Harris had called on the Republican leader to hold a vote on her legislation. Only six members of the Senate Democratic Caucus mustered the courage to vote against McConnell's maneuver — Sanders, Elizabeth Warren, Chris Van Hollen, Jeff Merkley, Ed Markey and Ron Wyden. Democratic senators in fact provided the majority of the votes for the measure that lets the defense bill proceed without a vote on the $2,000 checks. It was called a motion to proceed, but it really was a motion demanding Democrats concede — and they instantly obliged." • Well, I guess there's no reason to vote Democrat in the Georgia Senate race, because you won't get squat if you do. Well done, all. The votes:

I believed it when I was told Bernie had the backing of the Dem caucus to drag this out until the new year at least. that was plainly false https://t.co/1tkijl51qq

— ryan cooper (@ryanlcooper) December 31, 2020

"Graham calls for stand-alone vote on $2K checks" [The Hill]. "Graham says McConnell is correct in saying that a stand-alone vote couldn't happen by Jan. 3. However, the new Congress begins that day at noon, and the vote stands a chance there. That would mean, however, that the House would also need to pass its own bill again, as the existing approved measure would die when the current Congress ends. 'The new Congress, you could get a vote," Graham said. "I'd like a stand-alone vote in the new Congress on the $2,000 check.' Seven Republicans already said they would vote in favor of the increased checks, and five more would need to sign on to get it passed, Graham told 'Fox & Friends.' 'I think if we had the vote we would get there.'"
2020
Somebody should ask Ossoff if he organized "West Wing" watch parties at Georgetown:

So @ossoff sounds like Buttigieg, only the non-evil version. https://t.co/m4xy1PdDA8

— Matt Stoller (@matthewstoller) December 31, 2020

Narrator: "That's what they said at first."

"Pennsylvania Lt. Gov. Fetterman relentlessly trolls Dan Patrick seeking $1M voter fraud bounty" [Houston Chronicle]. "The Democratic lieutenant governor of Pennsylvania has been trolling his Republican counterpart for weeks to collect on the $1 million Patrick offered in November for evidence of fraud in the Nov. 3 election. Three supporters of President Donald Trump have now been charged in separate voter fraud schemes in Pennsylvania. Fetterman says they should all count for bounty purposes. The most recent charges came this week — against the second Pennsylvania man to be accused of casting a ballot for Trump in the name of his deceased mother. 'We hit the jackpot with this last one,' Fetterman said. 'There are three documented cases — three.'"

"Why McConnell was ok with Trump losing" [Ryan Grim, Bad News]. "One of the enduring mysteries of the 2020 presidential election was McConnell's apparent lack of interest in helping to reelect Trump. From the perspective of the White House, the political press corps, Democrats, and effectively everybody watching the race, there was one major thing they thought would go a long way to delivering four more years for Trump, and that was a major round of stimulus in the weeks before the election, complete with checks destined for voters. Given that a swing of fewer than 100,000 votes in the right states would have flipped the election to Trump, it's fair to say that such a stimulus could indeed have turned the tide for Trump. Yet McConnell stood in the way….. From McConnell's perspective, he has gotten nearly everything he could out of Trump: three Supreme Court justices, control of the federal judiciary, sweeping deregulation, and trillions in tax cuts. Yet for McConnell, dealing with Trump is also a daily humiliation, like being charged with babysitting a toddler who has been told by his parents that he's the boss. What could Trump do for McConnell in a second term that would be worth the headache? And aside from the degradation, Trump represents a threat to McConnell's vision of the Republican Party as a coalition led by billionaires and supported by the white working class. In Trump's party, politicians like McConnell would not lead, but would be at the whim of the QAnon-inspired masses."

UPDATE "Hunter Biden's Guilty Laptop" [Peter van Buren, The American Conservative]. • Worth a read; Van Buren (who is not cray cray) gives a good summary of the story our famously free press suppressed to help Biden win (led by social media monopolies who will be regulated, or not, by that same winner). What amazes me is the penny ante nature of it all. Hundreds of thousands, a million every so often. Hunter Biden is a piker!
Transition to Biden
Biden on the $2,000

"do you support the $2,000 direct payments?"

Biden: "yes" pic.twitter.com/hVTcRiKGbr

— austerity is theft (@wideofthepost) December 28, 2020

Although in publlic Biden didn't lift a finger to help, I'm sure he was working hard behind the scenes.
Our Famously Free Press
"The Resistance's Breakup With the Media Is at Hand" [The Atlantic]. "As the White House beat became the biggest story in the world, once-obscure correspondents were recast in the popular imagination as resistance heroes fighting for truth, justice, and the American way. They were showered with book deals, speaking gigs, and hundreds of thousands of Twitter followers. They got glow-ups to accompany their new cable-news contracts, and those glow-ups were covered in glossy magazines. Along the way, many of them adapted their journalism to cover an unusually mendacious and corrupt president (much to the delight of their new fan bases)." • The writer seems a little confused about the nature of "the popular imagination."
Obama Legacy
"The Fraudulent Universalism of Barack Obama" [Current Affairs]. "From his debut book Dreams From My Father to the present day, Obama's tendency to invoke grand, dialectical oppositions then resolve them with abstract appeals to unity or similitude has been a hallmark of his style. Combined with his flair for lofty, even mythical imagery and ability to fuse his thoughts and biography with everything around him, the upshot is a rendering of events in which every strand of history, culture, and ideology appears to realize itself in Barack Obama: a man whose life and presidency represent the synthesis of every strain of American life hitherto in tension." • That's not a small-d democratic dynamic to the slightest degree.
2024
"To combat vaccine hesitancy in minority communities we must address past wrongs: Surgeon General" [Yahoo News]. "And studies show African Americans and people of color are leery of getting vaccinated against the disease as the result of past mistreatment, citing the notorious Tuskegee experiment that turned Black men with syphilis into medical guinea pigs. 'We know that a lack of trust has been a major cause of reluctance, especially in communities of color, and that lack of trust is not without reason as the Tuskegee study occurred within many of our own lifetimes,' Surgeon General Jerome Adams said last week." • Filing this under 2024 for obvious reasons (Adams is black, and young).
Realignment and Legitimacy
It's people like you what cause unrest:

The BMW driver was reportedly taking his elderly mother to see Christmas lights in Manhattan. The group on bikes were clinging to the car to catch a ride. The driver hit the brakes, causing 1 bicyclist to crash. That's what apparently sparked the attack.

— GrantB911 (@GrantB911) December 30, 2020

Dore vs. DSA now?

Every fucking night of the week I watch Sean come home stressed and exhausted from working in a grocery store, most of the time they are on a DSA call while walking in the door. They don't have health insurance, between the two of us our household income is below $50k. Fuck you. https://t.co/qEInvVe5Mk

— abby🌹 (@abbyangriest) December 31, 2020
Stats Watch
Today's Fear & Greed Index: 48 Neutral (previous close: 50 Neutral) [CNN]. One week ago: 53 (Greed). (0 is Extreme Fear; 100 is Extreme Greed). Last updated Dec 31 at 12:46pm.
Health Care
"Here's Why Distribution of the Vaccine Is Taking Longer Than Expected" [New York Times]. "States vary widely in how many of the doses they've received have been given out. South Dakota leads the country with more than 48 percent of its doses given, followed by West Virginia, at 38 percent. By contrast, Kansas has given out less than 11 percent of its doses, and Georgia, less than 14 percent. Compounding the challenges, federal officials say they do not fully understand the cause of the delays. But state health officials and hospital leaders throughout the country pointed to several factors. States have held back doses to be given out to their nursing homes and other long-term-care facilities, an effort that is just gearing up and expected to take several months. Across the country, just 8 percent of the doses distributed for use in these facilities have been administered, with two million yet to be given. The holiday season has meant that people are off work and clinics have reduced hours, slowing the pace of vaccine administration. In Florida, for example, the demand for the vaccines dipped over the Christmas holiday and is expected to dip again over New Year's, Gov. Ron DeSantis said on Wednesday. And critically, public health experts say, federal officials have left many of the details of the final stage of the vaccine distribution process, such as scheduling and staffing, to overstretched local health officials and hospitals."
"Some 500 Coronavirus Vaccine Doses Intentionally Destroyed, Hospital Says" [NPR]. "Aurora Medical Center officials had initially suspected the Moderna vaccines, which must be kept between 36 and 46 degrees Fahrenheit, had inadvertently been left out at the Grafton hospital on Dec. 26. But an investigation found the [now-former employee] 'acknowledged that they intentionally removed the vaccine from refrigeration,' officials said Wednesday."
"St. Joseph's ER in St. Paul closes Wednesday morning" [Star-Tribune]. "St. Joseph's ER was seeing a greater share of patients who were homeless and primarily seeking shelter or had mental health or chemical dependency problems. Nicholson said Fairview is addressing that population with new services so they won't need emergency care — including leasing Bethesda Hospital, the former long-term acute care facility in St. Paul, to Ramsey County for conversion into shelter housing…. While modernized health care that improves outcomes is the goal, it was born of financial necessity. Fairview reported a net operating loss of $152 million in the first nine months of 2020, compared with a loss of nearly $60 million over the same time frame in 2019. Fairview took on the money-losing St. Joseph's as part of a 2017 merger with HealthEast and hastened its losses by concentrating more inpatient psychiatric services there." • Oh.
"Obamacare, in Its First Big Test as Safety Net, Is Holding Up So Far" [New York Times]. The deck: "Job losses and the loss of insurance have typically gone hand in hand. This year, more Americans are staying covered." "More" is doing a log of work, there. Ten paragraphs down: "Mr. Bruenig said he was struck by how many low-income people remained uninsured, a sign, he said, that the new system [(!!!!!!)] was not yet reaching everyone it was designed to help. 'There's a lot of uninsurance at the bottom, more than you might think,' he said. 'Because for one reason or another, people are not getting on these plans.'" • ObamaCare is not "new." It was passed in 2009, ffs.
The Biosphere
"Transforming carbon dioxide into jet fuel using an organic combustion-synthesized Fe-Mn-K catalyst" [Nature]. "As this carbon dioxide is extracted from air, and re-emitted from jet fuels when combusted in flight, the overall effect is a carbon-neutral fuel. This contrasts with jet fuels produced from hydrocarbon fossil sources where the combustion process unlocks the fossil carbon and places it into the atmosphere, in longevity, as aerial carbon-dioxide."
2020 Postgame Analysis
Maybe I filtered it out, but there seems to be a shortage this year of retrospectives, like "Best of 2020," "2020's Top Ten _______," or "2020 in Pictures," style-of-thing. Herewith a few random items:
Good call. Note the date:
Hopefully this is nothing out of the ordinary. But a @ProMED_mail posting about "unexplained pneumonias" in China is giving me #SARS flashbacks.https://t.co/kvGcTxrHS4

— Helen Branswell (@HelenBranswell) December 31, 2019
2020's showrunners were terrible:
they never tied up the murder hornets plotline

— i bless the rains down in castamere (@Chinchillazllla) December 31, 2020
The one aggregation that did make it onto my feed:
A global pandemic wreaks havoc on the world and sparks the worst economic crash in 100 years.

The year in FT front pages: January 24 – the first time we splash on Covid in China pic.twitter.com/iPjTKZGrM4

— Matthew Garrahan (@MattGarrahan) December 31, 2020
Salads (1):
🎅 #NewYear preparations in #Russia are underway. It is the largest flashmob of the year: millions of Russians are busy with, what is called, "doing the salads." 🔪 #EatLikeARussian #DoTheSalads

We stick to 🇷🇺 traditions 👇 pic.twitter.com/SmDMvKWfOs

— Russia 🇷🇺 (@Russia) December 31, 2020
Salads (2):
Worst week of the year pic.twitter.com/OdeZncM7ib

— 70s Dinner Party (@70s_party) December 26, 2020
"MapLab: Your Brain on Maps" [Bloomberg]. "We've now gathered nearly 450 maps from people all over the world, from many walks of life, showing how their lives have been transformed by the arrival of Covid-19." Here they are. Hong Kong: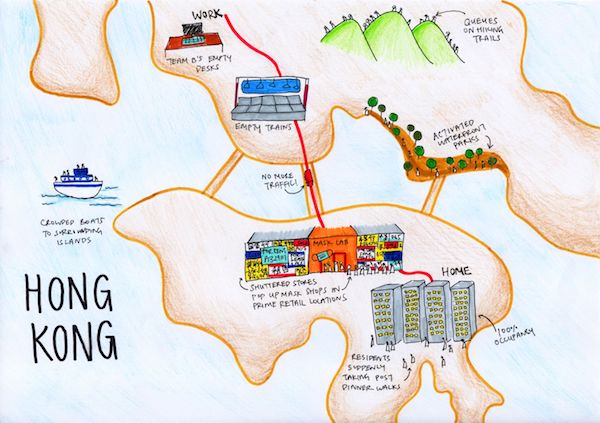 Class Warfare
"Influence of socioeconomic deprivation on interventions and outcomes for patients admitted with COVID-19 to critical care units in Scotland: A national cohort study" [The Lancet]. Scotland. "Patients with COVID-19 living in areas with greatest socioeconomic deprivation had a higher frequency of critical care admission and a higher adjusted 30-day mortality. ICUs in health boards with higher levels of socioeconomic deprivation had both higher peak occupancy and longer duration of occupancy over normal maximum capacity."
News of the Wired
Accurate:
Its impossible for a man to walk past a pallet jack and not strongly consider riding it as a scooter. pic.twitter.com/r9IIPjEXzN

— Kgoshi Ya Lebowa (@Marcellomj) December 31, 2020
Women, too? I don't know from experience; there were no women in the factory I worked in that used pallet jacks.
"New Train Hall Opens at Penn Station, Echoing Building's Former Glory" [New York Times]. "For more than half a century, New Yorkers have trudged through the crammed platforms, dark hallways and oppressively low ceilings of Pennsylvania Station, the busiest and perhaps most miserable train hub in North America…. After nearly three years of construction, the new Moynihan Train Hall, in the James A. Farley Post Office building across Eighth Avenue from Penn Station, will open to the public on Jan. 1 as a waiting room for Amtrak and Long Island Rail Road passengers." Fourteen paragraphs in: "The Moynihan hall caters primarily to Amtrak passengers, who account for just 5 percent of Penn Station's 650,000 weekday riders and will board and exit trains through the new waiting area. Long Island Rail Road commuters will be able to get to trains from the new hall, but officials expect most of them to continue to use the older Penn Station…. The station's six subway lines run along Eighth and Seventh Avenues and Avenue of the Americas — a good distance from the new train hall. That leaves subway riders, who tend to be less affluent than Amtrak users, and New Jersey Transit commuters to the bowels of Penn Station." • So, optimized for Acela riders? I'm shocked. Now do the tunnels under the Hudson before they implode. Meanwhile, in a productive, not financialized political economy:
Cyberpunk is Now: Train station, China pic.twitter.com/7VxLdpLmTh

— ΜΔDΞRΔS (@hackermaderas) November 27, 2018
Fast forward to Basquiat?
Untitled (Animals and Figures), Jackson Pollock, 1942 https://t.co/2inhW9VPWQ #moma #jacksonpollock pic.twitter.com/iZhN8A145n

— Jackson Pollock (@artistpollock) December 31, 2020
* * *
Readers, feel free to contact me at lambert [UNDERSCORE] strether [DOT] corrente [AT] yahoo [DOT] com, with (a) links, and even better (b) sources I should curate regularly, (c) how to send me a check if you are allergic to PayPal, and (d) to find out how to send me images of plants. Vegetables are fine! Fungi and coral are deemed to be honorary plants! If you want your handle to appear as a credit, please place it at the start of your mail in parentheses: (thus). Otherwise, I will anonymize by using your initials. See the previous Water Cooler (with plant) here. Today's plant (HH):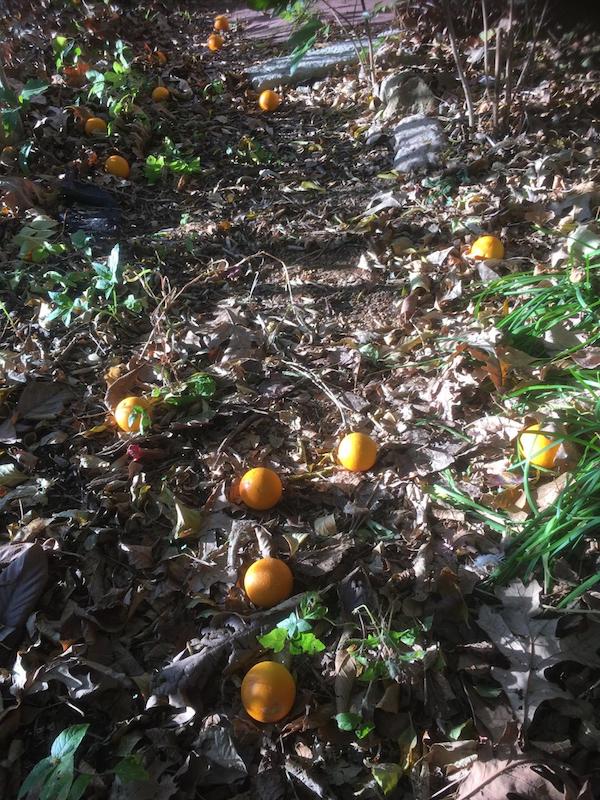 HH writes: "Pflugerville, TX just just northeast of Austin city limits December 10, 2020. Bitter oranges (aka Seville oranges) are what you might get if you plant citrus trees and then forget about them: The root stock for grafting citrus (lemons, loquats, mandarins, navels, etc.) is often a bitter orange, which is more cold-hardy and disease-resistant. But if you don´t watch out, the bitter orange can take over, and in our case, we now have several two-story trees full of bitter citrus. As you can see, some oranges have fallen off, but the trees are still loaded with fruit. On the upside, they are the preferred orange for marmalade and they are also really good with gin and tonic." So if you have bitter oranges, make a gin an tonic. Very on-brand for 2020.
I have enough plants in the inventory not to feel nervous now. Coral is an honorary plant, and some of you sent coral; lichen and fungi are also honorary plants, and I don't have many of those, so it's not too late to send them in. Thank you!
* * *
Readers: Water Cooler is a standalone entity not covered by the recently concluded and — thank you! — successful annual NC fundraiser. So if you see a link you especially like, or an item you wouldn't see anywhere else, please do not hesitate to express your appreciation in tangible form. Remember, a tip jar is for tipping! Regular positive feedback both makes me feel good and lets me know I'm on the right track with coverage. When I get no donations for five or ten days I get worried. More tangibly, a constant trickle of donations helps me with expenses, and I factor in that trickle when setting fundraising goals:
Here is the screen that will appear, which I have helpfully annotated.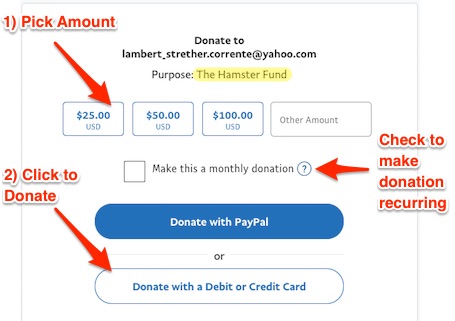 If you hate PayPal, you can email me at lambert [UNDERSCORE] strether [DOT] corrente [AT] yahoo [DOT] com, and I will give you directions on how to send a check. Thank you!

Original Source