By Lambert Strether of Corrente.
Bird Song of the Day
Mockingbird, Argentina (and not for Operation Mockingbird. Sometimes a bird is just a bird).
#COVID19
At reader request, I've added this daily chart from 91-DIVOC. The data is the Johns Hopkins CSSE data. Here is the site.
I feel I'm engaging in a macabre form of tape-watching, because I don't think the peak is coming in the next days, or even weeks. Is the virus gathering itself for another leap?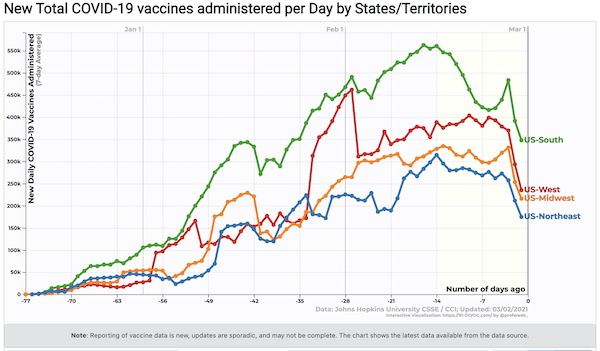 Oof, again. Why the heck is this happening? Falling vaccination rates aren't part of the narrative right now at all. The fall can't be storm related, because we already had a spike after the storms passed. Hopefully we haven't reached a demand ceiling, well before the level needed for herd immunity. But from The Hill: "41 percent say they are not willing to receive coronavirus vaccine"
Forty-one percent of voters said they are not willing to get the coronavirus vaccine, according to a new Harvard CAPS-Harris poll released exclusively to The Hill on Monday. The same survey found that 59 percent of respondents said they were willing to receive the vaccine. Among those who said they were unwilling to get the vaccine, 66 percent said they were concerned about side effects, while another 33 percent said they did not believe it was effective. Twenty-seven percent said they were not concerned about the virus, 23 percent said it should go to more at-risk individuals and 17 percent said they had health concerns.

"The single most concerning number in this moths poll is that 4 in 10 of those who have not been vaccinated do not want to take the vaccine. This includes 60 percent of Black voters," Harvard CAPS-Harris polling director Mark Penn told The Hill.
And oof, again. And Bloomberg:
With three approved coronavirus vaccines, the U.S. will be able to ramp up supply in the coming weeks but still has work to do in persuading the public to get the shots, said David Kessler, the new chief science officer for the federal government's coronavirus response.

Kessler said in a conversation with the PBS NewsHour's Judy Woodruff at the CityLab 2021 conference, hosted by Bloomberg Philanthropies and the Aspen Institute. "We need to make sure that all people can trust the safety of the vaccine."
I know what to do; let's scold and shame people for being stupid. Or — here's an idea — let's wheel in some celebrities. Dolly Parton? One thing I do know is that the Biden Administration has no single point of contact with the public for Covid information (and messaging). We've got Fauci swanning around doing his thing, but he's just one person. For awhile, Trump did this, executing a good idea badly. Politico:
A week into his presidency, Joe Biden made the confident prediction that any American who wanted a Covid shot would be able to get one by .

By his fourth week, that timeline had slipped to . But as the administration prepared to authorize a third coronavirus vaccine, and with a surge of doses on the horizon, Biden last week debuted a new target: widespread vaccine availability by .

The risk sowing confusion across the country as the nation enters the second year of the pandemic, testing the administration's ability to overcome still-significant pockets of vaccine skepticism and make good on its pledge of large-scale immunization within Biden's first 100 days in office.

"On this score, I think the ," said Ezekiel Emanuel, a bioethicist at the University of Pennsylvania who advised the Biden transition. "There's been some uncertainty, and because there's a wide variety of estimates here, you get people at different times taking either the optimistic view or the pessimistic view and going out with that."

The is now set to play out as millions of doses of newly authorized Johnson & Johnson vaccine head to state health departments, pharmacies and community centers.
Thing is, this is the Obama Alumni Assocation. They're supposed to be competent West Wingers. Remember all those planning groups during the Presidential Transition? Whatever happened to them? Weren't we supposed to hit the groung running? (And if Ezekiel Emanuel is handing out those quotes because he's angling for the job of Covid Communications Czar, I will be very upset.)
Case count by United States region: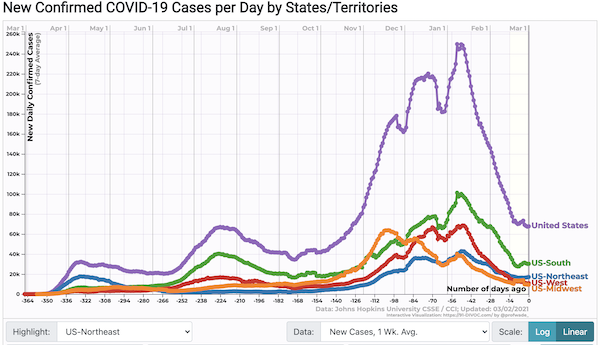 A little uptick in the South, with the Northeast flattening.
Big states (New York, Florida, Texas, California):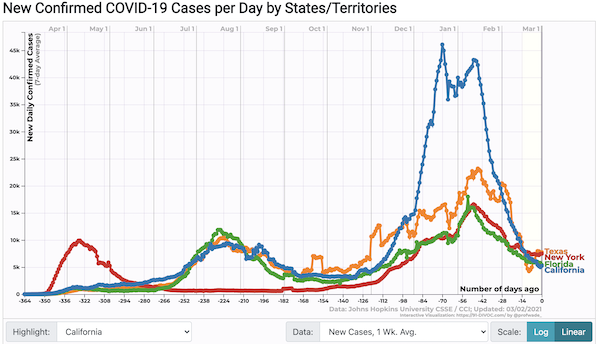 Texas uptick, with an assist from New York.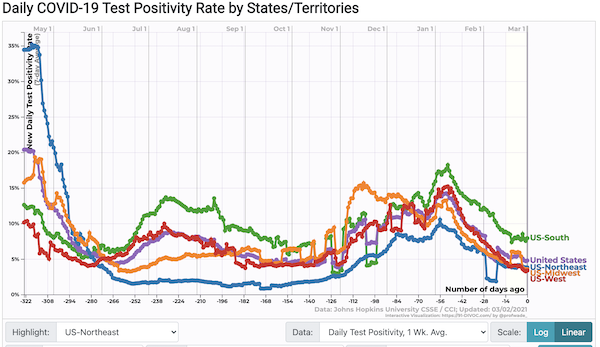 Decline is flattening across the board. Weather? Variants? Regional averages approach 3%, which is what we want to see. (Alert reader TsWkr pointed out it's time to update my test positivity comment, which I just did.) This is very good from Yahoo News.
As the effort to vaccinate Americans intensifies, daily COVID-19 test numbers are falling nationwide, an alarming sign to public health experts who say the tests are still crucial to containing the virus.
The lead is in the final paragraph:
"We need to have these tests be single digits in the $5-dollar range for them to be affordable for many, if not most Americans," said Mara Aspinall, an advisor to the Rockefeller Foundation and professor of practice in the biomedical diagnostics program at Arizona State University. "You can get a pregnancy test at Dollar Tree for a dollar. We're not going to get there, but we need to be close."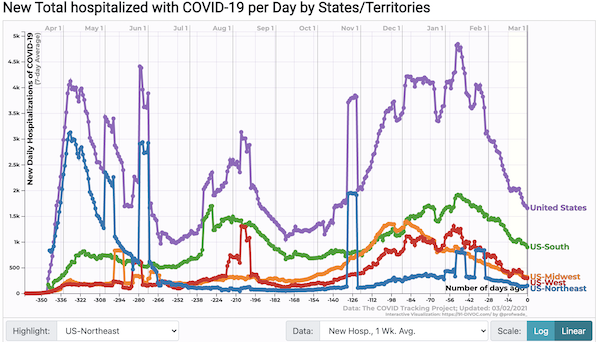 Hospitalization is discretionary; they may also be reducing their admissions rate — relative to cases we cannot see in this data! — to preserve future capacity; or because hospitals have figured out how to send people home.
Case fatality rate (plus deaths):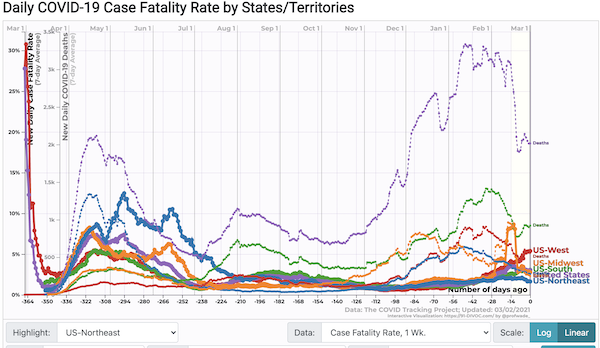 That rising fatality rate in the West (red) is what worries me. Now it's at it's highest in over a year. Of course, the uptick in deaths isn't good news either.
–>
Stats Watch
At reader request, I added some business stats back in. Please give Econintersect click-throughs; they're a good, old-school blog that covers more than stats.
Housing: "January 2021 CoreLogic Home Prices: Appreciation Reaches Double Digits This Month" [Econintersect]. "CoreLogic's Home Price Index (HPI) home prices experiencing its first double-digit annual appreciation since November 2013…. Price growth exceeded my forecast for the year – home prices are continuing very strong."
Housing: "An In-Depth Look at Mortgage Forbearance Data" [Federal Reserve Bank of Atlanta]. An interesting new tool for housing mavens. This nugget: "A final observation is that areas economically exposed to the pandemic are using forbearance at a high rate, and this is particularly true for areas heavily reliant on leisure and hospitality. In fact, among the core-based statistical areas (CBSAs, also known informally as "metro areas") that had the highest forbearance usage rates in October 2020, six of the top 15 CBSAs (with more than 10,000 mortgages) are popular tourist destinations: San Juan, Miami, Las Vegas, Atlantic City, New Orleans, and Orlando. (We can also see that four of the top five in this list are metro areas in Texas that share a border with Mexico; cross-referencing a 2015 map of the low-income, unincorporated colonias settlements in these areas seem to overlap with what MAPD reports as the highest ZIP code-level rates of forbearance in Laredo, McAllen, Brownsville, and El Paso.)" • Hmm. Are those also the Texas border counties that went for Sanders, and then Trump?
Manufacturing: "United States ISM New York Index" [Trading Economics]. "The ISM New York Index decreased to 35.5 in February of 2021 from 51.2 in January. The reading pointed to the steepest contraction in business activity since May."
Leading Indicators: "March 2021 Economic Forecast – A Small Step Back" [Econintersect]. "Econintersect's Economic Index forecast sees a modest slowing of the economic rate of growth as consumers do not yet seem to be prepared to spend. The media/government message machine is spinning the variants as a potential bomb reinforcing the message to consumers to save for the oncoming rainy day – even though the current rapidly expanding COVID vaccination program should be cause for a rosier message." • Or not; see the Covid section above.
Economic Optimism: "The IBD/TIPP Economic Optimism Index in the US rose 3.5 points to 55.4 in March of 2021, the highest since February 2020 before the Covid-19 shutdown. The six-month outlook for the US economy picked up to 53.2 from 49.5, returning to positive territory for the first time since October 2020. Also, the personal finances subindex, a measure of how Americans feel about their own finances in the next six months, climbed" [Trading Economics].
* * *
Marketing: "STUDY: Almost 40% of U.S. Consumers Trust Online Reviews Less Than They Did Five Years Ago" [Reviews.com]. "The Reviews.com consumer research team conducted a study on trends in consumer trust in online reviews. A survey conducted on 1,044 U.S. residents about their confidence in consumer reviews found some notable trends. 44% of consumers say they trust online reviews about the same as they did five years ago…. A trend of deteriorating trust is likely accelerating, with 60% of respondents saying they think the quality of online reviews is decreasing. In 2017, 84% of U.S. consumers reported trusting online reviews. Comparing this to the above research, it's obvious a large decline in trust is occurring." • Of course, the solution is to use Reviews.com! Nevertheless….
Retail: "Dollar Stores And Reinvention Of Rural Retail" [The American Conservative]. "But I had something of an epiphany when I took a long road trip down U.S. Route 11 in Virginia's Shenandoah Valley. Just south of the small town of Buchanan, I was idling in a strip mall parking lot waiting for some Chinese take-out. I wandered into the dollar store anchoring the little plaza, which had a name I hadn't quite seen before: Dollar General Market. This was a regular Dollar General with a miniaturized supermarket attached. Fresh meat, veggies, and a much fuller line of canned and frozen goods than the perfunctory shelves and freezer in an ordinary location. It turns out the Market concept was launched all the way back in 2003, but from 2007 to 2010 it did not add any new locations…. If you're not finding this fascinating, I'll spell it out: The Dollar General Market is a tiny version of the "supercenter." The combination of discount retail with grocery has its origins in the 1950s and '60s, when a number of now-defunct retailers experimented with it. (Chains like Korvette's, Two Guys, and Great Eastern Mills included supermarkets in at least some locations; some of these embryonic supercenters were nearly 200,000 square feet). However, it turned out that grocery and discount retail were very different industries, and it was not until the 1980s that Walmart cracked the code, and the supercenter went mainstream." • As I've said before, it makes me crazy that TAC is the only political journal that regularly covers the built environment.
Finance: "'Stakes are high' for the financial system to address rising corporate debt, Barclays CEO warns" [CNBC]. "The IMF warned that almost 40%, or around $19 trillion, of the corporate debt in major economies was at risk of default in the event of another global economic downturn."
The Bezzle: "Uber Spins Off Robotic Delivery Unit, Takes Stake in New Startup" [Bloomberg]. "Uber Technologies Inc. is spinning out Postmates' delivery robot operation into a separate startup, marking another chapter in the ride-hailing giant's attempts to narrow its focus and become profitable. Uber will co-lead what's likely to be a $50 million investment in the new delivery startup, Serve Robotics, which will bring food, groceries and other items to Uber customers without human intervention. Uber will be a minority shareholder in Serve Robotics, the companies told Bloomberg. The new startup will be led by Ali Kashani, who runs the robot deliveries unit for Postmates, which Uber acquired last year. Serve Robotics will start with about 60 employees and will be based in San Francisco, operating independently from Uber but retaining close ties with its former parent company." • Whatever that means. Who said Uber was ever about making a profit? Uber's goals are social, like destroying public transportation, creating an entirely new class of precarious workers under Proposition 22, etc. Uber is like what Molly Ivins once called Texas: the National Laboratory for Bad Government, except servicing billionaires directly, instead of through what we laughingly call "our democracy."
* * *
Today's Fear & Greed Index: 63 Greed (previous close: 66 Greed) [CNN]. One week ago: 57 (Greed). (0 is Extreme Fear; 100 is Extreme Greed). Last updated Mar 2 at 12:18pm.
Rapture Index: Closes unchanged [Rapture Ready]. Record High, October 10, 2016: 189. Current: 185. (Remember that bringing on the rapture is a good thing, so high is better.) You'd think there were Beast Government implications from the Biden Adminstration; apparently not.
Health Care
"The Trump administration quietly spent billions in hospital funds on Operation Warp Speed" [STAT]. "The Trump administration quietly took around $10 billion from a fund meant to help hospitals and health care providers affected by Covid-19 and used the money to bankroll Operation Warp Speed contracts, four former Trump administration officials told STAT. The Department of Health and Human Services appears to have used a financial maneuver that allowed officials to spend the money without telling Congress, and the agency got permission from its top lawyer to do so. Now, the Biden administration is refusing to say whether the outlay means there will be less money available for hospitals, physicians, nursing homes, and other providers." • Stoller comments:
BREAKING: Trump diverted money from corrupt monopolies to the most successful medical breakthrough of all time. Ultimate attempt to make a great policy decision look like a scandal. https://t.co/RpidXjrFzN

— Matt Stoller (@matthewstoller) March 2, 2021
Water
"Rivers and lakes are the most degraded ecosystems in the world. Can we save them?" [National Geographic]. "Around the world, rivers, lakes, and wetlands have increasingly come under similar assault from poorly planned dams, pollution, habitat loss, sand mining, climate change, and the introduction of invasive species. The result, as laid out this week in a report by 16 conservation organizations, is that freshwater ecosystems have become the most degraded in the world, with fish populations pushed to the brink. There are more kinds of freshwater fish—18,075 and counting—than there are fish species living in the oceans and seas. Freshwater vertebrate populations have declined by 86 percent since 1970—twice the rate experienced within terrestrial or marine ecosystems—and almost a third of freshwater fish species are now threatened with extinction. Yet it's a crisis that has received far less attention than other environmental emergencies—like deforestation or plastic pollution—despite human reliance on freshwater systems for drinking water, food, and sanitation."
Our Famously Free Press
"NYTimes Peru N-Word, Part One: Introduction" [Donald G. McNeil Jr.]. This is a four-part piece I'm going to have to read carefully; it's McNeil's story how the Times fired him for remarks made in Peru; he was the Times' lead reporter on Covid at the time. But after a humorous introduction, McNeill throws down the gauntlet: "For accuracy's sake, I will write mostly from email exchanges or, when I'm recounting conversations, from emails I wrote soon after them. My memories of what happened in Peru are based largely on long emails I wrote to my union rep during the 2019 investigation. I've had this whole narrative vetted by two lawyers." • Greenwald comments:
Anyone who formed opinions about the Donald McNeil episode – his 45-year career was ended by rich teenagers' complaints – should read his 4-part explanation. Among other things, it shows how misleading it is when stories are told with only one side heard:https://t.co/CXnJJRkylH

— Glenn Greenwald (@ggreenwald) March 1, 2021
One very obvious moral of the story is never enter into identity politics-related discussions in the workplace; it's worth your job. (Unless, of course, you're in a room with a consultant that HR has just wheeled in; then, say what you have to say.)
Zeitgeist Watch
"The wealthy are borrowing billions against their art collections and lenders are reselling the debt" [CNBC]. • I knew Jeff Koons was good for something.
"Sneakerheads Have Turned Jordans and Yeezys Into a Bona Fide Asset Class" [Bloomberg]. "Flipping sneakers has been a viable business proposition for decades." • Same story, different commodity.
Guillotine Watch
"This Is the Coat to Wear to Davos" [New York Times]. "[Former commodities trader Michael Berkowitz] also learned how to create collars that zip from the chest area and have a separate flap. That technique creates high necks so you don't feel as if you're being choked. Both are signatures of all Norwegian Wool products." • The problem at the neck won't be choking. (To be fair, I love well-made products that last. But $1,000 to $3,000 coats for Davos…. That ain't it, chief.)
"Delta hands out bonuses to managers whose pay was cut in the pandemic" [CNBC]. • Because of course they did. Layoffs are stressful: "Delta reduced managers' pay last year during the Covid pandemic and cut thousands of workers' hours by 25%."
Class Warfare
Tactically interesting:
. @BAmazonUnion union organizers have organized one of the most important union drives in modern labor history largely from a patch of public sidewalk at the exit of the facility. There are 35 days left of the election and they're still out here everyday beginning at 3:30 am. pic.twitter.com/PGzIM4i1xf

— Lauren Kaori Gurley (@LaurenKGurley) February 23, 2021
A stoplight on the way to the workplace as a site to organize. (I believe this is the stoplight that Amazon got local government to change, to make communicating with drivers more difficult.)
Classy:
An alleged covid mitigation measure that turned out to be "a large fan placed behind company negotiators that blew directly at Guild negotiators" … https://t.co/HdvveJ0fNc

— Megan Crepeau (@crepeau) February 23, 2021
"Signs Opposing Eviction Restrictions in Order to 'Protect BIPOC Tenants' Cause Stir" [Seven Days]. "Renter-rights advocates are condemning signs that urge Burlington voters to protect tenants of color by rejecting a ballot item that would ban no-cause evictions. The proposal, the advocates say, would help, not harm, those tenants. 'Vote No on #5 Just Cause,' the signs say. 'Protect BIPOC tenants from racist neighbors.' The unsigned messages, which appeared along heavily trafficked public rights of way, seem to suggest that if Question 5 passes this Town Meeting Day, landlords would not be able to evict tenants who harass neighbors who are Black, Indigenous and other people of color." • Woke language sure is easy to appropriate. Other languages — like the language of class — are not. One can only wonder whyl.
Income and capital are not the same. Nevertheless:
Who are the top income earners in the US?https://t.co/XeymCmeqqW

Source: @bcaresearch pic.twitter.com/wTqdgUvZTk

— (((The Daily Shot))) (@SoberLook) February 25, 2021
He got that right:
I don't see how you separate being on the left from a scrupulous commitment to universalism. Such a commitment need not be univocal, unlearning, inattentive to difference, or "unilaterally declared" (as Fanon put it). But I often feel old and out of touch for holding this view.

— Nikhil Pal Singh (@nikhil_palsingh) March 1, 2021
Universalism seems so obvious to me. Makes me an old codger?
News of the Wired
Will nobody think of the children:
This (real) Fisher-Price My Home Office toy set is so bleak: "Better grab a latte to go, that report is due this morning." Ages 3 and up https://t.co/Gy4J7MtyeQ h/t @mkramer pic.twitter.com/s3racavxMf

— Drew Harwell (@drewharwell) March 1, 2021
* * *
Readers, feel free to contact me at lambert [UNDERSCORE] strether [DOT] corrente [AT] yahoo [DOT] com, with (a) links, and even better (b) sources I should curate regularly, (c) how to send me a check if you are allergic to PayPal, and (d) to find out how to send me images of plants. Vegetables are fine! Fungi and coral are deemed to be honorary plants! If you want your handle to appear as a credit, please place it at the start of your mail in parentheses: (thus). Otherwise, I will anonymize by using your initials. See the previous Water Cooler (with plant) here. Today's plant (pq):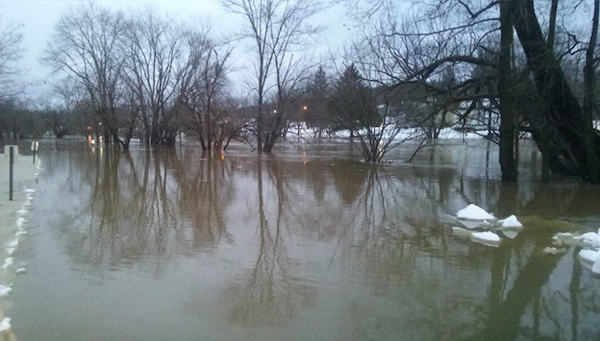 pq writes: "Christmas Day, around 5 p.m. — This is what happens when you get nearly four feet of snow dumped overnight, and a week later, it rains for 24 hours. Fortunately, the trees along the riverbank are primarily sycamores, which thrive in this environment."
* * *
Readers: Water Cooler is a standalone entity not covered by the recently concluded and — thank you! — successful annual NC fundraiser. So if you see a link you especially like, or an item you wouldn't see anywhere else, please do not hesitate to express your appreciation in tangible form. Remember, a tip jar is for tipping! Regular positive feedback both makes me feel good and lets me know I'm on the right track with coverage. When I get no donations for five or ten days I get worried. More tangibly, a constant trickle of donations helps me with expenses, and I factor in that trickle when setting fundraising goals:
Here is the screen that will appear, which I have helpfully annotated.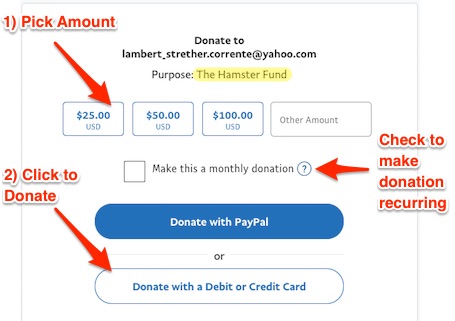 If you hate PayPal, you can email me at lambert [UNDERSCORE] strether [DOT] corrente [AT] yahoo [DOT] com, and I will give you directions on how to send a check. Thank you!

Original Source