Do not ever use the home care aide agency Home Instead. One of their aides stole from my 93 year old physically frail but cognitively fit mother and another put her in the emergency room.
Strange as it may seem, we didn't terminate the relationship because we thought it as salvageable. We had an incentive to keep the one remaining aide we had through Home Instead because she had been doing a good job for a while, was willing to be coached and trained, and was very careful about Covid risks. The second incident, the emergency room trip, which did take place on this last aide's watch, resulted from what should have been an easily solvable lapse: failing to give my mother enough fluids.1
Yet the local agency was uninterested in this health and safety risk and another recent service failure. They dumped my mother instead, in violation of their own agreement, putting her at even more risk due to the difficulty of finding a replacement with virtually no warning.
We are embedding their agreement at the end of the post because the very document is a monster red flag, screaming of intent to operate in bad faith, which they have done.
We used Home Instead only for one aide, SC, who we liked and had historically performed her tasks well, for two seven-hour shifts a week. In addition with the peculiar lapses in keeping my mother hydrated, SC was also increasingly having difficulty transferring my mother in and out of her wheelchair. This is a health issue because my mother's wheelchair, like most, isn't designed for protracted sitting. It hurts her back to be in it for more than a half hour; longer use produces swollen feet.
A similar age and sized aide who'd been partly paralyzed herself for three years and now has a rod in her lower back is able to perform the task. In other words, SC's second shortcoming was of technique, not of strength, and she was willing to be coached by an occupational therapist, and even wrote a note to make that clear.
Home Instead tried to depict her as having chosen to quit abruptly on us, when SC as a pro (she previously worked in the back office of a local bank) would never have left us in the lurch (she was the responsible sort who would have stayed on until we found a replacement had she really thought the situation was no longer tenable).
When I challenged Home Instead, "SC very much wanted to continue and it appears she changed her mind only as a result of your company's influence," they did not deny it.
More important, they did not offer to provide substitute even though their contract effectively obligates them to do so, jeopardizing my mother's safety.
It's bad enough to be introducing a new person into a home care situation with Covid very much out and about in Alabama, but even worse to leave a wheelchair-bound woman with no care. They gave only three day's notice, which is completely unrealistic in terms of the time it takes to find a new aide.
We'll show how they breached their own agreement and their various indemnifications and waivers are defective. As a result, they've just painted a big liability target on their back due to their abandonment of my mother should anything happen to her.
We had previously held back from reporting the local Home Instead franchise, Pahos, Inc. to the State of Alabama for elder abuse. They refused to terminate or even discipline an aide who had charged over $200 of clothes to my mother's credit card card. We will now do so, along with their contract-violating termination of service and other client endangement.
Instead, the director of client services, Susie McClanahan,2 depicted the theft3 as a "misunderstanding," and assigned her to another client.
Ms. McClanahan did not check with us after she had spoken with the aide, merely cheerily informing us of the "misunderstanding" take and that she was being transferred rather than let go. Ms. McClanahan was clearly uninterested in hearing anything more from us on this topic, even though we could easily have shown her the aide's misconduct was studied.
As Lambert said:
What are they, the Catholic Church, just moving the pedophile priest to another parish?
Background
Home Instead presents itself as providing services to enable elderly or mobility-limited individuals to remain in their own dwelling rather than an institution. Home Instead will submit documentation to long-term health insurance plans for clients to be reimbursed, meaning they hold themselves out as providing assistance with "activities of daily living" (inability to perform enough "activities of daily living" is the basis for the insurance coverage to be activated).
Different insurers and government agencies sometimes break them out into finer categories, but they include:
1. Personal hygiene – bathing/showering, grooming, nail care, and oral care.
2. Dressing – being able to make appropriate clothing decisions and physically dress and undress oneself.
3. Eating3 – the ability to feed oneself, though not necessarily the capability to prepare food.
4. Maintaining continence – being able to mentally and physically use a restroom. This includes the ability to get on and off the toilet and cleaning oneself.
5. Transferring/Mobility- being able to stand from a sitting position, as well as get in and out of bed. The ability to walk independently from one location to another.
In other words, these home health agencies provide services both to those who might need an aide once or twice a week to drive their car, help with errands, tidy up the house and do some meal preparation, as well to as clients who are getting "assisted living" levels of hand-on care in their homes on a daily basis. Some also target Alzheimers and hospice patients.
My mother is 93. She is cognitively fine but doesn't always seem to be so because her hearing is spotty even with a very fancy hearing aid. However, she can no longer walk and needs an aide to help her to and from her wheelchair, off and on the toilet, and to give her sponge baths and change her clothes. We have aides 13 hours a day.
And in case you wondered, our dealings with Home Instead had been cordial, even with my description of the need to address SC's lapses in making sure my mother got enough fluids (even on the days they ran lots of errands, the other aides got this done) and the need for more training, which would have been paid for by my mother's policy. Given the seriousness of what had happened, one would assume the agency would be concerned and want to make sure SC again got on top of the hands-on care part of her job. Instead, we got chipper brush-offs, forcing us to become clearer that these issues were not going away on their own (Home Instead refused to provide any help in finding an occupational therapist, when given the size of their agency, a mere internal e-mail would almost certainly have provided leads).
The Home Instead Red Flags: Low Standards, Bad Faith Contract
We were so foolish as to engage Home Instead years back because my mother got a referral for them from a friend. She hired them when she was unable to get out of bed for a few days after a bad flu and got 24 hour care.
When she finally felt well enough to get up to take her first shower, which occurred on the overnight shift, the aide left her alone in the bathroom, naked with the water running, and went to the other bathroom across the house. My mother hadn't eaten properly for days, could well have been dehydrated, and thus was at real risk of passing out or getting dizzy. This was utterly irresponsible. She never wanted to do business with them again.
Unfortunately, when my mother started to need daily care, the first agency we used provided competent aides but was unable to staff Sundays and had trouble with Saturdays. We wound up back at Home Instead.
Our main contact was an official face of this franchise, Client Care Coordinator Susie McClanahan, whose picture and brief bio are posted on their site. She assured us that all the managers were either nurses or had had hands-on care experience and said that in the last few years, they'd been able to get better aides and now she'd feel comfortable sending any of them to handle a family member.
The agreement told quite another story. As you can see:
Deliberate creation of a virtually unreadable document. The contract, if you can charitably call it that, is in microtype, in a grey font, and provided to clients only as a paper copy or a scanned image, which means it's difficult to work with and read. Of course, it can be OCR'd, but how many older prospects will do that?
Or if the intent isn't to impede proper consideration of the agreement, the only other plausible reason is still an awfully bad look: they are so cheap that they are seeking to save money by having a single page document.
Lambert graciously used another tool to generate a larger, more readable version, which we have embedded.
Egregious and unenforceable indemnification provisions. The fact that anyone would ask for these terms is a warning to run the other way. First is the indemnification section:
Each party agrees to indemnify, defend, and hold harmless the other, its officers, agents and employees, from and against any third party claims or suits that arise out of negligence or willful misconduct by such party in connection with or arising out of the activity which is the subject of this agreement.
You might say, "How could a third party claim come about?" For starters, I live her and am not party to the agreement or a legal agent of mother. If an aide were to steal from me or wreck one of my computers, that would give rise to a third party claim. I am sure the lawyers in the readership can come up with more examples.
You might also say, "Why didn't you object to this clause"? Because it's so over-reaching that it's void in Alabama.
There is a limit to Alabama's acceptance of broad indemnity agreements…In Alabama, agreements that purport to indemnify another for one's intentional conduct are void as a matter of public policy.
This provision also appears to be unenforceable:
Client, within sixty (60) days, must notify Provider in writing, Provider of any loss Client alleges to have been caused by Provider or their employees/contractors. Client, within sixty (60) days of any such alleged loss, may proceed with criminal or other charges allegedly caused Provider or their employees/contractors. In the event Client fails to take such action with respect to a loss allegedly caused by Provider or their employees/contractors, Client hereby waives any claims, civil or criminal, against Provider and its employee/contractors.
Home Instead cannot use a contract to restrict a citizen's right to make a criminal complaint. Home Instead is literally attempting to put itself above the law.
Any lawyer will tell you delay is not helpful to a plaintiff in a criminal or civil matter, yet there are often good reasons to look before you leap legally. What if a client were hospitalized and the family thought it best not to stress them with possible litigation until they felt better? My mother literally cannot see what is happening in the house. What if I weren't living with her and a theft were discovered only when a relative or old friend visited, which could easily be well after the incident (even more so now with Covid-induced isolation)? We actually had a close relative pilfer many items nearly two years ago and I am still discovering that certain valuables departed in that haul (the latest, a Lalique figure my mother sometimes displayed at Christmas).
What if it takes time for the client or the client's family to nail down facts firmly enough that they want to proceed, or to obtain valuations of lost or damaged property to determine if the amount at issue is worth the brain damage? What if the client wants to make sure they know what the likely legal costs will be and needs to shop for counsel?
And what about physical abuse? It's hardly news that victims of abuse often protect their abusers, plus (particularly with a client with some cognitive impairment), it might take some doing for concerned relatives to be sure what happened.
No shrewd client would want to send in the initial "You are in trouble" missive without consulting a lawyer first; they might weaken their case by saying too much or too little.
The statute of limitations for Alabama for most contractual matters is six years. I sincerely doubt that a sloppy agreement that doesn't even stipulate what notice amounts to would hold up to challenge given its multiple breaches of statute. Put it another way: if Alabama isn't on board with indemnifying against willful negligence, it's hard to see that it would give a free pass to a company trying to give itself a "Get out of jail free" card.
Lack of termination provision for Home Instead. The agreement does contemplate termination by the client and calls for 14 day calendar notice. But there's no provision for termination by Pahos, Inc.
The "RATES AND SERVICES" section begins with an unqualified commitment to provide services. The "may remove any employee" language does not relieve Home Instead of the overarching service obligation. And the "change the level service" (which is not at all well defined but in the home care context generally refers to the agency determining a client needs a higher level of care based on a home visit) clearly is not what was intended here.
Moreover, Home Instead made clear the intent was to terminate service, even though their own contract does not permit that, and not simply "replace" an employee. They offered to refund our deposit…which they did not do even after the incident of many years ago when the overnight aide abandoned my mother in the shower!
Other glaring deficiencies. It's either cheeky or lame for Home Instead to depict their napkin-doodle document as the "Entire Agreement" when it's not even close to being a complete contract. What's is the term? Where is the evidence of consideration? Where's the notice provision? How about a few definitions? There's not even a mention of governing law, or the normal more specific nailing down of where a case is to be lodged.
To give an idea of what a joke this "contract" is, another agency in town has an agreement that actually is a proper agreement, on normal paper in normal sized type with standard margins. It's over 15 pages.
Home Instead does not appear to appreciate that a document that is not and legally cannot be a complete agreement works against them. As the drafter of the form, they were in the position to get exactly what they wanted and force a prospective client to negotiate any changes in terms. Any incompleteness or ambiguity of the agreement, like the failure to specify how to provide notice (as in how exactly to send legally significant communications), will be interpreted to their disfavor in court. The lack of a termination provision? They require the client to provide Home Instead a 14 calendar day notice when aged individuals are clearly more inconvenienced and potentially harmed by a termination than a professional firm. It would be a no-brainer to tell a judge that a client was entitled to at least symmetrical treatment, as in 14 calendar days, in the absence of any evidence of harm to the agency or its staff (which has never been alleged here; it's my mother who has been getting the short end of the stick).
Phony Reviews
The reviews in the home health care agency game are completely corrupt. For instance, one site, Consumer Affairs, rates home health care agencies. Home Instead gets less than 2 stars out of five: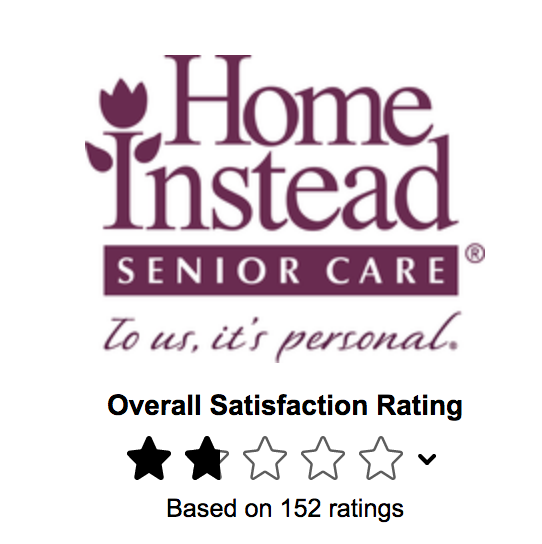 On the one hand, Consumer Affairs has an "affiliates program" where companies pay a fee to get accredited, and mirable dictu, on average have vastly better scores. However, there's no reason to think that the reviews of the companies that don't pony up are artificially low. I read the reviews and quite a few described practices and even contractual terms that are specific to Home Instead.
But more important, what matters is the caliber of the local franchise, and particularly in a low cost area like Birmingham, it's conceivable that a local franchise could outperform the national standard. And the reasonably-sized local agencies do get high marks.
But many reviews are too obviously planted. Have a look at Caring.com, where the review of employees working at Caring.com make clear that they are always under pressure to be closing, as in sign up facilities and agencies. The Home Instead reviews there are mainly thin but curiously uniformly positive. At Google, 4 of the 34 reviews with text were from employees, all 5 star glowing, when the more reliable GlassDoor gives Home Instead 2.4 out of five. That suggests a haircut is in order for the Google reviews.
* * *
Our remaining aides are completely mystified by the difficulties we have had with Home Instead. One worked in nursing home, where she was responsible for the full-time care of 18 (and sometimes as many as 22) patients: feeding, bathing, bathroom trips and bum wiping, getting them in and out of wheelchairs or minding them as they walked, making sure they got their medications, changing their clothes. She said caring for my mother is ridiculously easy and she fails to understand why anyone would have difficulty with the job.
As we've said before, the home health care service business is a lemon market. With aides who work for agencies getting only $10 an hour for less than full time employment (no health insurance!), it's not hard to see why.
The best I can infer is that despite needing to take on clients who need assisted-living levels of care, the agencies would much rather be in the business of providing easy-peasy services like driving clients to the doctor and at most doing light housework if they could only drum up enough clients like that to support a business. But it is also hard to figure out why no one has found a way to offer a higher-caliber service at a premium rate so as to be able to pay employees enough to want to keep the job.
The other problem here, particularly in the South, is that these agencies often get hired because there are no close relatives nearby. That means there's little or no supervision of the caliber of care being offered. And even if the client isn't always happy, in most cases they will probably tolerate it out of not wanting to cause friction with the caregiver or burden their relatives. These agencies aren't happy with someone on site who will keep tabs on what is actually going on, since they might well be caught out.
So be warned: if you have to hire one of these services for an aging parent, install cameras. They need all the protection you can provide.
____
1 The emergency room visit was the direct result of SC failing to make sure my mother had gotten enough to drink. My mother was leaning to one side in her wheelchair like a rag doll when being transported to her couch, unable even to sit up straight; SC could not get her out of the chair because my mother was too weak to provide any help.
Seven hours later (taking Covid risk in going to a Birmingham hospital in November), the staff did a workup, declared her EKG to be perfect and everything else to be fine. They determined she'd had a blood pressure crash due to being dehydrated. She perked back up as soon as she got some IV fluids and a snack.
However, it was distressing to have a repeat a few weeks later with SC, with my mother again so weak she wanted to go to bed in the late afternoon, which is not at all normal for her. We got the aide on the next shift to come in early. The second aide insisted my mother drink and have some food, and she was fine again in a bit more than an hour. I have been having to press SC to make sure my mother was getting enough fluids, and she continued to be the only aide that had difficulty with that.
2 Ms. McClanahan has no expectation of privacy since her employer publicizes her name and position on its website. She does have a manager above her, Jeanelle Huggins, Director of Client Services, whose photo and bio are also on the local Home Instead site. My impression from our e-mail correspondence is that Ms. McClanahan has a great deal of autonomy in her dealings with clients. She did mention Ms. Huggins in context of the theft, so more senior management bears responsibility for keeping a thief as an employee. However, my impression is that Ms. McClanahan was responsible for pushing our aide SJ off my mother's account when she knew she had no substitute, as in she is culpable for the contract breach.
Readers may be bothered at calling out a company manager, but Ms. McClanahan is making recommendations and decisions that are clearly not in the interest of clients, most of whom are in a vastly more vulnerable position than my mother, and she needs to be held accountable.
3 By sheer happenstance, I opened and reviewed the credit card statement on which the aide's fraudulent charge appeared in front of my mother when that aide was on duty. I read out the name of the vendor and the dollar amount to my mother and asked her if she recognized them, since I didn't. The aide confessed immediately, unprompted.
Notice how damning an immediate confession is. Had she somehow "mistakenly" made the charge by putting my mother's card number into her phone to order takeout food and then somehow had that number pop up for her clothes order by virtue of an error, she would have been surprised and confused, and presumably next alarmed when she realized she'd somehow put the charge on my mother's card. But there was no sign of cognitive wheels spinning. She knew she'd made the charge, but didn't 'fess up until she was caught out. Someone who'd made an honest mistake would have gone to my mother immediately and offered to make her whole. This aide instead tried to get away with it.
Worse, she actually did get away with it.
Because the charge was made on a credit and not a debit card, the loss to my mother was covered by the credit card theft protection provisions. However, this was a theft in the sense that I am certain that the aide did not make restitution to my mother's credit card company and hence ultimately to the merchant, so she did succeed in getting >$200 of clothing for free. Tellingly, she wasn't even using her real name with us (she went as Anna but we learned later via an e-mail from the agency that her real first name was La Dexia).
4 Eating in the ADL context really does mean needing to be fed, like a baby, but agencies like Home Instead include food preparation and shopping as part of their services.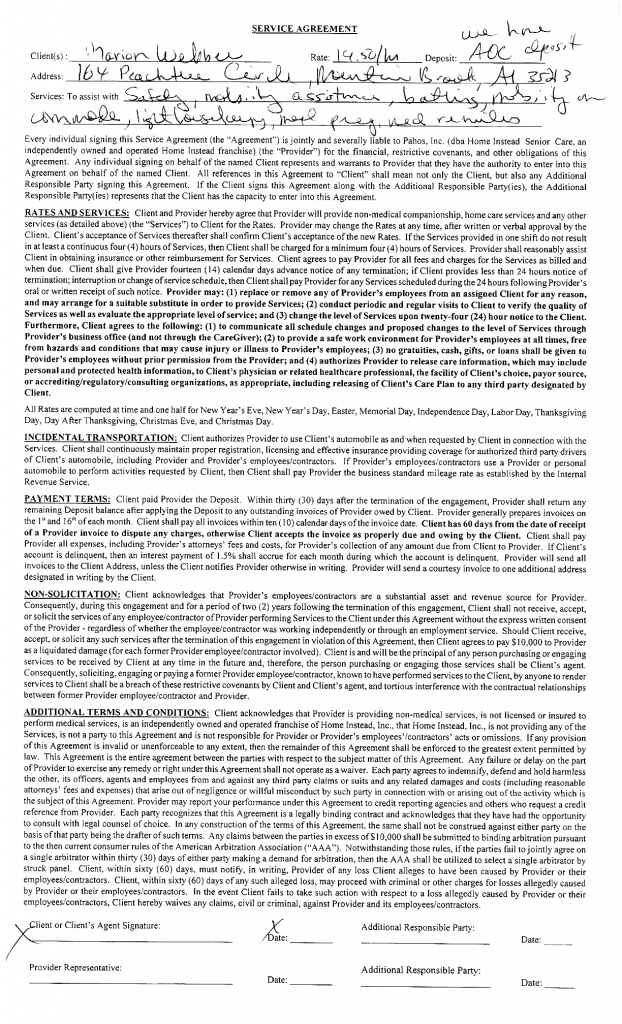 Original Source