By Lambert Strether of Corrente.
Bird Song of the Day
San Diego, California. Quite the tour de force!
#COVID19
At reader request, I've added this daily chart from 91-DIVOC. The data is the Johns Hopkins CSSE data. Here is the site.
I feel I'm engaging in a macabre form of tape-watching, because I don't think the peak is coming in the next days, or even weeks. Is the virus gathering itself for another leap?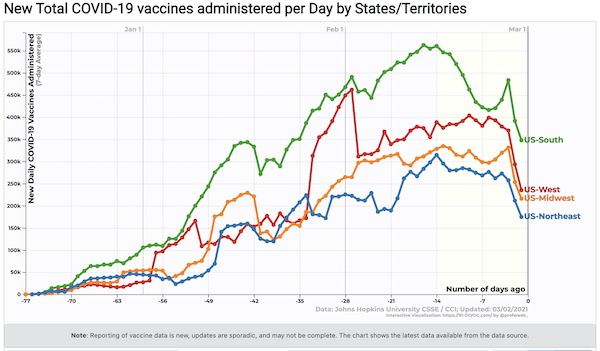 Oof. The South has dropped from 550,000 two weeks ago to 300,000 today. That's quite a drop.
Case count by United States region: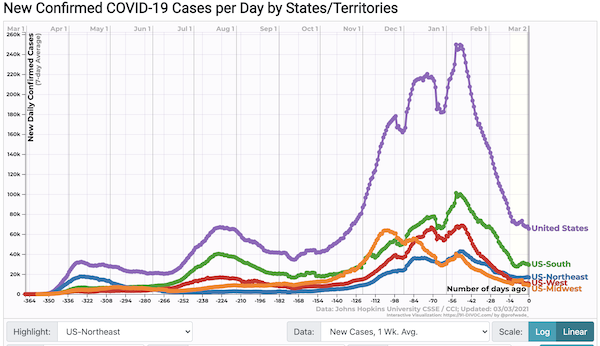 A little uptick in the South, with the Northeast flattening.
Big states (New York, Florida, Texas, California):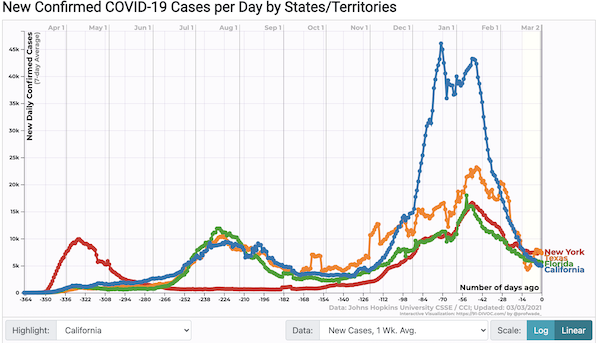 Texas uptick, with an assist from New York.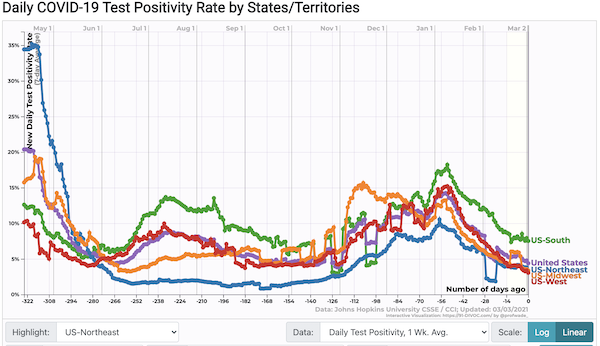 Decline is flattening across the board. Weather? Variants? Regional averages approach 3%, which is what we want to see.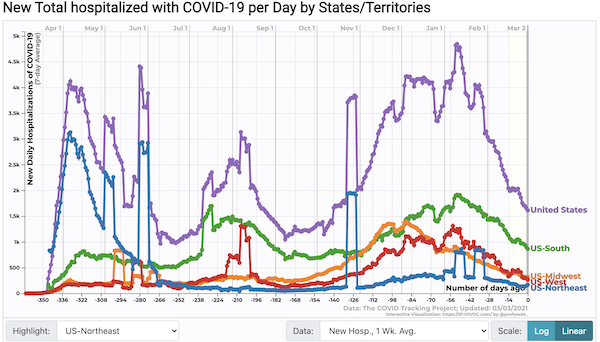 Hospitalization is discretionary; they may also be reducing their admissions rate — relative to cases we cannot see in this data! — to preserve future capacity; or because hospitals have figured out how to send people home.
Case fatality rate (plus deaths):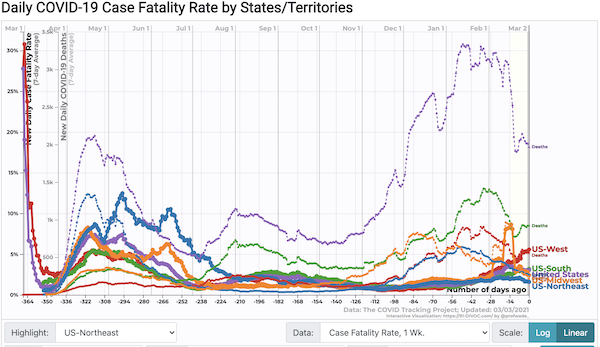 That rising fatality rate in the West (red) is what worries me. Now it's at it's highest in over a year. At least it seems to have flattened in the last couple of days. It's not going vertical, which is what I feared. Of course, the uptick in deaths isn't good news either.
Politics
"But what is government itself, but the greatest of all reflections on human nature?" –James Madison, Federalist 51
"They had one weapon left and both knew it: treachery." –Frank Herbert, Dune
"They had learned nothing, and forgotten nothing." –Charles Maurice de Talleyrand-Périgord
Capitol Seizure
"Police uncover 'possible plot' by militia to breach Capitol" [Associated Press]. "The threat appears to be connected to a far-right conspiracy theory, mainly promoted by supporters of QAnon, that Trump will rise again to power on March 4. That was the original presidential inauguration day until 1933, when it was moved to Jan. 20… The [Capitol Police] statement said the agency was 'taking the intelligence seriously' but provided no other specific details on the threat."
Biden Administration
"Biden Backs Tighter Limits on Checks to Speed Relief Bill" [Bloomberg]. "Individuals earning over $80,000 now won't qualify for the direct payments, compared with a $100,000 cap in the previously drafted legislation, the aide said on condition of anonymity. The ceiling for couples will now be $160,000 against $200,000 before. Checks start at $1,400 before they begin phasing out." • As I understand it, the income limits will be based on 2019 tax returns, because those are the most recent. There must be a number of people who would not pass this means test in 2019, but would pass it now. One more reason for universal benefits. Just write checks, then do clawbacks at tax times.

"Democrats Again Limit Who Will Receive A Stimulus Check" [HuffPo]. "The proposed change would deny checks to higher earners who would have received only partial checks under the previous version of the legislation, which cut off payments to individuals earning more than $100,000 and couples above $200,000…. [T]he lower income limit means that some people who received partial payments from the December bill would not receive partial payments from the next one." • Good job. Democrats certainly giving voters something to remember them by!
2020
"'Lucky': Adviser described COVID-19 as 'best thing that ever happened to' Biden" [The Hill]. "Biden's campaign found the politics of the pandemic advantageous, given that Biden could be critical of Trump but would not actually have to make decisions himself on how to handle the coronavirus, according to Lucky: How Joe Biden Barely Won the Presidency, by The Hill's Amie Parnes and NBC News's Jonathan Allen."
Democrats en deshabille
"Democrats Need an 11th Commandment" [Rahm Emmanuel (!), Wall Street Journal]. "Take a split-screen snapshot of America's two political parties. Congressional Republicans, having just witnessed President Trump literally sic a mob on them, have remained overwhelmingly loyal. Democrats are trying to build support for President Biden's Covid-relief package by disparaging former President Obama's efforts to save the economy in 2009. It's a study in contrasts, and a master class in the relationship between messaging and politics." • The 11th Commandment was Reagan's: "Thou shalt not speak ill of any fellow Republican." This Rahm Emanuel: "Rahm Emanuel, the White House chief of staff, has apologised for calling Left-wingers Democrats '—-ing retards'." Come on, man. Is the Wall Street Journal trolling us?
Realignment and Legitimacy
Here's a helpful image for when you hear the phrase "The Blob""

Faceless Joe , the alien, in search for a new host. Sim an render done #CGI #Houdini #facelessjoe #cgcreature #render . Sculpt in Zbrush, sims/render in Houdini. pic.twitter.com/ZpvruQuUgo

— ght (@ghost3dee) February 25, 2021

UPDATE "Interview: Saikat Chakrabarti, creator of the Green New Deal" [Noah Smith, Noahpinion]. Chakrabarti: "[T]he team that worked on the Green New Deal was greatly inspired by the American approach to World War 2. In 1940, as the threat of war loomed, FDR famously delivered his Arsenal of Democracy speech. What's a little less known is he followed up in a speech to Congress by setting specific production targets for what America needed to produce, which included 185,000 planes, 120,000 tanks, 55,000 anti-aircraft guns, and 18 million tons of merchant shipping. For context, in 1939, America had built 3,000 planes. A lot of experts at the time thought FDR was just doing political theatre and these numbers were completely unrealistic. But of course, America crushed these targets–we built 300,000 planes in five years. So how'd we do it? That's a long story (and I highly recommend the amazing Destructive Creation if you are curious about it), but it involved mobilizing our economy to hit actual goals. It wasn't a story of socialism vs. capitalism, but rather a story of all of American society trying, together, to do something ambitious and not being tied to any ideology to do it." • And the carbon budget for bootstrapping the mobilization?
Stats Watch
At reader request, I added some business stats back in. Please give Econintersect click-throughs; they're a good, old-school blog that covers more than stats.
Employment Situation: "February 2021 ADP Employment Grew 117,000" [Econintersect]. "ADP reported non-farm private jobs growth of 117,000 which was above expectations. A quote from the ADP authors: The labor market continues to post a sluggish recovery across the board…. Last month's employment loss was revised upward. It will be interesting to see what the BLS says is jobs growth.
Services: "United States Services PMI" [Trading Economics]. "The IHS Markit US Services PMI was revised higher to 59.8 in February 2021, from a preliminary estimate of 58.9 and compared with 58.3 in the previous month. The latest reading pointed to the strongest expansion in the service sector since July 2014, as new order inflows expanded at the steepest pace since April 2018 despite a decline in new export orders. However, despite further pressure on capacity, service providers registered only a fractional rise in employment. On the price front, cost burdens increased by the most since data collection began in October 2009, while output charge inflation was the second-highest on record."
Services: "United States ISM Non Manufacturing PMI" [Trading Economics]. "The ISM Services PMI for the US decreased to 55.3 in February of 2021 from 58.7 in January, well below market forecasts of 58.7. The reading pointed to the lowest growth in the services sector since a contraction in May, amid supply constraints and higher prices. A slowdown was seen in supplier deliveries (60.8 vs 57.8), business activity/production (55.5 vs 59.9), new orders (51.9 vs 61.8) and employment (52.7 vs 55.2) while price pressures intensified (71.8 vs 64.2). On the other hand, both export orders (57.6 vs 47) and inventories (58.9 vs 49.2) rebounded. "Respondents are mostly optimistic about business recovery and the economy. Production-capacity constraints, material shortages and challenges in logistics and human resources are impacting the supply chain." • Hmm. Little bit of a mixed message thing here?
* * *
* * *
Today's Fear & Greed Index: 54 Neutral (previous close: 61 Greed) [CNN]. One week ago: 63 (Greed). (0 is Extreme Fear; 100 is Extreme Greed). Last updated Mar 3 at 12:29pm.
Health Care
I will have a good deal more on health care shortly. There's a lot to sort through today. –lambert UPDATE All done!
"Estimated transmissibility and impact of SARS-CoV-2 lineage B.1.1.7 in England" [Science]. The Abstract: "A novel SARS-CoV-2 variant, VOC 202012/01 (lineage B.1.1.7), emerged in southeast England in November 2020 and is rapidly spreading toward fixation. Using a variety of statistical and dynamic modelling approaches, we estimate that this variant has a 43–90% (range of 95% credible intervals 38–130%) higher reproduction number than preexisting variants. A fitted two-strain dynamic transmission model shows that VOC 202012/01 will lead to large resurgences of COVID-19 cases. Without stringent control measures, including limited closure of educational institutions and a greatly accelerated vaccine roll-out, COVID-19 hospitalisations and deaths across England in 2021 will exceed those in 2020. Concerningly, VOC 202012/01 has spread globally and exhibits a similar transmission increase (59–74%) in Denmark, Switzerland, and the United States." • VOC = Variant of Concern.
"'It's Like Buying Bruce Springsteen Tickets': The Hunt to Find a Vaccine Shot" [New York Times]. "The clamor for hard-to-get Covid-19 vaccines has created armies of anxious Americans who have resorted to hunting for leftovers on the fringes of the country's patchwork vaccination system. They haunt pharmacies at the end of the day in search of an extra, expiring dose. They drive from clinic to clinic hoping that someone was a no-show to their appointment. They cold-call pharmacies like eager telemarketers: Any extras today? Maybe tomorrow?" • No State capacity….
American Academy of Pediatrics disses aerosol transmission (along with the CDC):
Aa shown by your grossly inadequate responses tonight, it shows why @CDCgov and @CDCDirector @RWalensky needs to acknowledge #COVIDisAirborne. (1/n)

CC: @danaparish @kprather88 @jljcolorado @sri_srikrishna @meganranney @shikgupta @AnuAnandaraja @SherriDouville @citlanx

— Theo Allen – Universal Masking + Vaccinate Fast (@UniversalMaski2) February 25, 2021
The whole thread is worth a read. Horrid presentation by the AAP, lots of good tips for schools.
More on ventilation (i.e., aerosols):
The immediate backlash to pointing out the most basic, most obvious thing after a whole year—yes, yes, please go outdoors, but do avoid especially poorly-ventilated, crowded indoors—is a tragic confirmation of what I'm trying to say. We have not informed and empowered people.

— zeynep tufekci (@zeynep) March 2, 2021
The "backlash" focuses on two incidents: (1) The Sturgis rally, and (2) the White House cluster. Common to both was intense liberal focus on cultural and political enemies (bearded bikers from Flyover; the Trump administration), with a moral panic — like the beach moral panic — driven by images of outdoor activities. Common also to both was that the spread occurred in the indoors components of both events. So the moral panic gets in the way of [pause] the science. This whole thread is worth reading, too; it's Tufecki in near-Cassandra mode going through the mistakes of the last year, which are many.
"Over 200K sign up for ACA plans during Biden special enrollment period" [The Hill]. "Nearly 30 million people were uninsured in 2019 before the pandemic, according to the Census Bureau."
"US Catholic bishops urges people NOT to take the Johnson & Johnson vaccine because it 'uses tissue connected to aborted fetal cells'" [Daily Mail]. "Roman Catholic leaders in St Louis and New Orleans are advising Catholics that the COVID-19 vaccine from Johnson & Johnson is 'morally compromised' because it is produced using a cell line derived from an aborted fetus. The New Orleans archdiocese says the decision to receive a vaccine is one of individual conscience. In its statement late last week, it stopped short of advising Catholics not to take the Johnson & Johnson vaccine, but adds that Catholics should choose coronavirus vaccines made by Moderna or Pfizer – if they are available. The Archdiocese of St Louis on Tuesday encouraged Catholics to seek out the Pfizer or Moderna vaccines and avoid the Johnson & Johnson version if possible. Like the New Orleans archdiocese statement, the St Louis statement called the Johnson & Johnson vaccine 'morally compromised'. However, the St Louis statement stressed that Catholics can get that vaccine 'in good conscience if no other alternative is available'. • Biden, I believe, is Catholic.
Our Famously Free Press
"NYTimes Peru N-Word, Part One: Introduction" [Donald G. McNeil Jr.] "One last thought: what's happened to me has been called a "witch hunt." It isn't. It's a series of misunderstandings and blunders. I may be the only living Times reporter who has actually covered a witch hunt — in Zimbabwe in 1997. They inevitably end worse for the accused. I'm at least getting my say." • The last paragraph.
Games
Interesting datapoint:
Is there anything to read on Europa Universalis IV? I hadn't heard of it until recently, but a sizeable number of students end up in my modern Europe survey course because of this game, and I'm keen to understand its worldview.

— Nicholas Mulder (@njtmulder) March 3, 2021
First, can any reader answer the question? Second, this illustrates my general intuition that games will increasingly come to play a big role in the zeitgeist, but I'm utterly unequipped to recognize it (and especially to recognize it when games break through into electoral politics). I subscribe to the Kotaku newsletter, but I would bet readers can offer better suggestions.
Zeitgeist Watch
"The problem of CryptoArt" [Studio Joanie Lemercier]. "The CryptoArt market is a new way for artists to distribute digital works to collectors: often digital images and video files. The blockchain technology provides secure ownership, traceability, artist commission on second market sales and a thriving market place, with platforms emerging quickly: Nifty Gateway, SuperRare, MakersPlace.. It's a vibrant and welcoming community, a place to discuss the works with collectors, and it brings a lot of benefits that the Art market fails to provide. With no travel involved, and a mostly digital distribution, this new model looks like it has the potential to become a sustainable practice for artists. That's until you understand the magnitude of the environmental impacts of the current blockchain: It is a DISASTER." • The new acronym from the CryptoArt market is NFT (Non-Fungible Tokens). Commentary:
I really appreciate this discussion. Spending an international flight worth of CO2 on the creation of a digital collectible is shocking. But leaving other technicalities aside, is there an argument against PoS NFTs (if they are here to stay) from an eco point of view?

— philli_h (@phillih1) March 2, 2021
Guillotine Watch
"The rich vs the very, very rich: the Wentworth golf club rebellion" [Guardian (Basil Pesto)]. "Since the 1980s, Wentworth has been reshaped – just like England itself – by money: first the wealth of the homegrown 1%, which considered itself immune to the turmoil of change, but which then found itself subject to the whims of the globalised capital held by the 0.001%… Chinese conglomerate's entry into Wentworth Estate was novel, but it wasn't like Wentworth hadn't seen money before. Yan Bin is only the latest, and among the very richest, of a long line of well-heeled arrivals. Beginning in the 80s, in particular, the Island attracted people with a high order of wealth – all of whom have found, over the past decade or so, that they, in turn, are being inconveniently supplanted by people with an altogether more stratospheric order of wealth."
Class Warfare
"Glitch workers sign tech's first collective bargaining agreement" [The Verge]. "Glitch workers have signed a collective bargaining agreement with the company — a historic milestone for the tech industry. The contract, which was ratified overwhelmingly by union members, will last for 11 months. It's the first agreement signed by white collar tech workers in the United States, according to a press release from the Communications Workers of America (CWA). The contract went into effect on February 28th…. The agreement does include significant working protections, as well as codifying the benefits that currently exist. Among other measures, the agreement ensures "just cause" protections for Glitch employees — meaning workers can only be fired or disciplined through a specific process."
"The Biden and Romney Family Plans Go Too Far" [Oren Cass, New York Times]. "While universality may appeal in its simplicity, it violates the principle of reciprocity at the heart of a durable social compact. To strengthen a nation's commitment to shared expectations and obligations, and to sustain broad-based political support, a program should ask recipients to do their part in supporting themselves. Many think of Social Security payments to retirees as a "universal" program, but it goes only to those who "have earned this benefit by contributing to Social Security with every paycheck," as Senators Chuck Schumer, Elizabeth Warren and Ron Wyden emphasized in a recent proposal to increase it." • You will pry means-testing from the cold, dead hands of the political class. Also, Federal taxes don't fund Federal spending.
"The Woke, No-Trust Society" [Rod Dreher, The American Conservative]. Dreher is Dreher, but he gets letters: "I read your piece on the Donald McNeil incident… I [have[ judged and coached high school policy debate in [major city], as a volunteer, for about 5 years." • Yay! But: "I'm not going to take that risk for free." • I smell business model: Woke insurance!
"More Americans are dying 'in the prime of their lives,' new report finds" [CNN]. "The [National Academies of Sciences, Engineering, and Medicine] committee, which included researchers from universities around the country, was convened to help explain why US life expectancy had plateaued, and then declined in recent years.
'Beginning in 2010, progress in life expectancy stalled in the United States. Then between 2014 and 2017, life expectancy fell for three years in a row,' Harris said in a news conference on Tuesday. The three-year slide was the largest sustained decline in life expectancy since the 1918 flu pandemic. The committee did not examine data from the past year, but its final report comes after the US Centers for Disease Control and Prevention reported that overall US life expectancy had dropped a full year in the first half of 2020, during the Covid-19 pandemic…. Among the causes of death increasingly striking working-age Americans between 1990 and 2017 are drug overdose, alcohol use and suicides." • So, deaths of despair (again). Everything's going according to plan! Here's the original study.
News of the Wired
Bowie on how the art world kills off proletarian art:
My fav Bowie clip ever is him talking about how the Art establishment co-opts particular voices out of a fertile art movement to kill off that movement by creating singular voices to perpetuate the idea of Art as rare commodity by geniuses rather than something within all people pic.twitter.com/CXBzYBN6cR

— RAMZEE (@RamzeeRawkz) February 28, 2021
Bowie's analysis is quite similar to Adolph Reed's in "The Trouble with Uplift." Since Basquiat was mentioned, herewith:
Three Quarters of Olympia Minus the Servant, 1982 #americanart #jeanmichelbasquiat pic.twitter.com/2x7xPFBZLK

— Jean-Michel Basquiat (@artistbasquiat) February 28, 2021
On the Dr. Seuss controversy:
Dr. Seuss has been dead for nearly 30 years. In a sane world, all his books would be in the public domain. https://t.co/vBYUi8duA5

— Jesse Walker (@notjessewalker) March 2, 2021
Indeed.
* * *
Readers, feel free to contact me at lambert [UNDERSCORE] strether [DOT] corrente [AT] yahoo [DOT] com, with (a) links, and even better (b) sources I should curate regularly, (c) how to send me a check if you are allergic to PayPal, and (d) to find out how to send me images of plants. Vegetables are fine! Fungi and coral are deemed to be honorary plants! If you want your handle to appear as a credit, please place it at the start of your mail in parentheses: (thus). Otherwise, I will anonymize by using your initials. See the previous Water Cooler (with plant) here. Today's plant: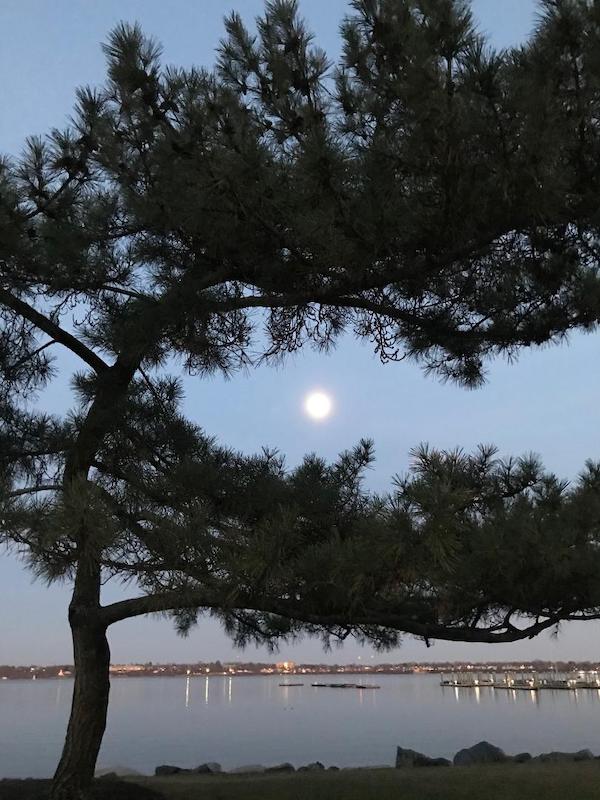 AM writes: "December 27 – Nearly full moon over Stillhouse Cove, on the Providence River, Pawtuxet Village RI. Stillhouse Cove is where the captain and crew of the Gaspee were brought after the ship was attacked and burned in June 1772, in what is called the first act in the Revolutionary War."
* * *
Readers: Water Cooler is a standalone entity not covered by the recently concluded and — thank you! — successful annual NC fundraiser. So if you see a link you especially like, or an item you wouldn't see anywhere else, please do not hesitate to express your appreciation in tangible form. Remember, a tip jar is for tipping! Regular positive feedback both makes me feel good and lets me know I'm on the right track with coverage. When I get no donations for five or ten days I get worried. More tangibly, a constant trickle of donations helps me with expenses, and I factor in that trickle when setting fundraising goals:
Here is the screen that will appear, which I have helpfully annotated.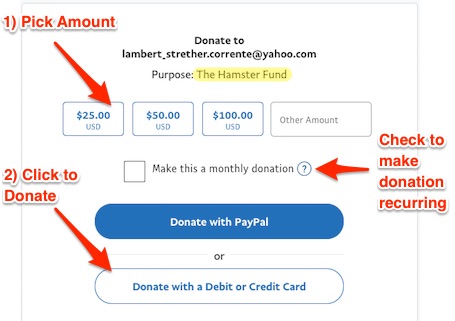 If you hate PayPal, you can email me at lambert [UNDERSCORE] strether [DOT] corrente [AT] yahoo [DOT] com, and I will give you directions on how to send a check. Thank you!

Original Source